Yesterday was a picture-perfect day for motorcycling. And we were thrilled to be able to take advantage of it.
We left the house around 11:00 and rode just over 190 miles from our WV place north through Maryland and into Pennsylvania. Then we headed west into West Virginia and south, skirting the far western edge of Maryland. We stopped briefly in Rowlesburg, West Virginia before heading east again into Maryland and then back into West Virginia.
Confused? This map should make it easier, depending who you are. Map-reading is one of those skills technology (GPS) seems to be making obsolete.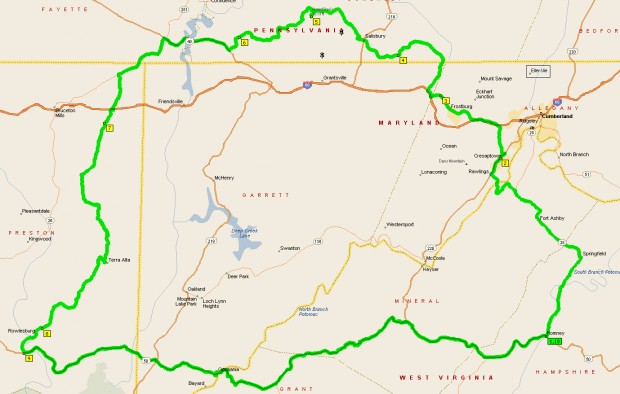 I love maps. Planning our rides is fun for me. Once I have the ride all mapped out, I write the route on a piece of paper and stick it in my tank bag, which has a special, see-through spot for that exact purpose.
It really was a great ride. Temperatures in the mountains were near-perfect. There were some repeat roads, but there were a few new ones, too. Some of the roads were a bit rough, but the scenery was so pretty, it was worth it. At one point, I was 95% sure I'd turned onto the wrong road and gotten us lost. But the road we were on was so pretty, I just didn't care. One is never REALLY lost as long as one has a map.
I'll show you a few pics from the ride shortly. But first, look what I saw in our backyard right before we left.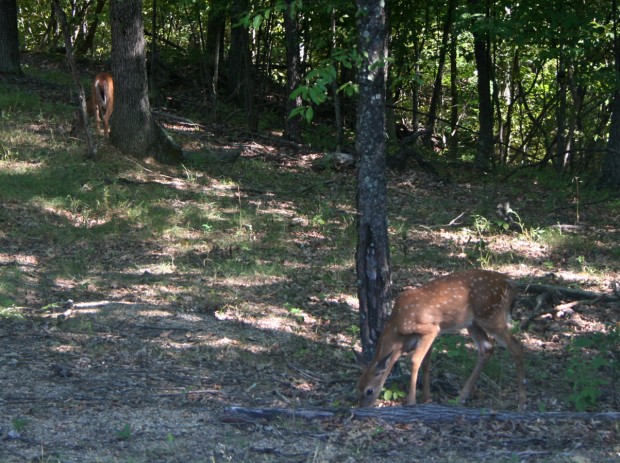 Yes, I've seen plenty of deer before. But I have never, since January 2005, seen them this close to our house. It was cool seeing them that close, but it wasn't the high point this post's title refers to.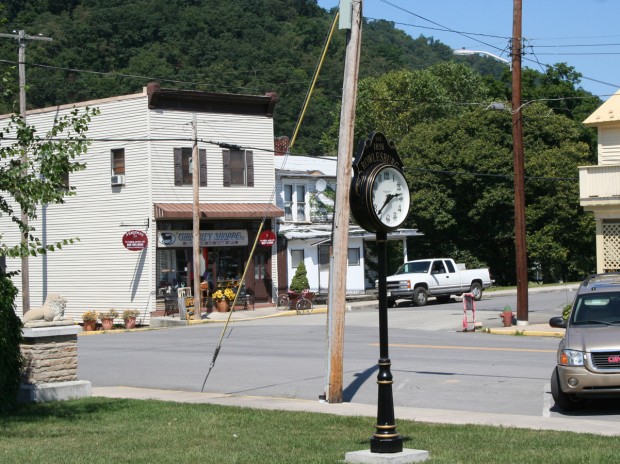 We got to Rowlesburg via CR-51 Salt Lick Road from Terra Alta. We'd been to Rowlesburg before, but had never arrived by this route. CR-51 is a pretty narrow, winding road. It may not be the quickest or most picturesque way to get from point A to point B, but it's fun putting along roads like this seeing how folks live. The picturesque route would have been to take SR-7 west from Terra Alta then SR-72 south at Kingwood. This route, which we've ridden a couple of times previously, parallels the Cheat River.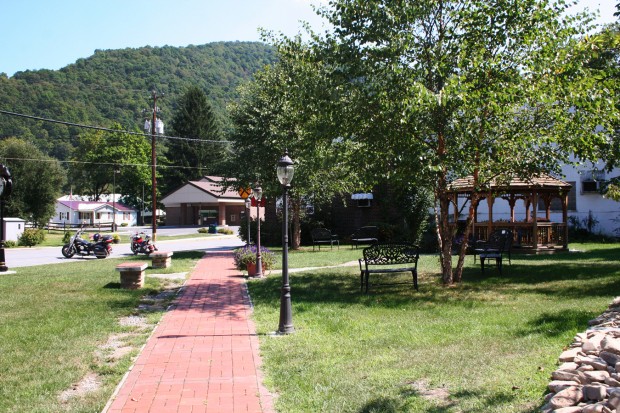 Rowlesburg is a cute little town in a very pretty location, but it has seen better days. It's one of those railroad towns of which there are plenty in the Appalachian Mountains that thrived in a different era, but struggles to hang on today. It's doing better than most, however, so if you are in the area, be sure to stop by for a visit.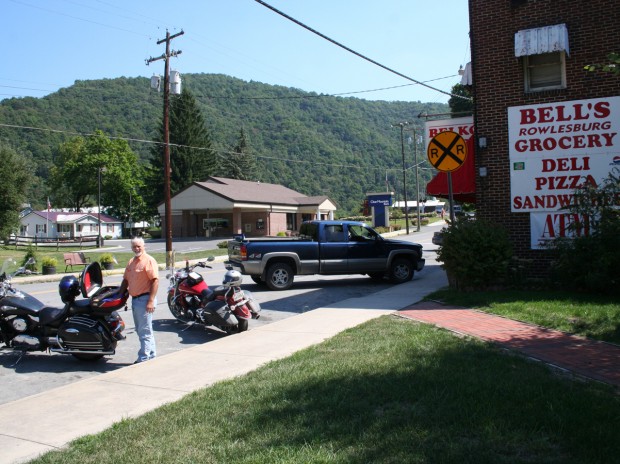 Here's a bit of Rowlesburg's history if you are interested. Nice place, but still not aforementioned the high point.
After that, we continued to US-50 and headed east. I'd always wanted to visit Cathedral State Park, which is where we stopped for lunch.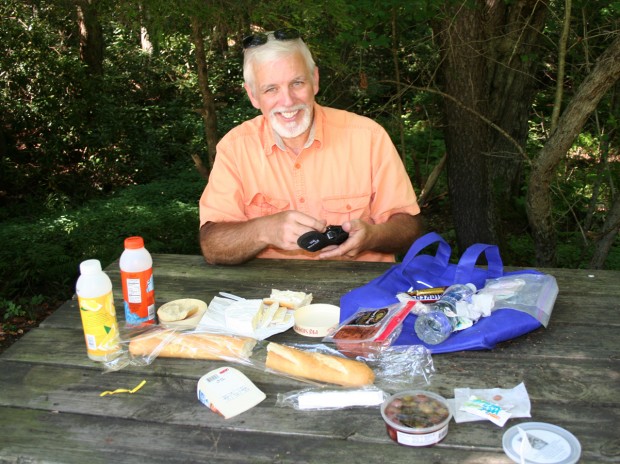 We found a nice little shady spot to eat our lunch, which we'd picked up much earlier in the day at the huge Martin's grocery store in Lavale, MD.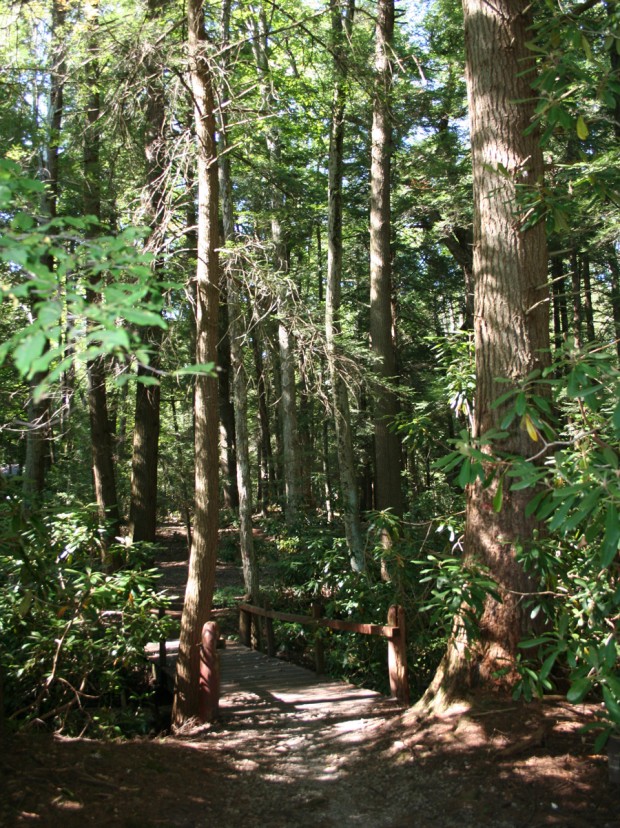 I want to go back to Cathedral State Park one day for a hike. Doesn't it look like a nice place for a stroll?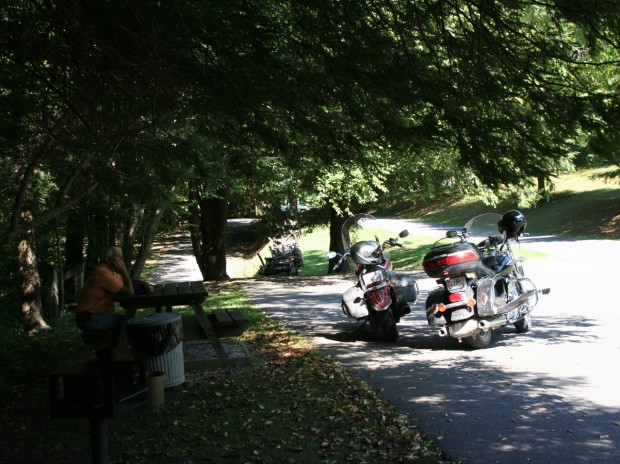 The picnic was awesome. But it's still not the high point. Want to know what the high point was?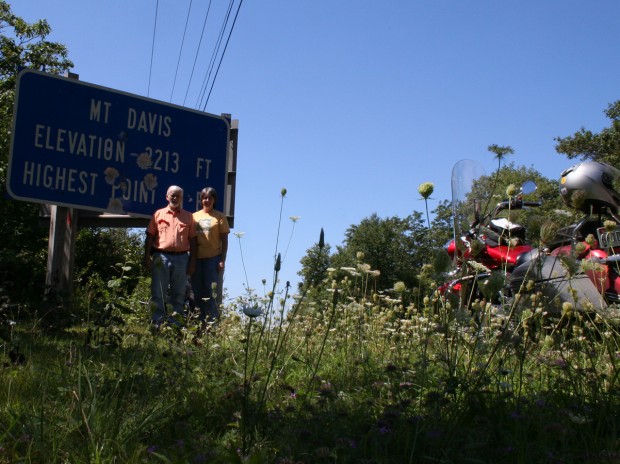 It was a literal high point. If you'd like, you can check out this map of state high points.
Altogether, we were gone for about 6 hours. The girls were happy to have us back.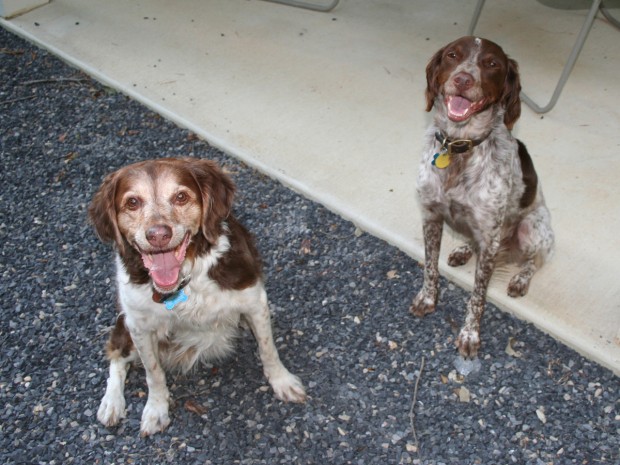 Do you think I could get all three of them to sit still for one photo? Of course not. So here's a sort of good one of Belle.
That was our day.