Today is Hubby's birthday.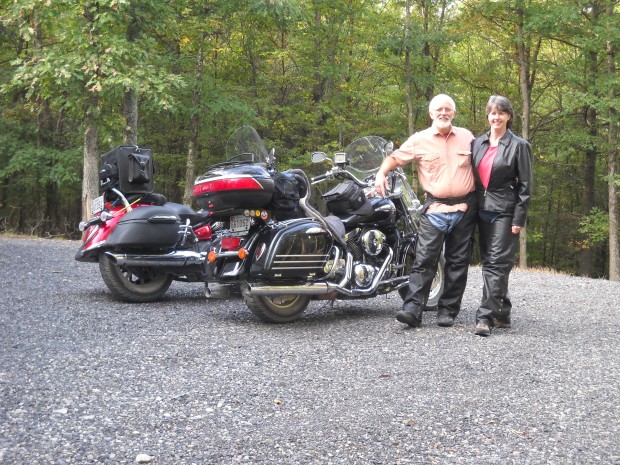 I wish I could say there's a fabulous day of riding ahead of us. I mean we ARE in one of the most beautiful parts of West Virginia. And we DID ride in on a fabulous road.
Unfortunately, it's 48 degrees and cloudy. And there's a 60% chance of rain.
Considering the fact that we rode about 6 hours in the cold rain yesterday (scattered showers), neither of us are real anxious to mount-up again today.
I'll write more later. It's time to go get breakfast!
– – – – – – – – – – – – – – – – – – – –
The Ride – Day 1
We left the WV place around 9:30 on Sunday. That's relatively early in the day, so we had high hopes that the temperature, which was hovering around 60, would get warmer and the clouds would go away.
With our leather on, we were warm enough. Unfortunately, though, the clouds did not go away. Instead, they thickened and condensed. The next thing you know, we were stopped beside the road near Thomas, WV (very close to Blackwater Falls State Park) pulling on our rain gear. Truth be told, I was happy to be wearing an extra layer. As it turns out, 60 degrees was to be the warmest temperature we experienced all day.
It didn't rain continuously, but it did rain a lot. The roads were wet pretty much all day. And that's a real shame. Because just south of Buckhannon, we got on WV-20, which is one of the best roads we've ever ridden. Very little time was spent in an upright position. There was curve after curve after curve as we went up and back down numerous mountains.
It was easy to tell when we neared the top of a mountain. That's when the fog got REALLY thick. I'm sure we missed some spectacular scenery. What little we could've seen was missed because we had to remain 100 percent focused on the road. Riding a motorcycle, which takes a good bit of concentration on a clear day, becomes a bit more challenging in the rain.
Wanna know what it's like? Picture yourself going about 50 mph in your car during one of those niggling, misty rains. Your windows are down, of course. And you don't have any windshield wipers. Oh yeah, and we can't forget the cold.
Except for our hands (neither of us have weatherproof gloves), we were dry. But it was quite chilly. It's hard to relax and enjoy riding when you're stiff with cold. But we made the best of it. And we actually lasted five and a half hours before stopping to thaw out.
We were very happy when we did stop. It was nice to get warm and eat.
Shortly after lunch, we rode through a town with a bank that had a digital thermometer built into its sign. I was amazed to see that it read 40 degrees. Yes, 40. No wonder we felt cold!
Lucky for us, the place we're staying is warm. There's even a fireplace in the lobby. It was really nice to get here and warm up.
We're in far southern West Virginia at Pipestem Resort State Park. If you follow that link, you'll see they have a web cam, which means you'll be able to see for yourself just how dreary the day looks. As long as it doesn't rain, we'll be happy. There's lots here to see.
Maybe I'll even have some pics to share with you tomorrow.