One of the photography blogs I started following recently (I Take Pictures) had a very interesting post the other day about a little-known photographer named Vivian Maier. Danelle, ITP creator, did a great job summarizing the story. It's a story I urge you to take a few moments to read.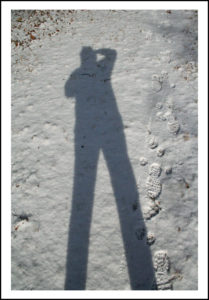 In a nutshell, Vivian Maier, was a street photographer in Chicago from the 1950s to the 1990s. Her work, which was just recently discovered, "includes over 100,000 mostly medium format negatives, thousands of prints, and a ton of undeveloped rolls of film."
The quality of some of her images is amazing (she captured people like Ansel Adams captured landscapes). The story many of them tell alone makes the pictures worth a look. But what really gripped me was how her work was discovered and what is very lovingly being done to share her work with the world.
The guy who discovered her work, John Maloof, created a blog as one way to bring Vivian Maier to the world. You can read more of the story and see the amazing images on his blog.
All of the images are copyrighted, so I couldn't share any here. I just added that shot of me because imageless posts are just boring.
If you do visit John's blog, let me know what you think.