I did something different this past Sunday.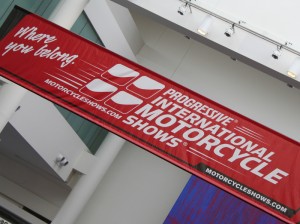 We stayed home from the WV place because Shannon's girlfriend, Vanessa, was coming down from NY state to spend the weekend. Hubby and I were looking forward to finally meeting another of Shannon's far-flung friends who she always speaks very highly of.
Unfortunately, the water pump in her car went up en route, so she didn't make it down. Lucky for her, she was still relatively close to home when it happened.
We were all sad that V couldn't make it. Shannon was especially sad. She and V talk on the phone and/or via Skype often, but it's never quite the same as just hanging out and being silly with your girlfriend.
Saturday, we watched the Ravens embarrassing defeat by Pittsburgh. Nuff said there.
Sunday, I wanted to do something different.
I've never actually been to one of the International Motorcycle Shows. There just happened to be one in DC, so I decided to go. Partly because it was just something different to do for a change and partly as an information-gathering trip.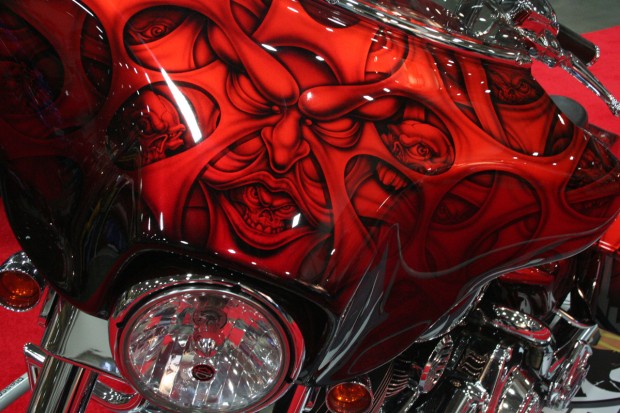 I really have been thinking about that new blog and website of mine for a long time. I want the website to be a resource for folks. Not just a place that talks about routes/rides, but that references local merchants, too. If people are going to travel in the area, they need a place to stay. Good restaurants are hard to find in remote areas, so the ones we do find are definitely worth mentioning. It wouldn't hurt to list dealers in the area either who can provide emergency service if needed. Or even motorcycle rentals.
The coolest thing I discovered was featured yesterday on the Appalachian Tours blog. I was also successful gathering other info too, which I'll share there eventually.
Guess who went with me? Actually, I should say guess who took me, since that person was kind enough to do the driving.
If you guessed Hubby, you're wrong. He wasn't the slightest bit interested in going.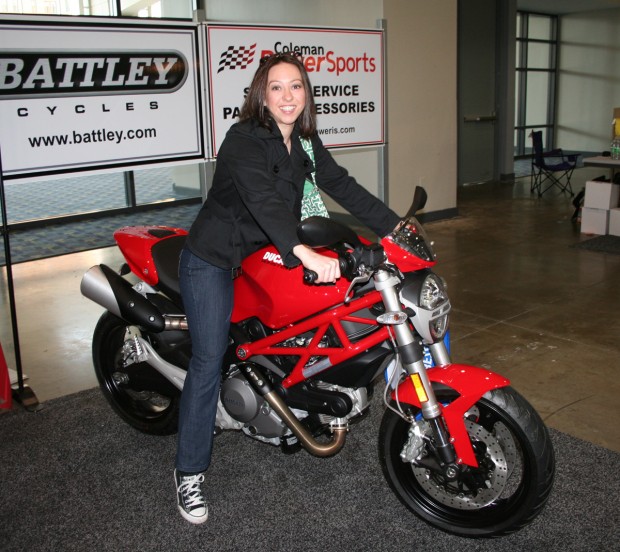 It was Shannon. Doesn't she look great on that shiny, new Ducati? Her legs are just a tad short for it though. You really want to have both feet flat on the ground when in a stopped position.
They have a motorcycle show at the Timonium Fairgrounds (where they hold the Maryland State Fair), but it's more of a local thing full of dealers and other vendors. It's more vendors than dealers, actually. The DC show is bigger in that it has a big manufacturer presence where the big names (Yamaha, Suzuki, Victory, Kawasaki, Ducati, and Honda to name a few) show off their new offerings.
They also had a competition where you could vote for various custom motorcycles.
This little red one with the creepy paint job was Shannon's favorite…
I liked this big, tricked out sport bike.
There was a big assortment of bikes competing. Some were a bit less flashy. Others were even more colorful. My philosophy is, if I wouldn't be caught dead riding the thing, I don't think it should win any awards. I don't care how much work went into uglying the thing up.
Did you do anything interesting over the weekend?