We've never loved our WV kitchen. The cabinets we used were a mix of some purchased from a salvage place and some leftovers from Shannon's ex boyfriend's condo. I stripped and sanded all of them and then painted them a distressed red.
I liked the look of my red cabinets and Dahlia-yellow walls. But…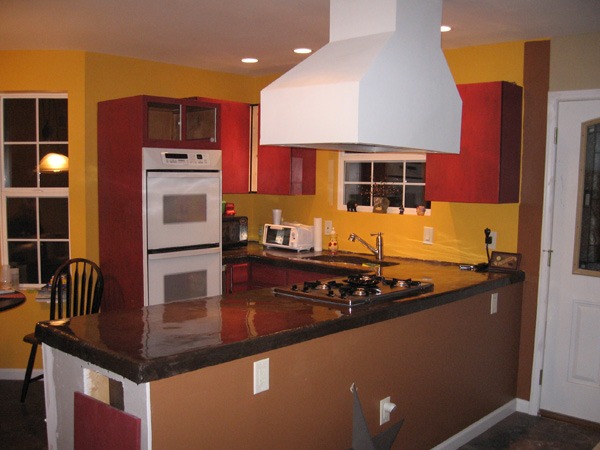 …because they weren't purchased specifically for the WV kitchen, the door placements were a bit odd. It was functional, but not very. There also wasn't much counter space and no dishwasher. One of the reasons we didn't have more counter space was the huge double oven and cabinet. It came with the salvaged kitchen and was a great, practically-new oven that was essentially free, so we used it. But it was far too big.
And then there was the failed concrete counter…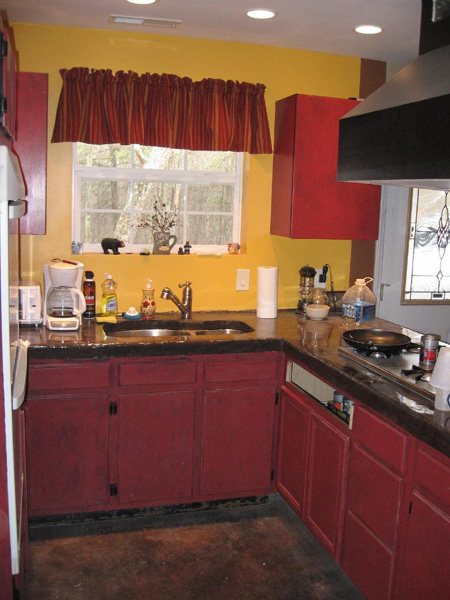 After our attempt at installing a concrete counter, we realized neither of us are very good at concrete finishing. It was ROUGH and uneven. Even after wet-grinding, it still wasn't very smooth in a lot of places. So then we put this clear sealer on it that was sort of like a plastic coating. It scratched very easily and always looked smeary no matter what.
We lived with it. But we never liked it. And I forgot to mention the horrible, cheapo, cook top we had that was ALWAYS a pain in the butt. We both hated that thing. And Hubby constantly lamented the lack of a dishwasher. The way we work, if I cook, he cleans up and vice versa. Since I seem to do most of the cooking at the WV place and he hates washing dishes, the absence of a dishwasher came up in conversation often.
So we finally decided to nix the old kitchen and put in a new one.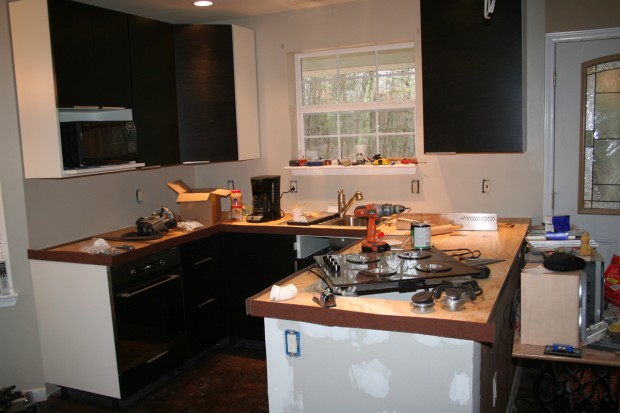 I'm not sure why I did such a poor job documenting the whole process. This picture is from about the halfway point when Hubby had already installed most of the cabinets and installation of the formica counter was halfway complete.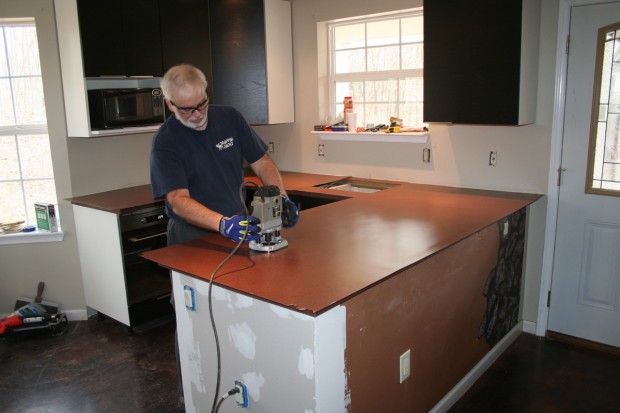 This picture shows Hubby using the router to finish the edges of the top surface of the counter. The edges all went on first. My big project will be putting slate tiles on the front and side edges of the wall below the counter.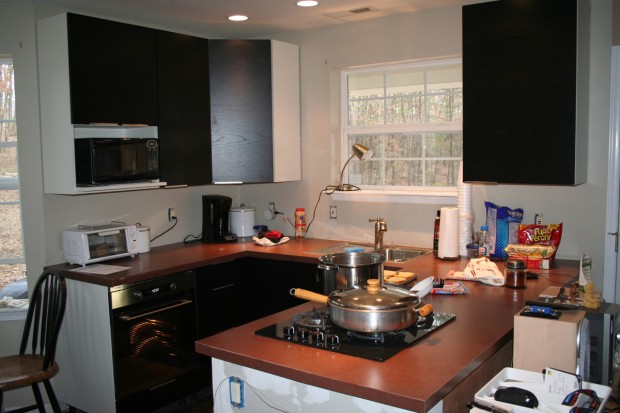 We now have a functional, but not fully complete, new kitchen. Hubby still needs to install the hood over the cook-top. And build a wall next to the refrigerator. I need to install that aforementioned slate tile. Eventually there will be a tiled back-splash, too.
I'm not sure I love the color of the walls. I mean, I like the color itself (the paint was leftover after painting my mother-in-law's living room), but I miss my yellow walls. I was afraid if we kept the yellow walls with the black cabinets it would look like a giant bumblebee exploded in our kitchen.
I'll reserve final judgment until after the tile has been hung, the final wall and hood are in place, and curtains have been hung.
Our biggest chore now will be getting rid of all the dust. I spent all day yesterday sweeping and dusting. The WV place is dusty in general and was in need of a thorough cleaning before the kitchen remodel project began.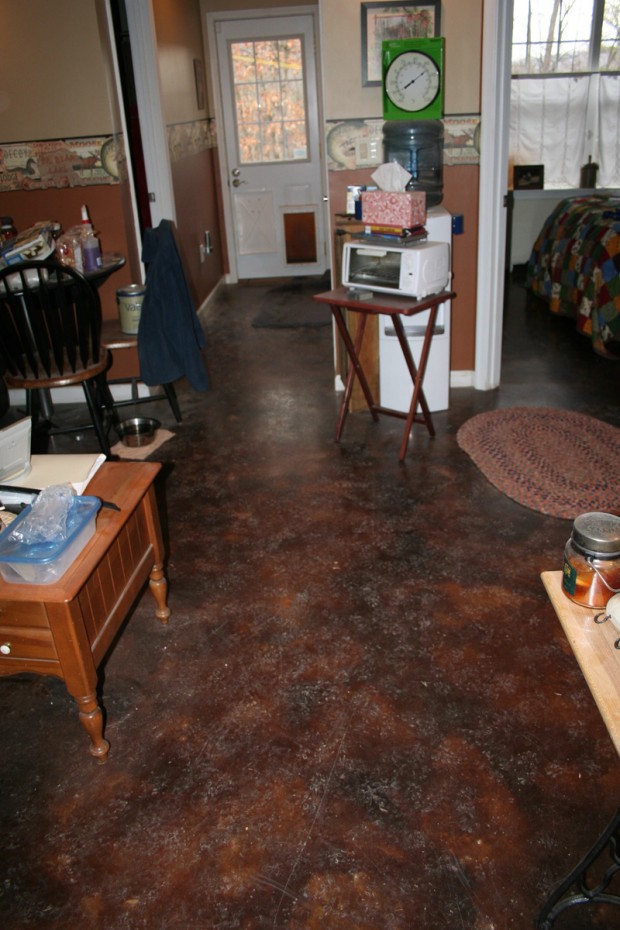 That final picture was taken last weekend. It had been raining, so footprints from three muddy dogs just added to the mess.
We need to strip, buff and re-seal all of the floors, too. That's another big thing on the to-do list. They've taken quite a beating here lately.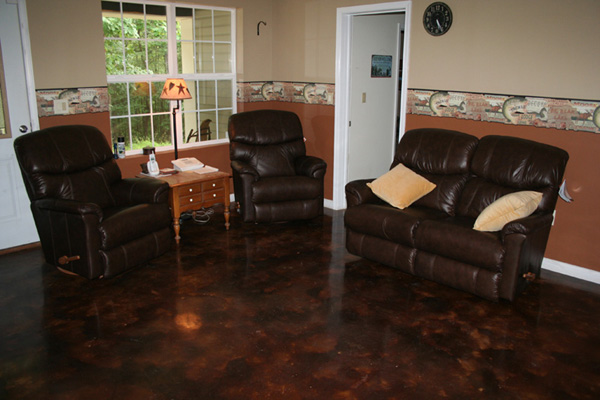 This is what the floor should look like. It's not even sparkling clean in that last shot, but it is WAY cleaner than it is now.
So that was my weekend.
Can you believe it's the last day of February already?