Here's something else a bit odd that happened recently. Not odd as in freaky, but as in serendipitous.
A few weeks back, we decided to get rid of our 7'x14′ enclosed cargo trailer, which really is way too big for hauling our motorcycles. It's not the too much space thing that's a problem, but the sheer size of the thing. It's heavy, ungainly, and makes our truck drink gas like there's no tomorrow. We knew it was too big when we bought it, but we didn't buy it specifically for hauling motorcycles. We bought it to use as a construction trailer/shed/moving van for when we relocated to Moscow, Idaho a few years back. The move never happened.
Hubby was going to take it to the local dealer to trade for an open trailer. Open trailers are much less expensive. The dealer was willing to take our trailer in trade, but he wasn't willing to give us cash for the difference.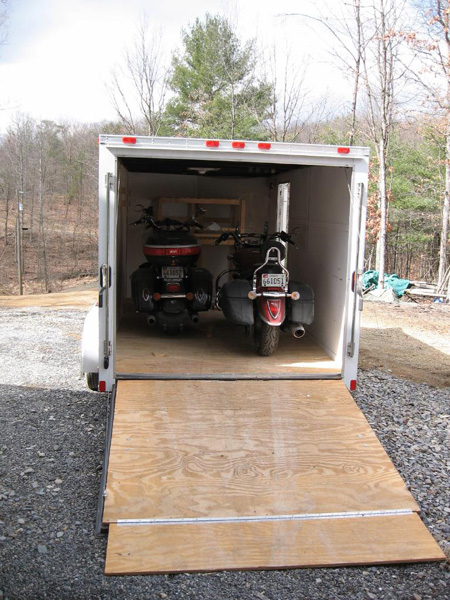 "Put it on Craig's list or eBay," I told Hubby.
"Nope," he said. "I just don't feel like dealing with it. If you want to list it on eBay, you can keep the difference."
Awesome. I was so excited, I hurriedly took pictures and posted an ad, listing the thing at $2,000.  It was on a Saturday or Sunday. The trailer was in WV. Sunday we were heading back to Maryland for at least two, maybe three weeks.
Did you catch that last part? The trailer was in one place, but we'd be in another place for at least two weeks.
I obviously hadn't given the posting much thought. I was quite surprised by the number of folks interested in buying the thing. One of the questions each of them inevitably asked was, "Can I come and see it?" And I had to reply with, "Sure. In two weeks."
Dumb, dumb, dumb.
One of the guys who called sounded very interested. Actually he said something like I definitely want it and will pick it up in two weeks. We let him know when we were in town. An entire weekend passed and we never heard from him.
I decided to re-post it on eBay. So I did. That's when I noticed I had an in-box full of messages I'd received after the first posting. I started contacting all of those people. One guy, who oddly enough was a friend of the first no-show guy, sounded thrilled that I'd contacted him. He'd really wanted the trailer. He was excited to hear that it was still available and told us we'd see him between 3:00-4:00 on Saturday. He never showed. He didn't call. He ignored my voice mail messages.
So it was back to the eBay message box. There were a couple of people who had left multiple messages. I had called and e-mailed one of them the night before. When I still hadn't heard from him by Saturday night, I contacted yet another interested individual. This guy, Rex, did get back to me. He'd been looking for a trailer for a while. When I told him I'd left messages for another interested party, who I wanted to give the chance to call me back, he said he'd give me more than I asked. (The guy I was waiting to hear from had offered $2,100.)
Turns out Rex, who lived about 1 1/2 SW of us, had just finished some schooling and he and his family need the trailer for their move back to, of all places, Idaho.
Idaho is a big state. But it's one of those states you don't hear a lot about. Hubby and I happen to really like Idaho. In fact, when we were narrowing down our choices of places to live, two towns in Idaho were on my short list (Driggs and Sandpoint).Both are little blips on the map.
When I asked Rex where in Idaho, he was hesitant to reply, so he just vaguely said something like the extreme southeastern corner. Having spoken to a number of people about Idaho myself, I knew why he was being vague. People around here know nothing about Idaho. He'd probably been asked that question a gazillion times and was sick of trying to explain the location better to people who were so unfamiliar with the state and area in general that they would still be clueless no matter what he said.
When I said, "Down by Driggs?" I could tell he was surprised.
"You know Idaho?" he asked, before explaining that his brother has a place in or near Driggs, but that "home" was Pocatello.
Within the last few weeks, I've actually had conversations with Hubby and Amy (youngest daughter) about Pocatello. Neither of them remembered we actually stayed there twice back in 2005 or so when we all went to Yellowstone.
Rex and I chatted a bit. He told me again that he really wanted the trailer and would give me $2,200. I said it wasn't about the money at that point, I just felt like I should give that other guy a chance to call back since I'd made such a complete mess of the whole eBay thing. He said he understood. It being a holiday weekend anyway, he couldn't come see it until sometime during the week, when we wouldn't be there. If he decided he liked it, we could figure out a way to seal the deal. But we aren't planning on going back to WV for a few weeks.
After Rex and I had chatted, I said to Hubby, "Wouldn't it be weird if the trailer we'd bought to move to Idaho ended up living in Idaho without us?"
The more I thought about it, the more it just felt like Rex should have the trailer. I knew once he saw it, he'd want it. Other than a few dents, it is in great shape. And $2,000 is a great price (which is why he didn't mind offering me more). So I told him, if he wanted, he could buy the thing sight unseen. He'd save himself a three-hour round trip to just see the thing. Instead, he could just make one trip and take it home with him. Rex and his family are planning to move on May 9.
Hubby agreed that he'd most likely want to buy it, if he actually showed up. I told him a had a good feeling about Rex, so he signed the title and stashed it, along with the registration, in an out-of-the-way place outside. I sent Rex an e-mail telling him our idea.
Basically, he had to send complete strangers a big chunk of cash for something he'd never actually seen. He was cool with that. So I promised to e-mail him later with payment instructions.
We were thinking he could just FedEx the cash, insuring it for the full amount in case anything happened, but that isn't allowed. So I sent him wire transfer instructions.
I also said this (an actual excerpt from the e-mail): "I listed the trailer for $2,000. We have an offer for $2,100. You said you'd pay $2,200. This isn't about the money for us. But when I got the $2,100 offer, I got excited thinking I'd have an extra $100 to send to The SOLD Project. It's an organization I recently got involved with. We sponsor a student there. How about this… you send us $2,000. If you choose to, you can donate $100 to SOLD in my name. Just please do so before April 30. They are trying to raise $4,000 from at least 50 donors by April 30. It's up to you. This isn't about the money. You sound like a nice guy. And our trailer will have a new home in Idaho."
Rex and I spoke briefly Monday morning, confirming account numbers and such. We never talked about a final dollar amount. I decided to leave it up to him.
According to my bank's web site, it could take up to a day for the wire transfer to post to my account. I told Rex I'd keep an eye out and, once it had, I'd tell him where he could get the title and registration.
I checked about an hour later and was quite surprised to see $2,200 posted to my checking account. When I called to let him know it had arrived, I mentioned the amount. Turns out, Rex spent some time in that area of Thailand when he was younger. He can actually speak the language of one of the many hill tribes there.
I told him he ought to look The SOLD Project up himself. They can use people like him that speak the aboriginal language of the hill tribe.
Weird, eh?
He's picking the trailer up today. I told him where to find the key to our gate, which we keep locked, and where the paperwork was hidden.
This entire transaction was done by Internet and telephone. We've never met. I could've been any shyster trying to scam the guy. But sometimes you just have to go with your gut and trust people.
Now, the only thing that would make it all sweeter would be to get a picture of Rex and his family with their new trailer in Idaho.
But then, I'm weird like that.