This was quite an eventful weekend. It started with the First Friday celebration in Warrenton. On the first Friday of every month (May to October, I think) they shut down Main Street to traffic. Many of the Main Street area merchants stay open extra late, there was a bluegrass band in front of the post office, there were street vendors, charity groups, etc. It was like a mini fair.
We were quite tickled to walk to the event. And I was thrilled to finally get a peek inside many of the cute little shops that line or are close to Main Street.
Then we had our first visitors on Saturday. (I know the lighting is horrible. My Mom was tired so I didn't want to make everyone move.)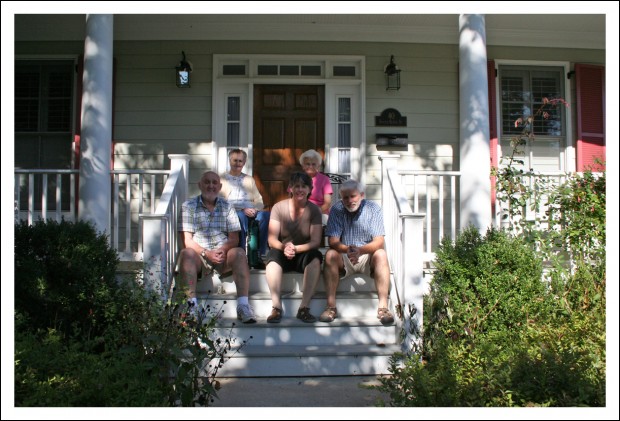 We are nowhere near being unpacked and settled. Two of the bathrooms, the family room, kitchen, master bedroom, and guest bedroom are in decent shape. There's nothing on the walls yet, but there are no boxes scattered around and those rooms have been cleaned.
I've got lots more cleaning to do. The people that lived here before us were not the cleanest folks…
Anyway, as I was saying, we had our first visitors. My parents and Hubby's Mom live close to each other. And they actually like each other, too. So they all drove down together for a visit. Even though the house isn't exactly presentable yet, they were anxious to see where we'd moved. They were curious about the house AND about the area. None of them had ever been to Warrenton either.
Before they arrived, I did something I'd been wanting to do for months. I walked to the bakery and the farmers' market.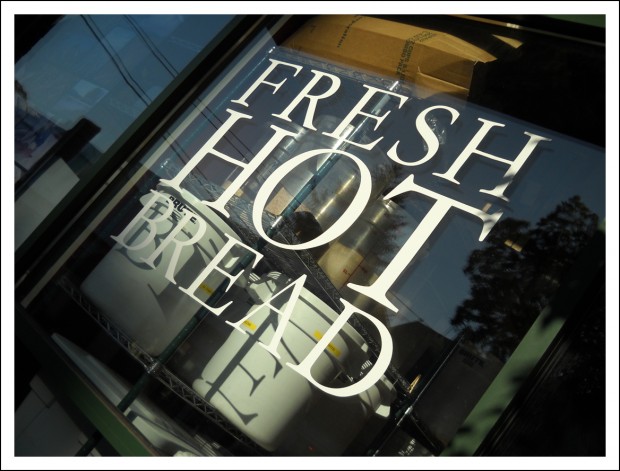 That may not sound like a big deal to some of you, but it is to me. I've been living in suburbia since 1993. Where you can't safely walk to anything. You're lucky if you have sidewalks in your neighborhood. Main streets with sidewalks are very rare.
I got some blondies, muffins, and a scone at the bakery. Since we haven't been doing much cooking yet, all I got at the farmers' market were some fresh flowers.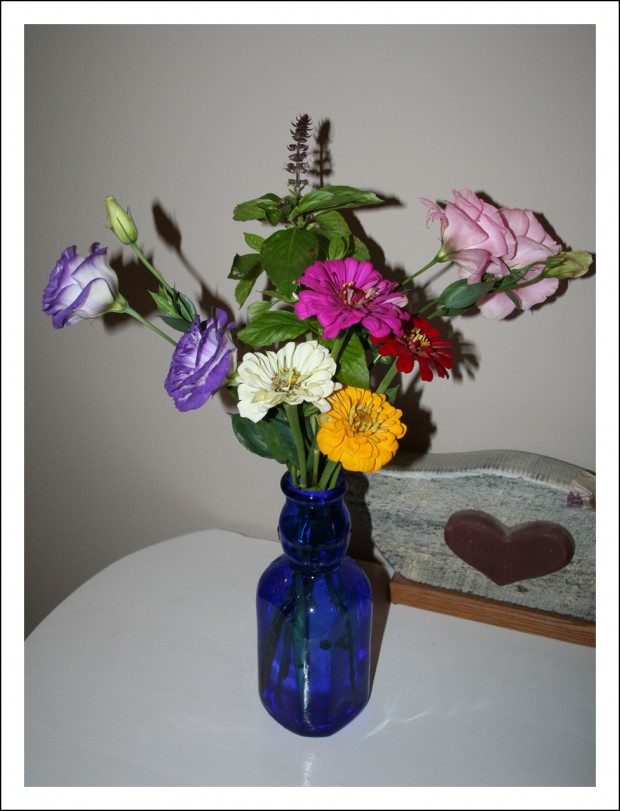 Again, that may not sound super-exciting, but it made me happy. What made me even happier was seeing the parents when I got back to the house. They'd arrived a bit quicker than anticipated. We thought the drive would take them about 3 hours, but it only took 2.5 hours. An easy day trip.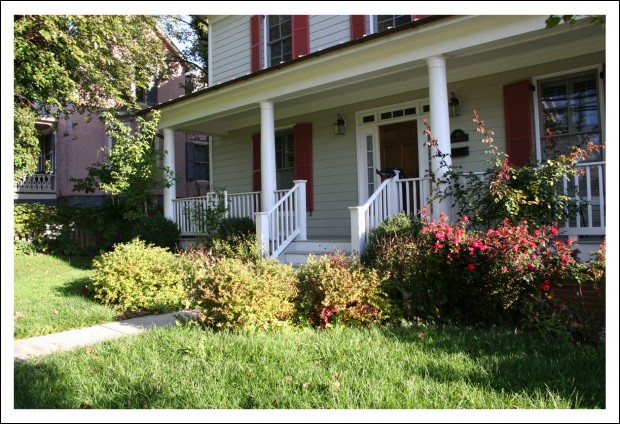 Since today was such a pretty day (mid to upper 70s), I decided to spend it outdoors tidying up the flower beds and scrubbing the front porch. Remember I said the previous owners weren't the neatest people? Apparently they weren't very good gardeners either.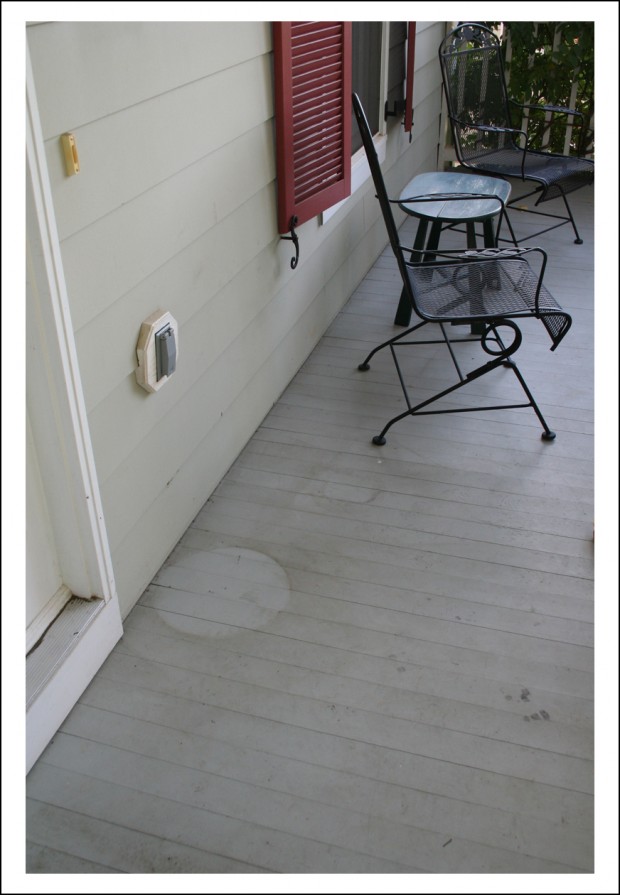 I also made my first trip to the nursery for some mums, pansies, and pumpkins.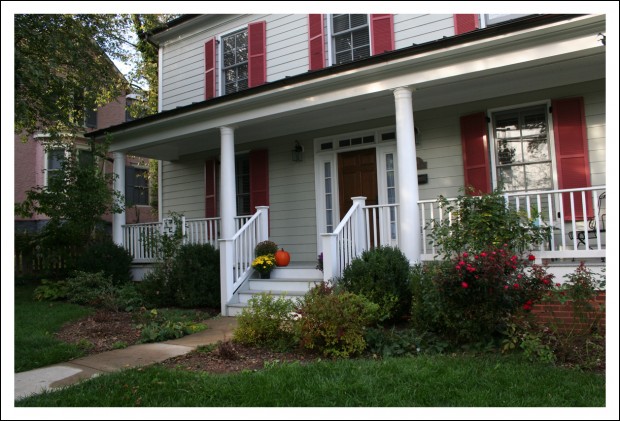 As is the case with a lot of stuff at this house, the closer you look, the more things you see wrong. We haven't noticed anything major yet, except for the dirt. These people were slobs! Cleaning takes about three times longer than it should because I really have to scrub.
The flower beds were the same way. What I thought would be some minor cutting back turned into a major trim and weed-pulling adventure. I never did get the pansies planted. But see how cute my flowers and pumpkins look?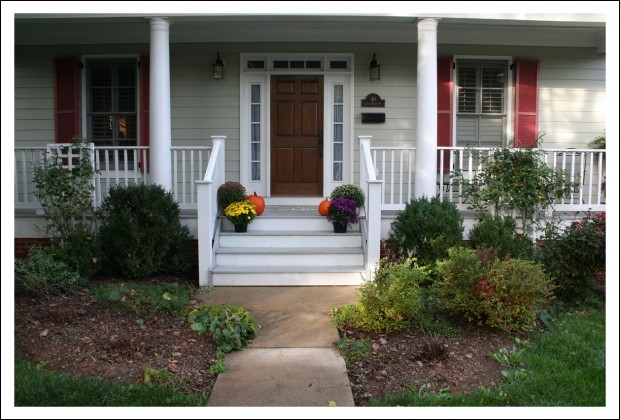 Now that the parents have seen the place, I can share pictures. I LOVE our front porch. Here it is from a different angle.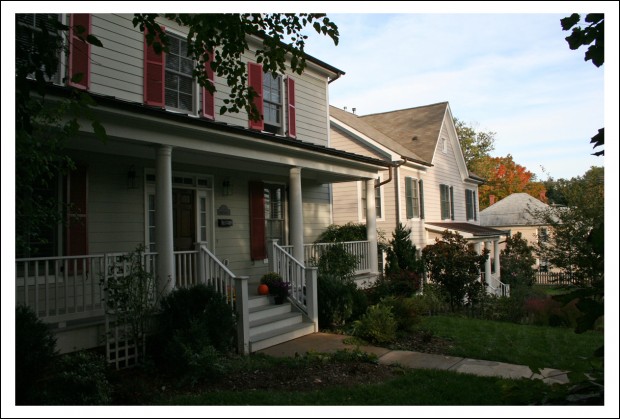 Rounding out our weekend of firsts is this first group of house pictures.
There's so much more to show and tell you about. Like this funky little table…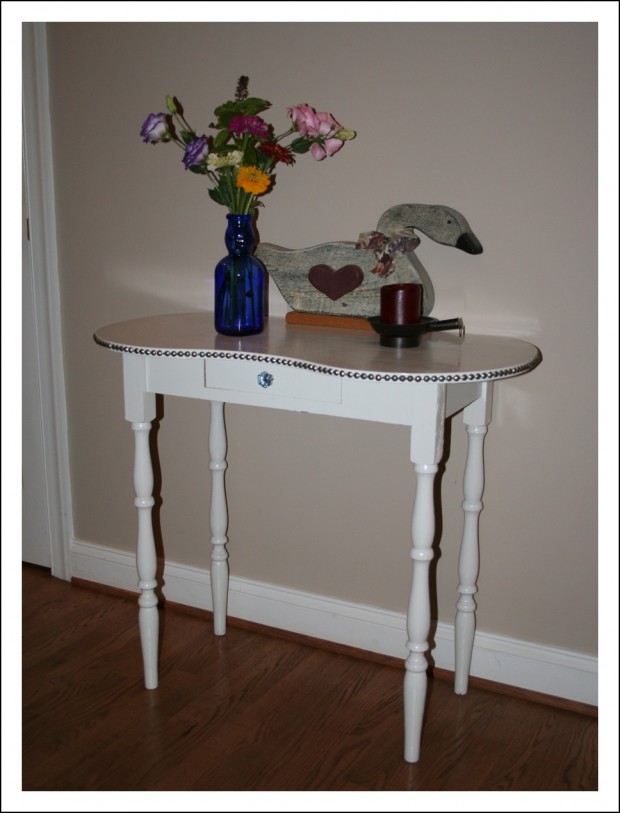 My friend Tracey would call this table a treasure. I was thinking I'd paint it. And maybe remove those furniture nails around the edges. But the more I see it, the more I think I like it just the way it is.