On Thursday, it rained like crazy. All. Day. Long. Sometimes it was a gentle drizzle. Other times, a deluge. Hubby has a fig tree outside his office window. He said the raindrops pelting the leaves sounded like a long, loud, drum roll.
Yesterday started off looking pretty wet. I think it even rained a bit. But then it cleared up. So around lunchtime, I decided to take a stroll. And I thought y'all might like to join me.
We'll go out the front door because it's a little bit shorter.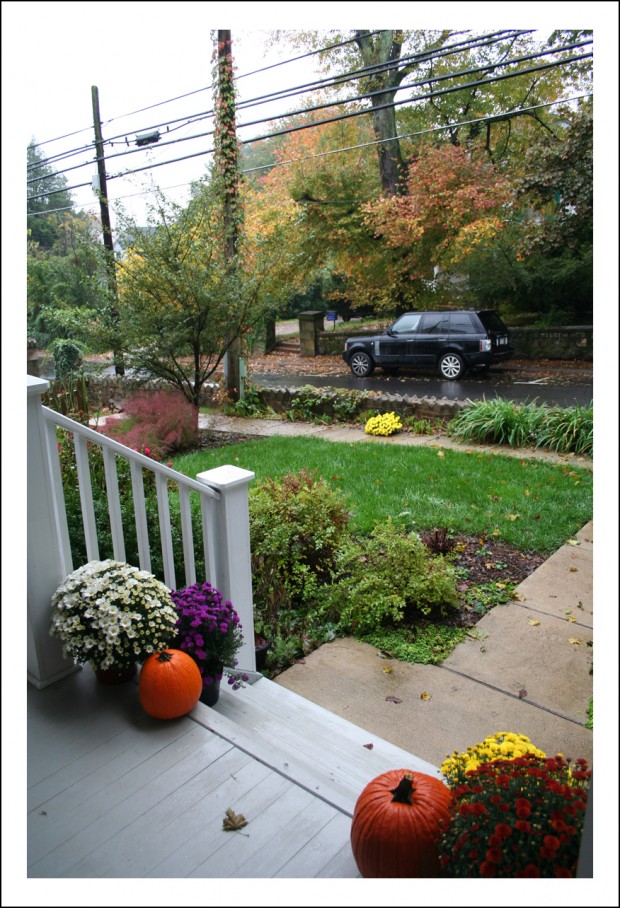 There's no sidewalk on our side of the street, so we need to cross. Of course, we have to pause for a second to look back at the house. (I'm not sure if I've shared much more than porch pictures.)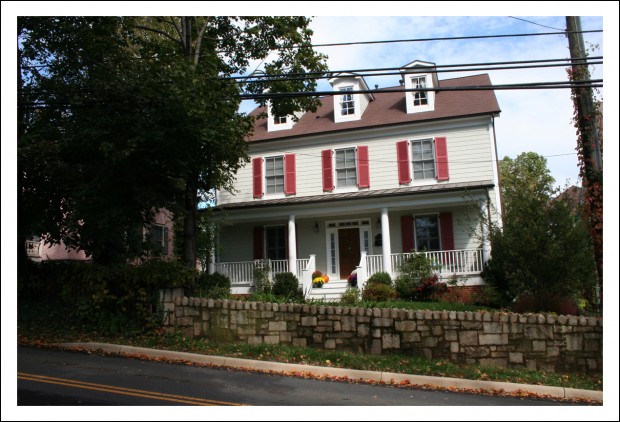 There's just a slight incline as we walk toward Fifth Street.
But, wait. Look at all those leaves! It's REALLY starting to look like Fall now, isn't it? Torrential rains will do that.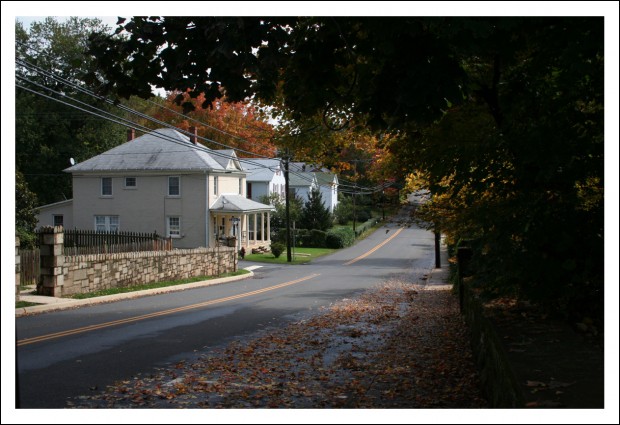 On we go, hanging a right onto Fifth Street. There's my favorite office building. It's that white building on the right.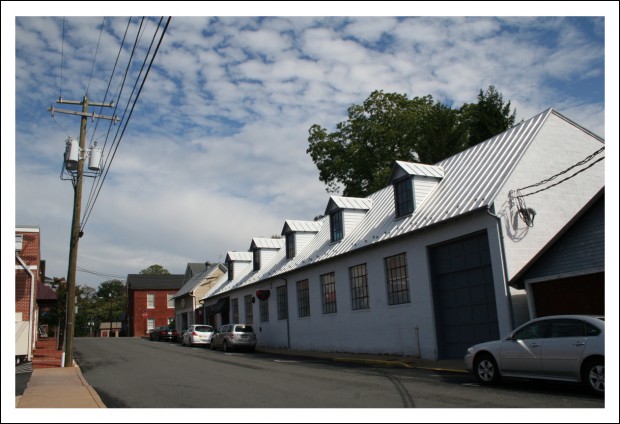 One of these days I'll buy the Warrenton history book so I know what these buildings are/were.
The little parking lot on the left is where they have the Saturday Farmer's Market.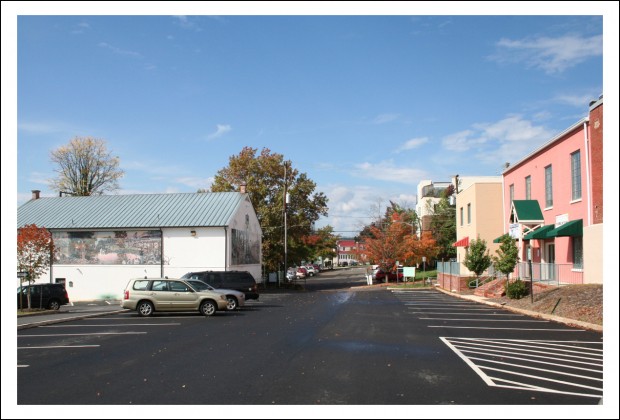 Of course, today it's just a parking lot. It is Friday after all.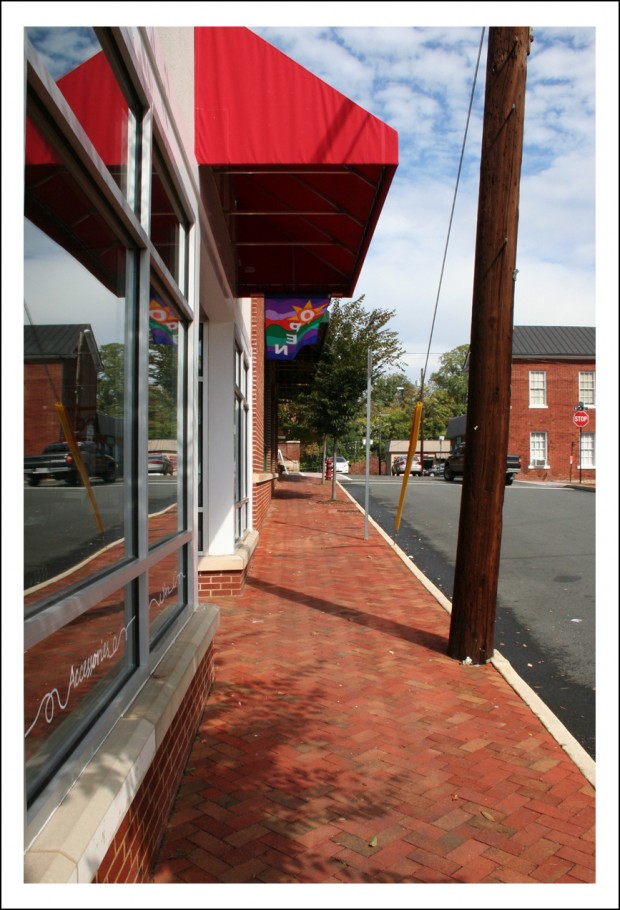 Come on, we need to keep walking toward Main Street. That store on the left (which I failed to photograph properly) is The Red Ribbon yarn shop. Apparently it just opened at the end of August. From what little info I saw on the Internet, they're going to have classes. I'll have to pop in for a visit when we have more time.
You can see the Presbyterian church from Fifth and Main Streets. I'm not sure what that cool brick building is on the corner (Annelies will laugh at that, I'm sure). It may be part of the church.
Also at Fifth and Main is the bakery (the Great Harvest Bread Company), which I mentioned here previously.
Here's an archive photo to jog your memory…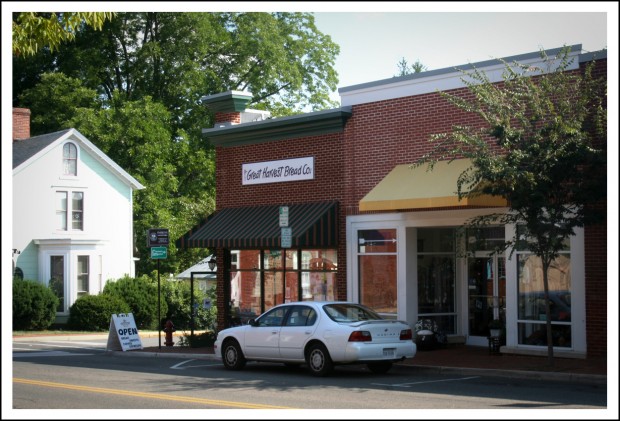 We can pop in for a quick visit, but then have to head back home.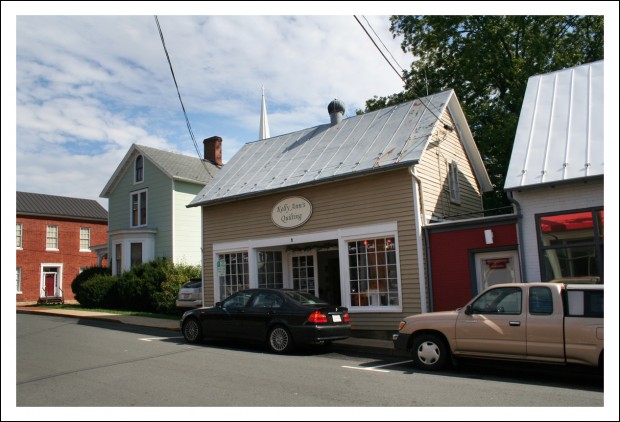 Oh, wait. I forgot to mention the cute little quilt shop that's also on Fifth Street. Actually, it's right across from the yarn store and mere steps from the bakery.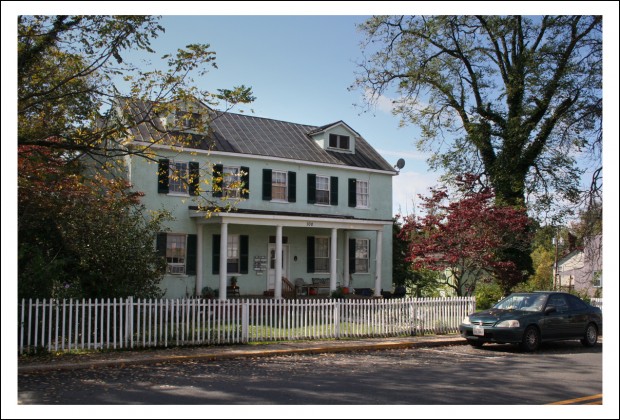 Did you see that nice old house on the way over? I forgot to point it out. I'm not sure if it's a house or maybe apartments. It could even be office space, but it looks sort of lived in.
Once we're back at our house, I'll reveal the real reason behind today's stroll. Other than to show you a bit of our new town, of course.
Are you ready for this?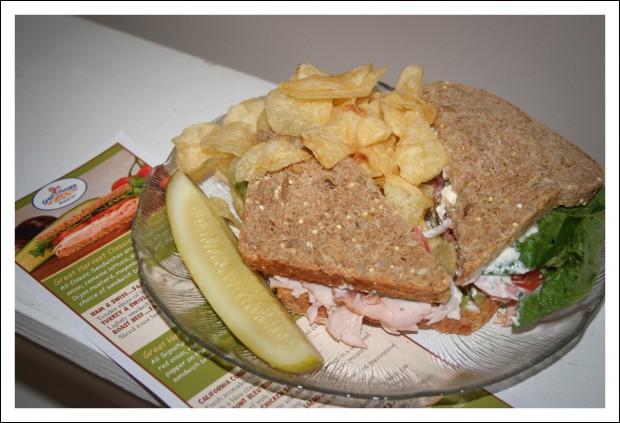 Yep, that's really why we walked over to Fifth and Main.It's why I was anxious to get back home, too.
I'd just read the other day on another Warrentonian's blog (if that's what you call us townsfolk) that the bakery had started selling sandwiches. Since their bread is to-die-for, I figured their sandwiches would be good.
Boy, was I ever right.
I had a California Cobb on "grainy bread." That's what they called it. Really. The bread was moist, dense, flavorful, and had bits of grain throughout. It was delicious.
Sandwiched between two generous slices was a pile of smoked turkey breast, avocado spread, onion, tomatoes, lettuce, and some sort of flavored mayo. I honestly can't remember if there was cheese. I do know, however, that the sandwich was delicious.
Hubby had roast beef and provolone on the same type of bread. He enjoyed his, too.
The sandwiches are served with a pickle. I had to provide my own chips.
That's my only complaint. If you can call that a complaint. At a price of just under $8, which was totally worth it, the sandwich should also be served with chips.
I'll still go back.
I hope you enjoyed the virtual stroll. I'm sorry you couldn't actually join us for lunch.