Yesterday was a chilly but otherwise nice Fall Friday. I decided to drive to Panera for breakfast. I took my camera along in case I saw anything interesting along the way.
It wasn't very long after sunrise when I left the house, so the light was quite nice. I figured it would be a good opportunity to detour down Culpeper Street to capture a few images of the houses there.
Why Culpeper Street? Because that's where a lot of big, cool, old houses are located.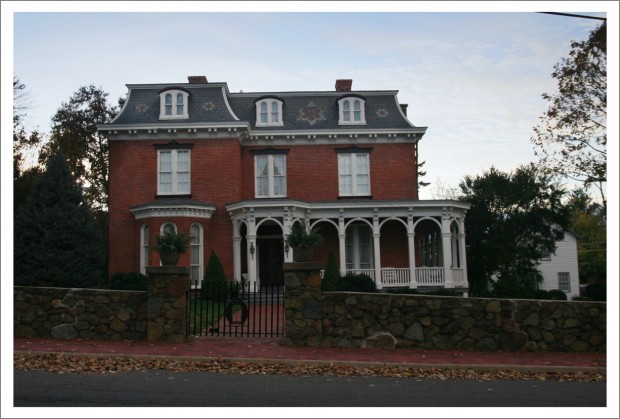 Remember, click on the image for a closer look.
One day I'll have more time to just stroll around and get some better pictures. For now, you just have to settle for snapshots.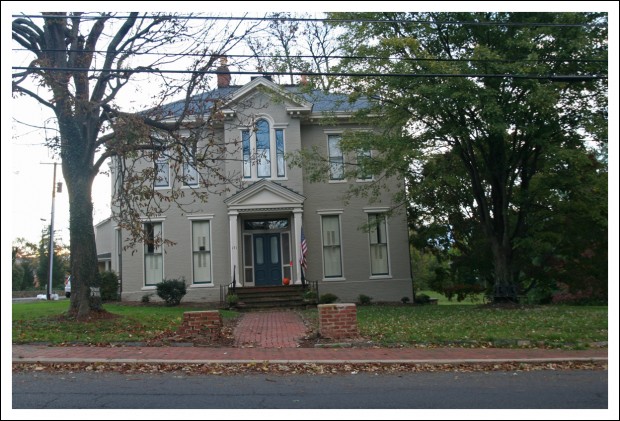 Neither of those houses are particularly large when compared to some of the other houses on the street. I just love seeing all the different architectural styles.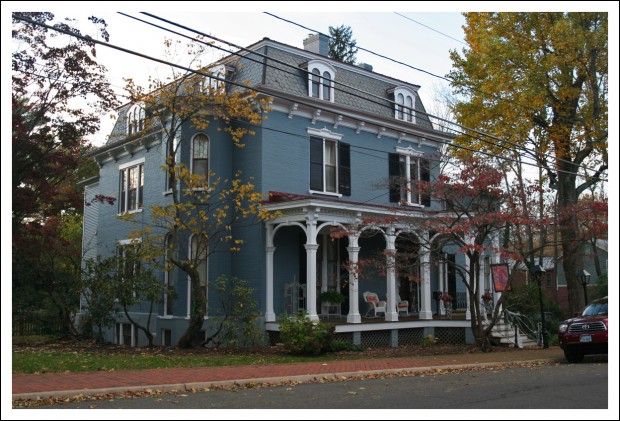 This blue house is one of my favorites. I just love blue houses for some reason.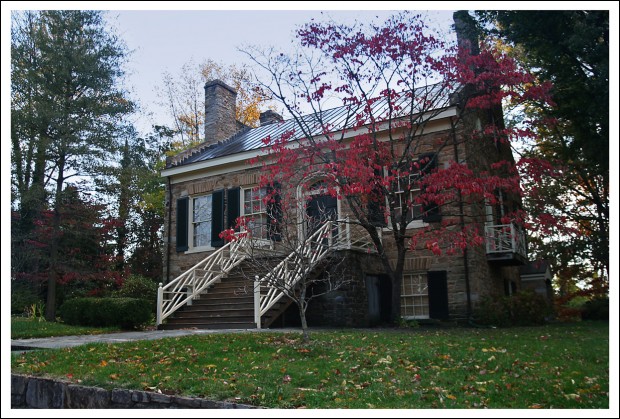 That house is actually small compared to some of its neighbors.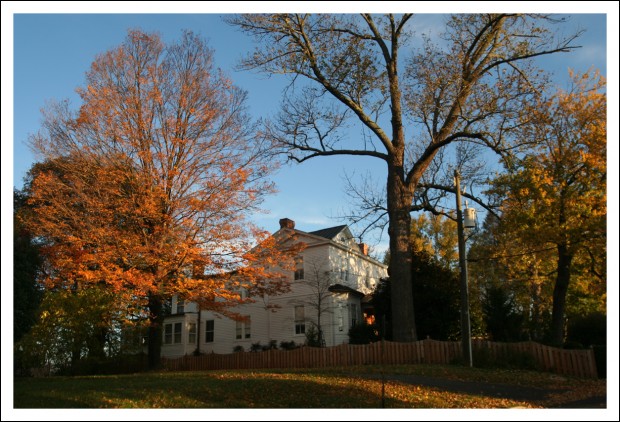 You can't see much of the house in that shot, but don't you just love the Fall colors?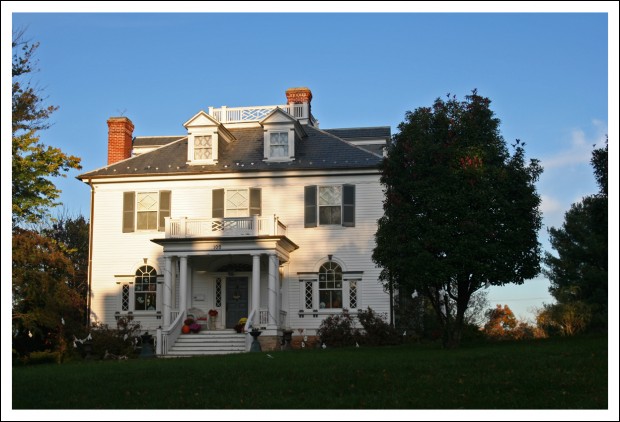 You gotta love the widow's walk on the roof of that one.
Now this next house was nice, but it was made even more interesting by the Halloween decorations that adorned the yard.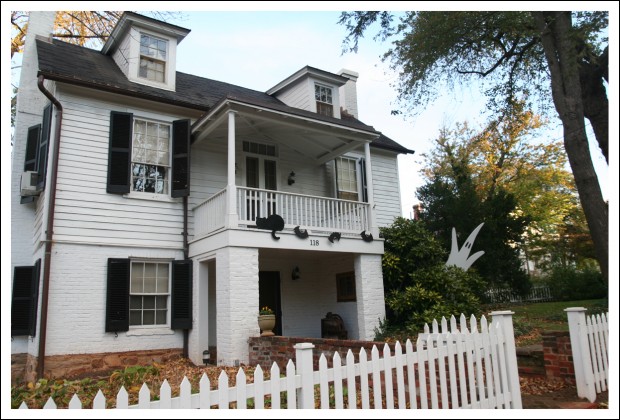 According to the Warrenton history book I purchased recently, this is the John Quincy Marr House, one of "several notable residences of prominent Confederate soldiers" in Warrenton. It's a brick and weatherboard-frame Federal-style house circa 1830. The book, which was published in December 2010, lists the owners as Ron and Elizabeth Scullin. The latter is/was the Chairwoman of the Warrenton Planning Commission.
I didn't know any of that at the time. I did notice a man in the yard, so I asked if it was okay for me to take some pictures. He said yes but urged me to wait a minute or two as some of the decorations they had displayed aren't weatherproof and had been covered with plastic bags the previous evening.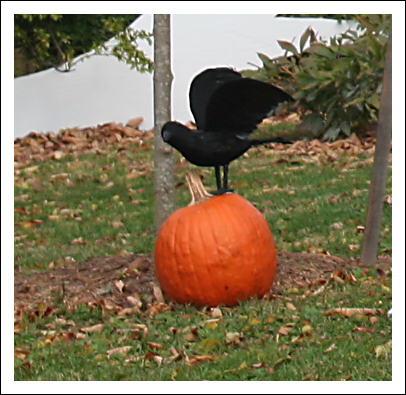 I'm glad I waited. These crows of his are really quite realistic-looking. I should have asked him if they were stuffed (as in taxidermy) or manufactured.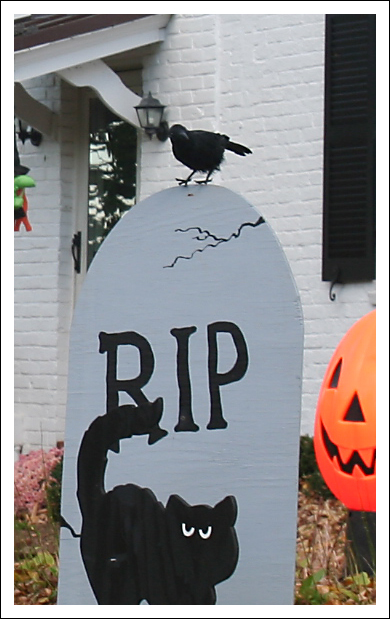 Even if that isn't a Raven, one can't help but think Edgar Allen Poe when seeing that shot.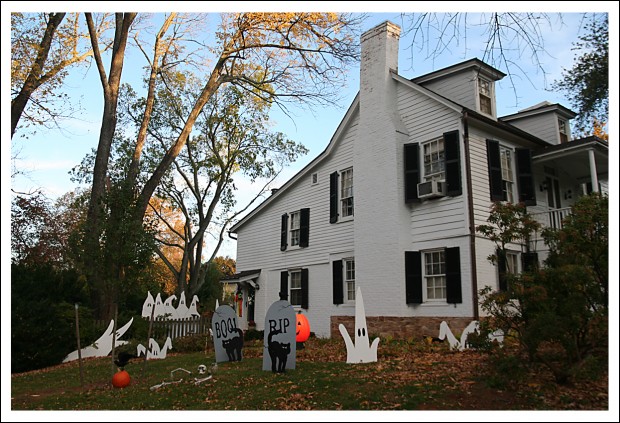 The man, I'm assuming it was Ron, said there would be even more stuff put out on Halloween day. Like lights. And a fog machine. He said the kids love it. And that last year they had over 200 trick-or-treaters.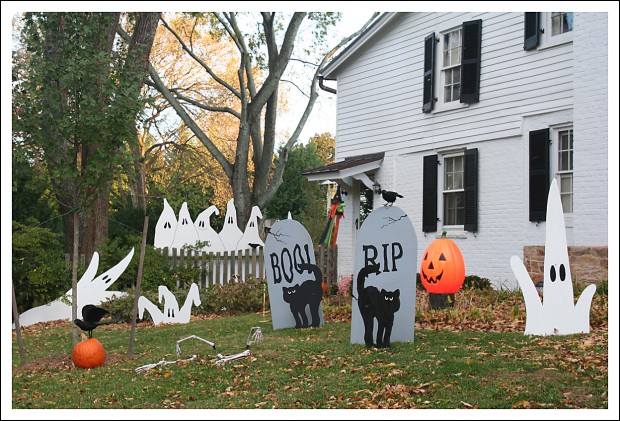 Those birds really do add a lot to the scene, don't they?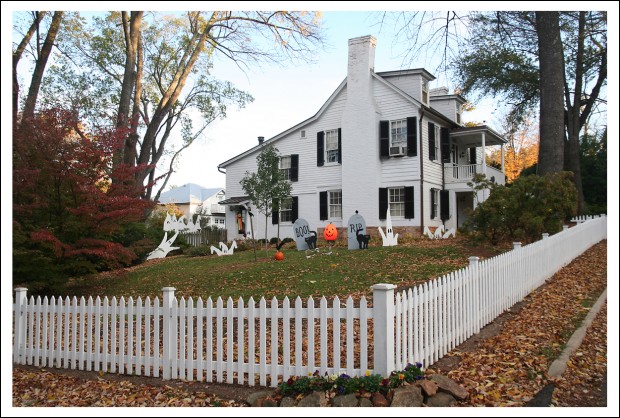 All in all, I thought the display was very cool.
I didn't have time to linger, so I headed home. But not before making one other stop.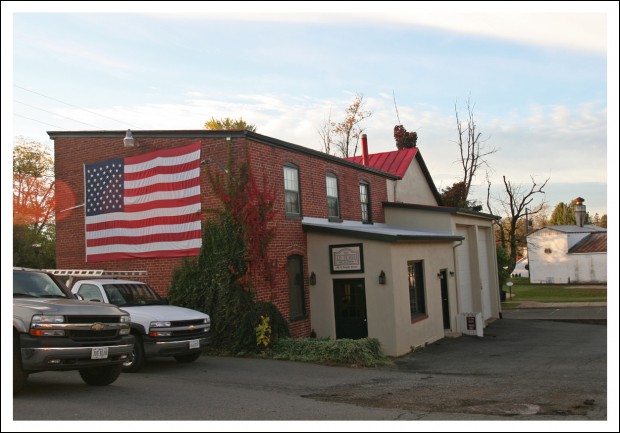 I just love the flag on this brick building, which I now know (because I finally read the sign) to be the JD Eicher Builder office on the corner of S. 4th and Lee Streets. We walk past this one every day.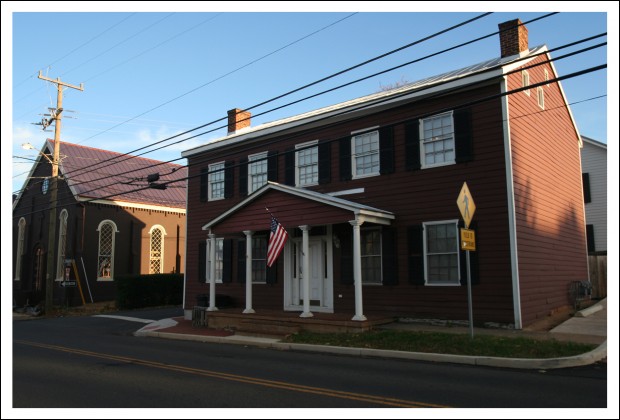 Here's another house I like. It's just a big, red square. But I like it. Maybe it's the flag. It's only two blocks from our place.
And finally… my favorite church.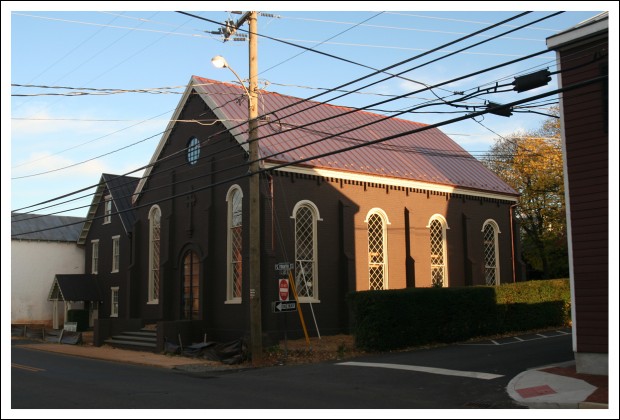 This church isn't really a church at the moment. It WAS the first St. John the Evangelist Catholic Church. When that congregation moved to a bigger building in 1965, this building became the home of a community action group. Now, according to that same history book I mentioned, it's owned by "renowned interior decorator Barry Dixon." I'm not sure if it's being redone to become a church, or a residence, or what. But it's awesome. I just love the way the morning sun lights up the copper roof and downspouts. I think the color is a deep purple. Hubby says it isn't purple at all. So we'll call it the Purple/Gray Used-to-be-Church building.
It's a shame all those power lines are in the way. It really is a pretty building.
And that ends your look at our town today.
Let me know when you're ready to come for a visit!