… the year's first snowstorm!
That frog on the right is me doing a happy dance. Cool, eh?
I didn't make it. I just Googled "happy dance" and this goofy frog came up. Sorry if it's distracting or nerve-wracking for you. I like to add a little bit of silliness sometimes.
Speaking of happy… Happy New Year! Can you believe it's 2012? I hope your holidays were as nice as mine.
As for that snowstorm… for some reason, I was up before 6:00 this morning. The sun doesn't even rise until about 7:30. So here I was sitting in the semi-dark, ingesting some coffee, trying to wake up when Hubby said, "Did you know there's an 80% chance of snow today?"
I didn't know. We don't watch much TV so we don't see weather forecasts on a regular basis unless we seek them out.
A little while later, as the sun started to rise, something caught my eye outside (the window is just beyond my monitor). I peeked out the window and was delighted to see that the world was covered in white.
Snow!
A very thin layer, but snow nonetheless. And as the sun was rising, it made for a pretty cool-looking sky. So I hurried up and threw on some clothes, grabbed the camera, and headed outside — did I mention that it was in the 20s? — to experience my first snow in Warrenton.
It was cold, but awesome. I just love this town!
I did say there wasn't much snow, right?
Instead of posting a bunch of big images, I added a gallery of small images (aka thumbnails) below. You can use the thumbnails provided to view images one by one. If you'd like to see the large version of an image, click on the thumbnail. Use your BACK button to return to the post.
UPDATE: At Hubby's request, I added a link to a Flickr SLIDESHOW.
GALLERY OF SMALL IMAGES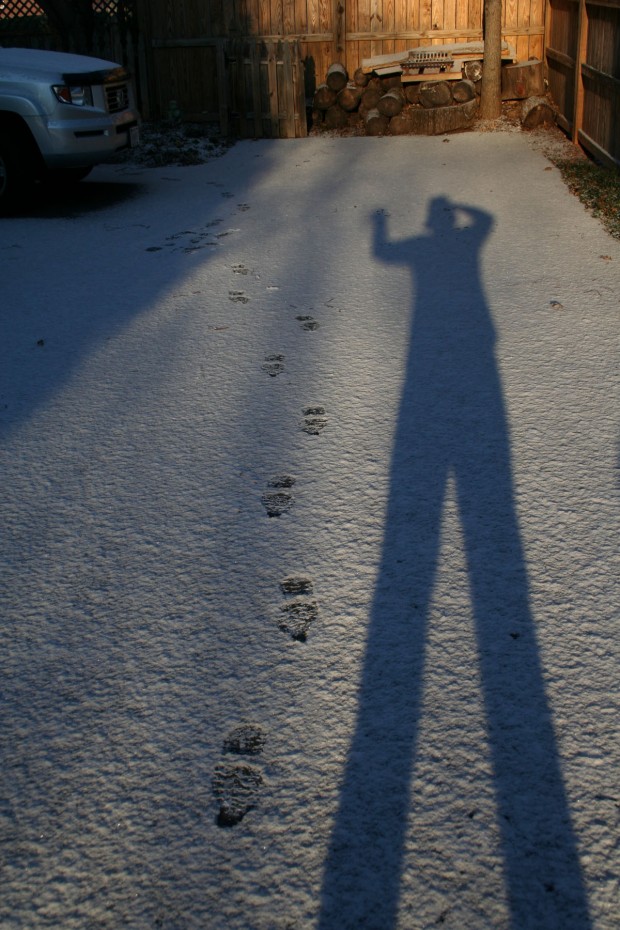 One of my goals for 2012 is to get back on the photography bandwagon. I didn't do nearly enough shooting last year.
Did you enjoy the snowy morning pics as much as I enjoyed shooting them?