I've been meaning to write about this topic for a very long time. What better time to write about the love of your life than Valentine's Day?
This isn't about him per se as much as it is about his workshop.
Now, if you are thinking "mancave," STOP. I hate that term. I think it is one of the silliest, most overused terms out there. Maybe if we didn't watch HGTV and TLC so much, with shows like House Hunters, Property Virgins, Property Brothers, Curb Appeal, Sell That House, etc., it wouldn't be so bad. But terms like that, as well as open concept, open floor plan, granite counters, and en suite, drive me crazy.
Anyway, back to Hubby's workshop…
Before we moved, Hubby had a workshop in the basement of our Maryland house. It was okay, but it was also cold, cramped, sort of dark, and the stairway was too small, which made it hard to get long boards, 4 x 8 sheets of material, and other stuff into the shop.  It also made getting large, finished projects out of the shop. Having spent so much time over the last seven years at the WV place, he didn't get much use out of the workshop. So, when we decided to sell the house, he moved all of his tools aside and converted that space into a little apartment. By himself. Well, we paid some guys to hang and finish the drywall, but he did everything else. Really. The man is quite handy.
Once the WV place was finished, and riding season was over, he missed his workshop. He's not one to just sit around. He's a tinkerer. So we knew that the new house had to have a space for his workshop. Not in a dark, cramped, cold basement either. In a separate building, with heating and plumbing. And maybe even some windows for light.
That was the plan.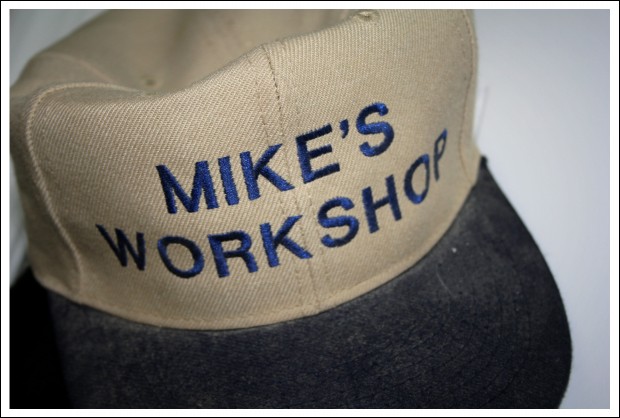 You know what they say about the best-laid plans, right?
Not only did the house we fell in love with not have a separate building for his shop, the garage is sort of small, and the basement was completely finished. There was rather nice carpeting, nine-foot ceilings, built-in shelves (small), a pool table, and even a full bathroom. It also had a workable entryway from outside. The door was small, but could easily be replaced.
We both loved the house, but Hubby didn't know what to do about his workshop. He needed his shop back.
"Well, just unfinish the basement," I said.
"That's crazy," he replied.
I agreed that it did sound a bit strange, but the two of us have no use for a fully finished basement in a house that's already a tad large for our needs. So he ripped up the carpet from about two-thirds of the space, built a wall to separate that area from the rest of the basement, had a larger door installed, installed a special PVC tile floor, arranged his tools and added a…
Wait, I can't tell you about that until later. It's something Hubby has wanted for YEARS. Years, I say.
First, I think I should show you some pictures of the recently completed space.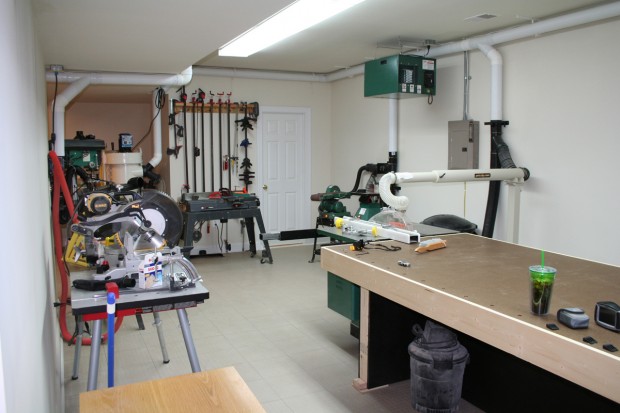 When you enter from the basement, that's what you see. A very large work-bench, which is actually his first building project here at the new place. He needed a large surface to work, put it's primary purpose is to support material as it comes off of the table saw (at the end of the workbench).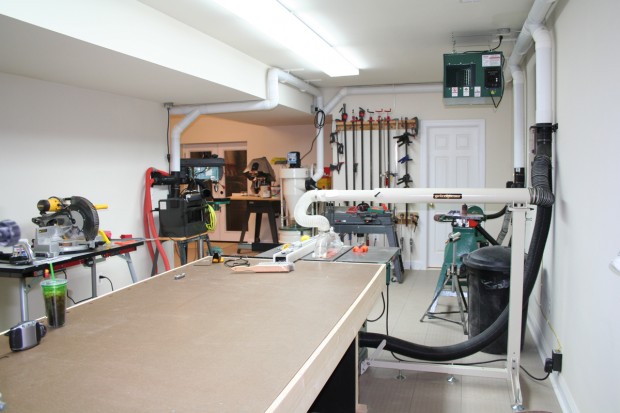 As you look around, you'll notice that he is very organized. Proof that opposites do attract. 🙂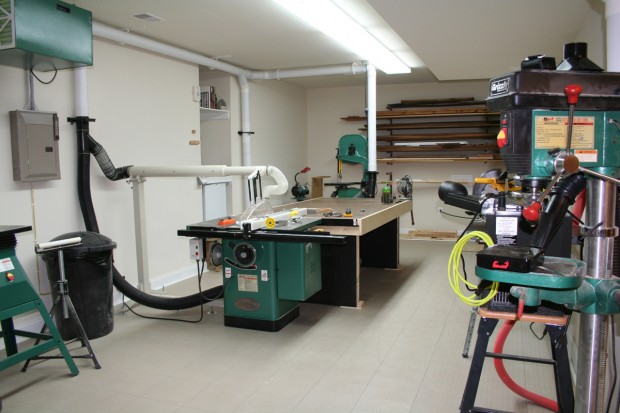 There's a shot from the opposite end of the room. That big teal thing in the middle of the room is the table saw.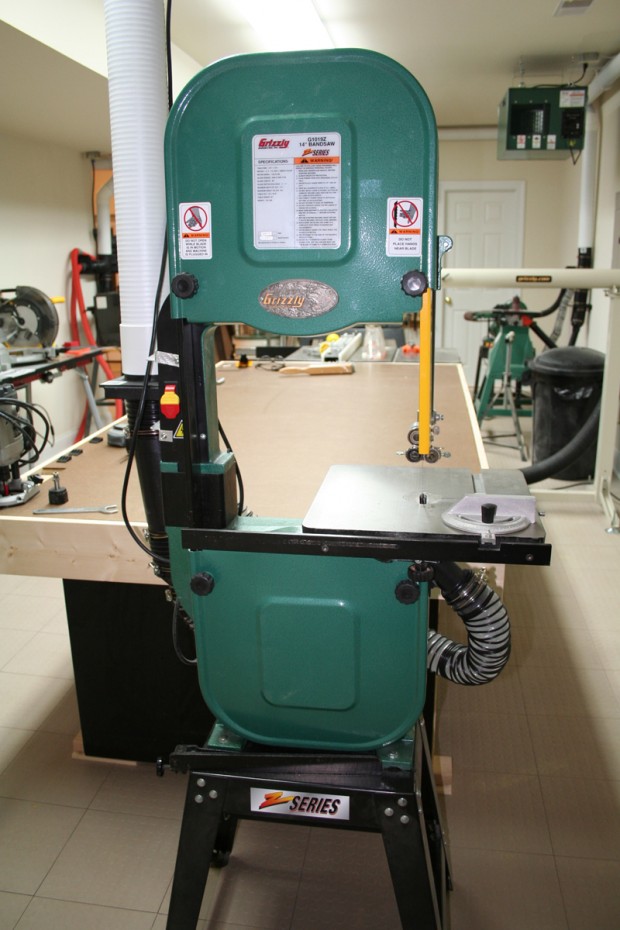 All of these tools have a specific purpose. I'm not going to go into all that detail, though.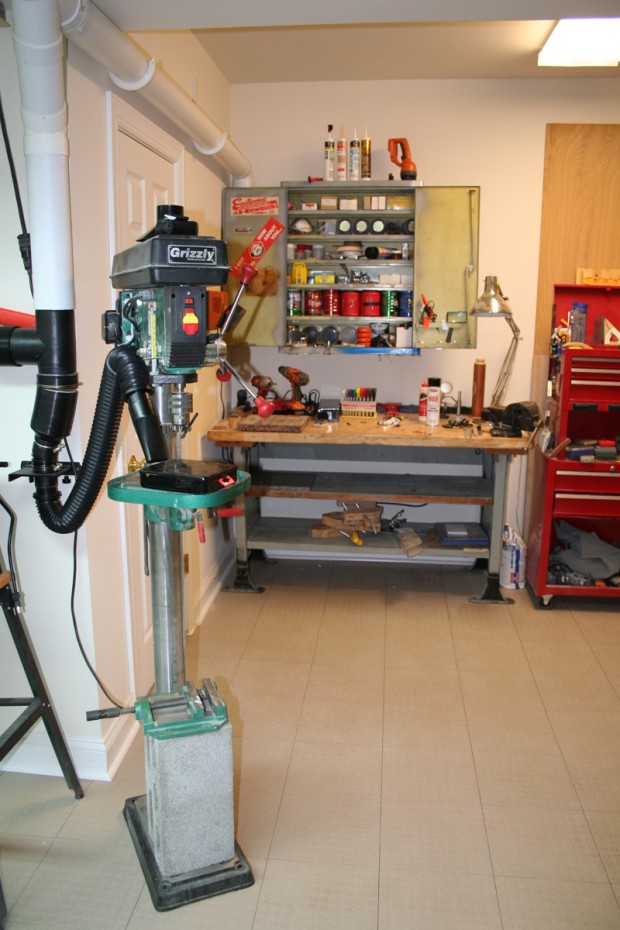 He's been working on this space since the day we moved in. Actually, he started planning the layout before we moved in. Before we even closed on the place.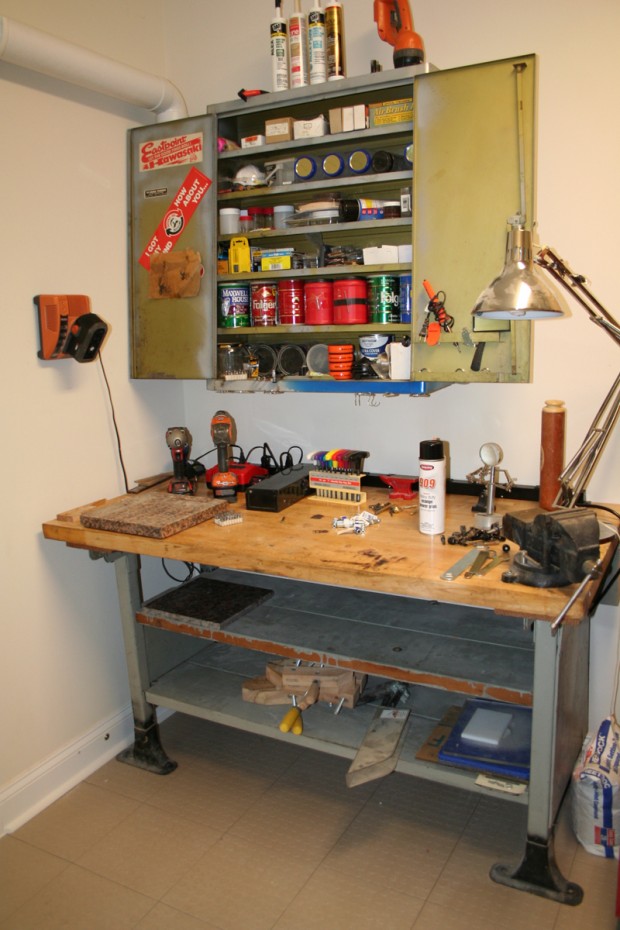 These are some of his older accoutrements. He's been amassing this equipment slowly over the years.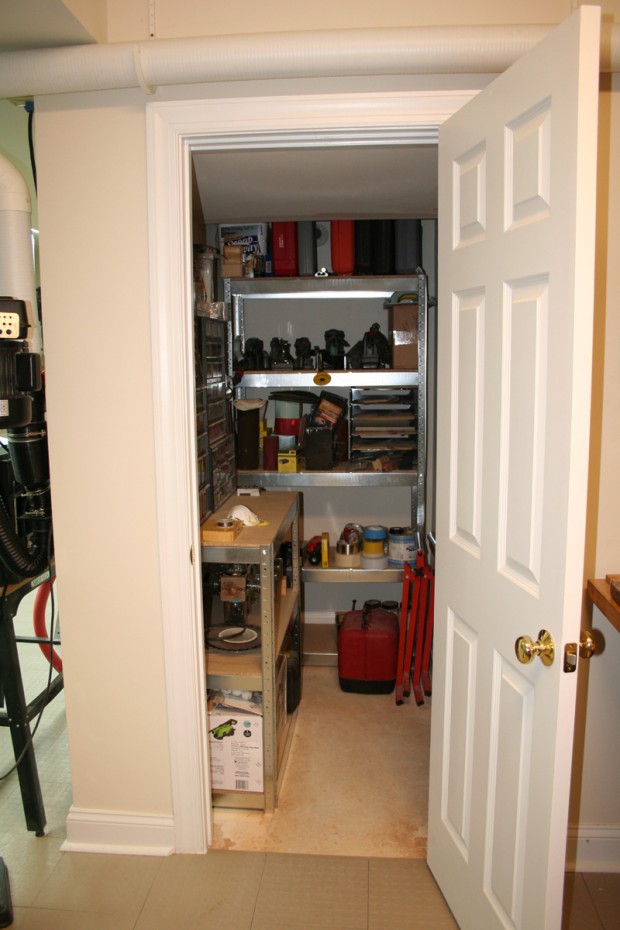 This storage closet now has much brighter lighting thanks to the new fixture he installed sometime within the past few days.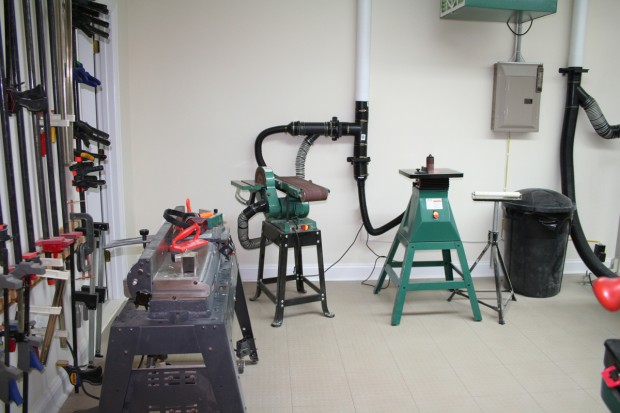 That electrical panel you see hanging on the wall is another recent addition. All of these big-ass tools require lots of power.
The green thing hanging from the ceiling, which you can't see very well, is an air filter. It collects airborne dust particles. You know, so our house doesn't fill up with dust.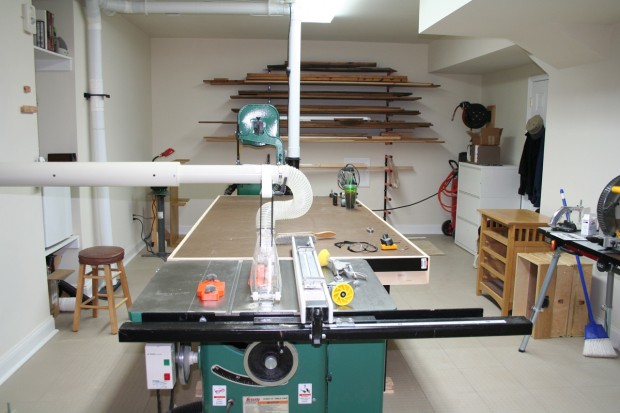 There's a better shot of the table saw/bench combo. That should give you a better idea as to how wood sawed on the table saw will easily feed over on the workbench.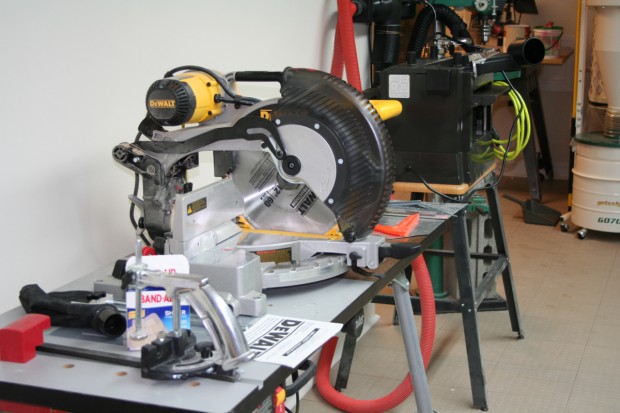 That cute little thing is the miter saw someone very special got Hubby for Christmas.
Behind that is a planer, which belonged to Hubby's grandfather.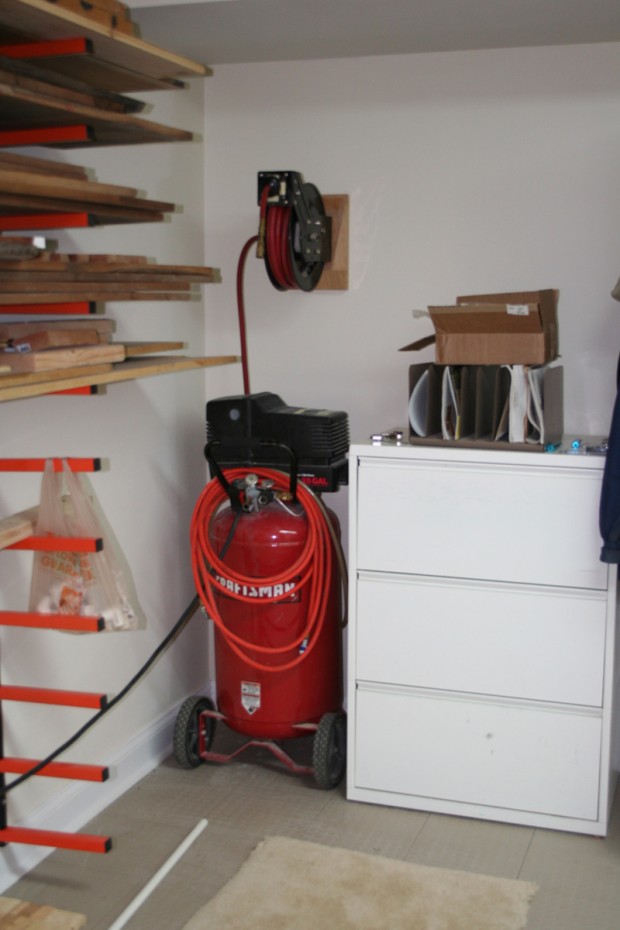 The air compressor is actually for woodworking and auto repair. Yes, he can fix cars, too. And motorcycles. Come to think of it, he knows how to fix lots of stuff.
I told you the man is handy.
And now… for the pièce de résistance. The thing Hubby has wanted since forever.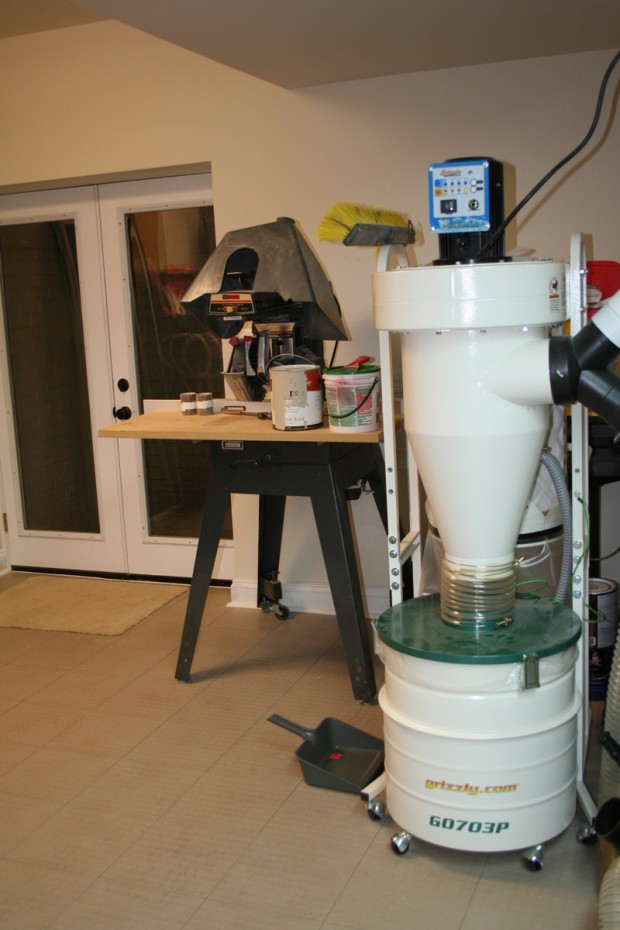 That's the cyclone dust collector. It's the heart of the dust collection system.
Have you been wondering what all the weird pipes are for?
Finally, a two-stage Cyclone Dust Collector with all the features of the larger systems, but in a compact size that requires less headroom. Aside from the safe and efficient operation of a two-stage system, this Dust Collector features a pleated filter system with internal shaker paddles for maintaining filter efficiency, remote control switch for activating the Dust Collector from across the room, roll away collection drum for easy dumping and a 6″ inlet for handling larger duct systems. If you've always dreamed of a Cyclone Dust Collector, but didn't have the space, this is the one for you!
That text is from the Grizzly web site. (What, you've never heard of Grizzly? I guess you don't have a Hubby like mine.)
The cyclone is basically connected to most of the tools via those pipes. Think of it as a giant vacuum. When Hubby uses a tool that makes sawdust, he uses his remote to activate the cyclone, which sucks up all the dust as it is being created. The air filter hanging from the ceiling captures all the minute, airborne particles that the cyclone misses.
Cool, eh?
Hubby is quite proud of his workshop. And I am quite  proud of him. He designed and installed the entire system.
Are you wondering why a man needs so many special tools? I could save that for another post since this one is already REALLY long, but let me just show you a few examples of his work.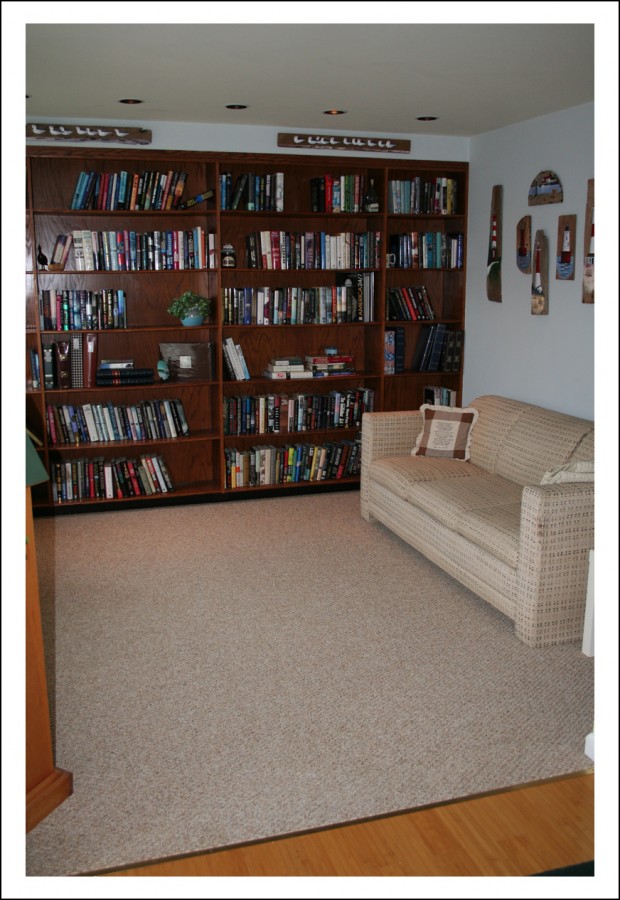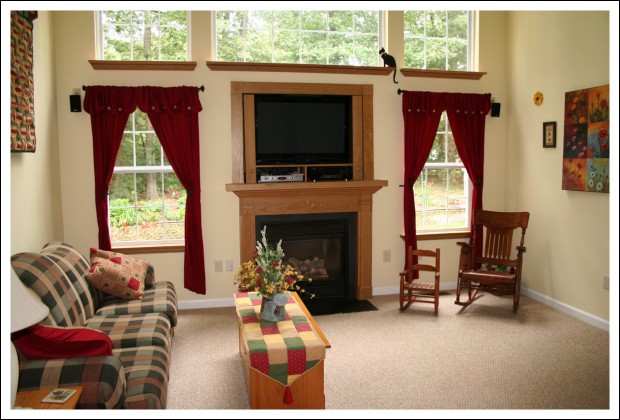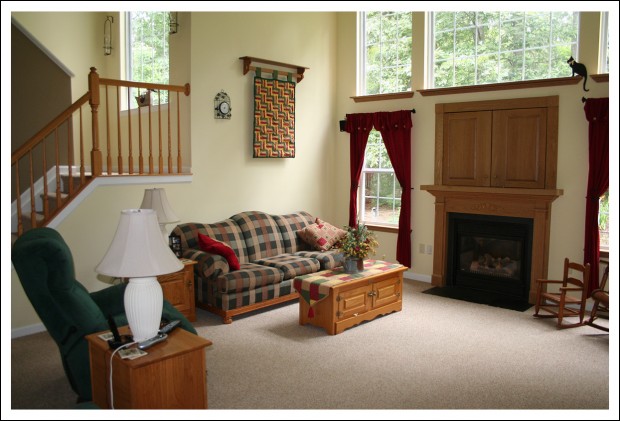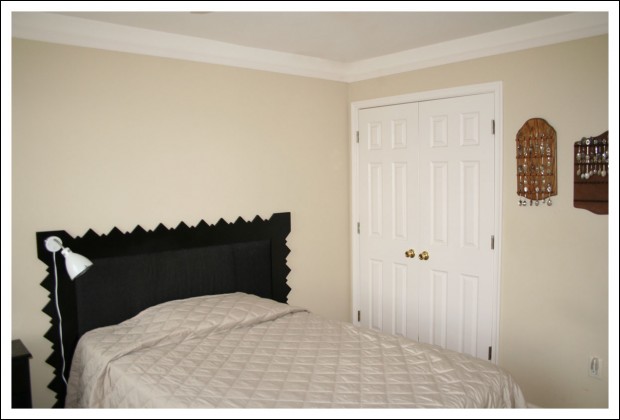 He'll probably cringe when he sees I posted that headboard because it's something he just sort of slapped together. But it's a perfect example of one of those things where I said, "Honey, can you build me a …" and within days it was done. That is Eric's bed, by the way. Which is why it's sort of plain.
Unfortunately, most of that stuff stayed at the old house. Except for Eric's bed, which went with him.
My favorite "project" of Mike's, which we brought with us, of course, is the bedroom set.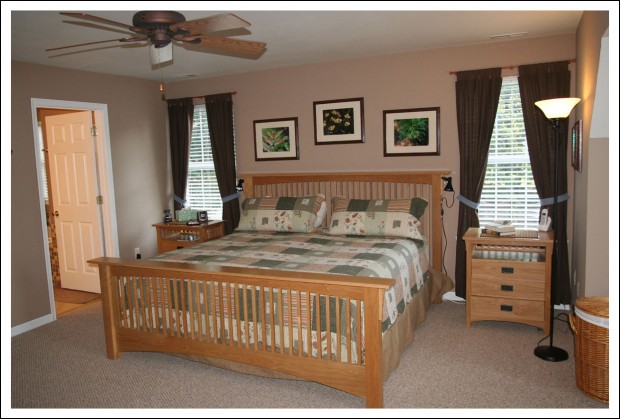 The picture is from the old house, but the stuff is here. Trust me. I would never leave that behind.
His first big project at the Virginia house, I think, will be building the dresser to match the bedroom set. Or the cabinetry for our closet. I'm not sure which will come next, but I'll be sure to share pictures of the finished products.
I got very lucky when I married that guy, eh?