Back in the day, before we bought motorcycles, before we decided to build a house, when we had lots of free time on weekends, Hubby and I used to like day-tripping together. We might go to a state park for a walk in the woods, along the beach, etc. Or maybe a nature center/wildlife sanctuary (because you know how I love critters). We might visit a town just because we'd never been there before. Perhaps we'd visit a home and garden show. Or craft show. Sometimes it was a simple country drive, with no specific destination in mind.
We haven't done anything like that for a long time. So, when Hubby asked me if I'd like to go to the woodworking show in Fredericksburg, I said yes. Honestly, my first reaction was, "Uh, no thanks." Because woodworking is his thing, not mine. Then I remembered the good old days and had a change of heart.
Also, I knew we'd be heading into civilization, i.e., town much bigger than ours, and could run some errands while out.
One of the secrets to staying happily married for a long time (almost 19 years for us!) is realizing that it isn't all about me. My partner's interests, likes and dislikes, feelings, and all that other stuff matter, too. Really. Marriage is all about compromise and sometimes sacrifice. But in a way that's healthy for both of us.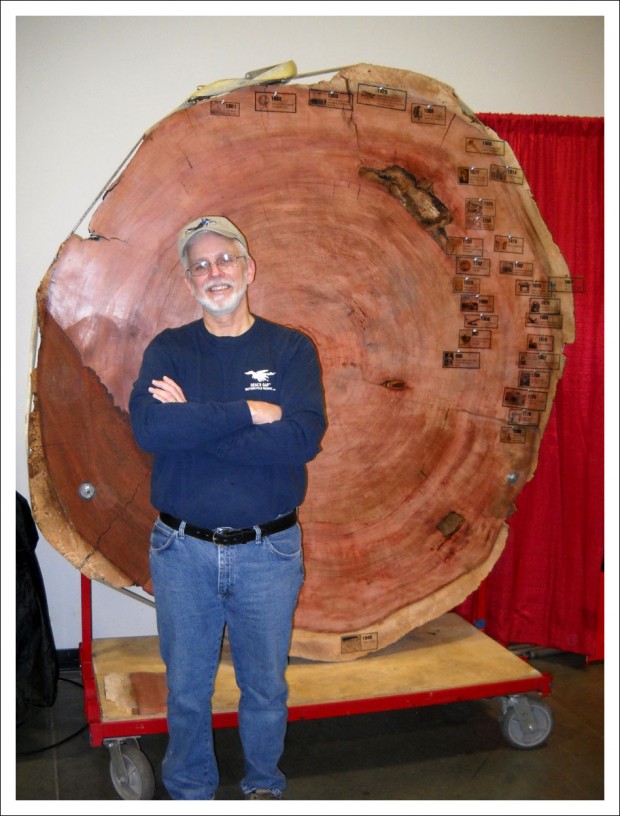 So off we went to Fredericksburg…
Our first stop was Hardee's for breakfast. We both love their made-from-scratch breakfast biscuits. Then we went to Petsmart to stock up on dog food. (There's a Petco here in Warrenton, but I just don't like them as much.) We stopped at Harbor Freight Tools, too, so Hubby could get some things he needed. He even bought me a new tool box. My girlfriend, Carol, gave me one years ago for Christmas or my birthday, I can't remember which. It's pink. All the tools are pink and mostly functional for very small jobs. It's in a flat, plastic case and stuff is constantly falling out because the clasps worn from being used so much. He also bought me a screwdriver with interchangeable bits. So one screwdriver is all I need to grab. Which is awesome because, invariably, if I needed a flat head, I'd grab the Phillips and vice versa. And I'd have to go back to the toolbox to get the other one…
Anyway, after that, it was off to the big show. That was all before 10:00 AM by the way. Neither of us are morning people, but we have three dogs, two of which insist on getting up before the crack of dawn. Even on weekends. Need I say more?
I, being female, was definitely in the minority at the expo center.
It was really quite interesting and entertaining, too. There was all matter of odd stuff on display and for sale.
Like these large things that, to me, looked like coral. At first glance, anyway. But once I looked closer, I realized what they were.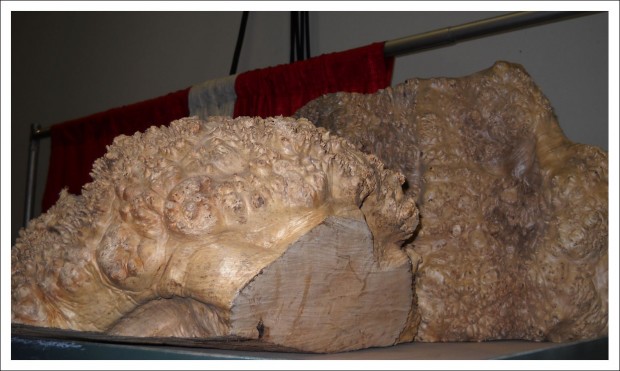 Large burls. Those are those knotty-looking growths on trees. They are actually quite prized for their unusual shape and intricate grains. (If you are really curious to see the many uses for burls, I did a Google search for pine burl images and this is the result. If that link doesn't work, you can Google it yourself.)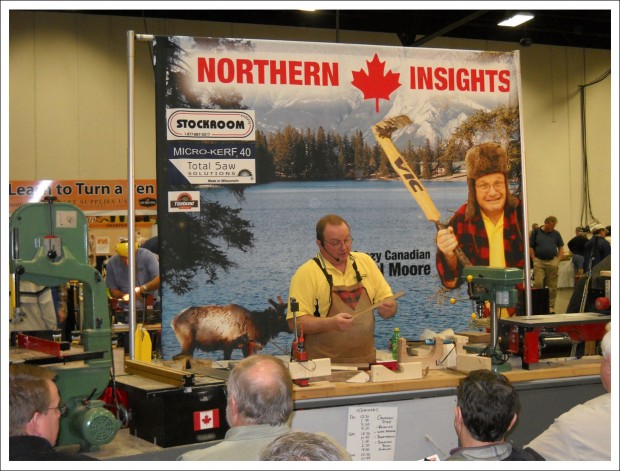 I thought the Crazy Canadian poster/display was funny. So I couldn't resist snapping this pic later when the Crazy Canadian himself showed up.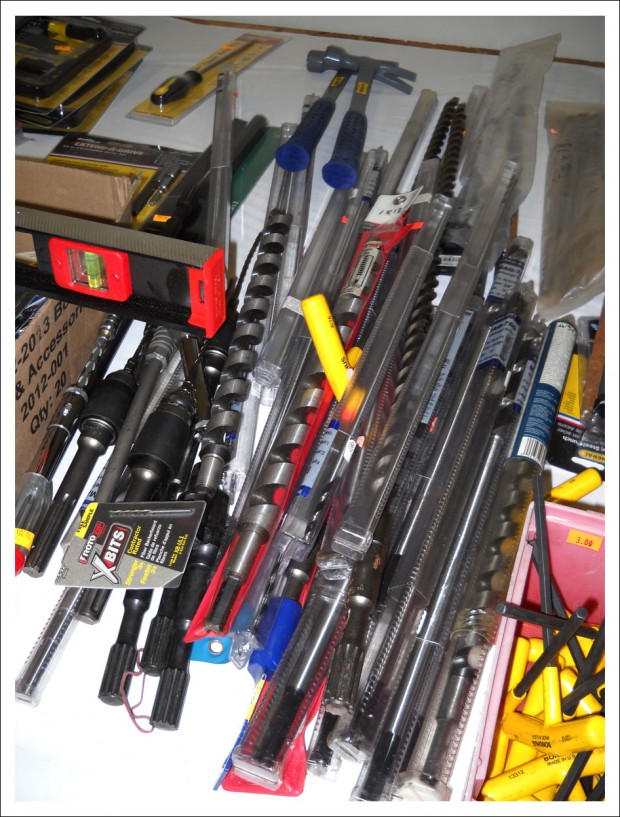 The very wide array of stuff for sale was quite fascinating.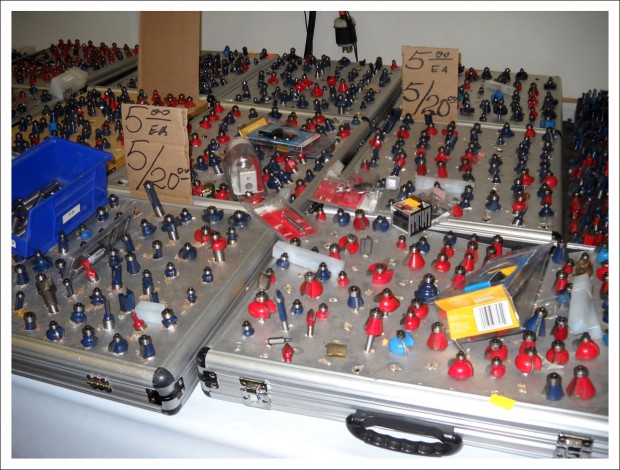 Because I like to observe people, I was quite amused by the fact that most of the merchants there pretty much ignored me. Usually, at events like that (crafts fairs, pet expos, home and garden shows, etc.), if you even look at someone's display out of the corner of your eye, they are all over you with "can I help you?" Or, "if you have any questions, let me know."
I was openly gawking at stuff, taking pictures, being left completely alone.
I'm guessing they all just knew I was clueless. In fact, as I told Hubby later, I'd estimate that about 95% of the stuff that was there, I had no idea what it was, what it might be used for, etc. It was like I was in a whole different country trying to understand a foreign language.
There was a Dadowiz tool, used for cutting dados. A variety of pocket hole machinery. Feather boards of varying sizes. I think I remember seeing a bastard file or two. Bench dogs, biscuit joints, plunge routers, rabbets (no fur involved). The list goes on.
I could have asked, and Hubby would gladly have explained. But I didn't really want the translation. It was more fun imagining what the stuff might mean, could be used for, etc.
Some things conjured up entirely different images and/or lines of thought I really did NOT want to explore.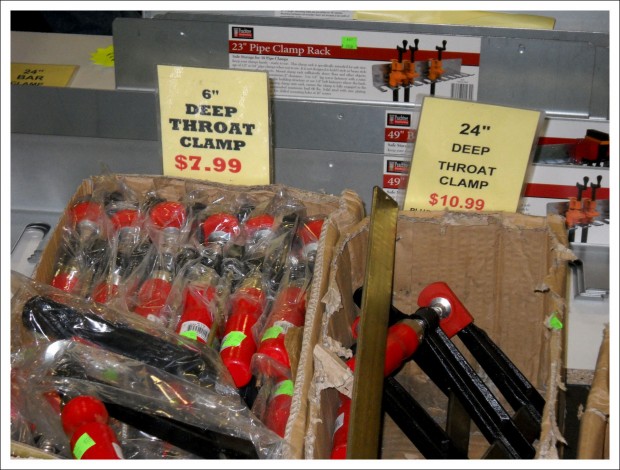 Obviously some man named that one.
It really was intriguing.
Embarrassingly enough, I was the only one who spent money at the show. (Bought some special paint remover.)
After we left there, we headed further south to an unfinished furniture/antique reproductions store I'd found online. Fredericksburg is one of those towns that appears to have nothing but shopping malls, strip centers, car dealers, fast food restaurants, and TRAFFIC. Ugh.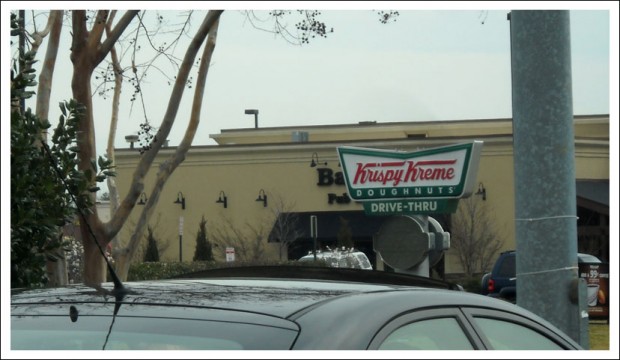 We did not stop at the KK as we are both dieting again. Sigh…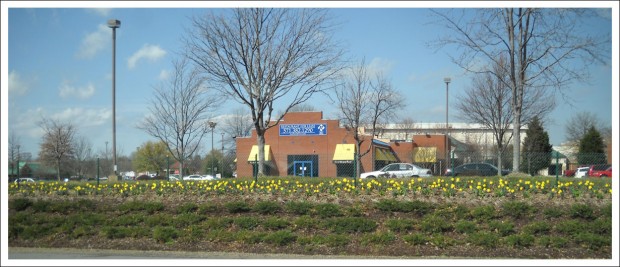 It is not the most picturesque place. In fact, all the parts we saw were downright UGLY. And the furniture store was a huge disappointment. Huge. Overpriced and poorly constructed junk.
I did capture a cool image on the way home.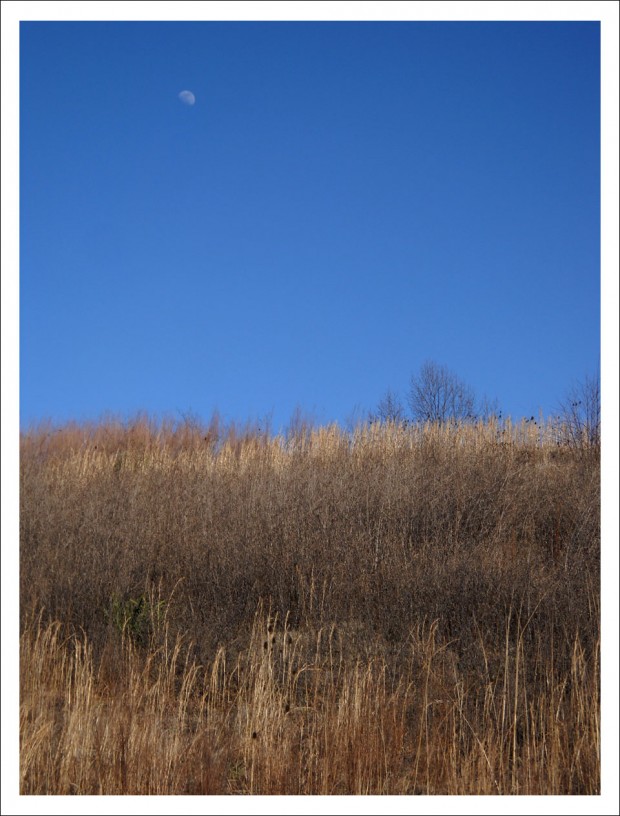 All in all, it was a good day.
Are you still awake? Sorry, but it doesn't take much to qualify as an "adventure" around here.
Now, let's see what we can get into today!