My girlfriend, Tracey, loves to shop for old stuff. She's a primitive queen. For those of you who aren't in the know, "primitive" is a decor style. Old country stuff, crafts, folk art, Americana. I posted some pics of her house back in December, which is where I went for my Christmas girlfriend getaway. I just LOVE her house.
Tracey refers to her finds as her "treasures." Which I kind of like. Because they're the sort of things that when you see them, you know you love them and have to have them. They're not usually big or expensive things. Just items that strike a chord for whatever reason. Perhaps they bring back memories, pique your curiosity, or maybe you just love the color.
I like country, too. But my house is more of a mixture of old and new. I never bought much old furniture because our house in Maryland was so suburban. Nice, but country/antiquey stuff didn't fit. Now that we have this new/old house, it fits a little better.
I bought a very cool dining room table a while ago. It's new, but was built and finished in the rustic/primitive style. And I have a bunch of chairs that need painting. What was missing was a place to store my dishes. One of the things on my shopping list for my recent Pennsylvania trip was a pie safe or some other sort of cabinet. I didn't want to spend too much money. Unfortunately, the ones I saw and loved were more bucks than I cared to part with. So, I came home empty handed, STILL with no place to put my old dishes.
I'd hoped to find one in Fredericksburg on Saturday, but the store was a big disappointment. Again, no luck. Then, on Sunday, I decided to go to this little shop here in town that I only recently realized was here. It's an auction house/antique store called Shumate's Auctions/Past Reflections Antiques.
The shop doesn't open until noon. I ran some errands first. I was still a bit early, so I took a little detour figuring if I went home, I might not feel like going back out. And look what I found. This barn isn't more than about five miles from my house (as the crow flies).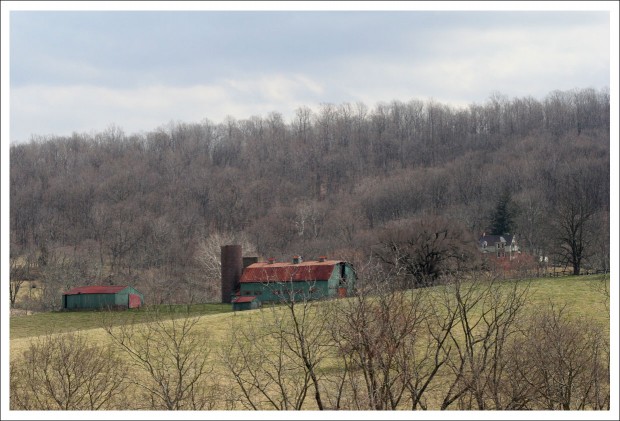 Anyway, so I finally get to the shop, walk in, and see my pie safe. It was fate, I tell you.
It's one of those rustic antiques that some folks might call junk. The shopkeeper, who just happens to be named Kathy, referred to it as a "Grandmother's back porch" sort of piece.She's very nice and has the cutest little dog. I just love shop dogs.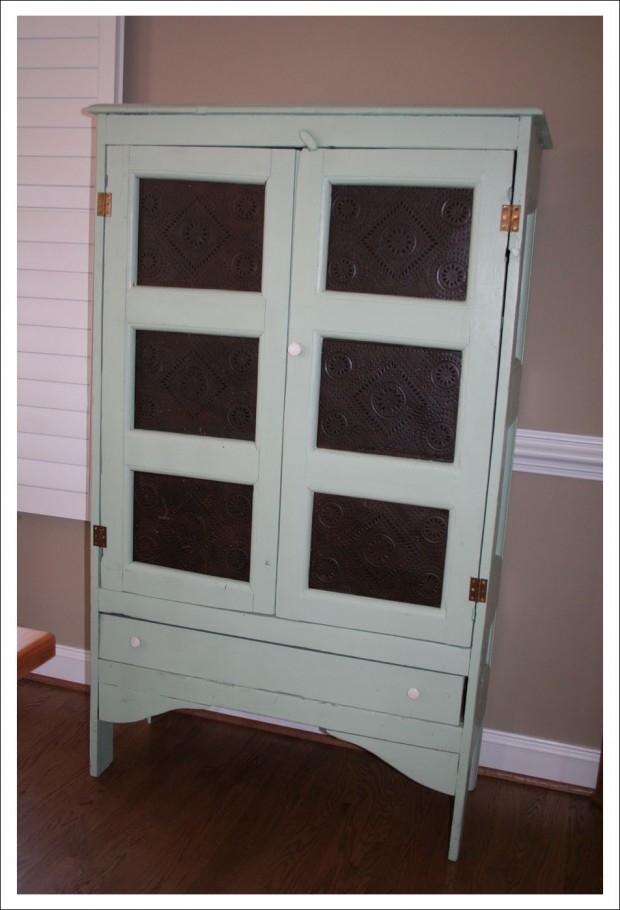 It's a real, old pie safe. It has been painted but all of the tins are original, and have NOT been shellacked. There's even two tins on each side, which I have never seen. The punched tins actually had a purpose (I think). When ladies filled these cabinets full of hot pies, the punched tins allowed air to circulate so the heat could escape and the pies could cool evenly and safely.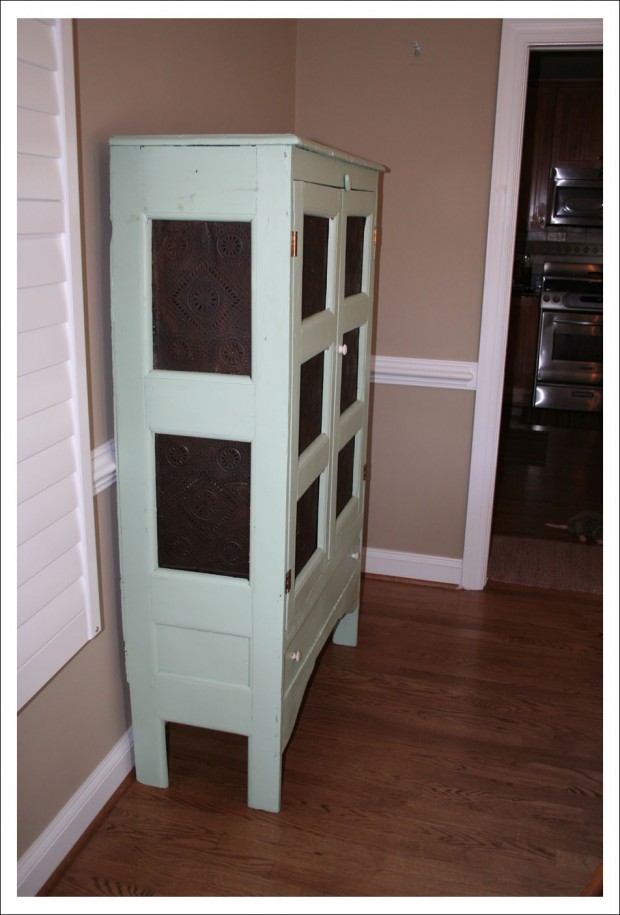 I'm not sure how I feel about the color. It's a tad too minty, so it may end up being painted. Also, There are some hinges on the front that need replacing. They're just ugly. I'll either get some reproduction style hinges or have Hubby put some hinges on the inside for me.If I opt for the latter, the cabinet will have to be painted.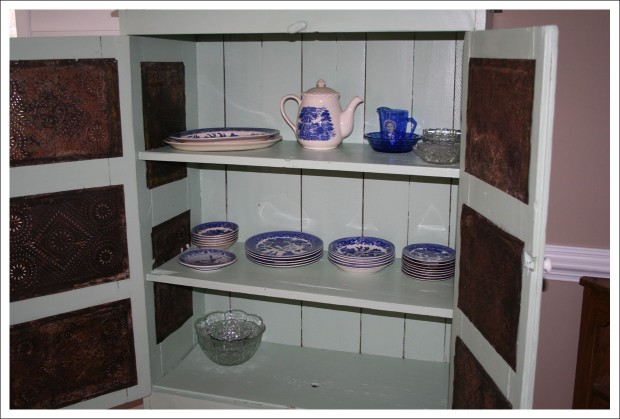 It's the perfect home for my blue willow dishes. My grandmother gave this set to my parents as a wedding or shower gift. Some of those glass bowls are old, too.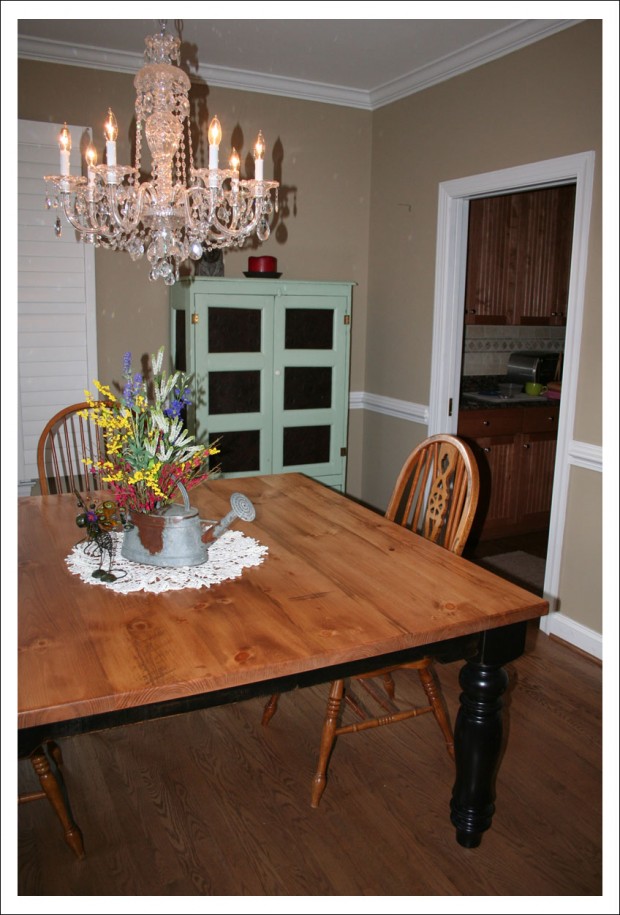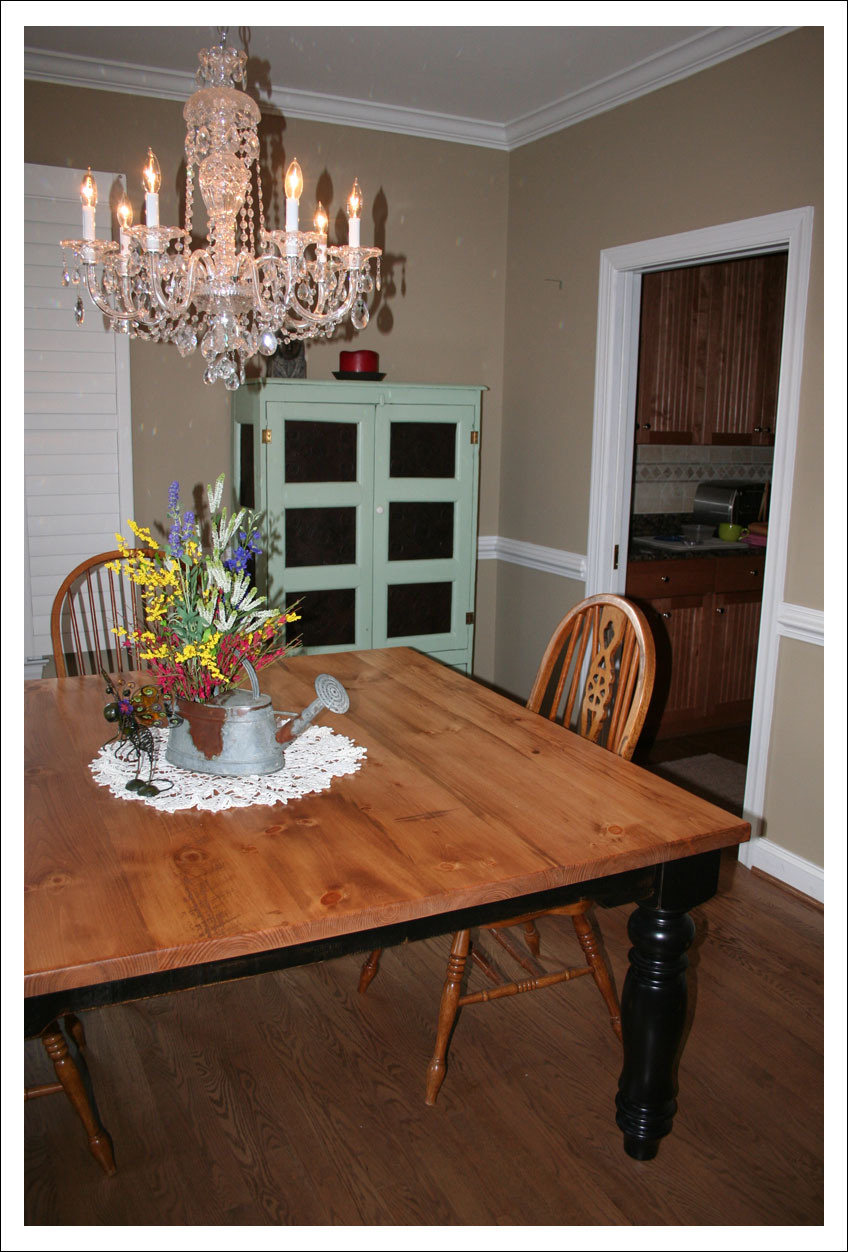 It fits perfectly in the spot I had intended to place whatever piece I ended up with. Now we just need to get rid of that ugly-ass chandelier, which is totally out of place/not "me." (I found one in Lancaster, which is on order. Only a few more weeks. Woo hoo!)
Notice my new centerpiece? I bought those flowers in PA.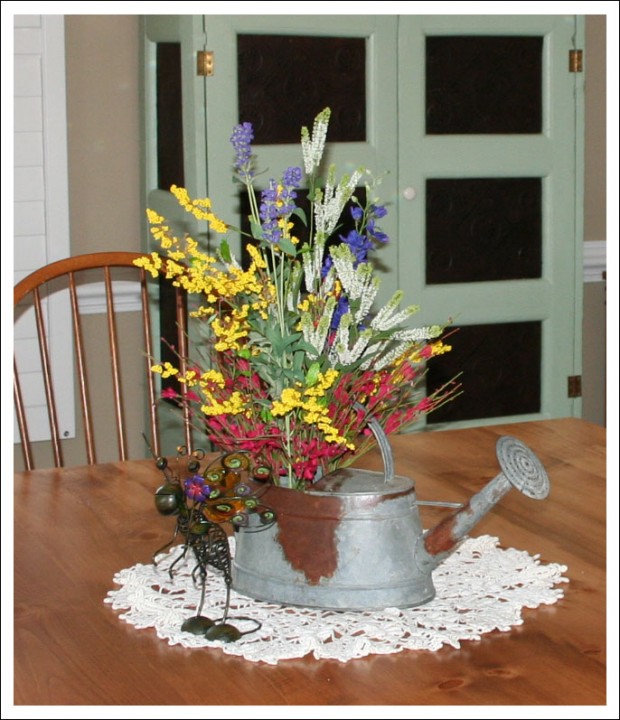 I'm pretty good at this flower-arranging thing. At least I think I am. 🙂
Maybe that can be my new career when this proposal-writing stuff burns me out.
As soon as the new chandelier arrives and gets installed, I'll post some pics. I need to paint that room, too. I just need to decide on a color. And then there are all those waiting-to-be-painted chairs. Sigh…