…but three would have been better.
All three of our grand kids play organized sports. So it is next to impossible to find a weekend that they are all available to come for a visit. Which is good and bad. Bad because we don't get to see them very often. Good because sometimes it's hard to find stuff they all three like to do.(Brianna is 11, Gaige is 8, and Joey is 4.)
This weekend, Gaige and Joey came for a visit, so it was a real guy weekend.
Before the guy stuff started, we had to feed the kids a snack.
Shannon recently posted a photo of Snicker-doodle Muffins she'd made. Hubby decided he'd one-up her by making the same muffins and posting pictures of the boys enjoying them.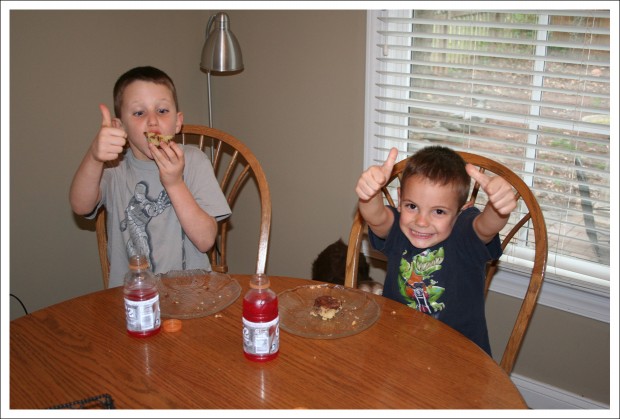 Of course, he's got the advantage there since she's now living in California.
The guy stuff began right after snack time when it was off to Pop's workshop for some building projects.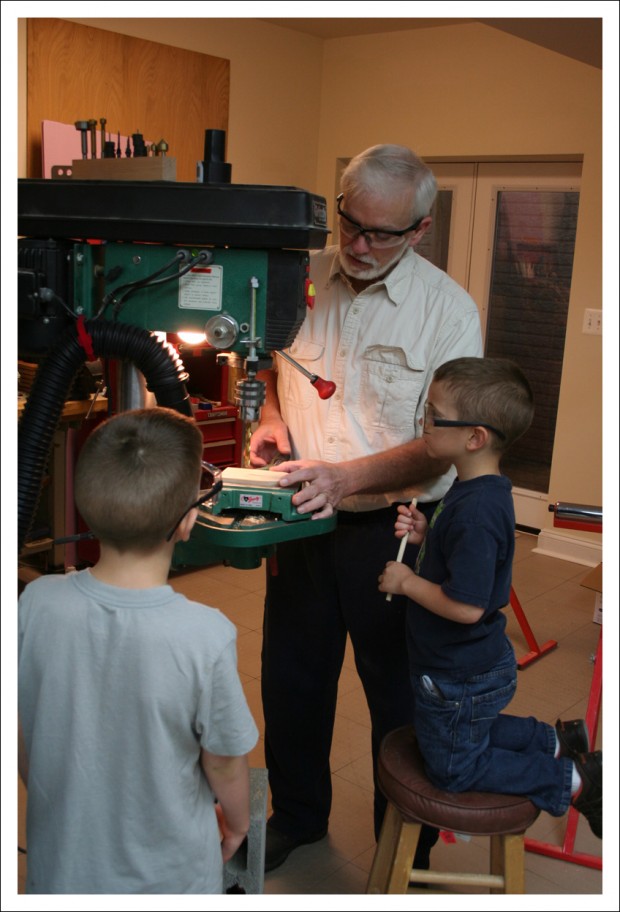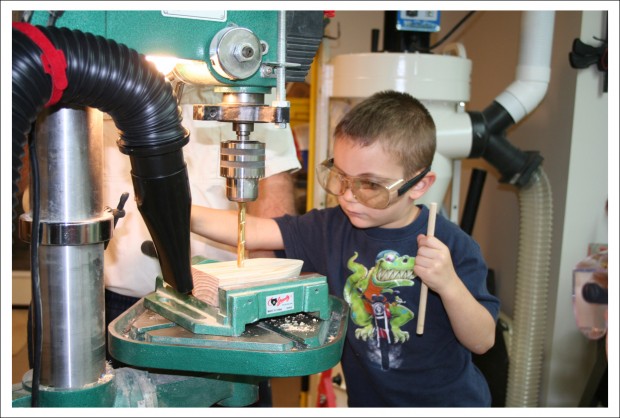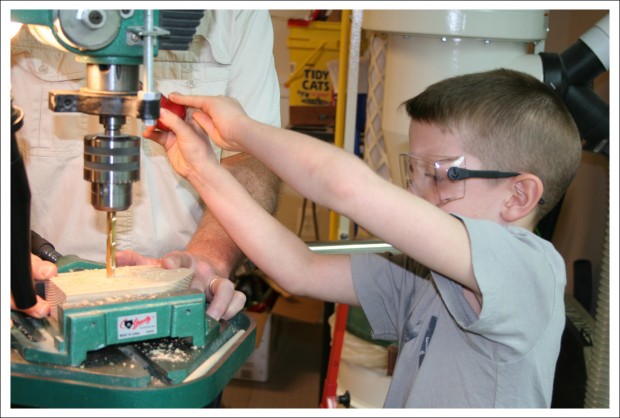 Pop did a very good job explaining the safety rules, equipping everyone with safety glasses, and overseeing the tool use VERY closely.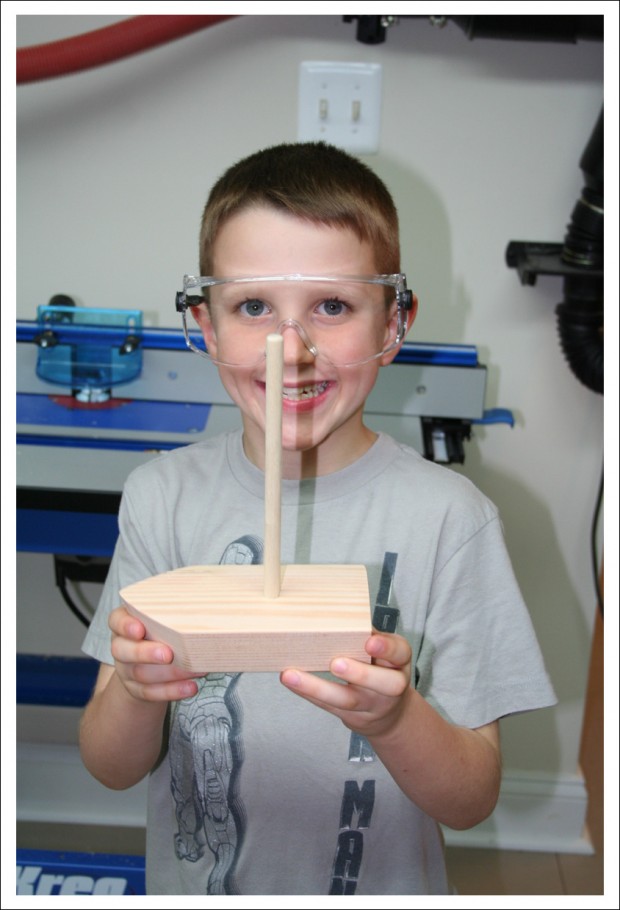 Hubby made the boat bases before the kids came. There's one here for Brianna, too, in case she asks about boat-making when she comes for a visit.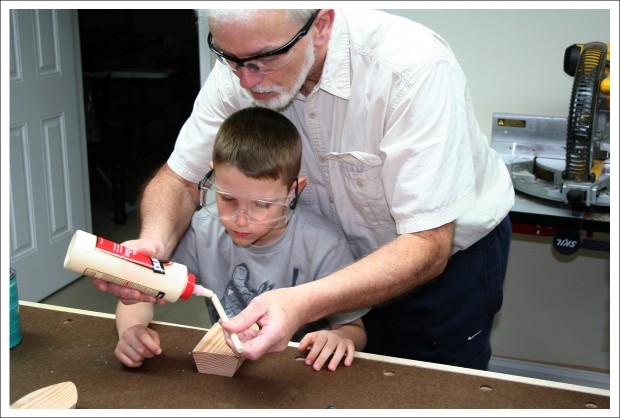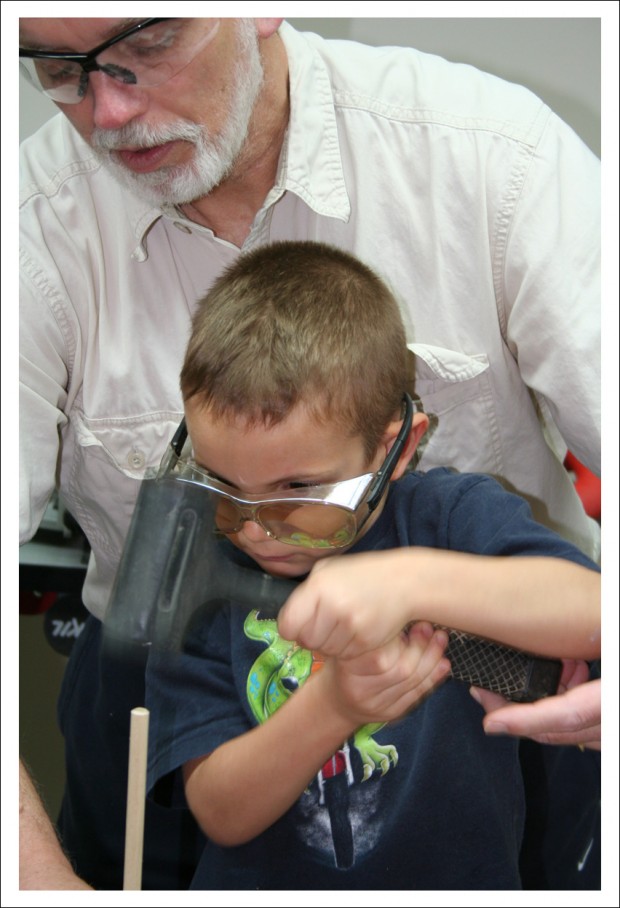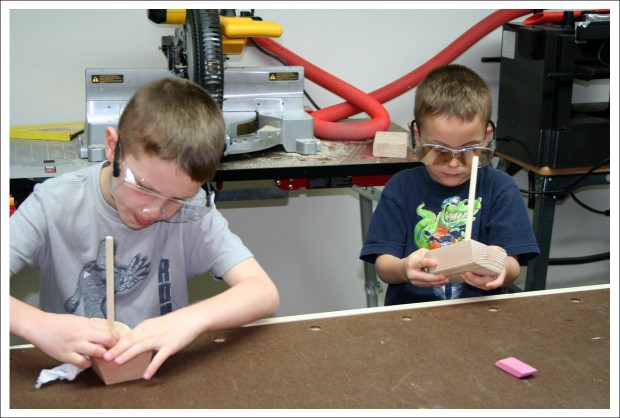 After the masts were in place, it was my job to make flags. A small but important role for G.
Then it was time for the next project.
The boys watched from a safe distance as Pop cut the pipes into the right lengths. I think Gaige was in charge of reading the measurements and quantities from the diagram.
The boys are way too young for saw lessons.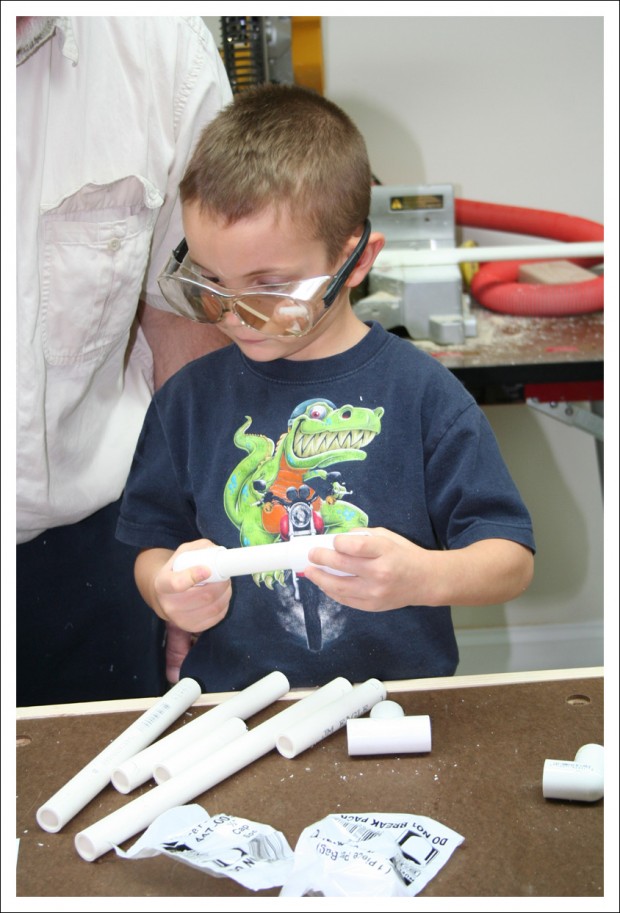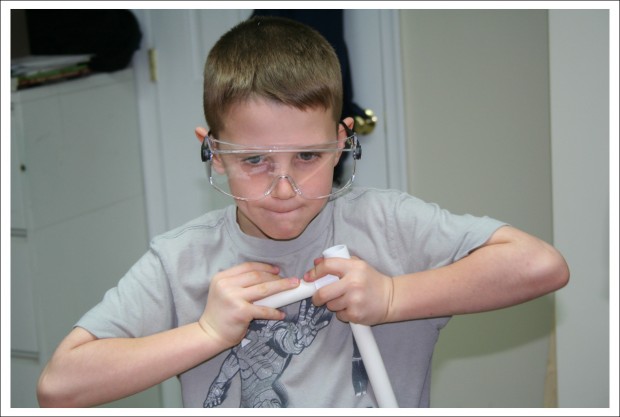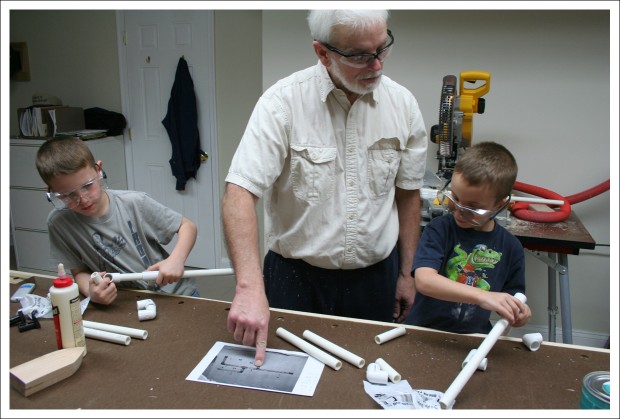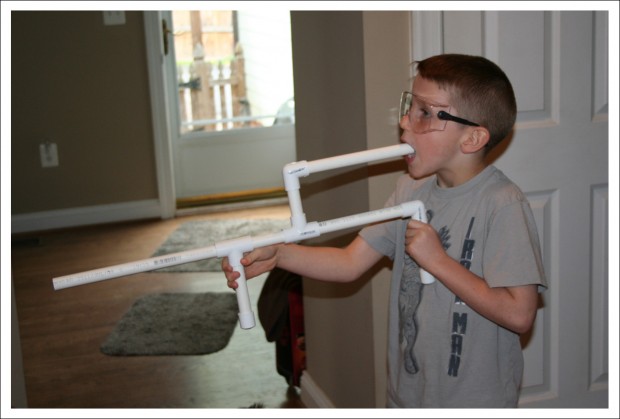 They're finished! Wondering what it is?
It's a Marshmallow Gun. You insert a miniature marshmallow, blow hard, and out shoots the ammunition. Joey, couldn't say "ammunition." It kept coming out as "Army mission," which was very confusing for me when, just before they left, he asked me twice, "What about our Army mission?"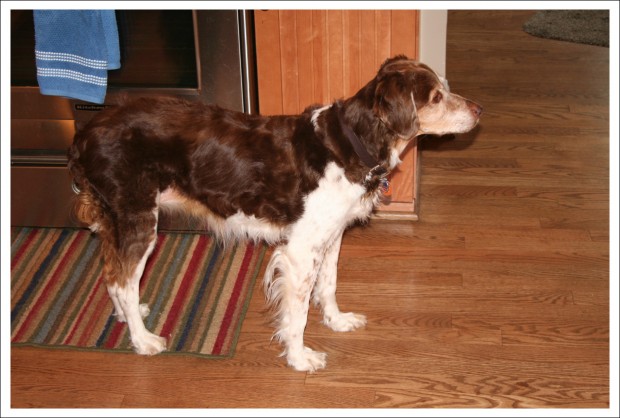 The dogs were actually willing targets. They LOVE eating marshmallows. Joey does, too. I'm not sure who ate more bullets, Joey or the dogs. The boys were a bit dismayed that their ammo kept disappearing.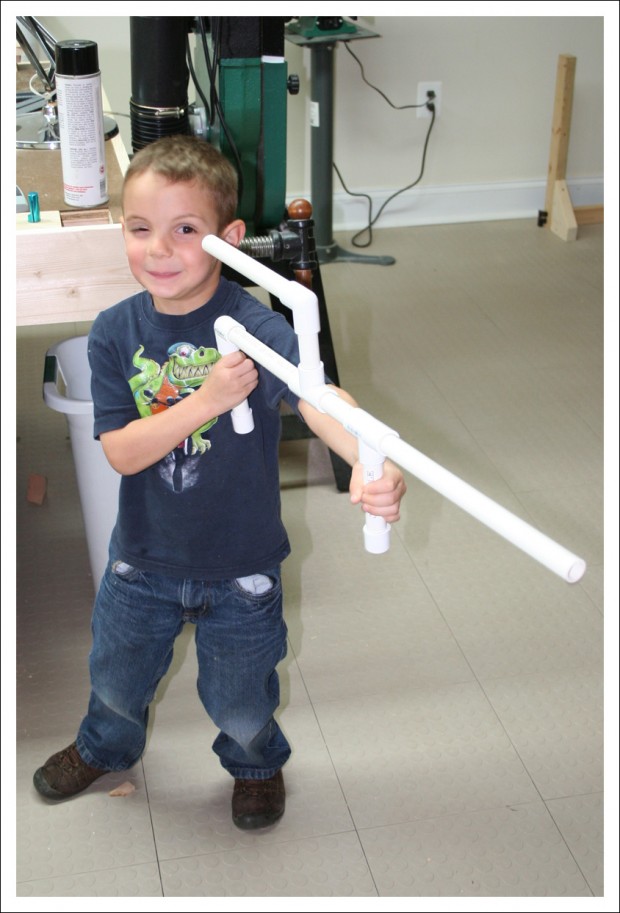 It took Joey awhile to figure out how to blow hard enough to actually launch a marshmallow, but he did finally get it.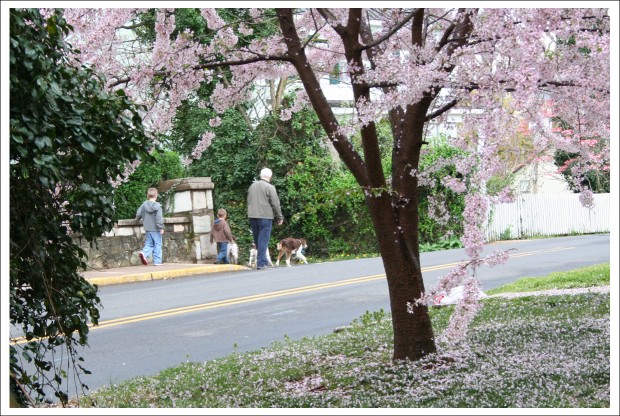 The boys wanted to visit the caboose, so Pop walked them down to the Greenway. I stayed home to cook dinner.
You won't see any pictorial proof here, but I did actually do more than take pictures all weekend. I was in charge of food. (I made the best from-scratch pancakes on Sunday topped with homemade whipped cream and strawberries!) But my primary "job" was Lego building. Gaige gets bored with Lego's. So he and Pop watched a movie or two while Joey and I built stuff.
Not that I am complaining. Quite a few of the bricks in the collection were mine as a kid. The rest were Eric's. We have a LOT of Lego's.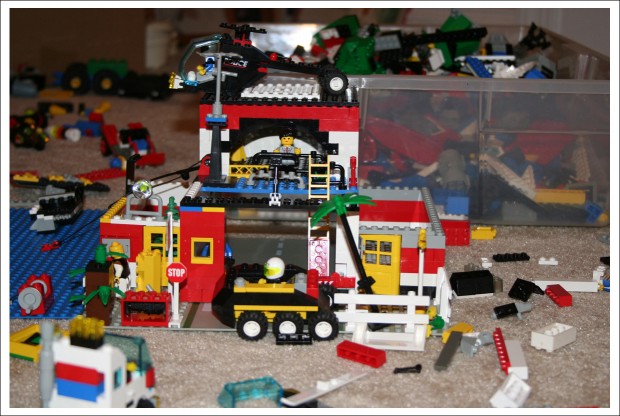 On the way down, Joey asked Pop, "Are we going to the house with the Lego's? Or the other house?" When Pop told him the Lego house, he said "Yes!"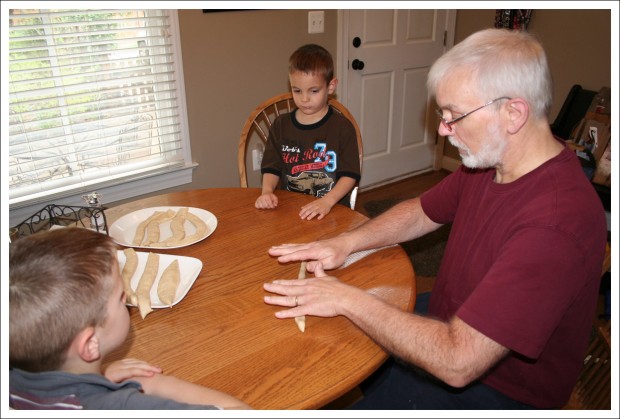 Sunday's project for the boys was pretzel baking.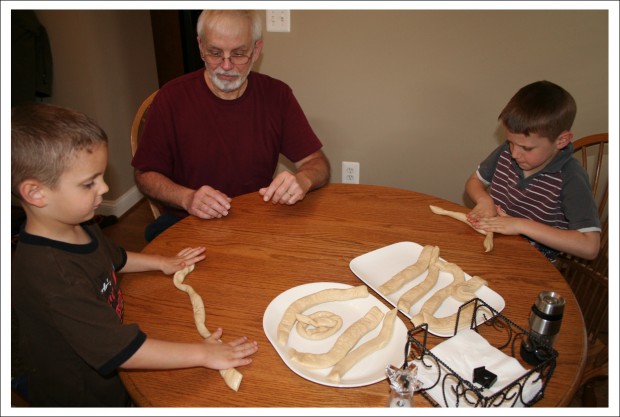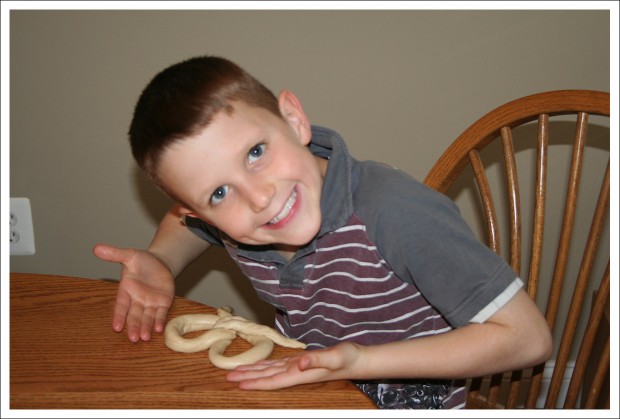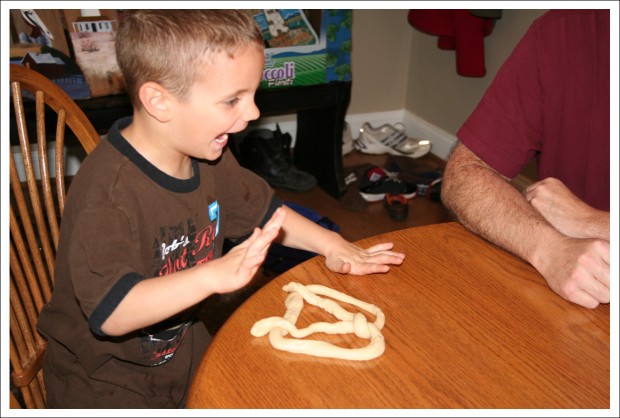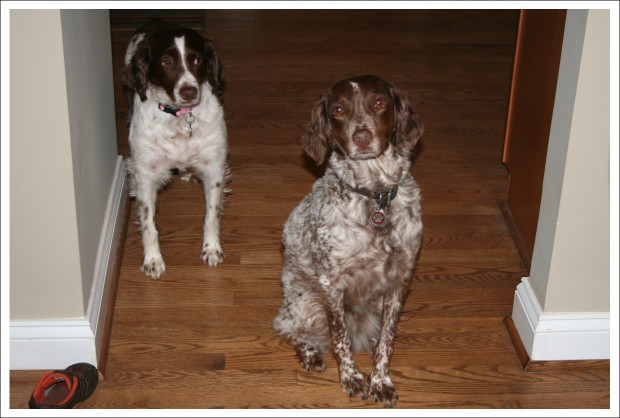 Pop made a B-shaped pretzel for the boys to take home to Brianna. Which, of course, meant Gaige and Joey then had to have their own letter pretzels.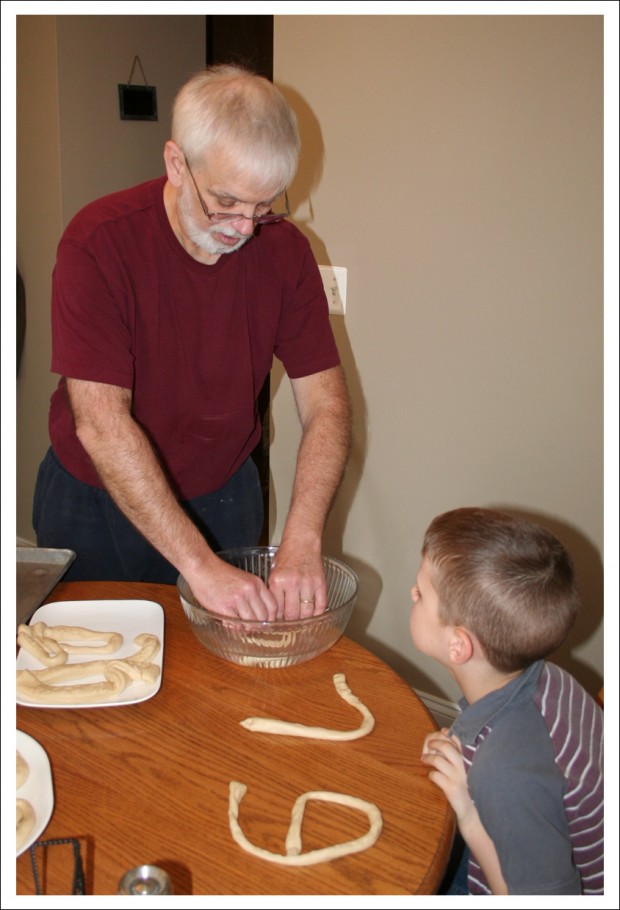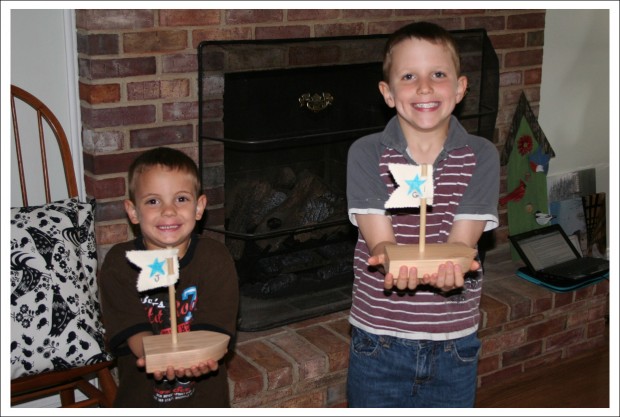 While the pretzels baked, I had the boys pose for a picture with their boats. Notice their shirts. See how Joey's looks sort of big and Gaige's is so small his t-shirt is hanging out of the sleeves and at the bottom? I didn't realize it until I met Amy halfway to get them home and she asked, "Why is Joey wearing Gaige's shirt? Hey, wait a minute, what's Gaige wearing?" Apparently the shirt Gaige chose used to be his.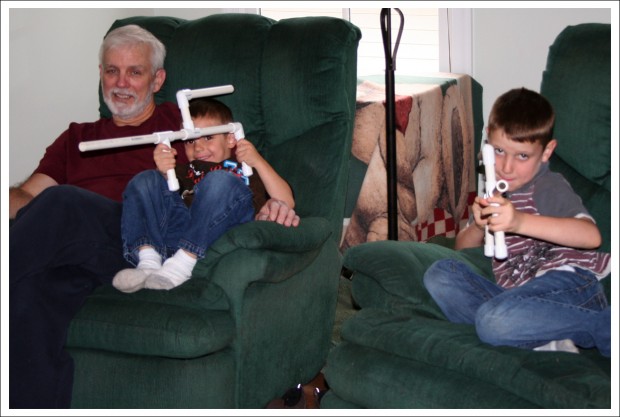 In case you are wondering if Hubby was as tired as he looked in the picture, the answer is YES. 🙂
That picture was taken not long before I headed out with the boys Sunday afternoon.
Now I am anxious for Brianna to come down for her girls' weekend. I have something very special planned. Something I have been wanting to do that Hubby has no interest in whatsoever.
Do you think the boys enjoyed their visit?