Is it bad to judge a dinner experience by the quality of the margarita? I mean, does it make me sound like a lush?
Ah, whatever. A good margarita is important. I make them at home often, thanks to the lessons learned years ago from our good friend Barry Spice.
The good thing about making margaritas at home is that you can make them taste the way you like them.
Typically, I like to know there's alcohol in there.
The bad thing about making margaritas at home is, if you are good at it, the ones served in most restaurants pale in comparison to your own. They are usually far too weak.
By weak, I don't mean I expect lots of alcohol so I can get shitfaced quickly. I mean that margarita mixers are usually pretty sweet and you need a decent proportion of alcohol — tequila, baby! — to cut through that sweetness. I could just order a double shot, but drinks are expensive enough. Can I afford the extra shot? Yes. But it's the principle of the thing. If I am already paying $7-$10 for ONE drink, I should not have to pay extra to know there's tequila in there. Know what I'm sayin'?
I actually did a post a while back featuring my favorite margarita, which is pictured below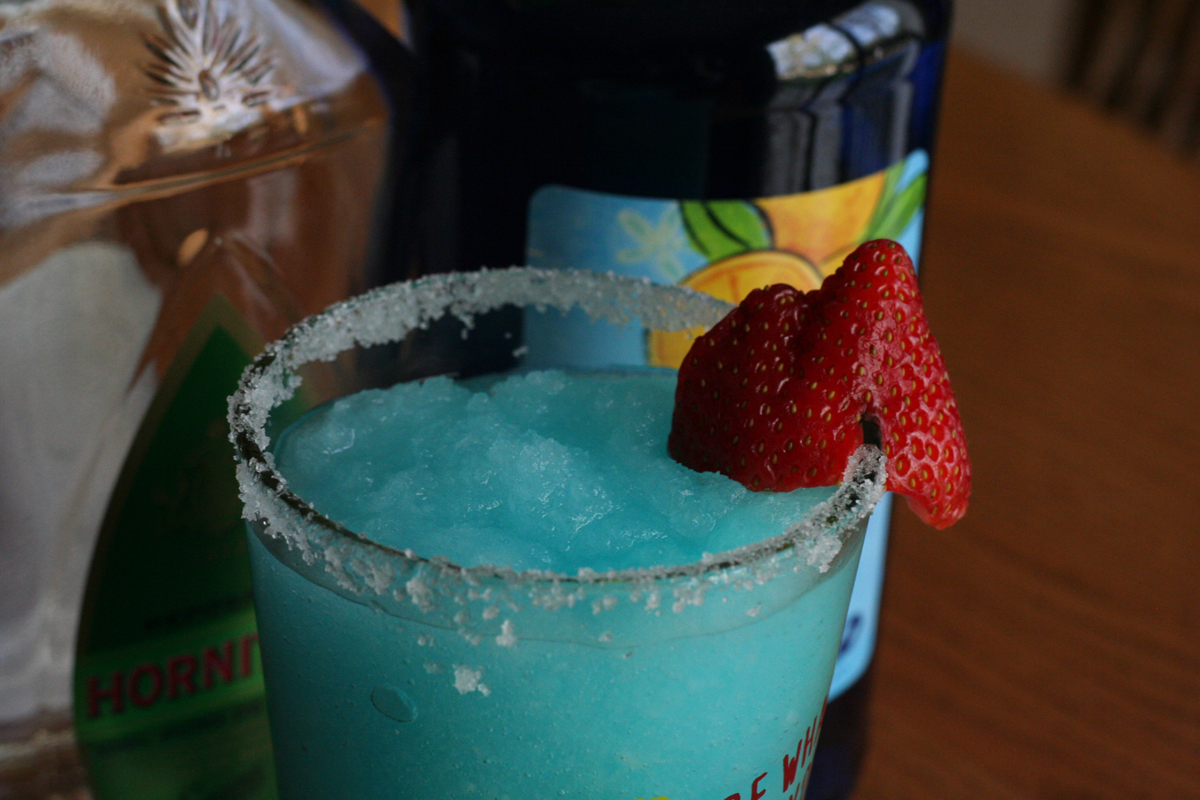 It's blue because I use blue curacao instead of triple sec for the orange flavor bit. Not only is it tasty, it makes for a very pretty drink!
Anyway… last night, Hubby and I went out for dinner. Our initial destination was Foster's Grille, a place here in town we hadn't tried yet. We still haven't tried it. Because when we got there, we discovered they have an extremely inefficient system where you have to fill out your own order form, pay, get your drink, and then sit down and wait for your food. After one of the counter girls (there were two) explained the system to us, we filled out our sheets and then waited. Girl #2 had to "translate" the order forms the customer before us had completed. While she was busy making sense of those forms, Girl #1 was chatting with some other customer. We waited. When Girl #1 finished her chat, she manned the register, waiting for Girl #2 to finish the translation so she could interpret the orders for Girl #1 to ring in.
We still waited.
When Girl #2 stopped to clarify just one more thing with the other customer, Hubby and I decided to leave. If the wait to order was that painful, we could only imagine what waiting for the food would have been like. Plus, it was loud. I hate loud restaurants.
But leaving was a good thing because we ended up at Rancho El Paso, a nearby Mexican place. We'd eaten there before, but knew we liked the place.
I started off with a margarita.
Surprised? I didn't think so.
I chose a Sangria Margarita. At other places where I've had a Sangria Margarita, I was served what was essentially a frozen lime margarita with a tiny swirl of red sangria to add some color. At Rancho El Paso, I was served a giant goblet that contained a bottom layer of sangria topped by a floating layer of frozen lime margarita.
It looked something like the image shown on the left. But there was way more sangria and, like I said, the sangria was on the bottom.
I didn't have my phone with me to take a picture, so that image borrowed from the Web will have to do.
The sangria, sipped from the bottom through a straw, and the margarita layers were both delicious. Each packed a healthy dose of alcohol, but not too much. Even Hubby liked them both, and he's not crazy about strong sangria.
I happily munched the warm corn tortilla chips and yummy, perfectly spiced salsa while I sipped the margarita.
It was so big, it lasted throughout the entire meal which, by the way, was also delicious. I had Fajitas Texanas. That's chicken, beef, and shrimp served on a sizzling platter of yellow and green bell peppers, onions, and tomatoes. There could have been a few more shrimp, but overall there was plenty of meat there. So much that the girls got a nice portion of leftovers to enjoy at home.
Hubby had beef chimichangas, which he said were also very good.
The only bad thing about the margarita? It was so big and so potent that I couldn't down a second. And I was glad Hubby was driving because I felt the alcohol as soon as I stood up. I was still feeling it half an hour later after we'd gotten home, and I am no lightweight.
So it was strong, but delicious. I am ready to go back for more. Which is sort of sad considering it is 8:00 AM as I type this!
Barry and his wife, Kathy, are coming down for a visit next weekend. We're either doing a winery tour or a motorcycle ride. We haven't decided for sure. One thing I hope we do is go to Rancho El Paso for dinner. Or, at the very least, drinks. I am pretty sure they will be similarly impressed.
I'll be sure to follow up and let y'all know.
Do you like to taste a bit of alcohol in your margarita? Or are you a fan of the drinks that camouflage the taste with overwhelming sugary sweetness?