Have I told you lately how much we like our "new" old town? No? Well, we do.
Something funny happened this past Sunday. When I told Hubby, he laughed and said, "Only in a small town." And he was right.
Our house is sort of weird in that our address is on a street where all you can see is the driveway. The front of the house sits on a different street. People often look confused when they arrive at the back of the house.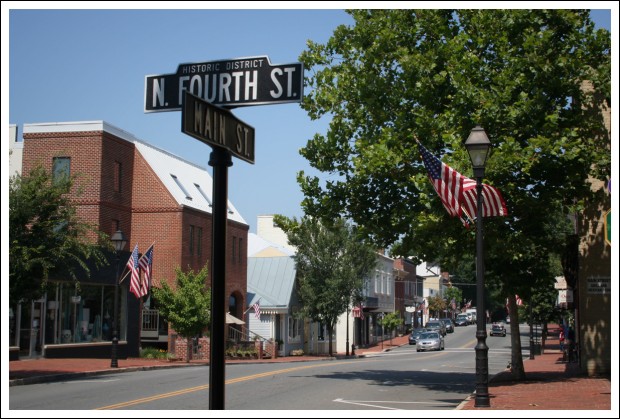 Anyway, Hubby installed a doorbell on the back gate. Since we have a doggie door now, people are hesitant to just walk into the yard and knock on the door.
This past Sunday, Hubby was in the basement when the doorbell rang. I was perplexed. He rings it periodically to desensitize the dogs to the noise. (When the doorbell rings, they barely bark.) I stepped out onto the back porch and saw an older man and lady at the gate. I had no idea who they were.
"Are you Kathy Kirkpatrick?" the lady asked.
"Yes," I answered, wondering how the heck they knew my name. Had I done something bad I wasn't aware of that brought these kind strangers to my door back gate?
The lady smiled and said, "Well, hello. I'm Kathy Kilpatrick. And I got your mail!"
Kathy Kilpatrick said, "I couldn't imagine who would be sending me a little package from Maryland."
Turns out, the Kilpatricks live a couple of streets away. They were going to take the parcel to the post office, but, as the man said, "We would have had to walk past here anyway, so we decided to deliver it ourselves."
Address mix-ups happen all the time, right? Even in the big city. But this was no address mix-up. The post office had sorted the mail by name. Imagine that.
We chatted for a bit, chuckling over the mix-up. I thanked them for the special delivery and they went on their way.
And now, to completely change the subject…
Are you hungry? No?
Well, check out this picture from July 4th.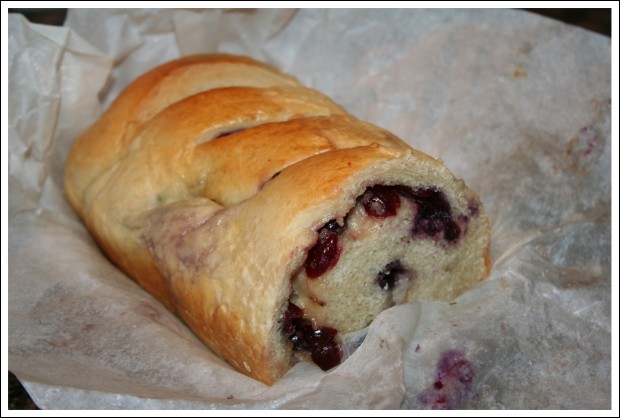 Hungry now?
That's Great Harvest Bakery's Red, White, and Blue Bread. It's bread rolled around a mixture of cherries, white chocolate, and blueberries. And Oh. My. God. It's good.
Their White Chocolate Cherry Bread is Hubby's favorite. He can polish-off a whole loaf in no time. So when I saw they had this stuff, I took a sample home. He's been dieting, so I didn't want to buy a whole loaf. But then, after we both tasted it, and he promised to freeze at least half of it, I went back and got a loaf. It seriously was delicious.
Now, changing the subject again…
We had a crazy thunderstorm blow through on July 8th. How crazy? So crazy that this interesting phenomenon occurred.
It really was the strangest thing. It was WINDY, too. The trees across the street were thrashing about so fiercely I even took a step backwards. And I was on our front porch! Luckily, we didn't lose any trees or even any limbs in our yard. But, back on Main Street, they weren't so lucky.
I was sad to see that this large tree had fallen on the lawn at Brentmoor: The Spilman-Mosby House.
At least it didn't fall on the building.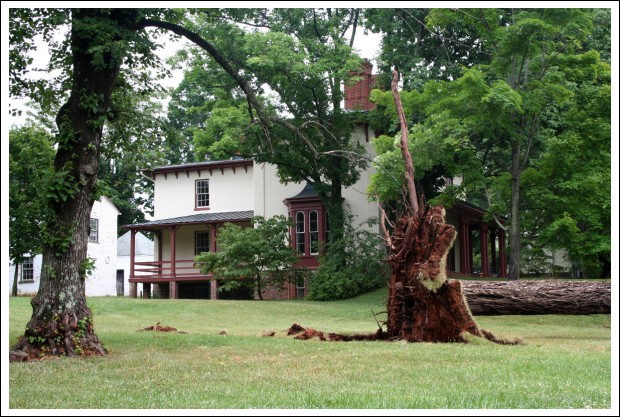 Still, it's always sad to lose big, old trees.
You can't really tell in that picture just how big the root system was. Luckily, these other curious folks happened by and agreed to pose for me to give the image a sense of scale.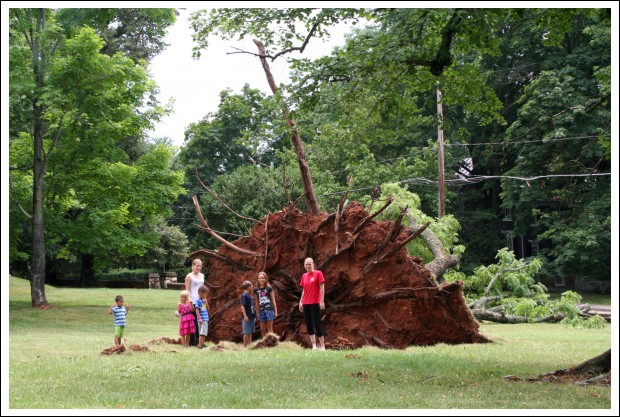 They removed the tree yesterday. Which is what made me think of the pics I'd taken.
And speaking of photos… I may be taking a picture or two later today.
There's a new store opening in town and I am SO excited. How excited? I may even pop over for the ribbon-cutting ceremony.
It's called The Empty Nest. They sell shabby-chic furniture that's been re-done using chalk paint.
Here's a gallery of images if you want to see more.
I've been wanting to experiment with chalk paint for a while. I even bought some, but it's still sitting in the garage. I'm not quite sure how to start.
Which is another reason I am excited about the grand opening of The Empty Nest… they'll be having workshops.
I really think that The Empty Nest will make a fabulous addition to the collection of shops on Main Street. It really is such a cute little town.
Have I told you lately how much we like our "new" old town?
We do. We really do.