After we left Cabrillo, still only on day two of our adventure, we stopped in Old Town.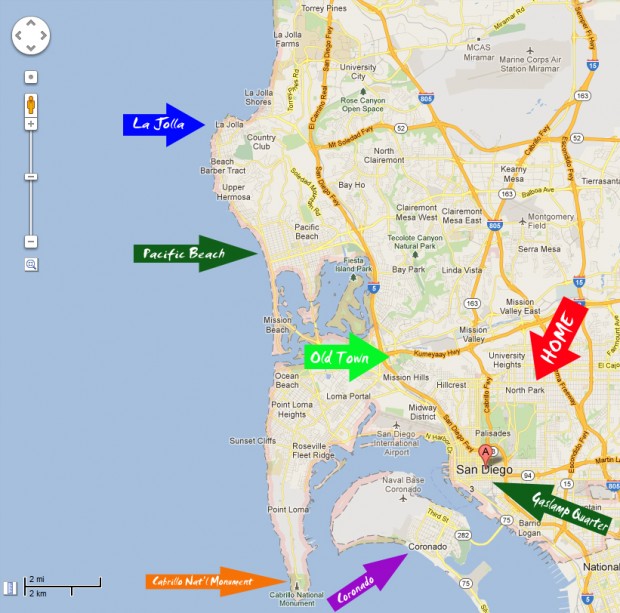 As you can see from my map, we still hadn't traveled far at all from Shannon's cute little cottage.
She'd told us repeatedly that we'd be going to Old Town. There was a cigar store there she wanted us to see.
Now, I never asked, "What is Old Town?" I mean, I assumed it was just the historic district of San Diego like Old Town Warrenton.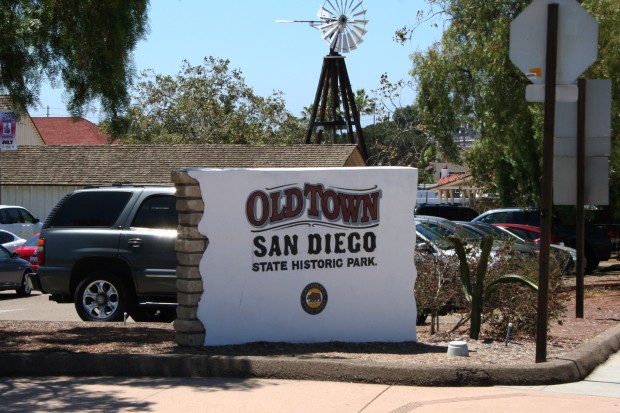 Well, it was historic. But it was more than just a historic district.
Old Town, San Diego, known as the "birthplace of California" is home of the weirdest state park ever!
Really.
Most state parks I've seen, I'd guess 99.9% of them, are wooded areas where people camp and fish and hike. You know, do outdoorsy stuff. OTSD "recreates life in the Mexican and early American periods of 1821 to 1872."
It was like being in the Mexico exhibit at Disney's EPCOT Center. Interesting, but a little unreal-feeling and weird. It had tourist trap written all over it. But, as I said, it was interesting. Of course, we were tourists at that point…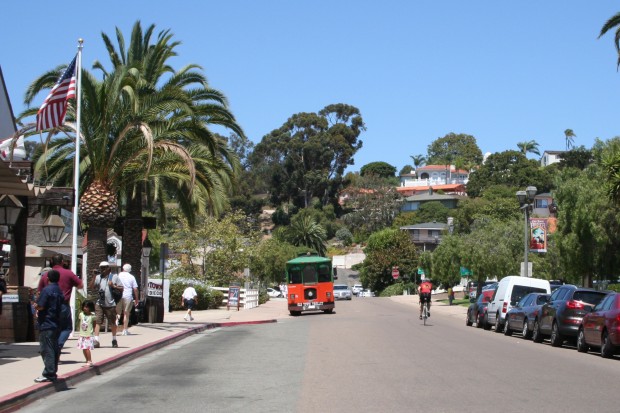 Shannon had also promised to take us to a taco shop. She told us beforehand that we wouldn't be eating in Old Town because they have the worst food ever. I didn't question that statement, but it all made sense once we saw the place. Sort of like Phillips' Restaurant at Baltimore's Inner Harbor. Seafood, yes. But not good. All of the tourists think they're getting local fare, but they really aren't. They are getting an over-priced, lesser-quality imitation.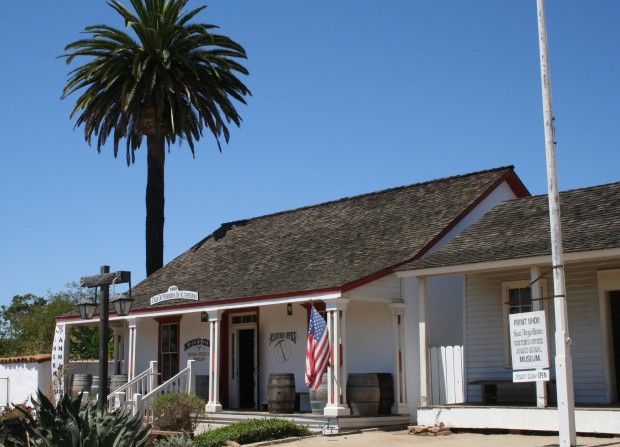 Maybe if these buildings were just empty replicas–like museum exhibits–instead of operating, themed souvenir shops, it would have seemed less hokey. Although, fewer people would probably visit, too.
I have to admit, there's something attractive about weird, over-the-top tackiness. It gives you something interesting to look at. And chuckle about. And photograph!
We didn't go into many of the establishments because it was pretty crowded, so I shouldn't comment too much about the weirdness. Because, in fact, Shannon's cigar shop was actually quite cool. Maybe the other shops were just as interesting.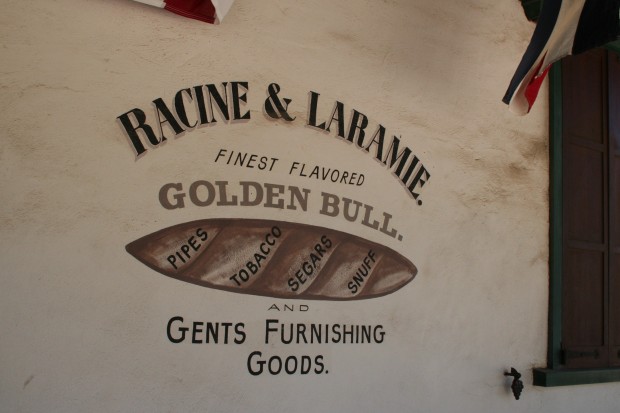 I should have taken pictures inside the tobacco shop, but didn't. It was small, dark, cramped, and a little crowded. But it was more like a general store than just a tobacconist. They had a really cool collection of intricately carved antique pipes on display, too. I actually bought something there. No, it wasn't a cigar. They even had a walk-in humidore where cigar aficionados could hang out and smoke. Hubby hates cigar smoke, so we didn't even walk into that room.
Instead, we continued to stroll around, checking out the odd collection of shops.
Like the Old Town House of Jerky & Root Beer.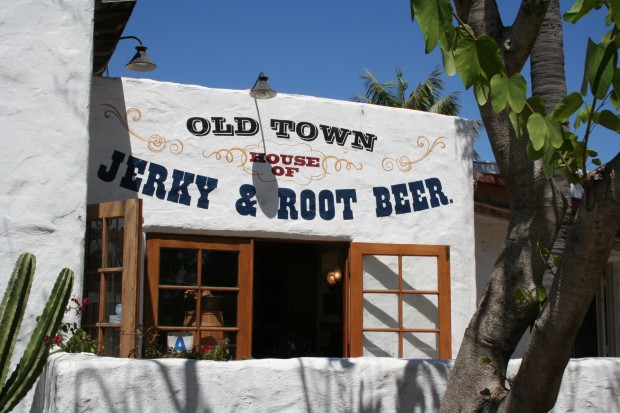 What a weird business. All they sold was… ready?… jerky and root beer.
Many, MANY, varieties of jerky and root beer, yes. But what a very odd and limited business model.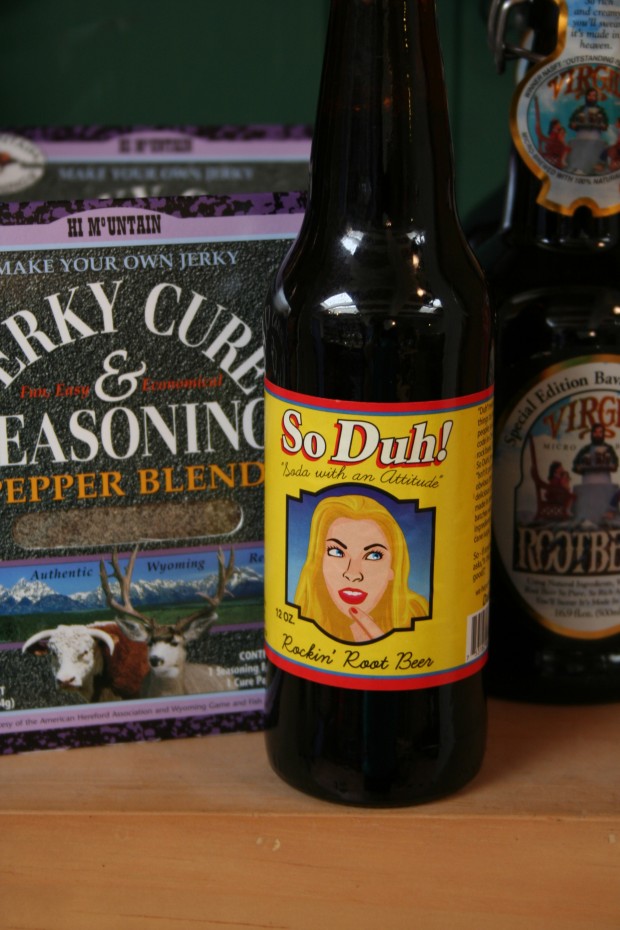 We were all getting pretty hungry by that point. We hadn't eaten since brunch at Coronado. So we left there and went to the Lucha Libre Gourmet Taco Shop. The place was really busy and small. So we had to wait in a rather slow-moving line. Lucha Libre has gotten quite a bit of press since opening in 2008. And for good reason. The food is fresh, homemade, and flavorful.
The decor is fun and funky, too. You know how I like color!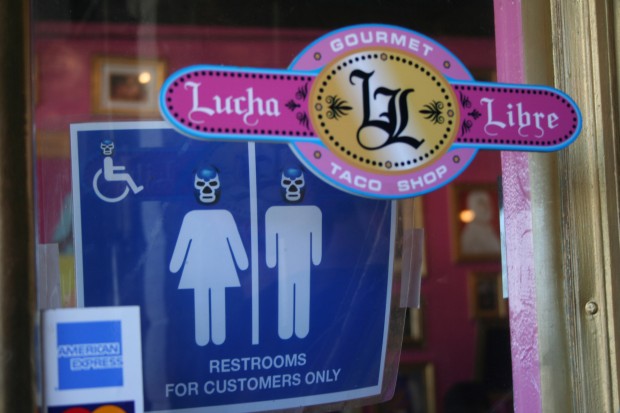 Hubby HATES waiting in line. Hates it. I'm not a fan either, but I have far more patience than he does.
He was a trooper, though, and didn't complain. But Shannon and I could tell he wasn't happy.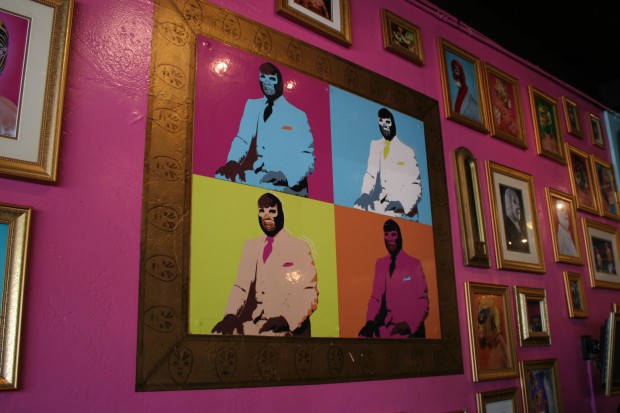 I couldn't help but admire the decor. Bright pink walls jam-packed with images of masked Mexican wrestlers.
And you know what? The food was REALLY good. (Of course I forgot to take a picture of the food!)
We shouldn't have been surprised. Shannon knows better than to make her father stand in line for mediocre food.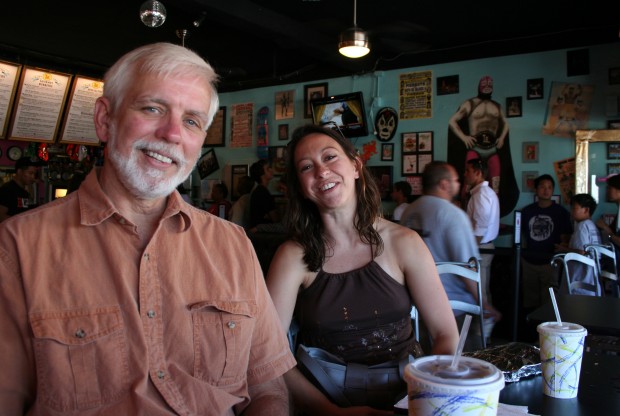 See? He was even smiling after we'd finished stuffing ourselves.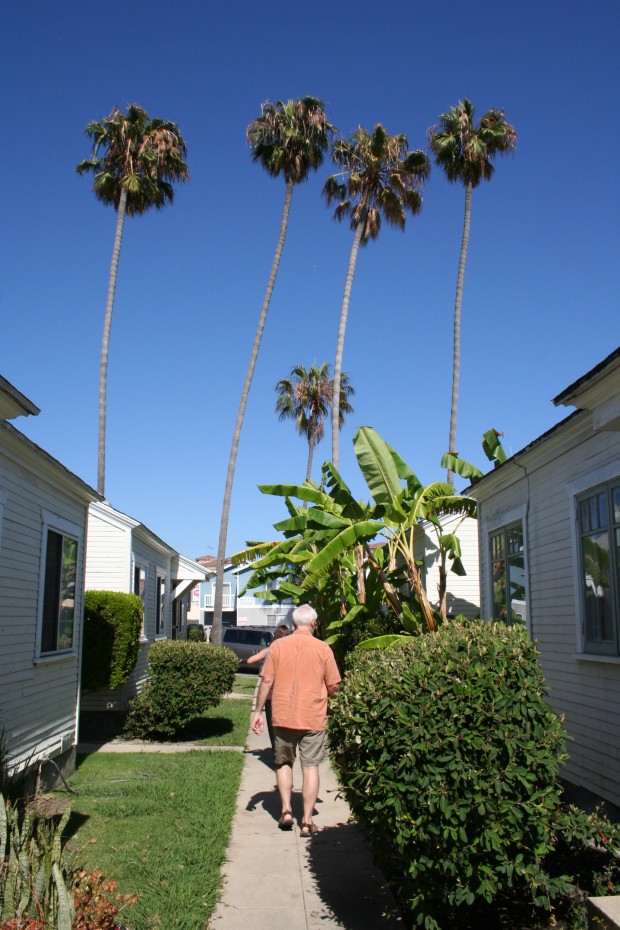 Meanwhile, back at the house, the sun was still shining and the sky was still bluer-than-blue.
Shannon swears San Diego has clouds, aside from that pesky marine layer, but we sure weren't seeing any.