Day two in San Diego was just as busy as Day one. Our first destination was Coronado Island. We got there relatively early so we could enjoy brunch. And enjoy it we did.
We popped into the Rhinoceros Cafe & Grille on Orange Avenue, which is Coronado's main drag.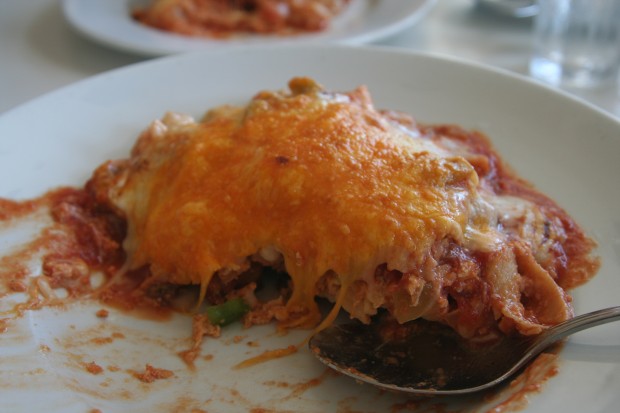 It may look sort of like a bowl of vomit, but it was delicious. It's an egg concoction with tortillas, onions, peppers, cheese, and potatoes. It's the only time I remembered to take a picture of my meal.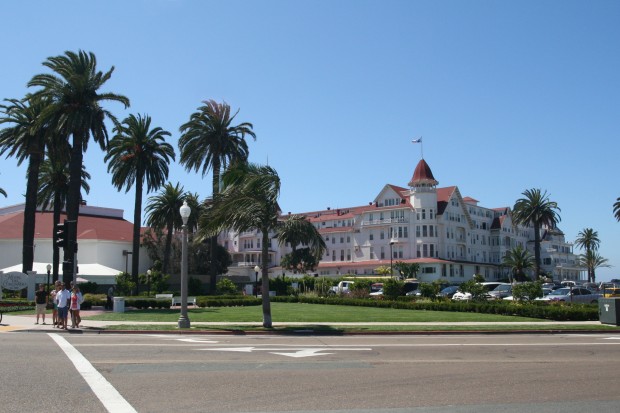 After brunch we strolled toward the beach, but we walked past this very grand hotel (circa late-1800s ) to get there.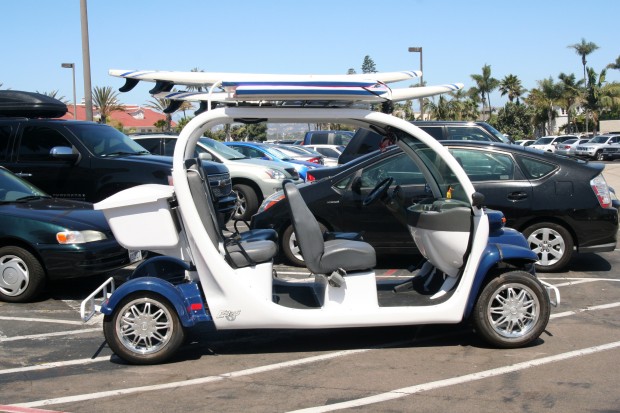 No idea what the story is behind that strange little vehicle.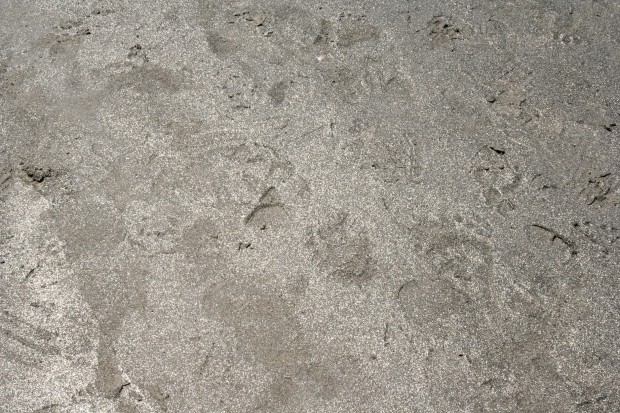 I also don't know why the sand sparkles. I mean, I know it contains tiny particles of the mineral mica, but I don't know why the mica is there. It's weird. Cool, but unusual.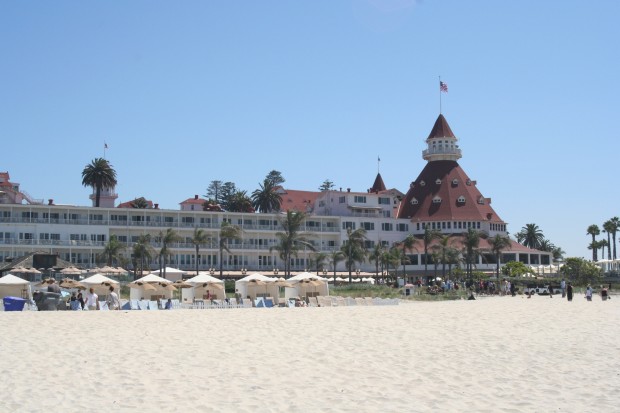 That shot of the hotel only captures a portion of the enormous complex. It's referred to by locals as the Hotel Del.
The hotel was huge, but then so was the beach.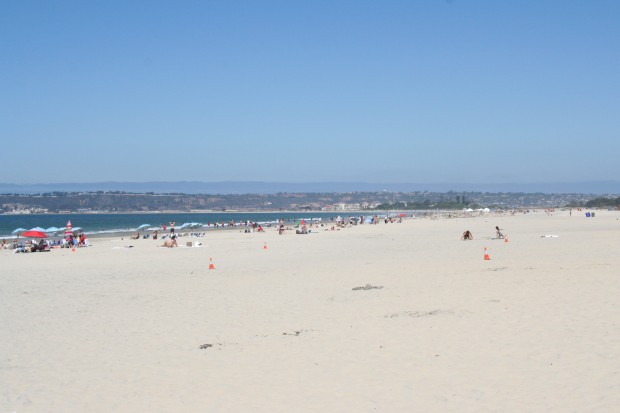 Shannon told us we'd be surprised by the differences in the sand on the various beaches. And she was right. I'd never walked in golden sand before.
Contrary to what these pics show, San Diego isn't always clear and sunny. It is, after all, a beach town. And it is subject to Wet Coast weather whims, one of which is known as a marine layer.
Shannon posted this pic on a previous trip to Coronado. I'm just glad the weather was nice for us.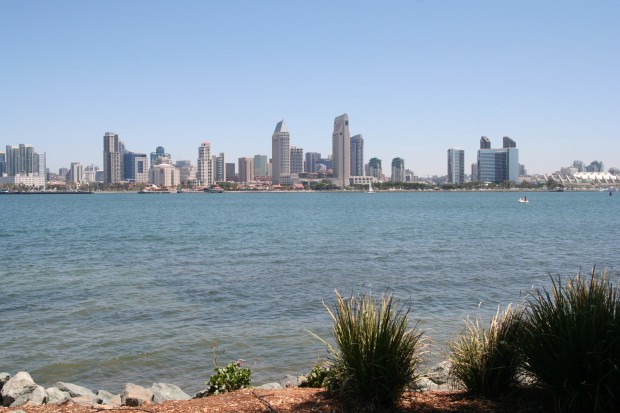 Before leaving the island, Shannon took us to this cute little park where we got a great view of the city.
From there, it was off to Cabrillo National Monument.
Jeez, I am starting to feel like a tour guide.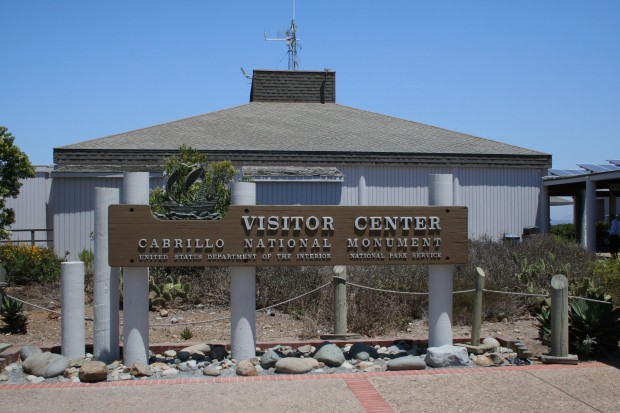 I guess I should tell you the significance of the place. That's where, "in 1542, Juan Rodriguez Cabrillo stepped into history as the first European to set foot on what is now the West Coast of the United States." That's verbatim from the NPS Cabrillo web site. There's a lighthouse. And since it sits high atop a hill, there's a great view.
Annelies, I am still using our national park pass, purchased for our last vacation, which is good through the end of August!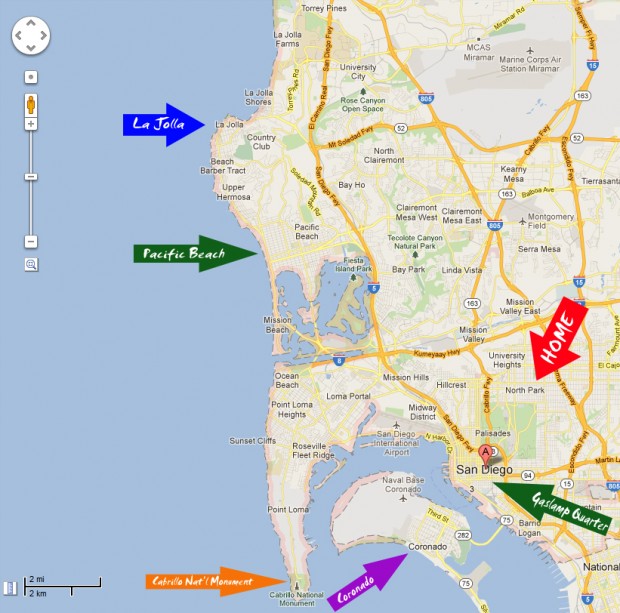 I guess I should also say that Cabrillo is pronounced like "kuh-brie-yo."
Something funny happened while we were visiting Cabrillo. Well, it's funny now. Might not be so amusing after I see my cell phone bill. The tide pools, which we HAD to check out, are on the southwestern edge of the peninsula. On our way there from the visitor center, I got a text message from my carrier saying, "Welcome to Mexico. Yadda, yadda, yadda."
Oh, and, "Pay $5.00 for roaming, please. Plus some awful amount per minute." I just ignored it 'cause I knew I wouldn't be calling anyone. That's right about when our son decided to start texting me.
We were kind of close to Mexico. And at that point, there was nothing but water between us and that southern nation. But we were still on American soil. They need to turn the wattage on their cell phone towers down. I'm just sayin'.
Here are a few more shots from Cabrillo…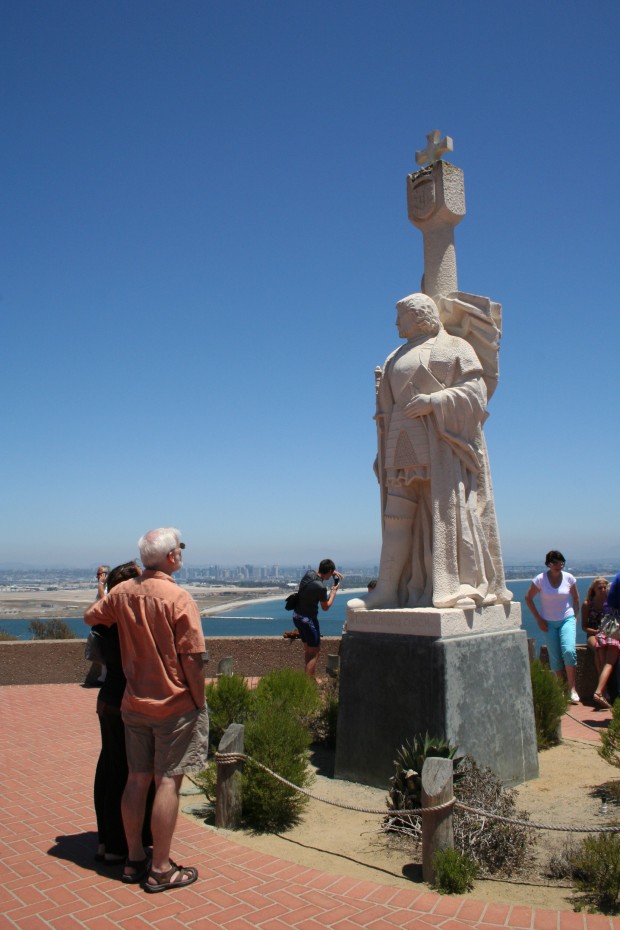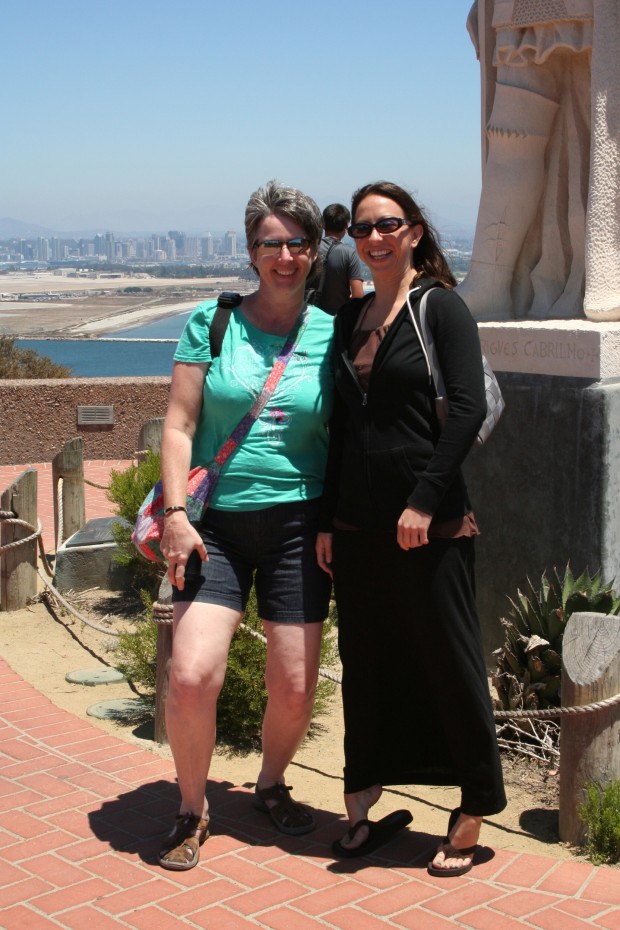 I love Shannon, but hate standing beside her in pictures. She's all cute and petite. And I'm just big. I'm not that big, but next to her I look like a giant. Or would that be a giantess?
Anyway, for that picture, I squatted a bit and she stood on tiptoe so we could even things out. That worked for the height issue. I'll have to figure out some other trick to address the width thing before our next visit.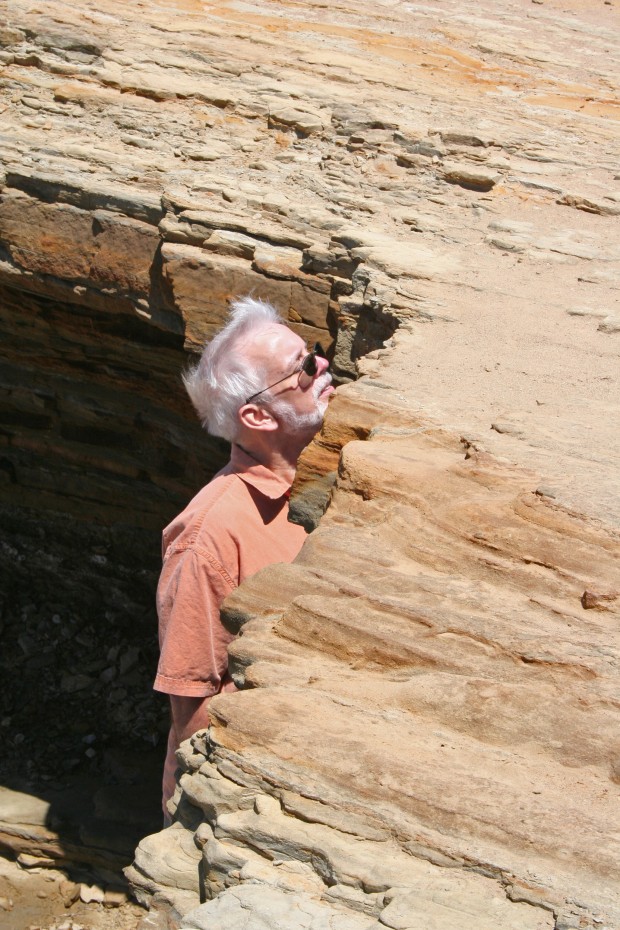 As for the Creepy Man shot… had any women been walking past, from that position beside the path, he could have looked right up their skirts. Which is why I dubbed the image "Creepy Man."
I'll have to do a Wordle for this page to see if "Creepy Man" shows up.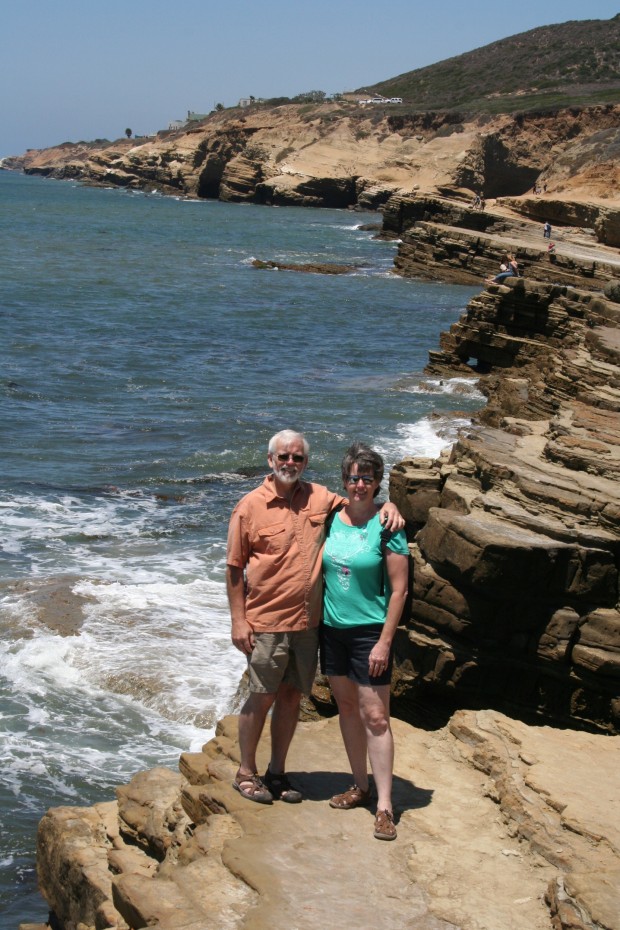 Having that third person along means lots more pictures of me.
Sorry.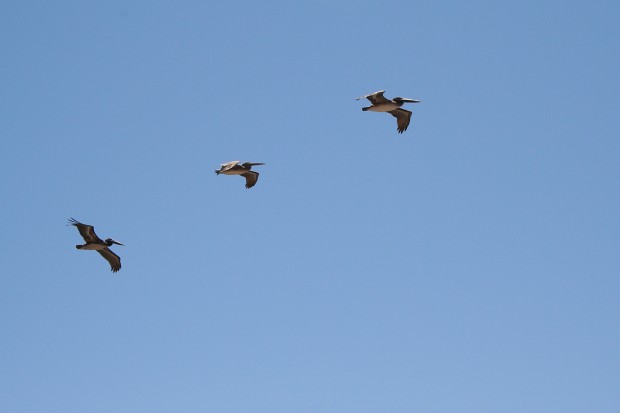 Just before we left the area, three pelicans did a fly-by. They are smaller than the pelicans at La Jolla. But I don't know much about pelicans, so I don't know why.
So much for sounding like an informative tour guide!
Wanna see more pics (and these same ones over again)? Check out Flickr. There are two different sets.. One for Coronado and the other for Cabrillo.
In my next post, you'll learn how we ended Day Two. Hopefully you'll be able to stand the anticipation and contain your excitement until then.