On several occasions recently, I have seen stories on the 'net about random acts of kindness. Folks paying grocery bills for strangers. Paying off a holiday layaway. Buying a homeless guy lunch. The list goes on.
There was an interesting article on NPR about how teaching kids how to perform random acts of kindness can make them better people. The article said, "Similar experiments in adults have shown that being actively kind increases happiness, and happier people then become more likely to help others."
I thought it might be fun to go out and DO something. And I posted this on Facebook daring my friends to do the same. Or at least spread the word to get others to act.
IMPORTANT Triple Dog Dare… I'm going to help some anonymous person tomorrow (which is now today). I dare you to do the same. Not sure what yet. Pay for someone's gas? But someone lunch? Slip someone $20? Not sure what or who or even where. But I keep reading about anonymous people swooping in and doing something nice for random folks. If you think it's a cool idea and accept this triple dog dare, share this and then let us know what you did. Big or small, the value doesn't matter. You could even offer a service if you prefer. I just dare you to do something nice. It'll feel good, I promise. This sad world could use more good deeds. Don't forget to like and share to spread the word!
It doesn't have to cost you a cent, either. And it could be a small act. Little things add up!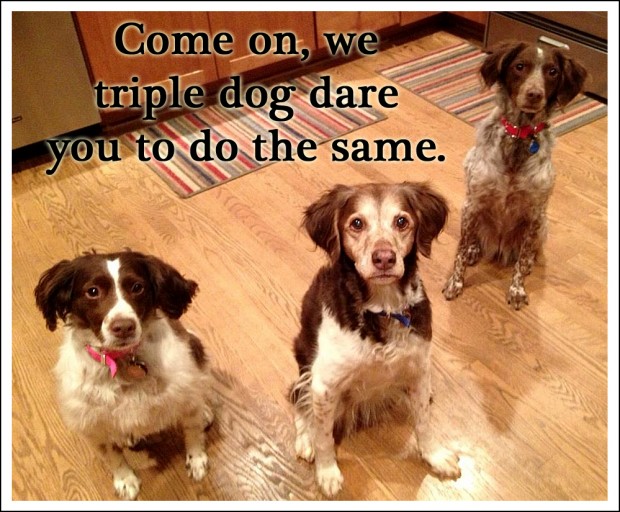 Don't know what to do? Here are some links that may help.
You can actually start right now by sharing a link to this post with everyone you know.
Feel free to comment about your act, no matter how small. Or be kind anonymously. The important thing here is for you to DO SOMETHING NICE TODAY! Even a small act like guiding folks to this post could have a bigger impact than you could ever imagine.