Riding season is approaching fast. Yes, I know it's only January. I also know some of you brave souls ride year-round. But those of us who ride seasonally tend to daydream a lot during the winter months. We also tend to start planning our big trips, buying new farkles, and updating our gear.
It's gear I want to discuss today. And it's important that you read this entire post. Because I can help you with your upcoming acquisition. How? Read on…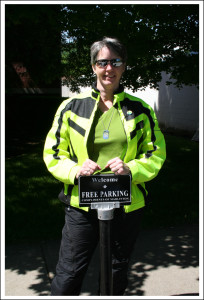 There was a time in the not-too-distant past, when my rider safety gear consisted of a helmet, jeans, and boots. I only wore gloves if it was cold. I only wore a jacket when temps dropped, too. My cold weather gear was usually a leather coat or windbreaker. It was designed to keep me warm, not necessarily protect me.
Yes, that was dumb. It doesn't take much to get injured while riding a motorcycle. And most riders are familiar with the adage that goes something like this…
There are two kinds of motorcycle riders, those who have already crashed and those who will.
It's true, too. Not all "crashes" are big ones. Even small incidents can cause major bodily harm if you are not protected.
I never owned protective gear until a couple of years ago. Hubby and I were planning on doing an Edelweiss Tour in Europe, and one of the requirements was that you wear protective clothing. Hubby already owned leather chaps, which he raved about, mainly because they helped keep him warm. And they were easy to get one and off. Since I had a leather coat for riding, I took the lazy way out and bought some chaps, too.
There's a joke about assless chaps around our house, which began at Christmas one year courtesy of Shannon's ex, who just thought it hysterical that Hubby was excited to get assless chaps as a gift. Of course, he was thinking about men like this, not a man wanting to protect himself.
That's why, when I received my chaps in the mail, Hubby decided to add this little message to the box…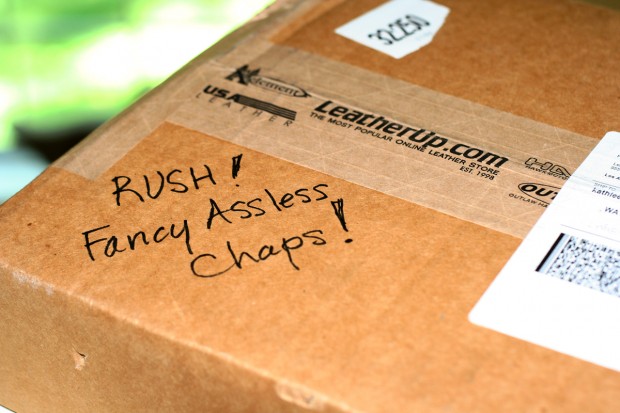 If you are brave or just plain nosy, you can see my famous fancy assless chaps pics. They are pretty funny looking.
Although I did feel protected when wearing them, and I liked the ease of getting them on and off, I felt a bit silly. So I decided to buy some real riding apparel. The kind I could wear year-round. Because, really, wearing All the Gear, All the Time (ATGATT) is the smart thing to do.
Whether you opt for leather or, like me, go the textile route, protective clothing is important. So, as you dream about the day you can hop on that bike and RIDE, start thinking about getting yourself the proper clothing.
Whether chaps are your thing or you prefer to wear non-leather textile gear or some combination of the two, here's where I can help.
I have teamed-up with the folks at LeatherUp.com to bring you an inexpensive yet reliable source for motorcycle apparel. They don't just offer leather goods, as the name implies, but also a wide variety of textile goods, helmets, footwear, etc.
They carry many of the popular brands — Cortech, Firstgear, Joe Rocket, Power Trip, Scorpion, Speed and Strength, Tourmaster, Vulcan, and Xelement. And, as their web site promises, they stand behind their quality with a full 30-day return policy and a low price guarantee. They offer a wide range of motorcycle parts, luggage, and accessories, too.

Click on the image above to get to their site. If you decide to make a purchase, use coupon code "ToadMAMA" and you'll get 10% off at checkout. Not a bad deal, especially when you consider their low-price guarantee.
As an aside, I am quite tickled to have my own coupon code.
Now, I need a good textile jacket for summer. One that offers good protection, but plenty of vents. Any recommendations?