Hey, y'all.
I decided I needed to elaborate a bit on the quick post I did this morning on the tag sale. I typed that pretty quickly because I knew I had a CRAZY day at the office ahead of me and needed to get to work.
But it's important that I am clear on a couple of things. One, the tag sale itself was a big success. Especially considering it was the first of its kind at Shumate's. And Kathy Shumate, the lovely lady who owns the place, plans to have more. Once a month is the plan. I'm not sure of the date for the next sale, but I'll be sure to share it here as soon as I know.
If you didn't see all the fun stuff available, CLICK HERE. I think about ten dealers in all had items for sale. It was a very nice and fun bunch I was proud to be considered part of for the day. (Imagine me, a dealer. Still makes me smile)
Two, I am the reason I am in the hole. I got a bit over-enthusiastic and bought extra stuff at the auction last weekend so I had more to sell. That was just plain dumb. A rookie mistake.
But honestly, quite a bit of that stuff sold.
I came home with far less than I went with. And what I did come home with can either be sold on eBay or at a later tag sale.
Three, it was all lots of fun. It was work, too, don't get me wrong. All that buying, painting, pricing, hauling, setting up, etc. But it was all good. I got to meet lots of really nice people. And, had I been there on Saturday instead of off in the wilds of West Virginia, I probably could have cut a few prices and sold some more stuff.
Anyway, I didn't want anyone to think I was complaining. I actually did quite well, just not as well as my unrealistic (ROOKIE!) expectations led me to believe I might profit in two short days!
Honestly, I love Shumate's Auctions.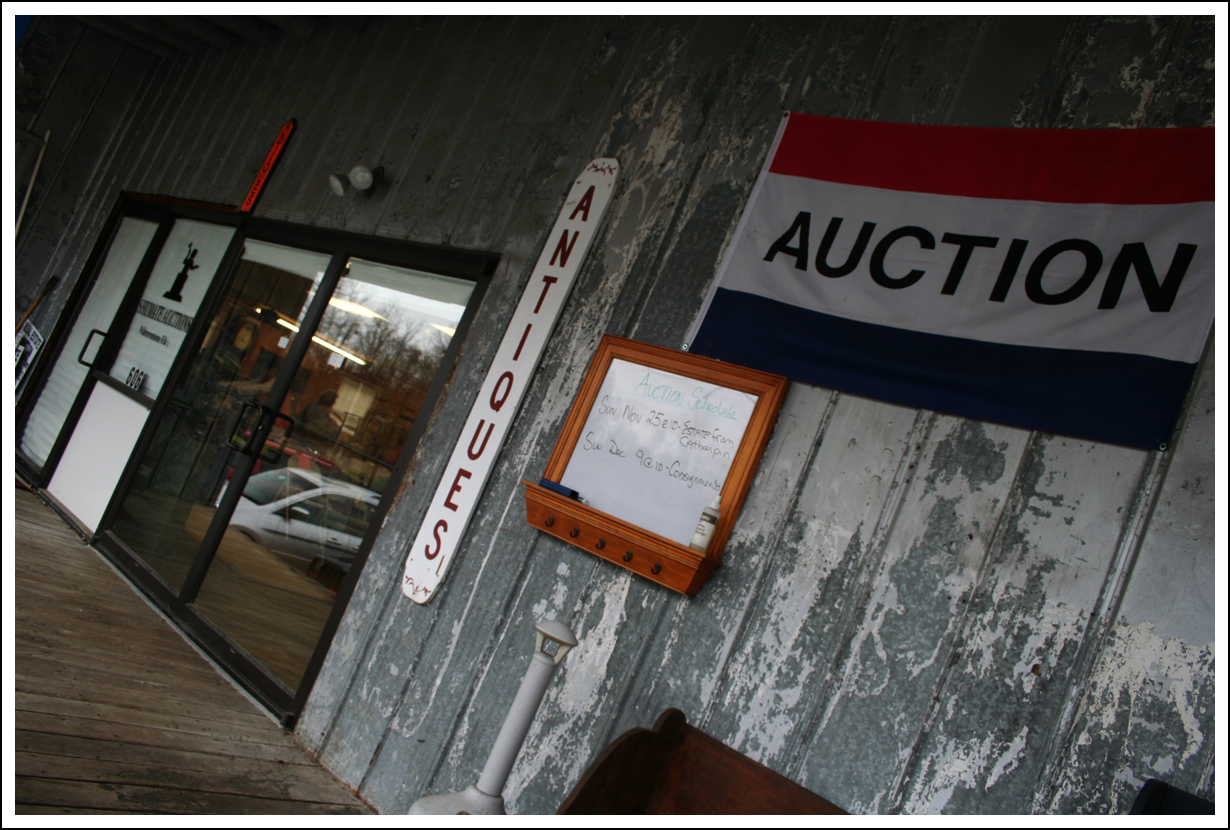 I have actually blogged about it several times before. Here (New Year's Eve auction), here (pie safe update of sorts), and here (pie safe acquisition).
Not only is it close to home, it's run by a nice, fair-minded individual who was perfectly willing to let me participate in the tag sale even with a little bit of stuff. She even offered me a deeply discounted booth fee. Of course, once I acquired so much inventory, I didn't think I needed to be a charity case. LOL.
She even let me keep extra stuff there for a day or two until I can find a place for it.
In the whole scheme of things, it was all a great experience. Whether I'll have a full space in the future or a few goods in the charity corner remains to be seen.
But I truly hope that Shumates' Tag Sale becomes a regular thing.