Shortly after Hubby and I moved to Warrenton in October of 2011, I discovered a cool consignment shop where I bought this funky little table.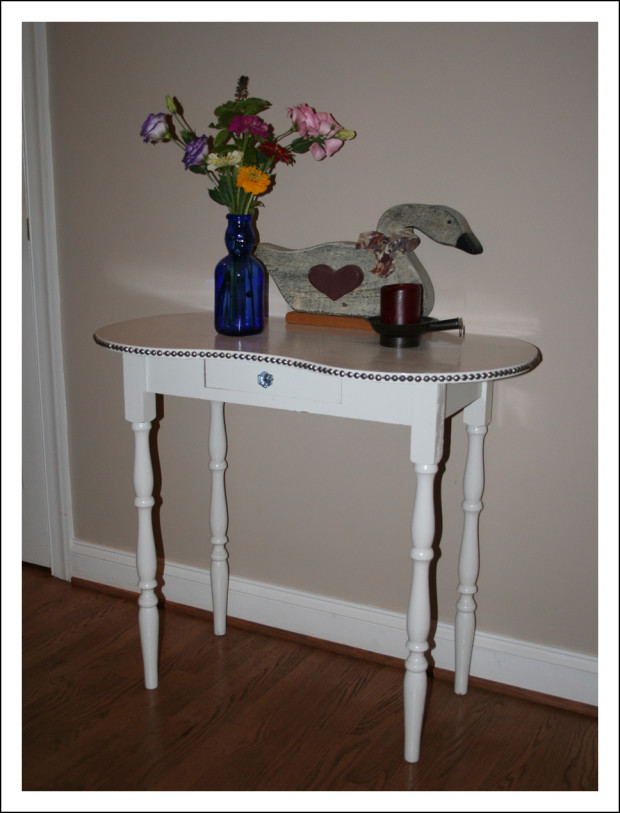 I loved it. Hubby hated it. The high-gloss white was a bit much. As were the furniture tacks around the edge. But I thought it had character. And I knew I could paint it one day.
Fast-forward a year.
Hubby removed the tacks for me this morning before I left the house with the table.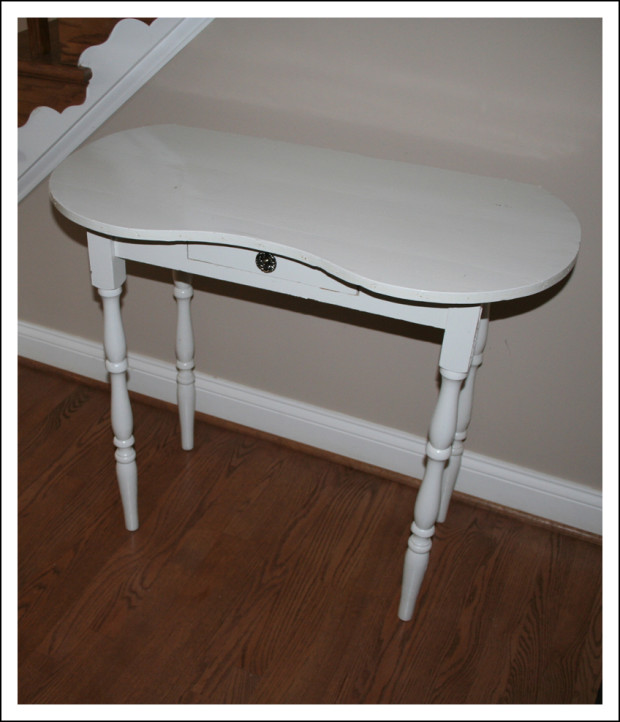 As I mentioned in yesterday's post, today was a big day for me. My very first chalk paint workshop at The Empty Nest.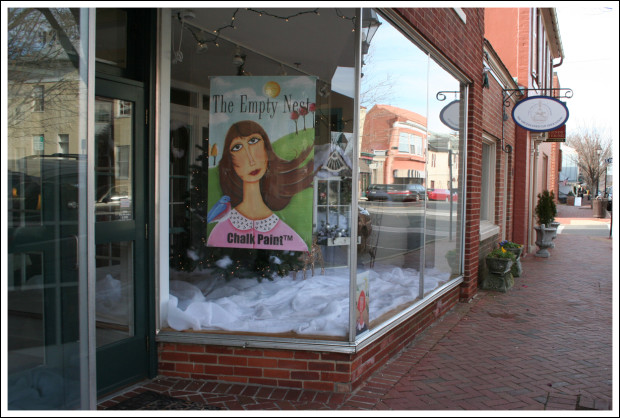 The Empty Nest is a delightful shop owned and operated by Janet Metzger, a woman who is as nice as they come that LOVES painting, sewing, and just about anything else crafty. She's quite talented.
Janet is a proud stockist of Annie Sloan Chalk Paint (ASCP). It's that paint which first drew me to Janet's store. I was beyond excited when her store opened last July. I even made sure I went to the grand opening.
I've always liked decorating furniture. And ASCP is the perfect furniture paint. It requires no sanding, no stripping, no priming. Heck, you don't even have to remove the hardware if you don't want to. It's easy peasy. As long as you know how to use it.
And today, FINALLY, I learned how to use it.
I've experimented with it before, without a whole lot of success. So I was really ready to see how things were supposed to be done.
That sweet Hubby of mine bought me a gift certificate for today's Bring Your Own Piece Workshop. Which is where my funky little table and I spent the day.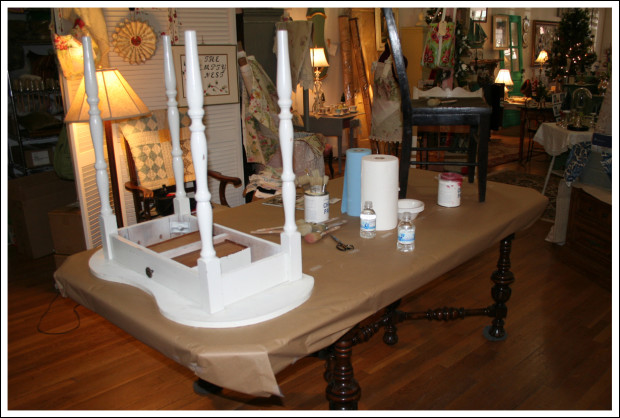 There were five other women in the class with me. None were keen to have their faces appear in photos. I hate having my picture taken, too. But I did manage to capture some shots of their projects to share.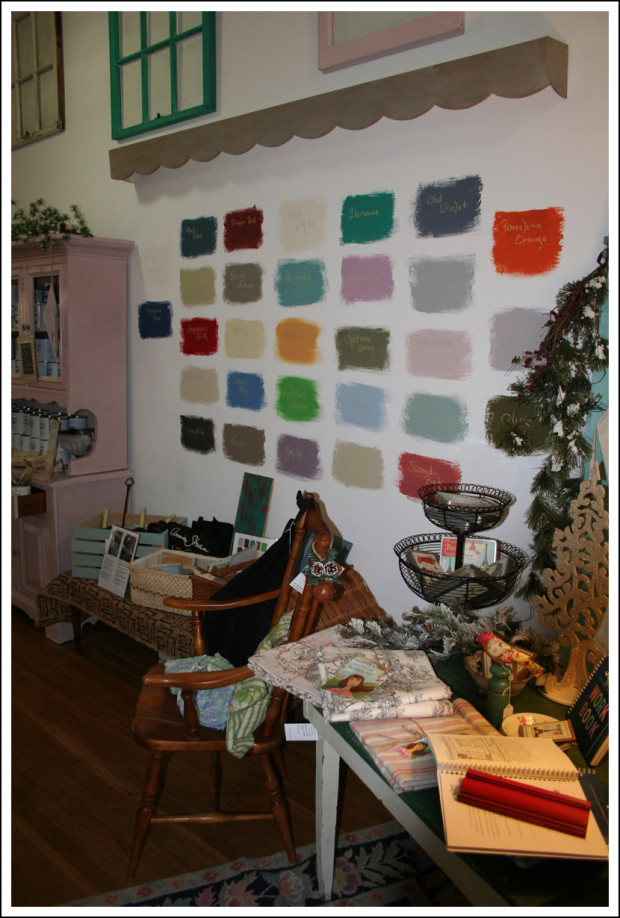 The first step was deciding what color or colors to use. I chose Graphite for the top, Old Ochre for the base, and two accent colors, Emperor's Silk (red) and Arles (yellow). I wanted to add some unique color but, for Hubby's sake, didn't want to go too crazy. He's a little more conservative than me.
Okay, a lot more conservative. But anyway…
It was fun watching fellow students transforming their own pieces.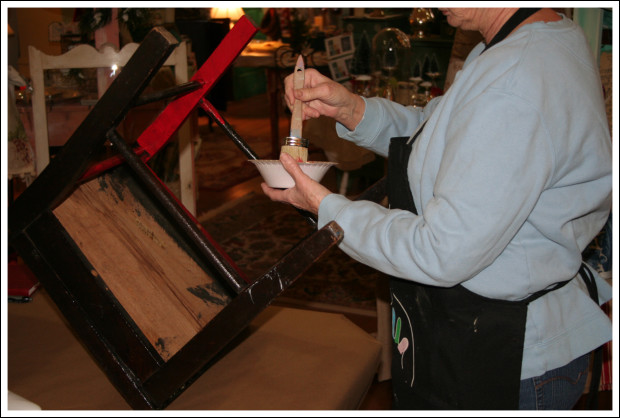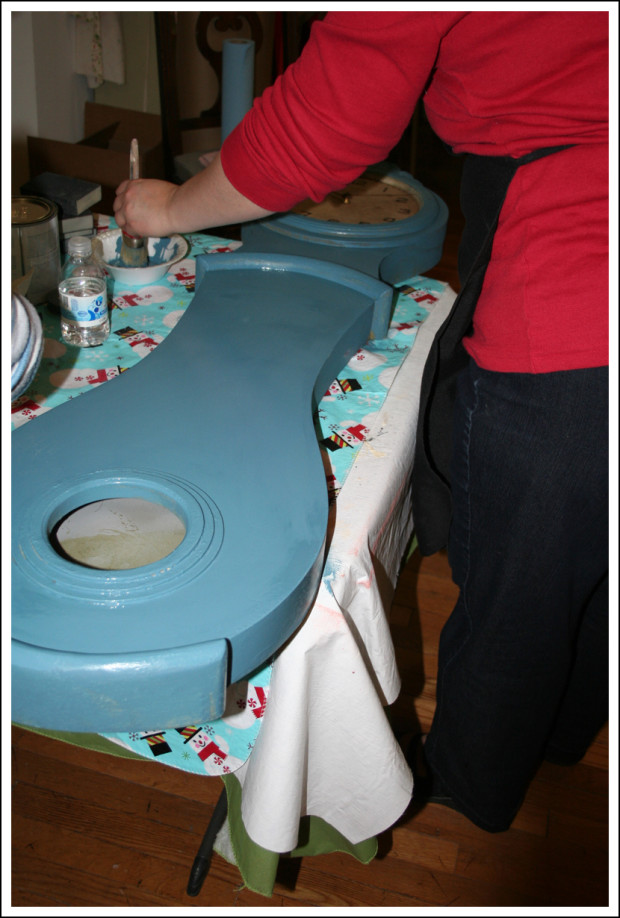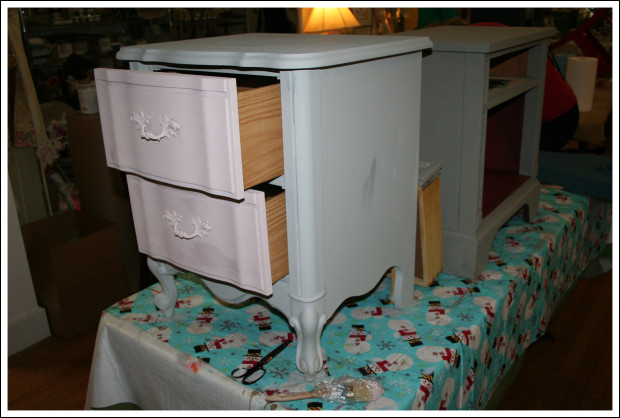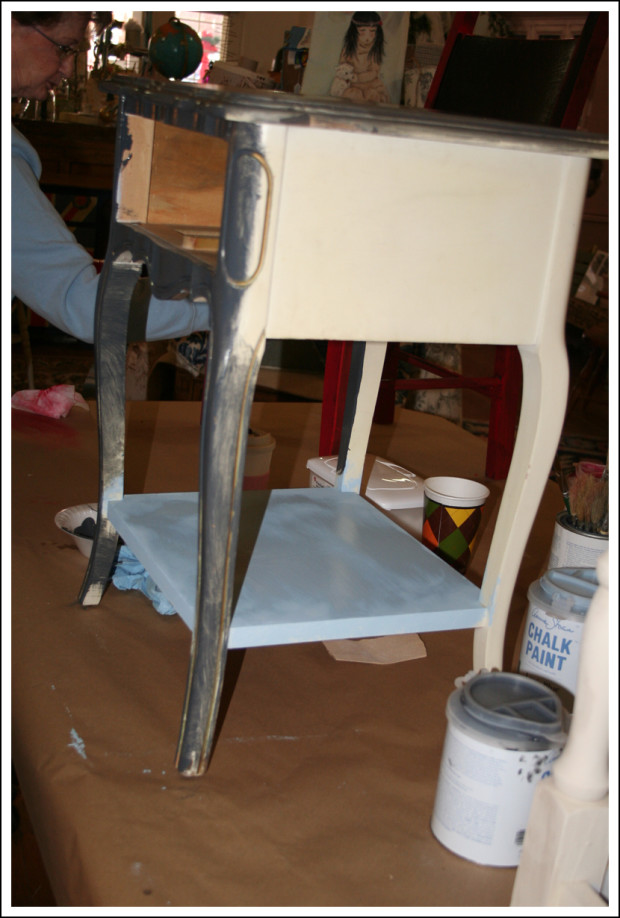 Of course, Janet was there every step of the way. She consulted on color choices, demonstrated techniques, coached, chatted, cheered us on, etc. She fed us lunch, too, which was provided by my favorite Great Harvest Bread Company.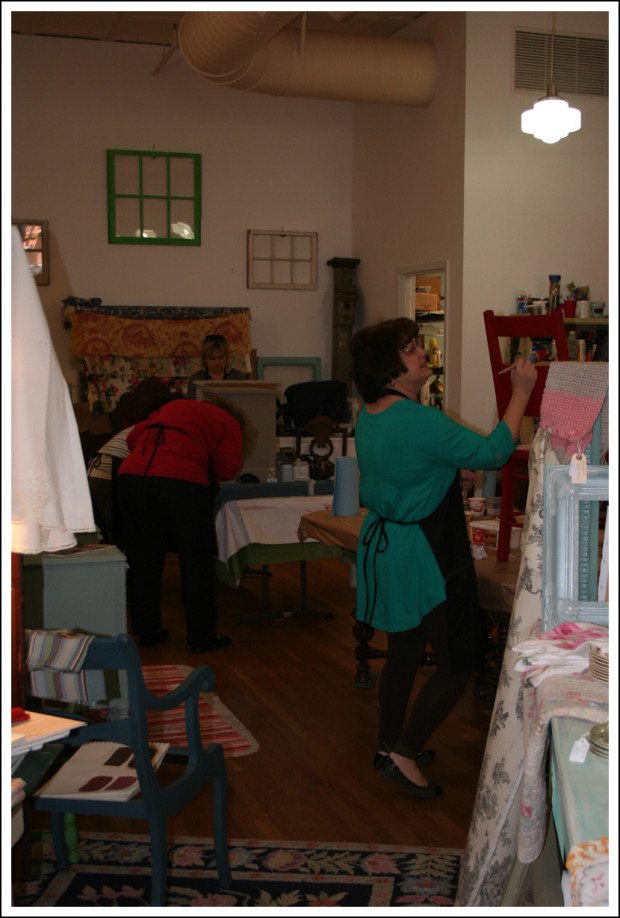 Have I mentioned how much I like Janet and her shop? Just about every person who has come to visit us in Warrenton since The Empty Nest opened has been dragged into her store. She's going to get sick of seeing me one day…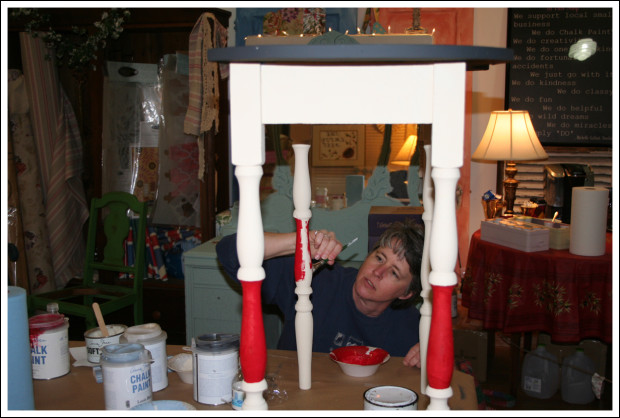 One of my classmates was kind enough to take some pics of me. So I could prove that I really did participate.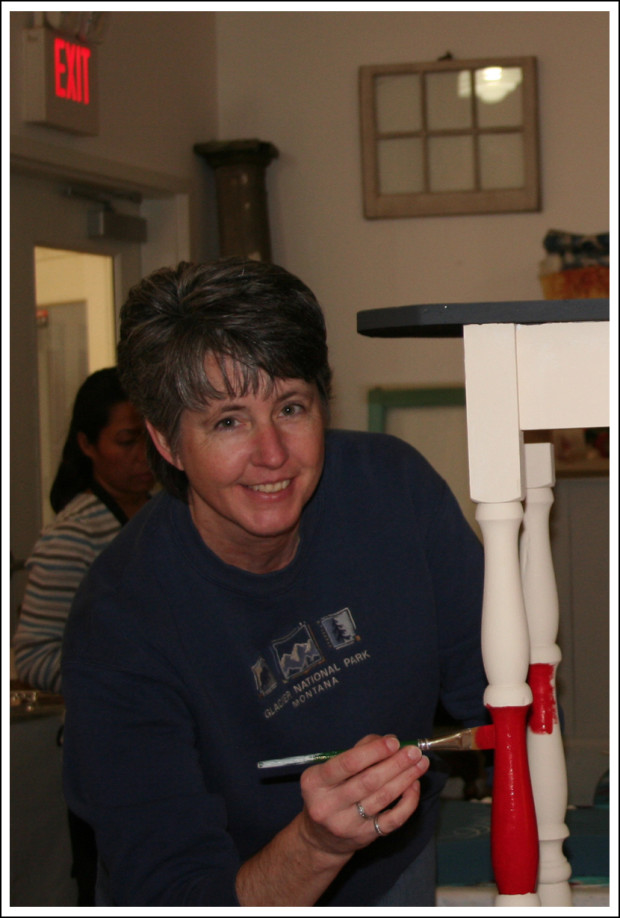 Do I look like I was having fun? I was. Really.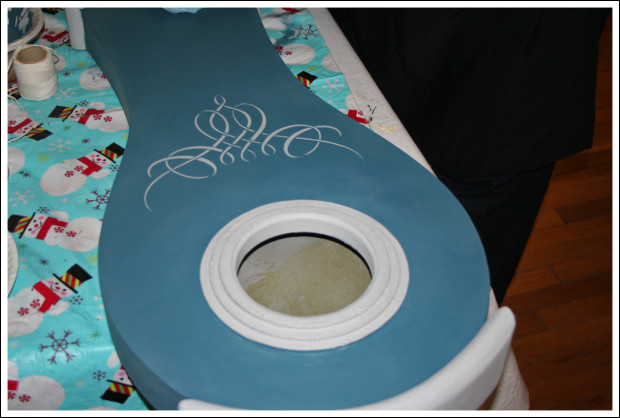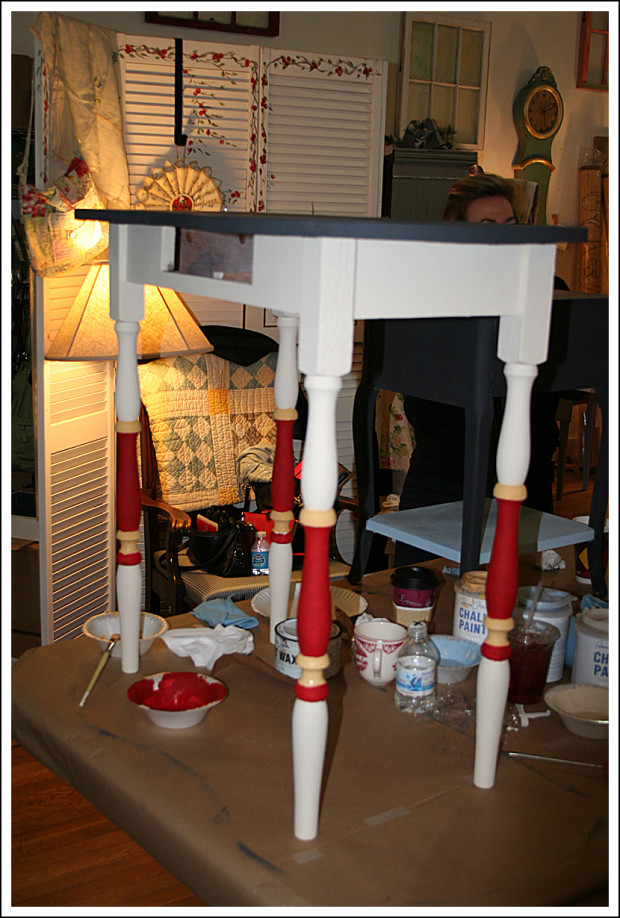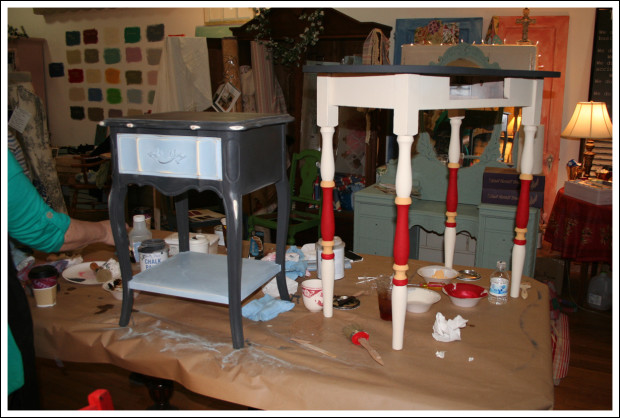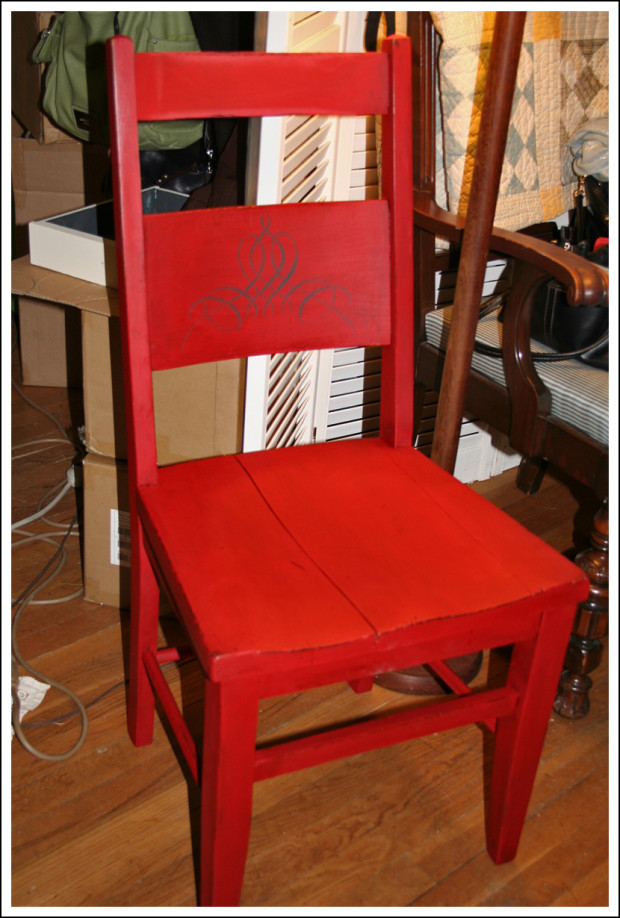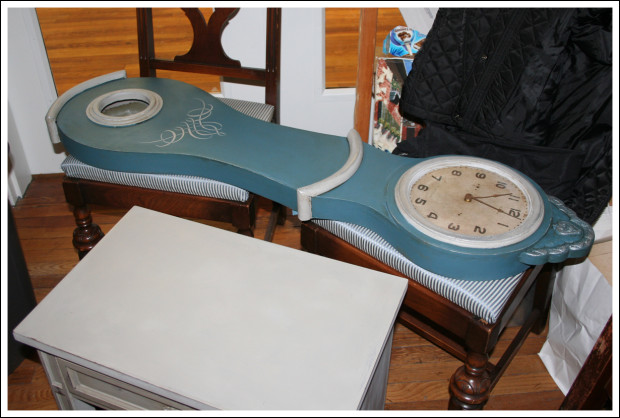 Every single student left with a very cool, hand-painted piece of furniture. It was awesome. I couldn't wait to get home with my "new" piece.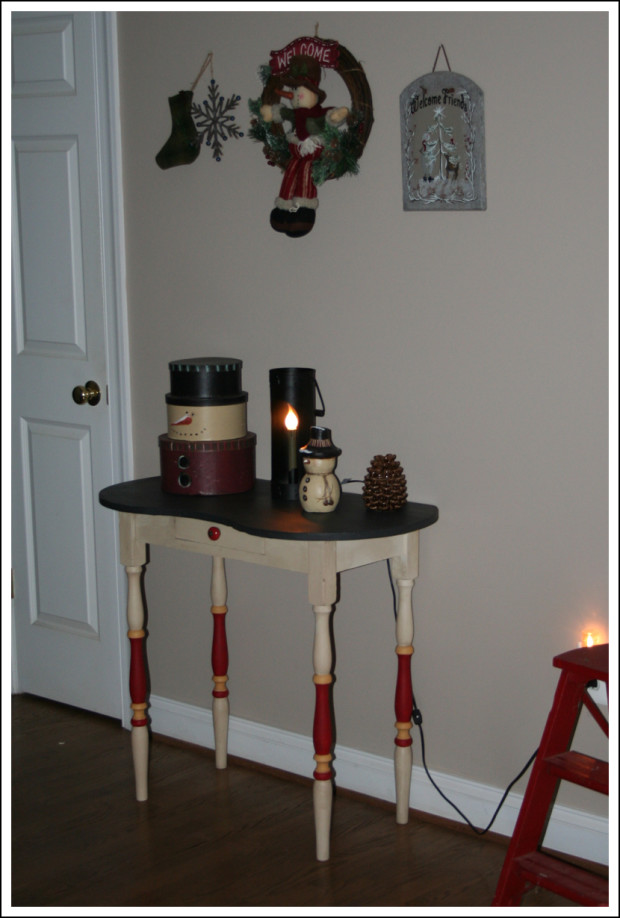 See how cute it looks in my foyer?
I am really happy with how it turned out.
Here's a shot of the table in the foyer from a couple weeks before Christmas…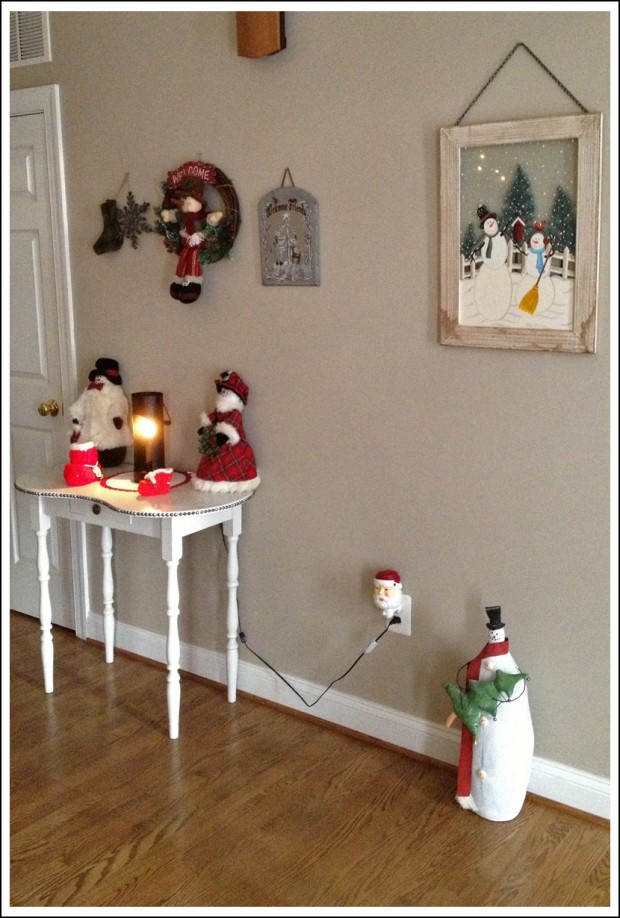 And here's the table after its big transformation…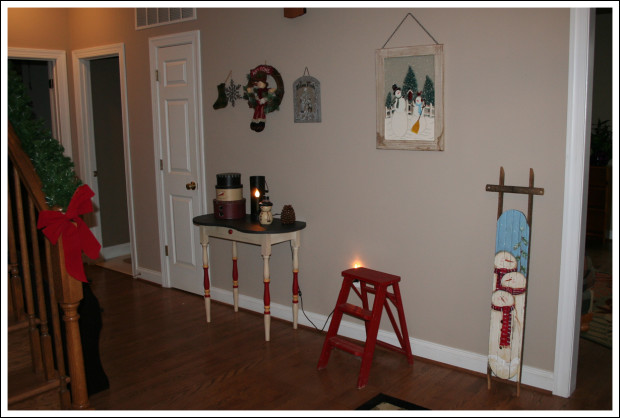 It fits my style and decor so much better than the glossy white table. The Old Ochre color is so much warmer, and it lends itself much better to the whole distressed look.
I like that color so much, I think it's going to go on my dining room chairs, too.
See, Janet? I will be back soon. I have to buy more paint!
So… what do you think?