One of my goals for 2013 — NOT a resolution — is to roll up the ole shirtsleeves and get cracking on some of those creative projects I have been meaning to tackle. Like furniture painting (discussed in this post earlier in January). And quilting.
Yes, quilting. Some of you may not have known that I can sew, too. I'm no master seamstress, trust me. And I have done little more than sew a bunch of squares together, a few triangles, make curtains, etc. I've made quilts, but they are not quilted in the traditional sense (fancy needlework), but instead tied, which is much easier. Tying quilts is when you use yard, heavier thread, string, etc., to fast the backing onto your quilt top. Remember, a quilt is nothing more that a backing, batting (stuffing), and the quilt top.
Anyway… back to quilting. One of the things that draws me into quilting are the colors. I could spend hours and hours and HOURS looking at fabrics in quilt shops. I just love the colors. And the textures. And the different designs.
My good friend Granny Trace — of Granny Trace Scraps and Squares fame — got me started with sewing. She makes beautiful things. Years ago, she made lots of hand tied lap quilts. She kept saying how easy it was. So one Saturday afternoon I had her show me. And sure enough, by the end of that day I had a lap quilt. The edges weren't complete, but still. It was damn good progress for a girl who had never touched a sewing machine.
When my parents saw how excited I was about my project, they offered to give me the sewing machine they'd gotten as a wedding gift in 1959. Of course I was tickled to take it off their hands. After finding a manual on-line, learning how to thread the needle, do the bobbin things, unclog jams, oil it in the right places, it was good to go. It's old and really heavy, but man is that thing a work-horse.
That little bit of instruction from Tracey is all the instruction I'd ever had. Until yesterday. That's when I took my first quilt class right here in Old Town Warrenton.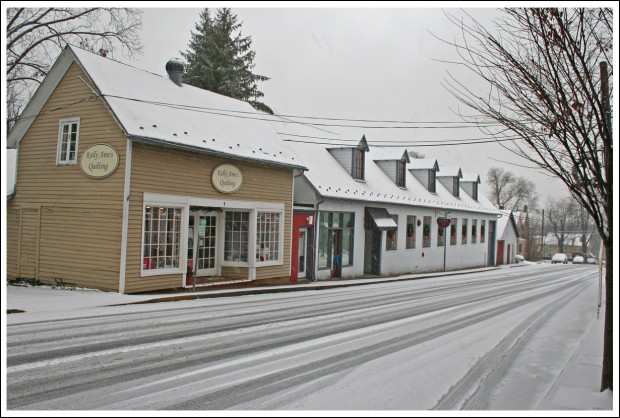 That's a photo I took the day after Christmas. I've always admired Kelly Ann's cute little shop. It's catercorner from that bakery — Great Harvest Bread — that I always talk about. And it's in this darling little old house. The kind of house you just know has a warren of rooms and is probably chock full of little nooks and crannies to explore.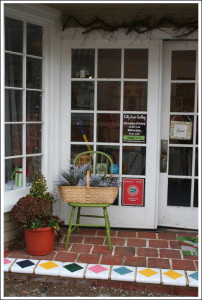 And it always looks so inviting. I don't know how many pictures I have taken of the place over the last year or so since we moved to Old Town Warrenton (OTW).
For the longest time I wouldn't go inside. Because I already have a stash of fabric I have collected over the years AND a bunch of fancy tools I don't know how to use. The last thing I needed was MORE fabric. Especially after being in such a long sewing rut.
One day, I'll be able to devote more time to my hobbies. But that day isn't here yet. And I have such a long list of little projects to be completed. So I figured I'd stay away.
Then I met Kelly Ann (who I always call Kelly because Kelly Ann just seems like such a Southern thing). Truth is, I met her on-line after I attended and blogged about the grand opening of The Empty Nest. We communicated on-line quite a bit. Then one day, I decided to pop into Kelly Ann's Quilting to meet her in person.
It was actually several months after our initial "meeting" in July before I made it to her store. After Mom passed in mid-August, I was away for a couple of weeks. And then we went on vacation for a couple of weeks. Then work was really busy. Sigh…
It took several visits before I finally managed to meet Kelly in person. But once I entered that shop, I was hooked. It really is SUCH a cute little shop. It feels like your girlfriend's sewing room. And all you want to do is walk around and look at everything.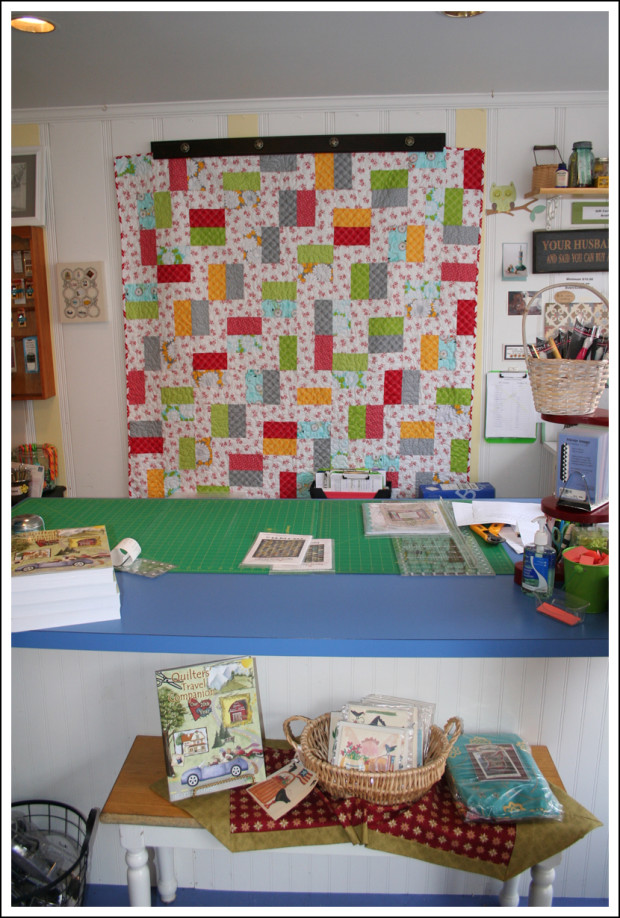 All the ladies who work there are very nice and friendly. You never feel as if they are stalking you as you take your time to absorb all the wonderfulness in the store.
Although most times I end up gabbing when I am there and don't poke around too much. So yesterday was extra fun because I got to mosey around a bit and take a bunch of photos to share with you all.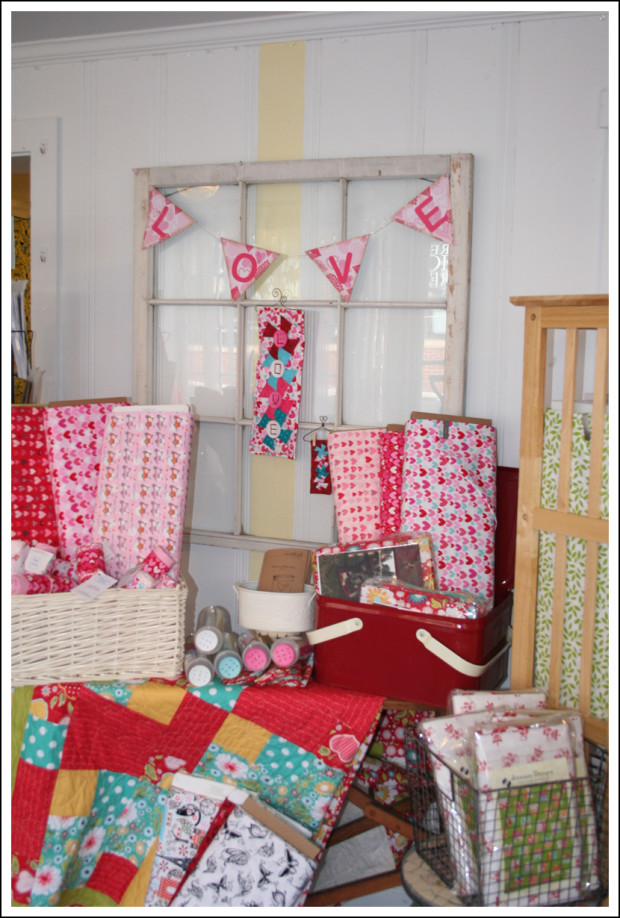 See what I mean about the color? That is some vibrant stuff.
Vibrancy not your thing? She has more-subdued fabric, too.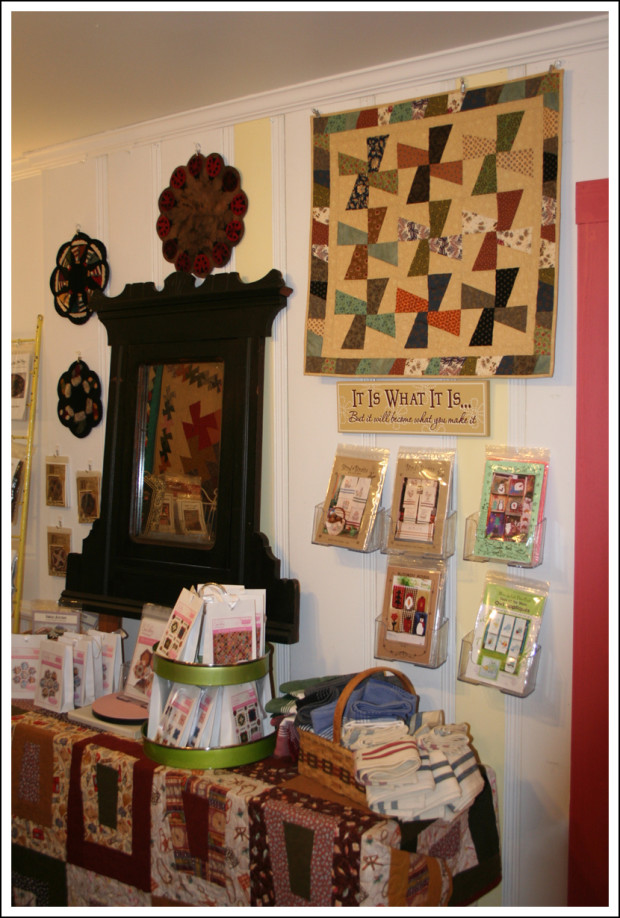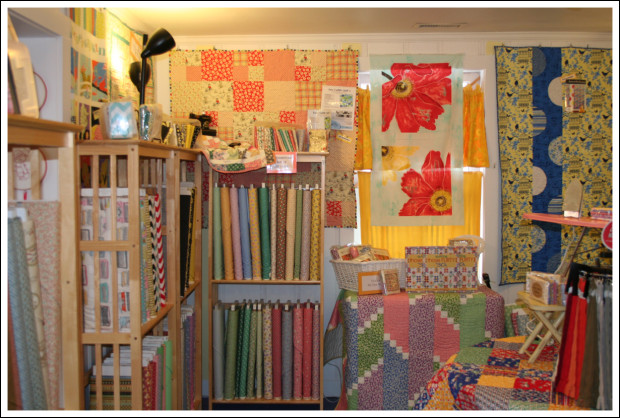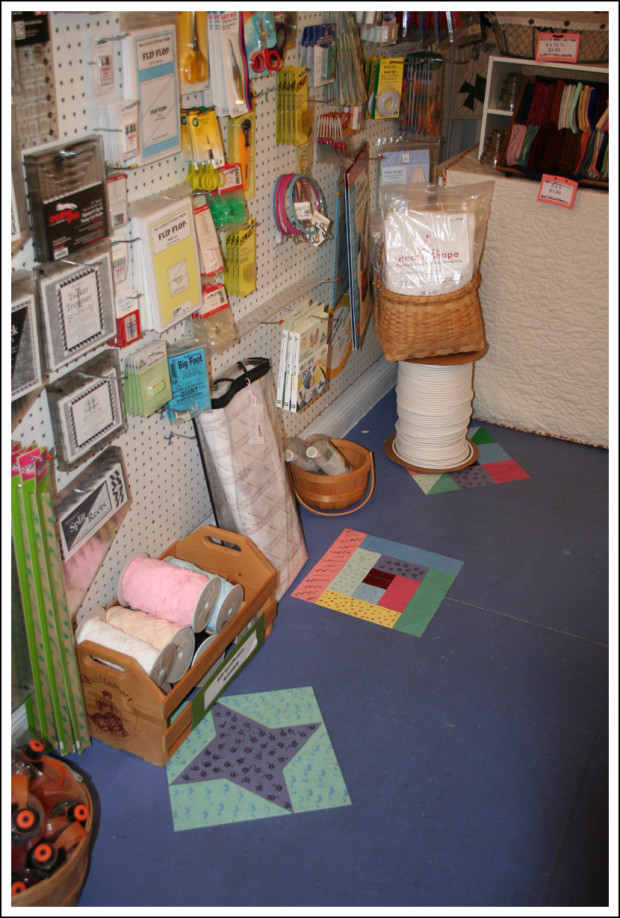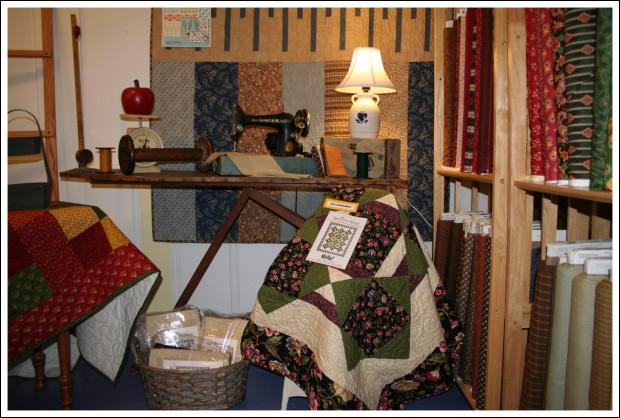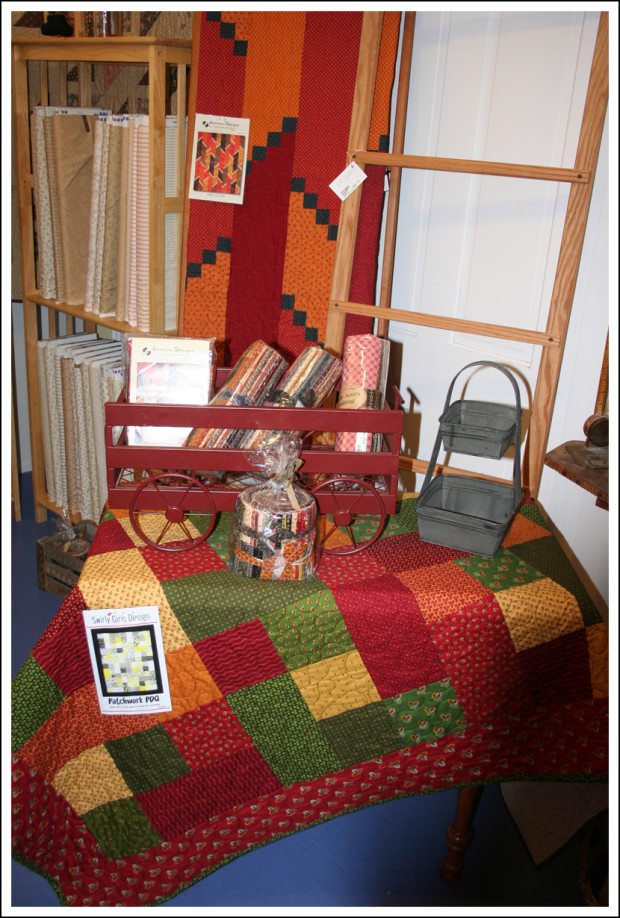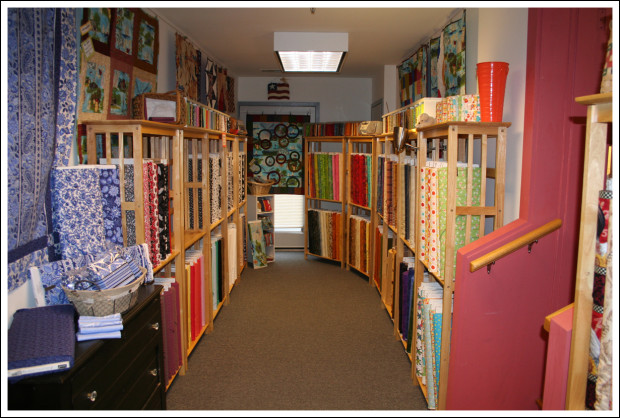 Kelly and her crew have done an excellent job harnessing that homey, welcoming, quilt shop feel.
So, yesterday was my first class. It was Kelly Ann's 101 PDQ class, which covered the basics of quilting, such as fabric selections (quality), proper use of your rotary cutter and sewing an accurate 1/4 seam. That may not sound like much, but I actually learned a lot.
Remember, my Mom didn't sew. So not only had I received little instruction in the past, I didn't have any memories for reference either.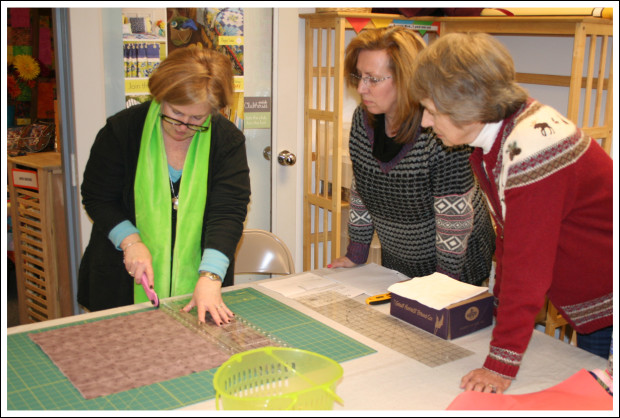 There were three other women in the class with me. Watching Kelly cut are Kathy (middle) and Sandy (right).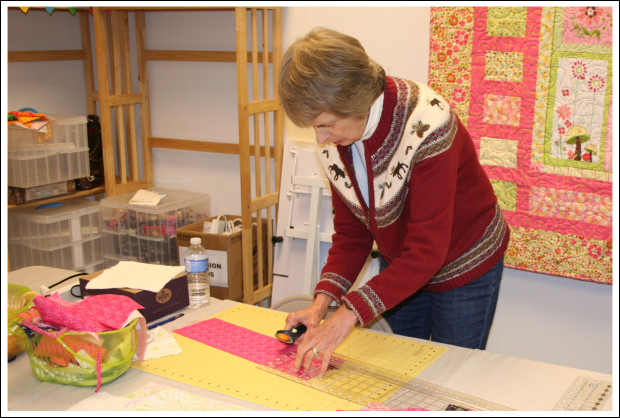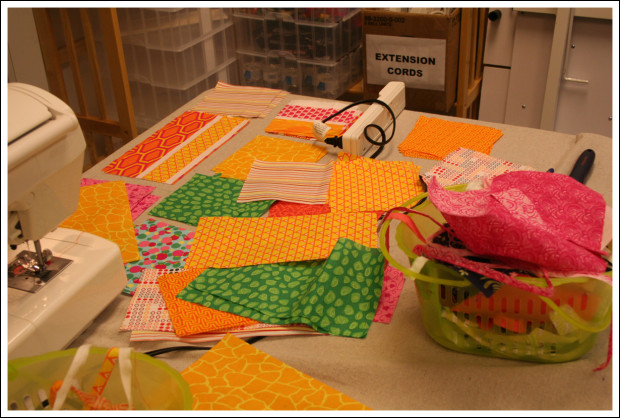 Truly, the thing about quilting I love the most is combining colors. And while I could never see a quilt with these colors in my house (it doesn't go with my other colors), I can appreciate — and absolutely love — the vibrant, rich, variation of the colors Kathy chose for her quilt.
All of us did well with color choice. I just didn't do a good job capturing images of everyone's choice because I was busy cutting, pressing, and sewing.
Kelly was even kind enough to capture some action photos for this post…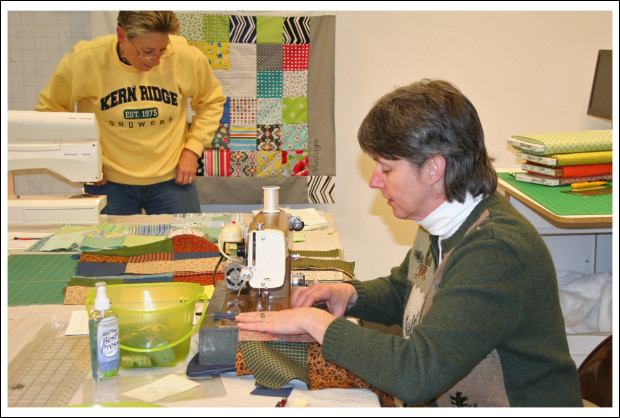 The lady you see in the background is Sandy.
We all need to return to finish our block assembly (we ran out of time). Kelly Ann admitted that was the first time she'd taught that format, and the cutting took us longer than she expected. So we're all hoping to make it back on February 23.
I'll be there. Of course, it's easy for me since the cutest little quilt shop in Warrenton is within easy walking distance.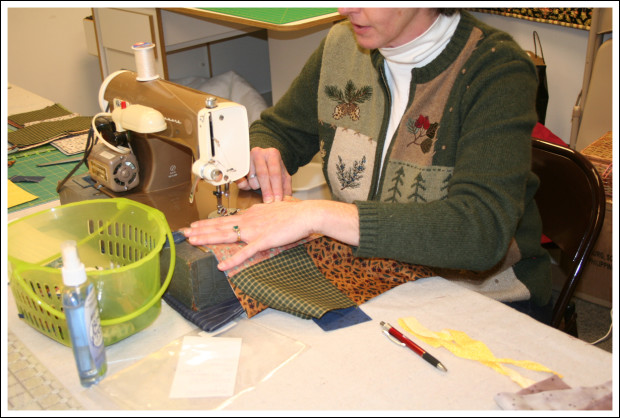 I hope to see all you other ladies again, too.
Kelly and crew, I'm sure I will see you all sooner.
More on the class later when my quilt is all done! Or at least, after our late-February continuation class. 🙂