I had every intention of focusing solely on a specific sewing project yesterday. Then I stepped out our back door and noticed the Farmer's Market was open.
Ah, the Farmer's Market. I HAD to go. Plus, it was yet another picture-perfect day here in OTW.
The Warrenton Farmers Market operates on Saturdays and Wednesdays for a good part of the year. The Saturday market is very close to our house. It's one of Old Town Warrenton's attractions that I really enjoy, so I try hard to support it by visiting and usually buying some sort of merchandise. It's too early in the year for a lot of the fresh produce I enjoy — tomatoes and corn — but there were plenty of flowers and other wares to intrigue me.
There were lots of folks out and about, enjoying the market and the gorgeous weather. I think it was in the mid-50s when I left the house. Perfect weather in my my book. Hubby thought it was chilly.
On the way to the market, I noticed that our neighbor's flowering tree is getting ready to bloom.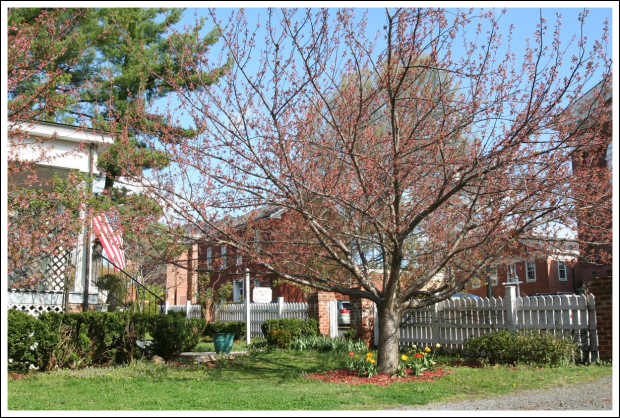 I'll have to keep my eyes on that one. It's gorgeous when in bloom.
Following are some images from the market.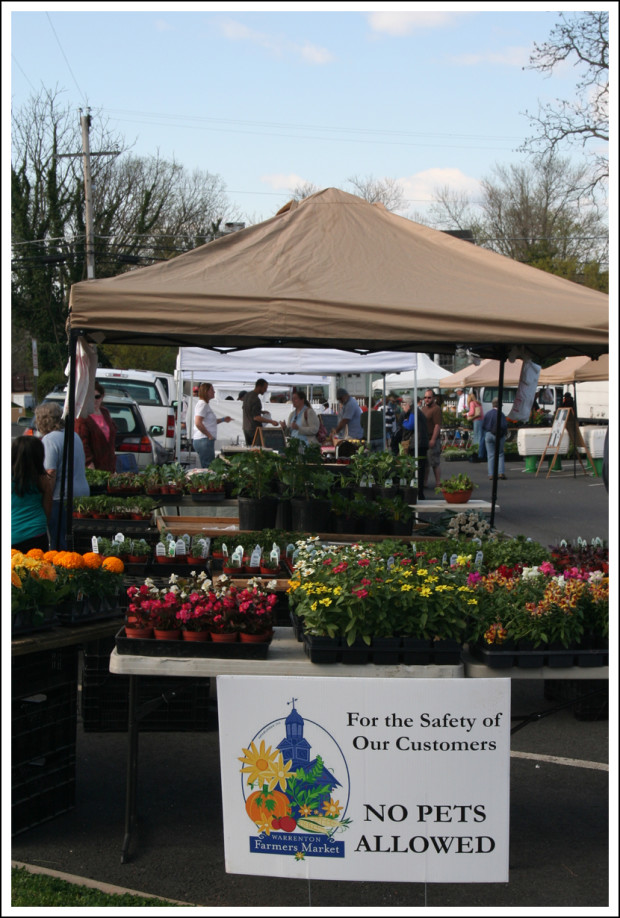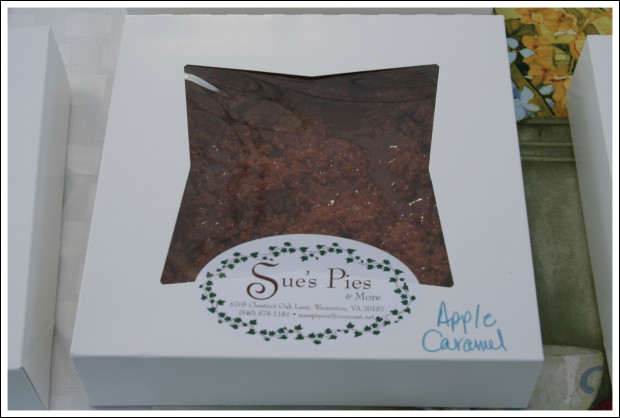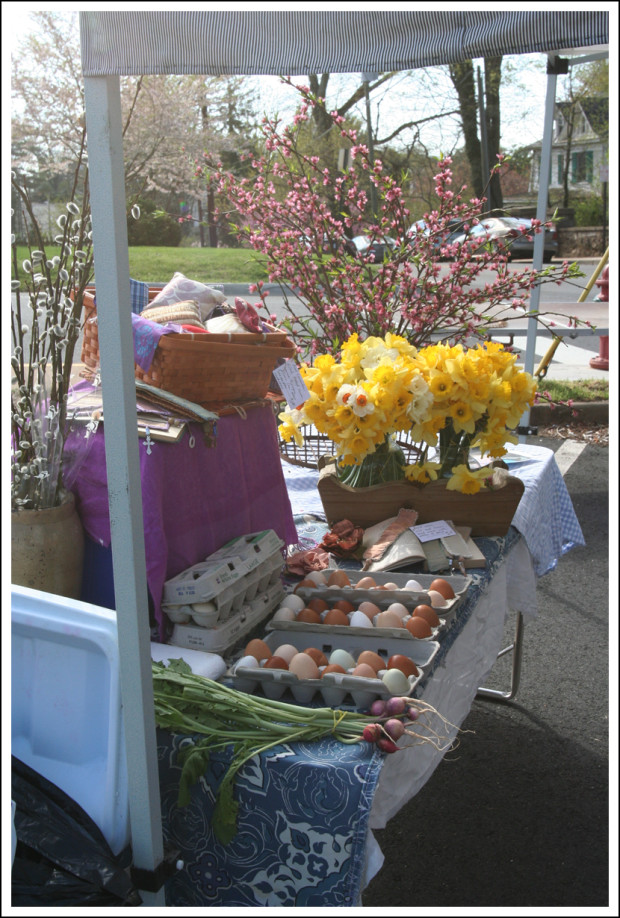 The image immediately above shows offerings from "blurose," a husband and wife operating out of nearby Amissville in Rappahannock County.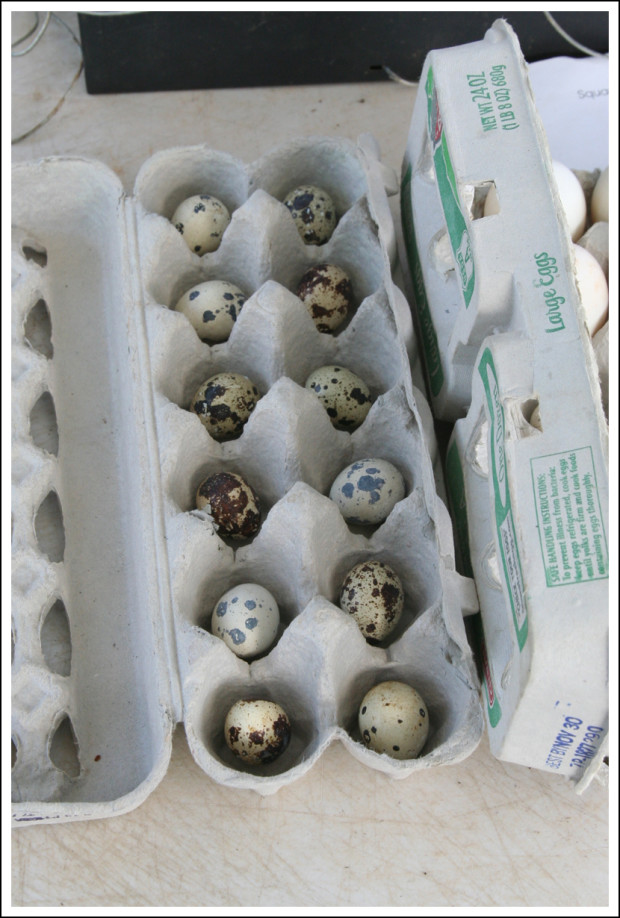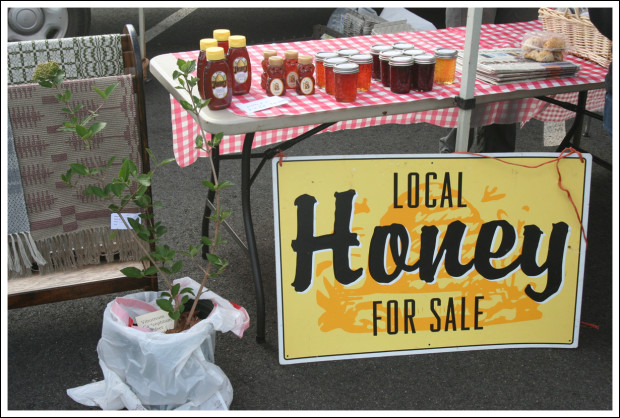 I hadn't planned on buying anything at the market. I was just going to take pictures. So after seeing several things that needed to go home with me, I had to walk to the bank machine. Which is why this post also includes some not-market-related town images.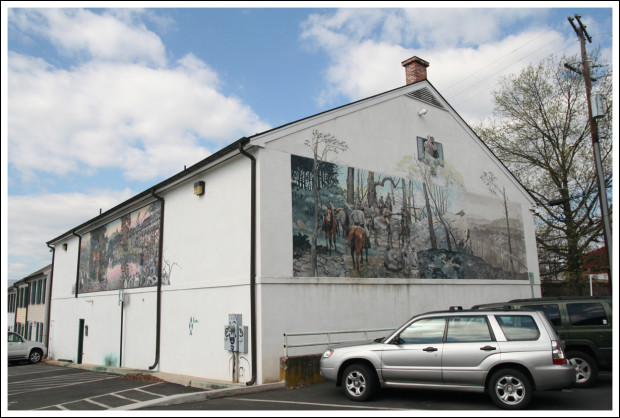 This building is adjacent to the parking lot that houses the market.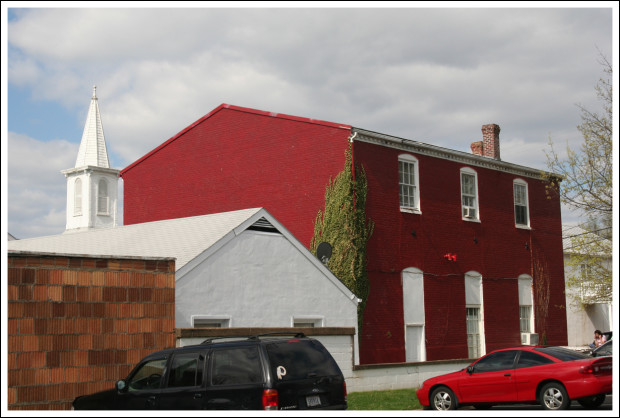 One of these days I'll get a shot of this building without cars parked there. Maybe.
I am drawn to this building for some reason. I guess it's the red color. Plus the green ivy climbing up one corner. And the church steeple in the background.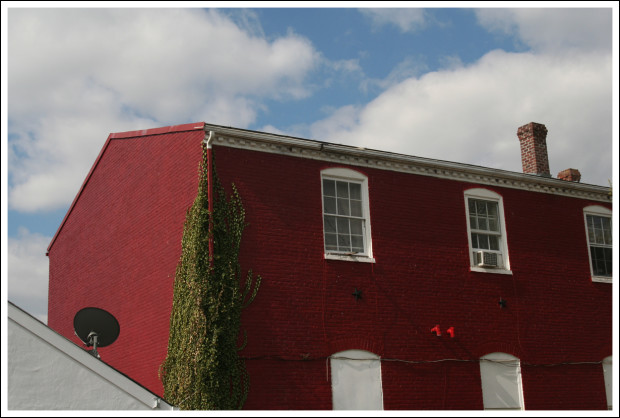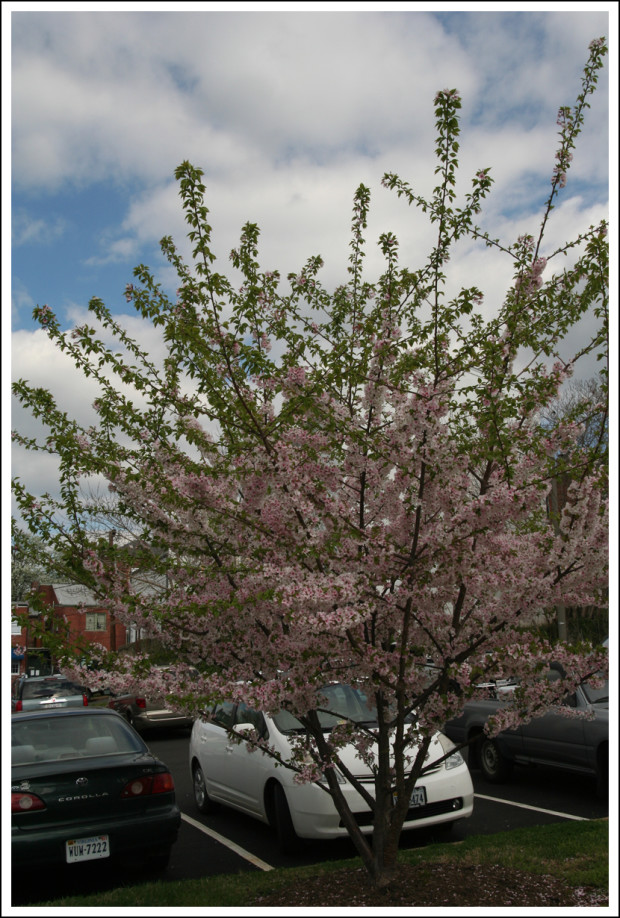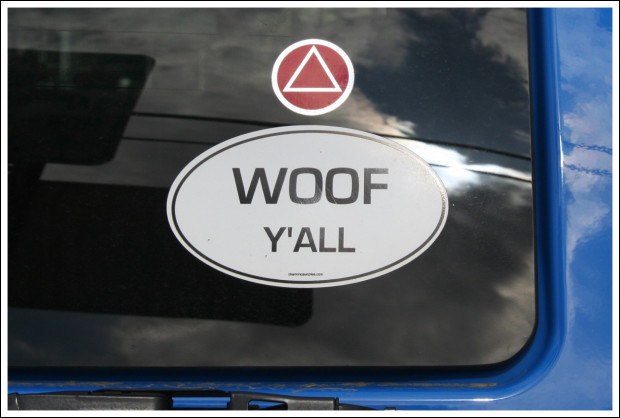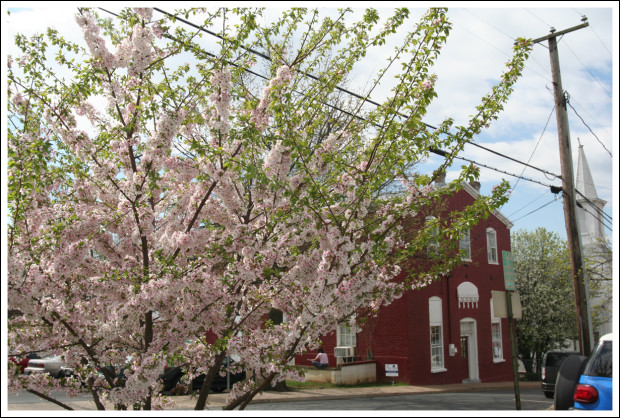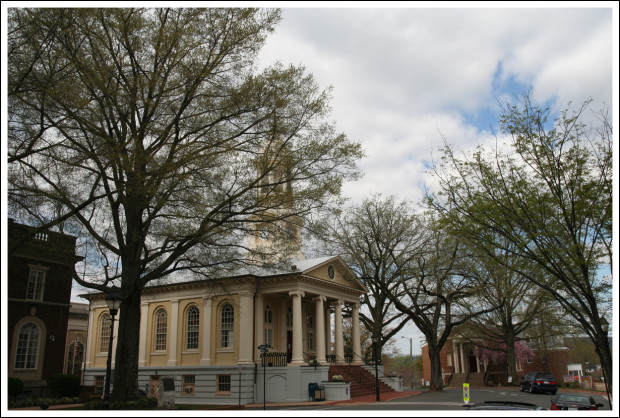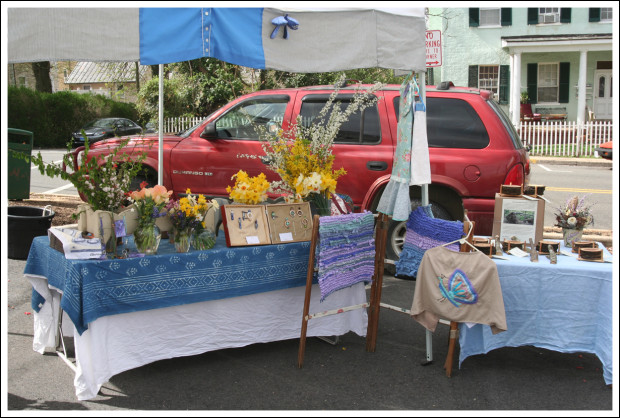 The coasters shown below are what inspired my trip to the bank machine.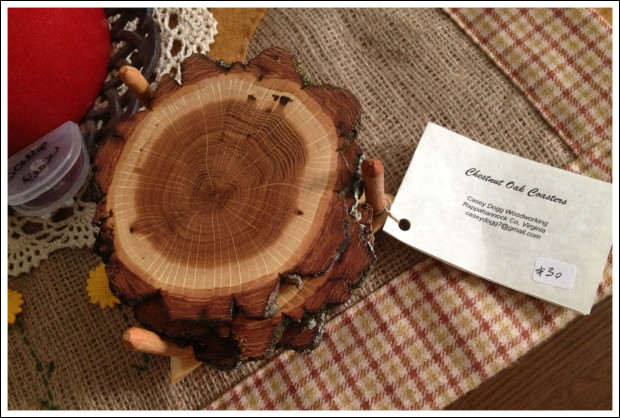 There were a number of different woods represented. All wood was harvested from trees downed by Hurricane Sandy in Rappahannock and Fauquier Counties.  Jan, who owns Blurose, explained that she and her husband, Chris, were devastated at seeing so many downed trees. Chris decided to turn nature's fury to his advantage and make use of what would otherwise have been senselessly wasted wood.
The little pamphlet that came with the coasters said, "The tree that gave us these coasters was a monster. It was most likely over 120′ with a huge canopy. Size was its downfall. Standing alone on the ridge crest at the top of a small valley that funneled the wind, it was subjected to the full force of the storm. It has gone, but here is something to remember it by."
How could I NOT buy such gorgeous coasters made by a man who describes himself as one with a "passion" for "finding the beauty of wood in its most natural forms." He can write, too, as evidenced by the pamphlet on my coasters and other writings about the products.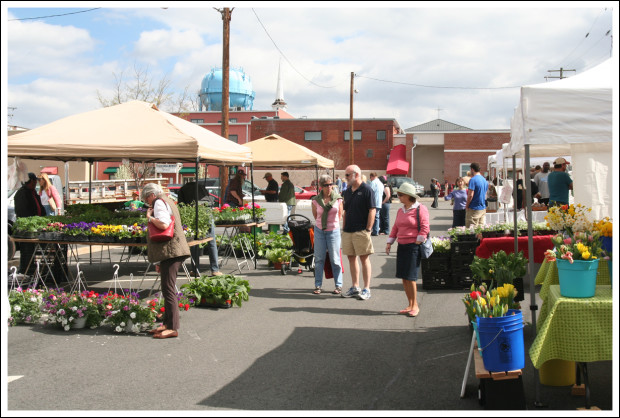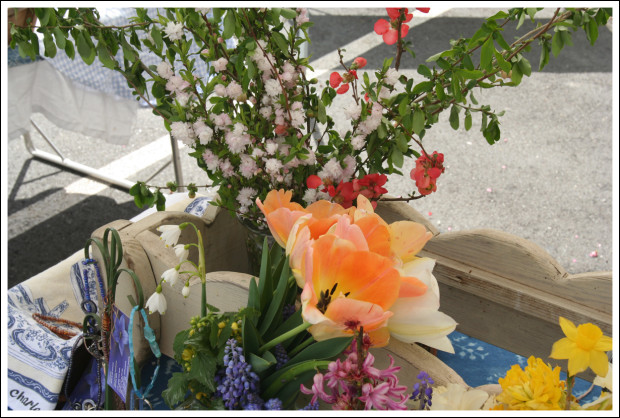 Another very cool merchant I met are the folks behind Primrose Farm in nearby Nokesville. Kathleen and George are a lovely older couple selling heirloom flowers and other goods. George is actually a very good watercolor artist, and their booth carried a wide range of note cards showcasing some of his lovely paintings.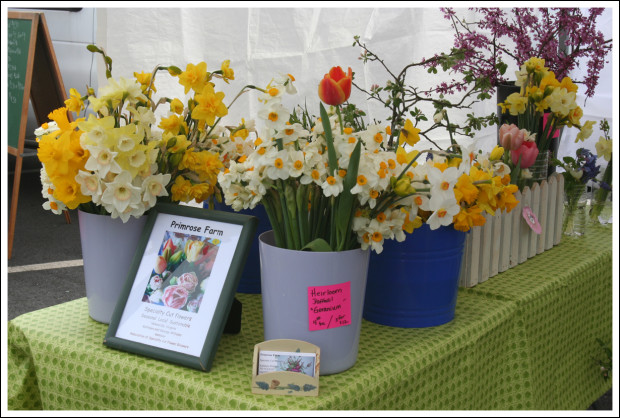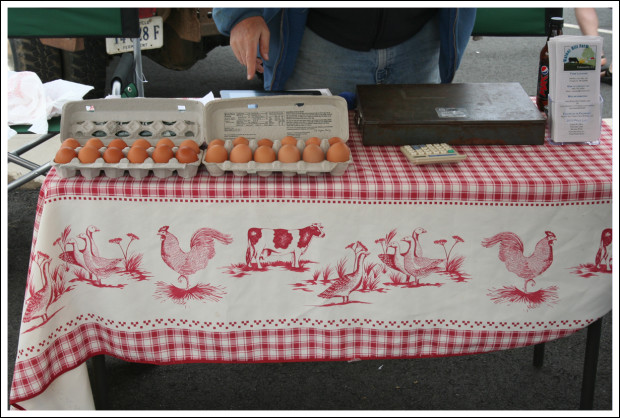 I also bought some Chorizo Grillers (sausages) being sold by Walnut Hill Farm in Falmouth, VA. Big coolers of meat don't make for great photos, but I LOVED this tablecloth. I think it was one of the owners who told me he'd purchased the table covering in France some years ago. I'm pretty sure he said his wife bought a blue one. I should have warned him about Janet, the Empty Nest proprietor, who loves all things French, especially chickens and other critters.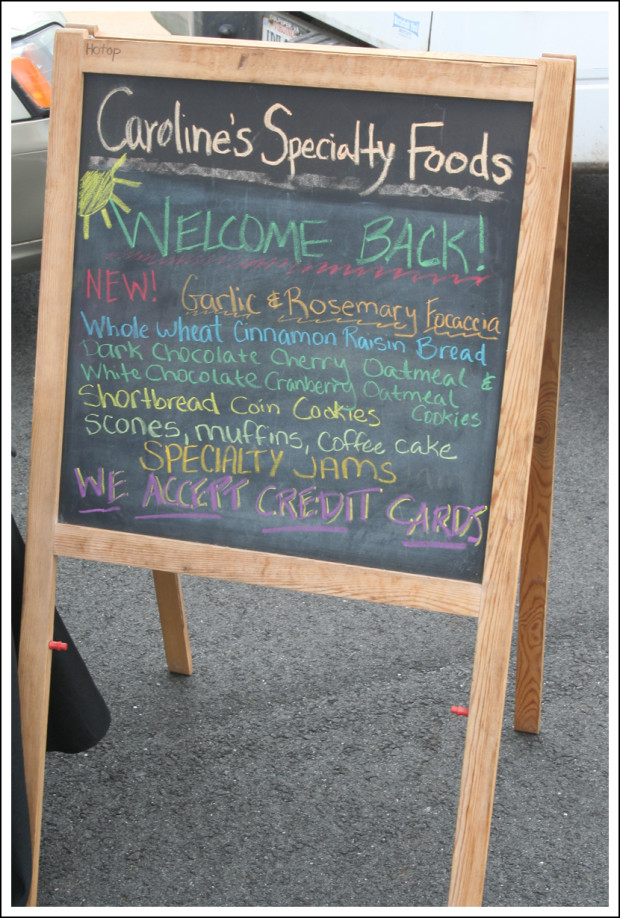 I didn't buy anything from Caroline, but I loved her sign. I chatted with her a bit, admiring her multi-colored eggs, about which she said, "My mother is VERY proud of her chickens." I'm sure I'll see Caroline again next week.
I did bring some of those Zinnias home with me. I might get them into the dirt today, assuming I finish that sewing project I mentioned earlier.
Speaking of that sewing project, I'd better get busy!