I'm quite happy to report that I've been busy creating stuff again. For the longest time, my creative efforts were hampered by the mess in my craft area. The image below shows a bit of that. It got worse, however, shortly after that picture was taken as all of the boxes and other stuff that were in our storage area were moved into my crafting space after we had a water leak.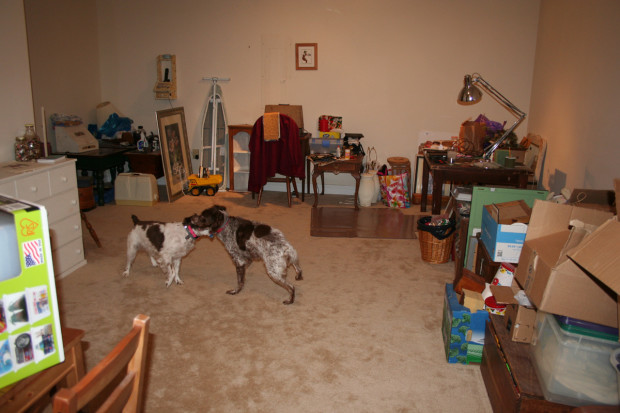 While I am still working on clearing out some stuff, I did manage to organize the space enough that I could start using the space again.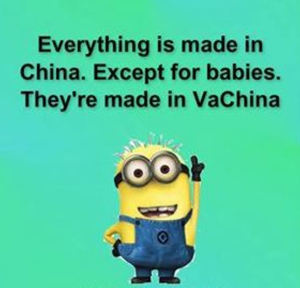 There are quite a few projects in my furniture-painting queue. But I had some sewing projects to tackle, too. The sewing projects were a bit more time-sensitive. A co-worker recently had a baby and a friend's daughter is about to have a baby.
I could have just bought gifts, but I wanted to make something for both of them.
I was torn, though, because not everyone likes home-made items. The younger set, in particular, seems to be more choosy when it comes to stuff like that. And that's fine. We all have different tastes, right? But I've always treasured items that were made for me. Because I know lots of thought and love goes into creating stuff, whether it's a painting or baked goods, textile crafts, etc. And I figured I'd enjoy making the gifts even if the recipients ended up not really liking them. So I decided to make utilitarian baby play mats. Those things you put on the floor for immobile infants.
The first one was for my co-worker, who had a baby boy.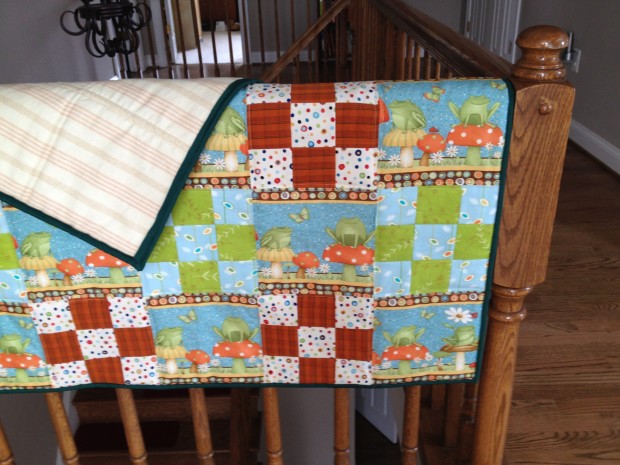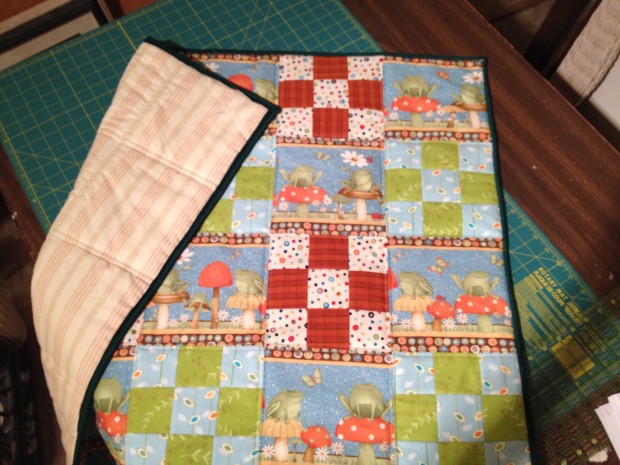 I went the more-traditional route with the frog-themed play may. I alternated some nine-patch blocks with blocks of frog fabric. The backing is flannel. I made and used a binding strip for the edges and did some simple machine quilting around the edges of each block. Once it was finished, I popped it into the mail.
I got an e-mail from her recently that made my day. It said…
I absolutely love the quilt you made for Ryder! Hand made gifts are the absolute best. Thank you so much for taking the time to quilt so much love in one blanket!
Wasn't that a sweet message?
I really struggled, mentally, over the other play mat. I know for a fact the Mom-to-be isn't a traditional girl. A baby-colored mat in pale pinks, blues, and yellows may have made her vomit. And I didn't think she'd like traditional quilt blocks either. So I opted to use a free-form approach, randomly placing subway tile-shaped blocks in rows. As for colors, I thought back to her wedding. The invitation, attendant dresses, and reception decor used a very vivid color palette. I figured she wouldn't have chosen those colors for the wedding if she didn't like them.
The pink floral fabric is the girly touch I added, knowing the baby is a girl.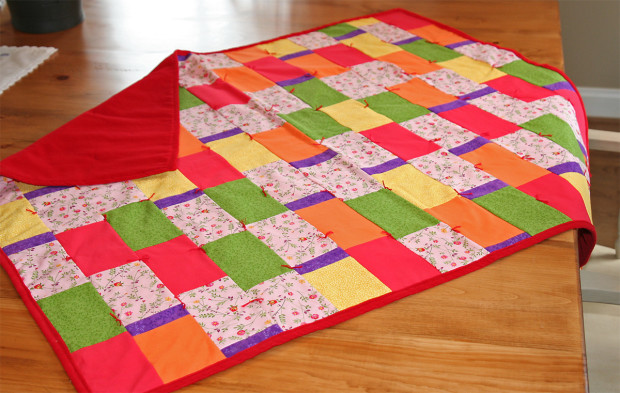 I used red flannel as a backing and self-binding (folded the backing material over and sewed it to the quilt top). I was quite pleased with the end result.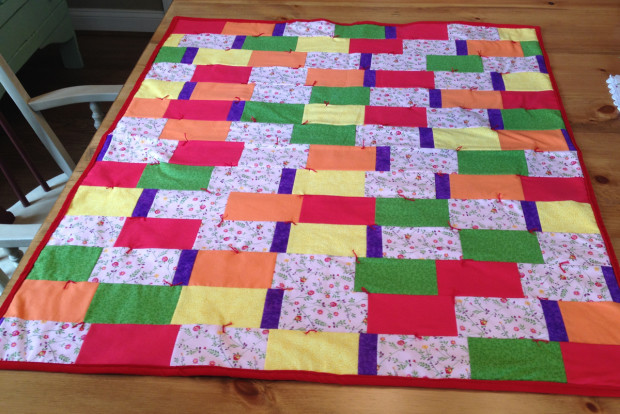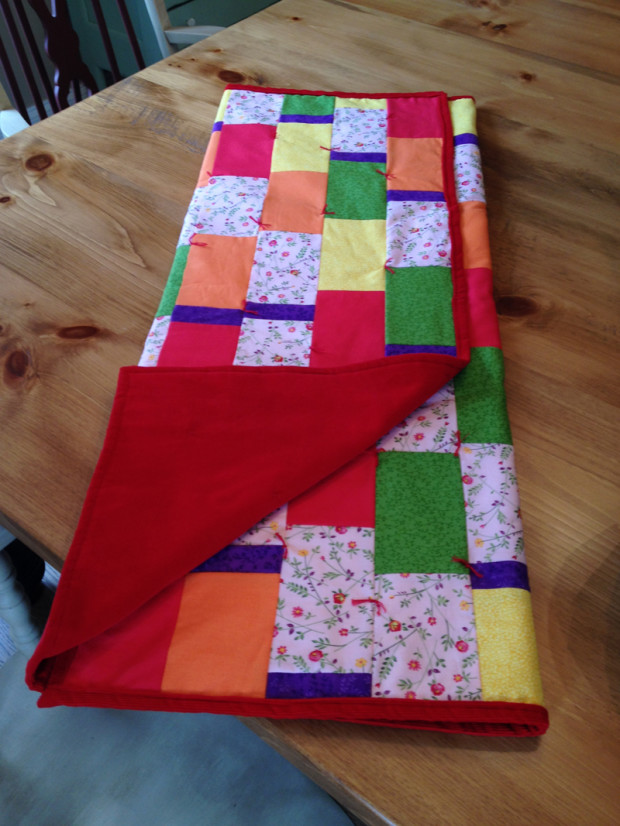 When I showed it to Hubby, he even commented that the colors were awesome, just like the colors on her invitation, which he really loved.
Here's a shot of the wedding dresses. I got all but the dark blue color. The reception was full of greens, not shown here.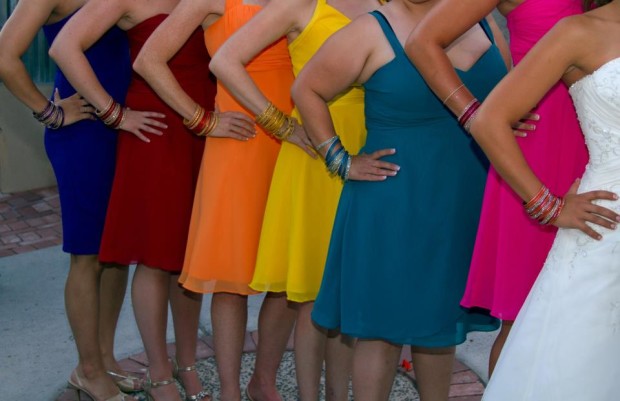 Having no clue what else to get, I asked my friend Ashley, a young Mom, what would be a good shower gift. She gave me a whole list of essential supplies. She also said I should put them in a reusable basket or something.
Her basket suggestion made me laugh, as I'd already decided to decorate an old tin for that exact purpose.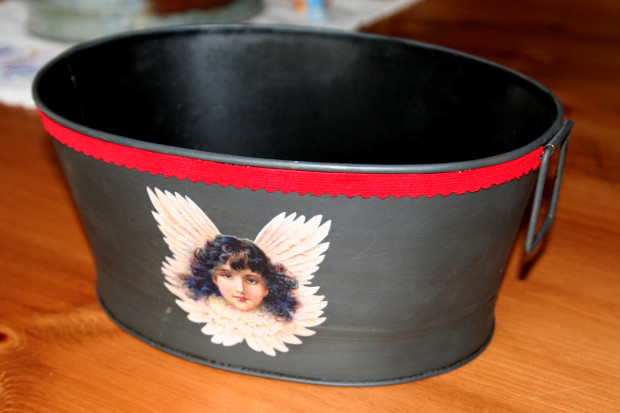 I painted the tin with Annie Sloan Chalk Paint. Of course. I added the angel using decoupage. The flannel trim is attached with glue.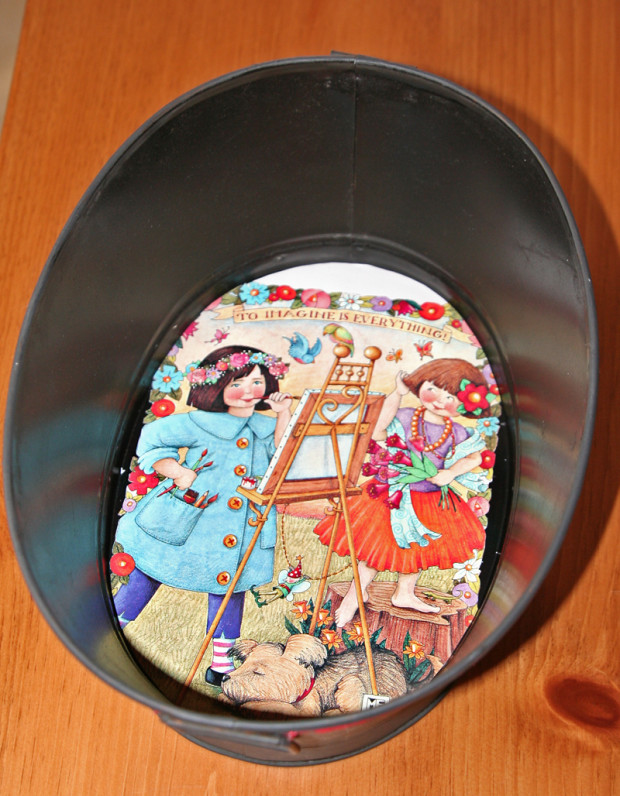 I used decoupage to affix the images (above and below) to the interior base and bottom of the tin.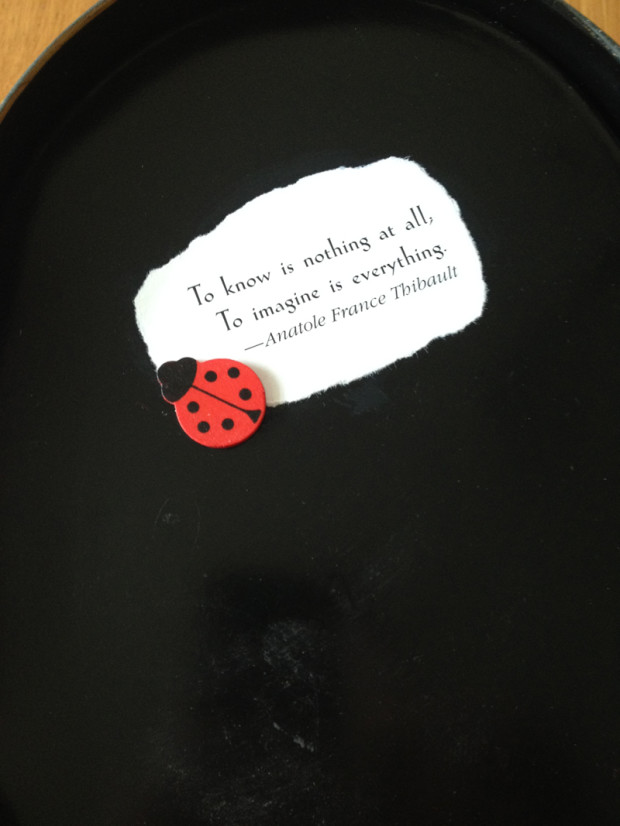 I thought the quote to be appropriate. Especially since the Mom-to-be is a teacher.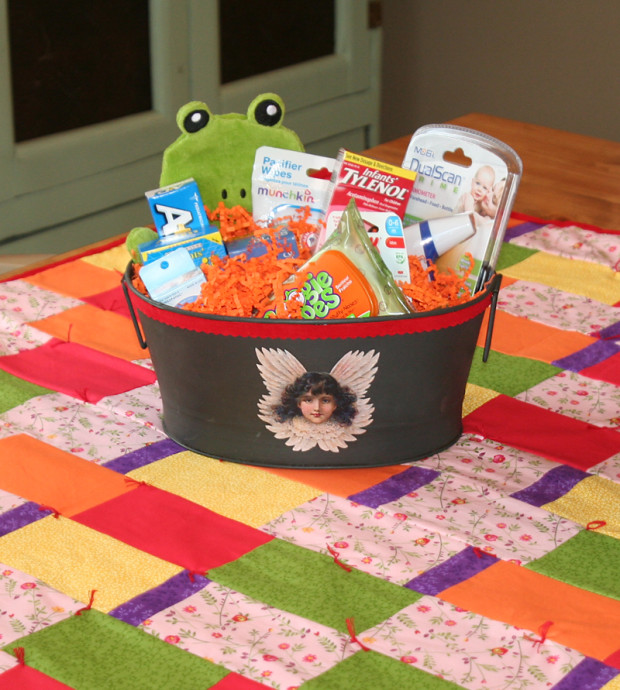 Turned out pretty cute, right? I couldn't resist adding the frog wash mitt. LOL.
The Mom's reaction when she saw the play mat was priceless. She actually gasped and said, "Where did you find this?!?" She was shocked when I told her I'd made it and immediately ran off with it to show her Mom.
I think she likes it. 🙂
There was so much going on, I never got to ask if she recognized the wedding colors. Not that it really matters. I'm just happy that she likes it.