About a year ago, I bought an old end table for $12. It was in decent shape, but it wasn't solid wood. I liked the detail on the front and thought it would be a fun experiment.
It sat in my basement since the day I brought it home.
While at our WV Place recently, we realized we needed a table about that size for the living room. So I figured I'd give it a quick makeover.
QUICK is the key word here.
Including dusting, painting, and waxing, I don't think I spent more than an hour on this piece. It required very little paint (single coats of each color dry-brushed on) and only one quick coat of clear wax.
I love the end result.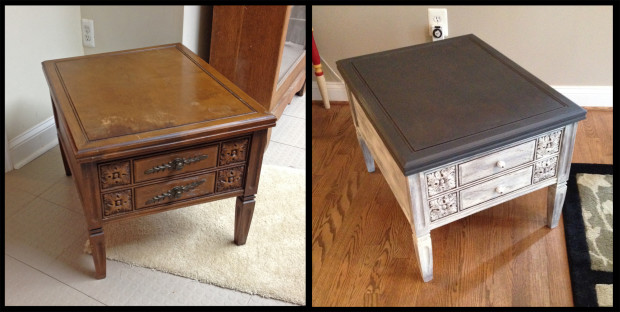 When I showed Hubby the table in its "before" state, he looked a bit skeptical and asked, with all the bias of a woodworker, what kind of wood it was. I told him parts were plasticene, and the rest was something else. I didn't care. I didn't want to burn it, just have something cute to look at for a bit.
Even he was shocked at the end result.
This Annie Sloan Chalk Paint® consistently amazes me.
No sanding was required. I removed the old handles (didn't even need a screwdriver) and then added a very thin coat of Graphite on the top and Old White on the base. I covered the painted areas with a quick coat of clear wax. Finally, I added new knobs I'd purchased on clearance for $1.36 each.
Not a bad table for under $15 (not including the teeny bit of paint and wax I used) and an hour of my time. Do you agree?