Lots has been going on around here of late. And we had some excitement in the family, too.
I'll share the family excitement first. I've dubbed the event…
A Proud Moment in Family History
Our eldest kid, Shannon, who lives in San Diego, just bought her first motorcycle. It's a 2009 Honda Rebel. She passed her motorcycle safety course with flying colors and got her license within the last couple of weeks.
I think a trip to San Diego will be in order soon so we can do a family ride.
Under Contract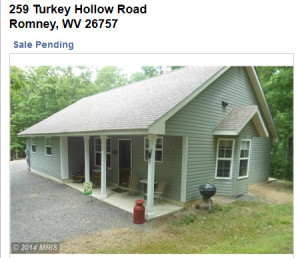 The WV Place is under contract. We got the offer exactly two weeks after it hit the market. It was a bit low, so we countered. The contract was accepted two days later. Now we just have to get through the home inspection. We don't anticipate any major issues, but one never knows…
Another Furniture Makeover Done
I bought this piece at auction over a year ago. There was some termite damage to one of the back legs, but I loved the look of the old oak and the large glass front. After getting it home, we realized it stunk. Bad. The old-people-house smell was oozing out of its pores. Is that what "musty" means? It sat in our garage for a while, coated in baking soda. Finally, we took it down to the basement.
That handy Hubby of mine gave it a new back leg. The shelves were particularly stinky and quite banged-up. I covered the whole thing in a couple coats of Zinsser's Shellac (per my friend Janet's recommendation), sanded it lightly with very fine steel wool, cleaned it off with mineral spirits, then hit it with some paint. I wanted to preserve the look of the nicely-aged exterior, so I just painted the base of the interior and the shelves, using the Old Ochre color in Annie Sloan Chalk Paint.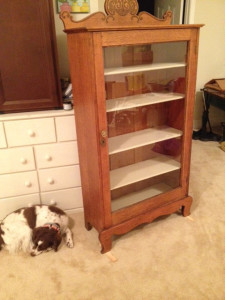 Now I'm in the process of finishing that ugly seafoam green pie safe…
He Just Can't Sit Still
Hubby has been busy, too. After a long break post-Grandfather Clock, he's back at doing some more home projects.
He's been wanting to add a sound barrier between the family room and kitchen since shortly after we moved here. All those folks who just LOVE "open floor plans" must never have experienced trying to watch TV while someone else is doing something, anything, in the kitchen.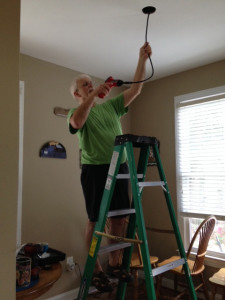 The light in our breakfast room is centered on the ceiling, which is just dumb. It should have been centered over the area where the table can sit. The table can't possibly sit in the middle of the room, or you would be able to get out the back door. Well, you could get out the door, but you'd have to squeeze past the table and chairs.
On the Road Again
Later this week, I'll be heading back to Texas. It's just another short work trip to Austin. Of course, I'll try and squeeze in some fun, too. So, if you don't hear from me for awhile, that's why.
I can't wait to re-visit Rudy's BBQ…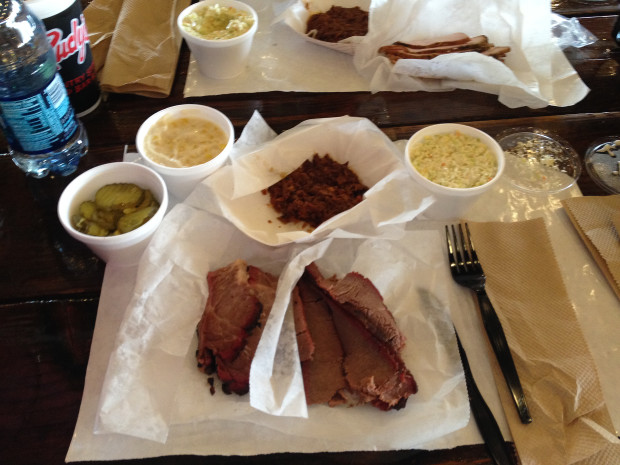 I REALLY wish I could have some of that for breakfast… brisket and eggs. Yum.