I've been using a cable-style helmet lock for years. Hubby (my gadget guru) bought it for me. I don't use it as much to prevent theft — depending on where I am and/or how long the bike will be unattended — as to make sure my helmet doesn't fall off of the bike. It's very convenient and fits easily in my tank bag.
I've often thought it would be nice to have a longer one that I could use to secure my jacket to the bike. To "keep people honest" as Hubby likes to say. We all know motorcycle gear ain't cheap, right?
My Gadget Guru struck again recently when he spotted this in an ad in the latest BMW MOA magazine.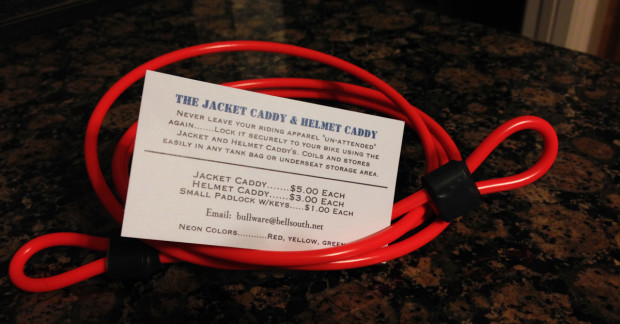 It's nice and bright so I can find it easily in my tank bag AND people clearly see my jacket is secured. I can thread it through my helmet lock and secure them both together. Easy, effective, and inexpensive.
Shipping was very fast and the quality is good, so I thought I'd share it with you.
The jacket Caddy is 60″ (~152 cm) long. The Helmet Caddy is 20″ (~50 cm) long.
The outfit that makes and sells these items — Moto-Kafe — has a photo-sharing web site where you can find more pictures as well as the ordering information.
The cables are described on the site as:
Non-scratch vinyl-coated cabling; crimped sleeves are rubber-coated to prevent scratching. Nine-hundred pound breaking strength.
Shipping is very reasonable, too. And, he says he can also make a cable any length you wish.
If you've been looking for an inexpensive, but good, way to secure your stuff, this is it.