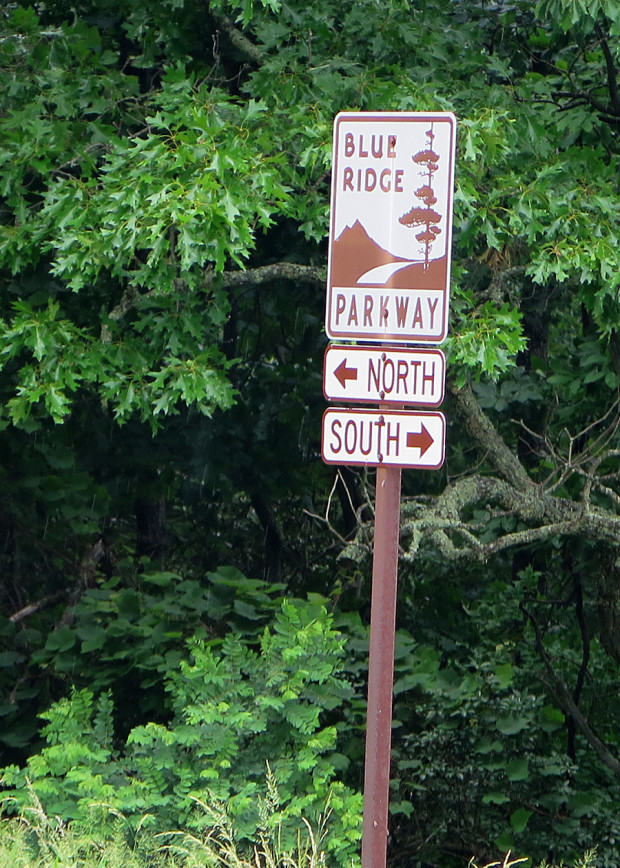 Since I spent the first two days of my recent adventure on ONE road — the Blue Ridge Parkway (BRP) — I figure I should give y'all a decent description of the thing. Especially considering that many of you aren't from this area, or even the US. And honestly? I've been on that road once before, but, for some reason, the first time didn't exactly leave a lasting impression. The second time did.
The BRP is 469 miles (~755 km) long. It's location is described best on the BRP's FAQ page , in response to the question, "Where, exactly, is the Blue Ridge?":
The Blue Ridge is part of the entire eastern Appalachian Mountains and is generally described as stretching from north Georgia into Pennsylvania. From Milepost 0 at Rockfish Gap, VA to Milepost 355 near Mount Mitchell State Park, NC, the Parkway lives up to its name by following the crest of the Blue Ridge Mountains, averaging about 3,000 feet in elevation, and occasionally dipping down into the coves and hollows or crossing low-elevation water gaps. At Mount Mitchell, the Parkway veers westward through the Black Mountains, then into the Craggies before descending toward Asheville. From there, the road climbs to elevations over 6,000 feet in the Balsam Mountains before entering the Great Smoky Mountains National Park near Cherokee.
The more I think about it (what little I can remember from a trip that happened eight years ago, where Hubby planned all of the routes), we only did a piece of the BRP during that ride. We got onto the Parkway around Lynchburg, Virginia, and I think we got off near Asheville, North Carolina to take a shorter/faster route to Robbinsville, NC, where we'd rented a cabin.
If that's true, we missed the last 90 miles of the BRP, and I think that's the most dramatic piece. The North Carolina end is where the mountains are tallest and the road is the curviest, anyway.
Don't get me wrong, I enjoyed the whole Parkway, but the northern end in Virginia isn't as high elevation-wise, and it's more forested. There seemed to be a lot more flowers visible from the road in Virginia, too. Oh, and there was less traffic. Maybe because of the rains most folks knew would be moving through?
Anyway… this post is about the road itself. Is it as pleasant as everyone would lead you to believe? Yes, it really is.
There's a 45 m.p.h. (72 km/h) speed limit, which applies to about 95% of the route. In some places, near visitor centers, exhibits, etc., it drops to 25-35 m.p.h. (40-56 km/h), but those are far and few between.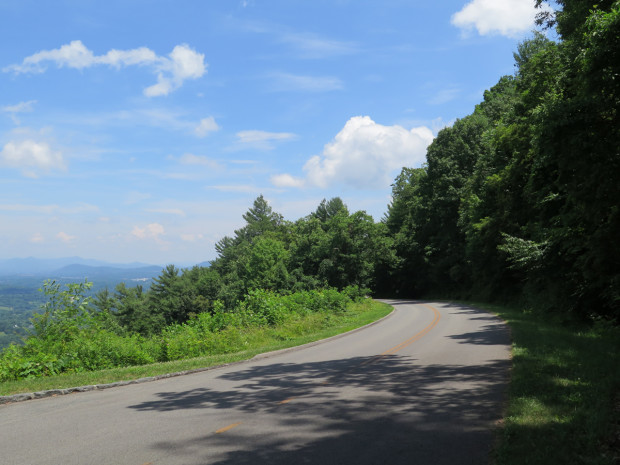 The road surface is generally good. There are a few rough spots, but not enough to complain about.  And it's very pretty, too, with lots of places to pull off and enjoy the scenic mountain vistas, burbling brooks, or even just a bit of shade.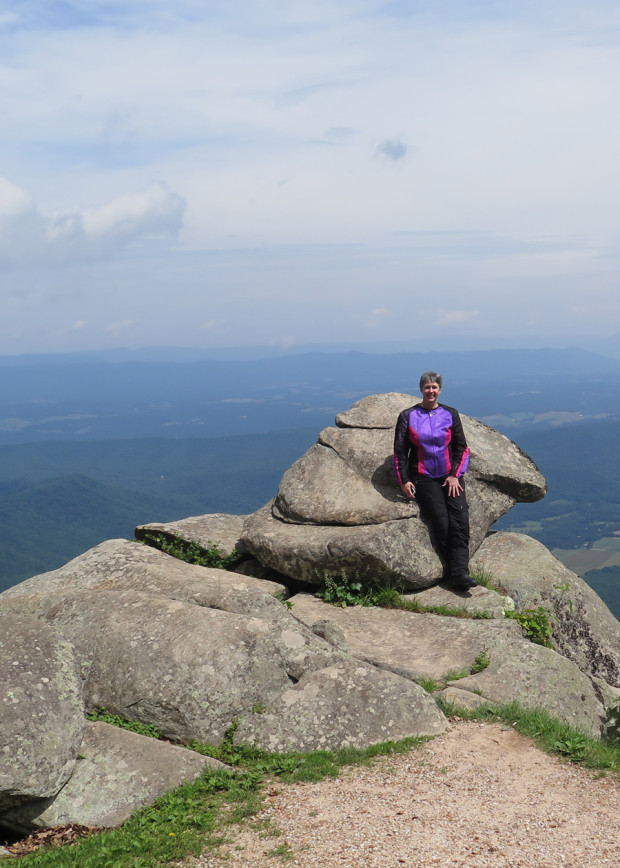 I had to do a quick u-turn after zipping past that awesome rock formation.
What rock formation? The one I'm standing in front of, blocking.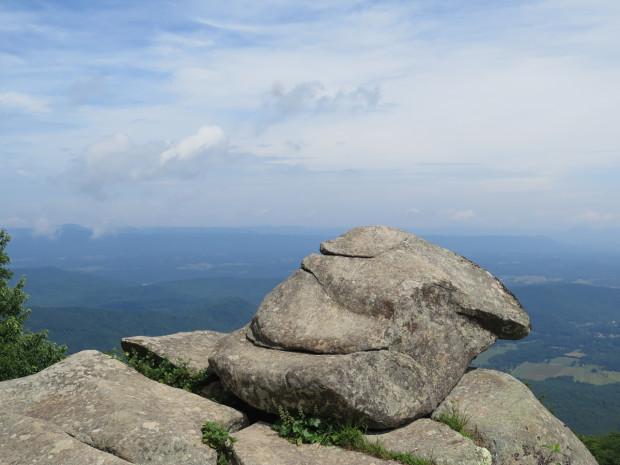 There were two riders from Canada admiring the view who watched me zip past. They looked at me quizzically as, about a minute later, I joined them from the other direction. It was a look that either said, "Is that a girl?" or "Didn't you just cruise past here?"
"As soon as I saw that face on the rock, I had to turn around," I said as I removed my helmet. "Face?" one of the guys said before they both turned to see what I was seeing.
How could they NOT see a face on that rock? More proof that people really do see things differently.
Most of the still images shared here were taken in Virginia.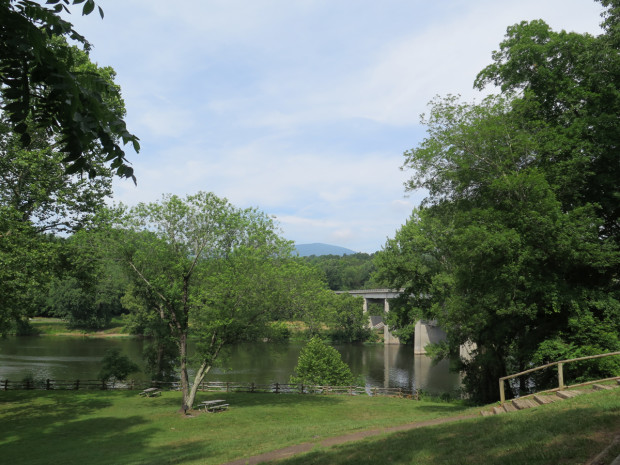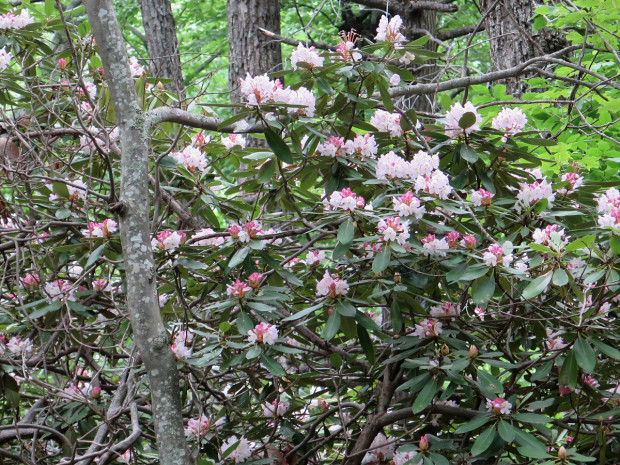 I only shared one flower image so, if you watch my video and see me pointing out two lone examples of small bushes in bloom, you won't imagine that flowers only appear along the drive sporadically. In some spots, the road cuts through literal forests full of rhododendron. It was amazing. I forgot to mention that the BRP cuts through four National Forests (George Washington, Jefferson, Nantahala, and Pisgah).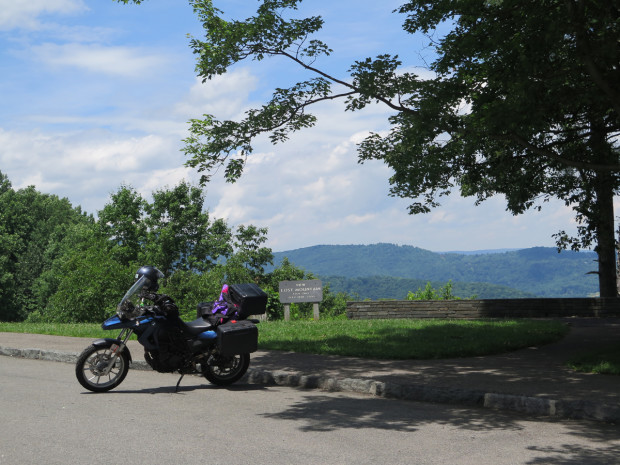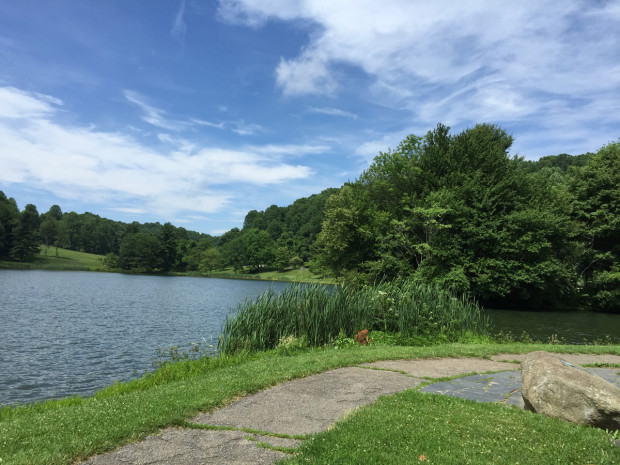 The next picture shows the thunderstorm I managed to wait-out at the tiny little Rocky Knob visitors' center.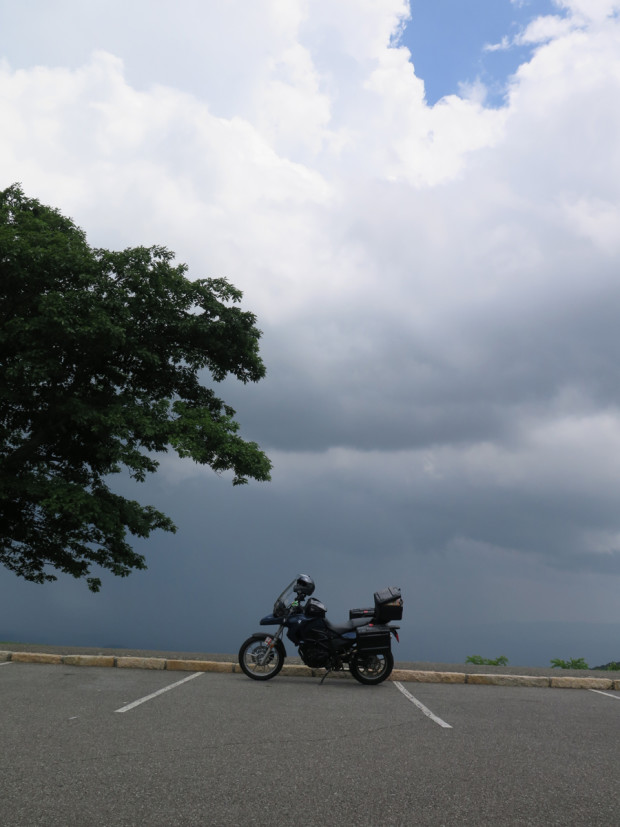 I wasn't the only one thinking, "Uh oh!"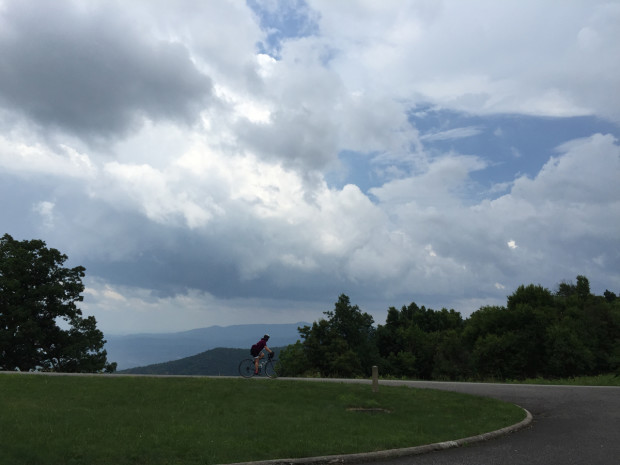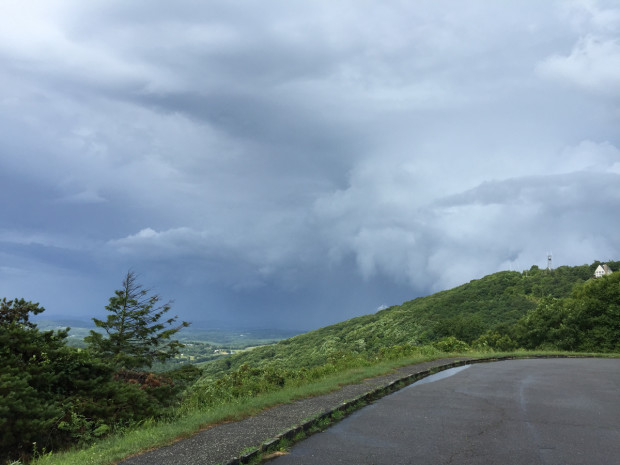 Saturday afternoon did get a bit stormy, but it was no big deal. That's why they make rain gear, right? And, actually, it seemed to chase most people off of the road, so there was even less traffic after the rains came. And there was already very little traffic to start! 🙂
The weather on Sunday was much nicer.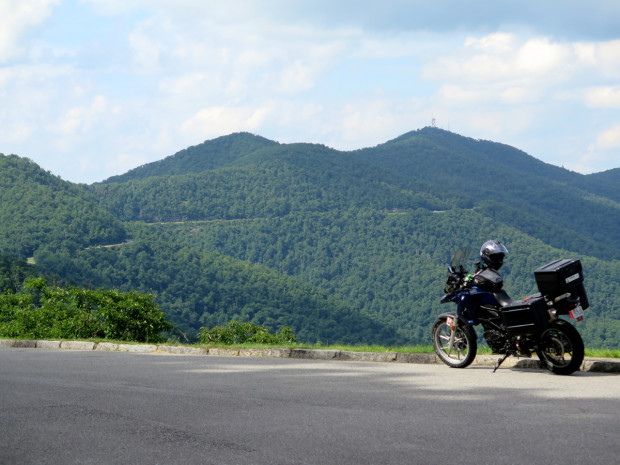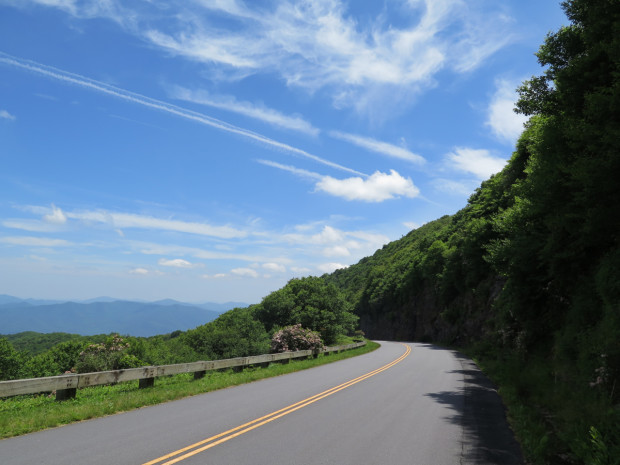 I hadn't been planning on shooting any video until I reached The Dragon, but, once I saw the Linn Cove Viaduct, which is basically a bridge hanging off the side of Grandfather Mountain, I figured I owed you all more than just a picture. But I'll start with a picture.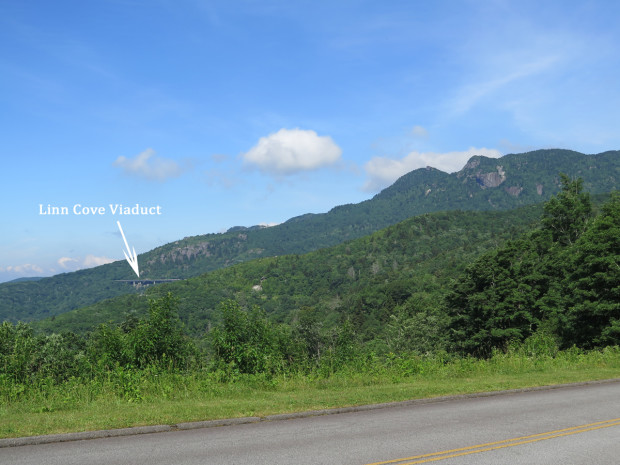 The viaduct itself was really cool. After I rode across it, I HAD to go back for the video.
If you have a couple of minutes, you should at least watch the first part, so you can see the viaduct, and the way it's suspended from the mountain.
If you're interested, you can learn more about the viaduct's history and construction HERE.
I'll share more pics eventually, of the flowers and stuff. Oh, and the waterfall. For now, if you'd like more information, here's a link to the BRP's National Park Service home page.
I never did snag my own picture of the BRP's coolest road sign ever, so I'm sharing this one from RoadRunner Travel…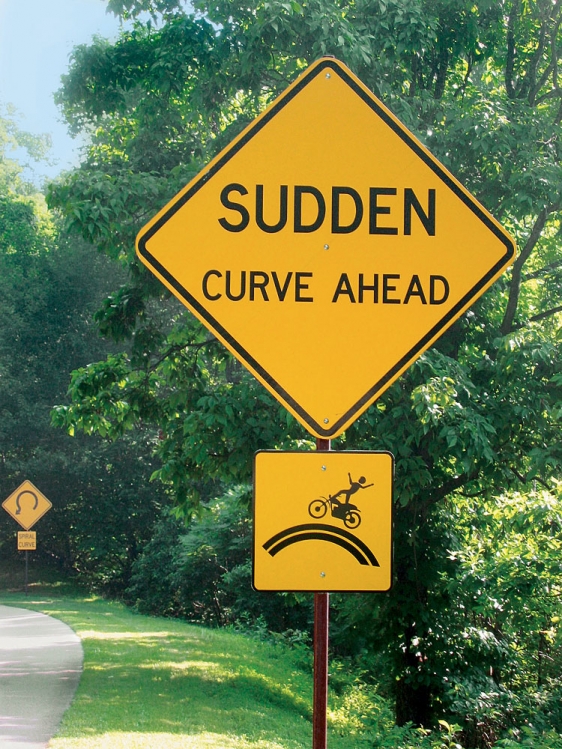 Those of you who have ridden all or parts of the BRP, do you think it's a must-ride road?