Last Sunday, August 23, Hubby planned a ride for us. We'd discussed it briefly the night before, so I knew it would involve a jaunt across the mountains to Luray (pronounced LOO-ray, by the way) for a Hardee's breakfast. I had no idea where we'd be going after that. But, as many of you know, when you're on a motorcycle, it's not usually about the destination, it's about the ride.
Before we left, he did tell me the route plan included breakfast AND lunch, but that was it. He also mentioned that our route would cover about 200 miles (~322 km), and he may have mentioned it would take about five hours. But I didn't really care. I was willing to just follow along.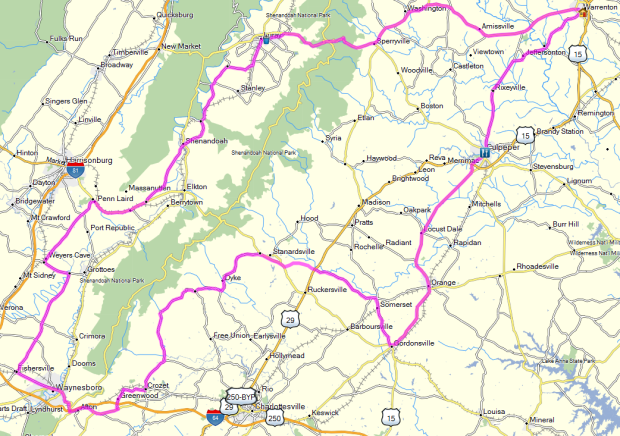 Sometimes, it's good to just follow with no conscious thought required. Of course, there's always thought required when riding, but there's a huge difference between thinking about where you're going/when your next turn is coming up and letting your mind just sorta wander.
Those of you who don't ride and wonder whether thought's required to operate the motorcycle, not really. I've been riding for quite a few years, which means it's all become sort of intuitive. Kind of like driving a car with a manual transmission. You just sorta know when to switch gears, which gear is required, what gear you're in when you're moving, etc. My eyes are always scanning the road, shoulders, and vehicles up ahead AND checking the mirrors to see what's to my rear, but that doesn't require thought either. It's all rather automatic.
Sometimes, letting your mind wander is good. That day, I was having a very hard time getting into the zone. In fact, what I'd really wanted to do was hole-up in a dark room and just sleep the day away.  The days leading up to Hubby's Food Ride had been challenging, to say the least. But that's not me. I know I'm much better off wrenching myself out of the depressive depths — it's what's best for me — so I rode along.
On Wednesday, I'd gotten word from Carol, one of my besties since childhood, that her sister had died. Only a year or two shy of her 60th birthday, this sister had struggled with horrible substance abuse issues, compounded by anxiety and depression, for just about all of the 35+ years that I'd known her and her family. I didn't know the sister well personally, since she was about 10 years older than Carol and I, but I've been around her many times over the years and I knew of the havoc and turmoil her family experienced as a result of the sister's struggle with her many demons.
It's a tight-knit family, though, and despite the struggles and pain she'd caused, that sister was much loved by Carol, her Mom, her brothers, son, husband, nieces and nephews, friends, extended family, etc. That list goes on and on.  It was heartbreaking, to say the least, seeing the family trying to cope in the wake of the sister's tragic, accidental death. Friday night, I went to the viewing. The funeral was on Saturday. One day I might write about the complex swirl of emotions tied to those events. But there's a whole lot that goes with it, well beyond the death of someone I didn't really know personally, but whose family are all as close to me as my own family. For now, just trust me when I say that mentally, on Sunday, I wasn't in a very good place.
We were HOURS into the ride before I even took my first picture, a scene which Hubby actually said he'd like to have captured. Imagine that!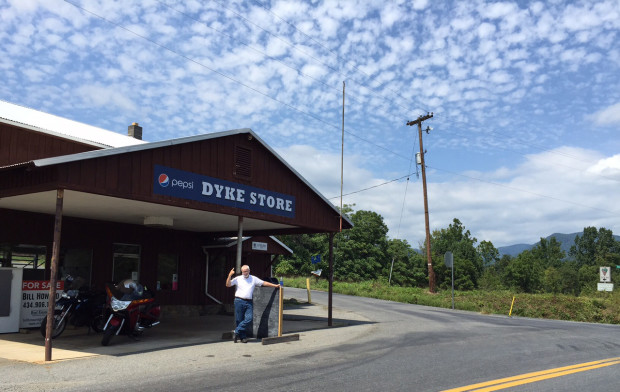 Yep, that's the place I'd visited the prior weekend. I didn't mind doing a repeat road so soon, though, since Dyke Road is awesome.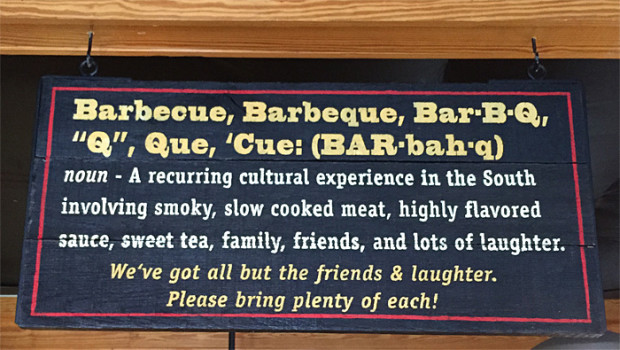 From there, we continued meandering through the lovely Virginia Piedmont. And, much to might delight, we stopped in Culpeper for linner (late lunch-early dinner) at Uncle Elder's BBQ.
I may have mentioned this place before. I even took all of these other pics months ago, but never got around to sharing them with you.
Uncle Elder's is a small place. There's an outdoor seating area, but we've always dined indoors. The pulled pork BBQ is quite good, but my favorite menu offering is the fried pickle appetizer.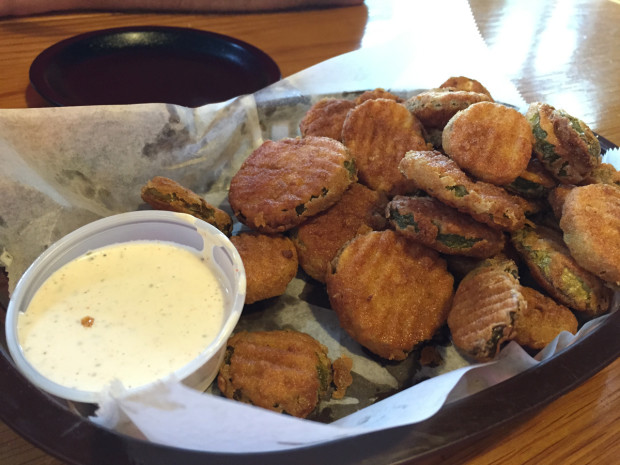 I know I've mentioned that here before. I think Dar was even brave enough to try it for herself. My friend Annelies says Americans will fry anything, and she's right.
If you like pickles, try them fried. They're best when the pickles are cut into chips, as opposed to spears, and the pickles have to be the really tart kosher dills.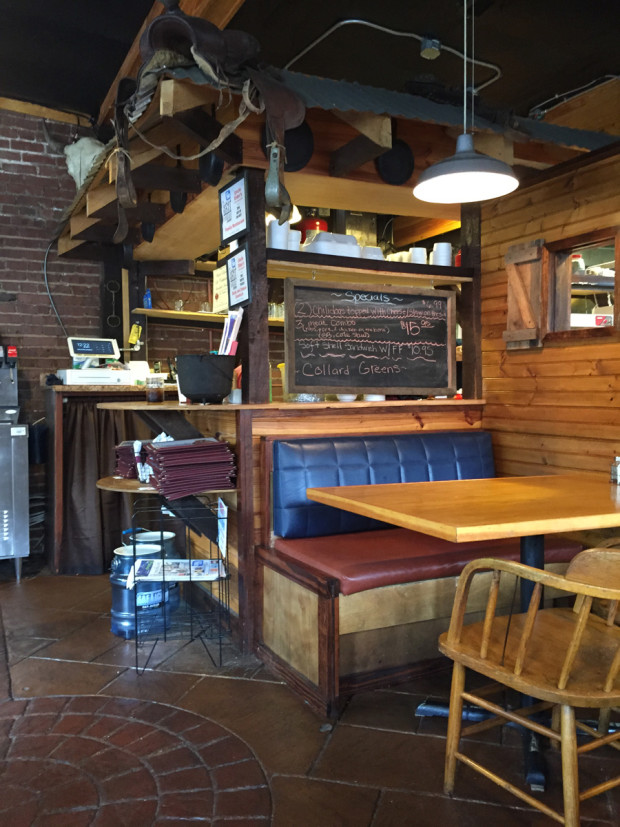 Hubby likes them just as much as me, but he'd never say, "OMG, we HAVE to go to Uncle Elder's for some fried pickles." He'd be more like, "I'm hungry for BBQ."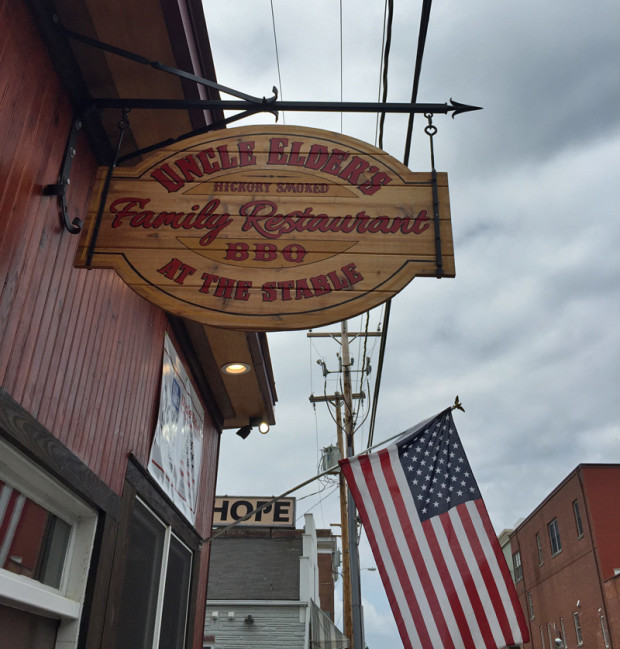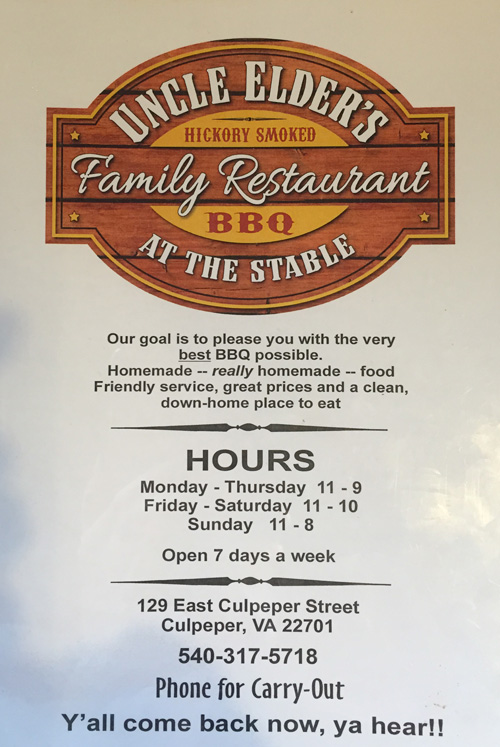 I keep forgetting to check and see if they serve beer, which wouldn't matter if traveling to and fro by bike, but I've been telling my local friends that we need to go there for dinner.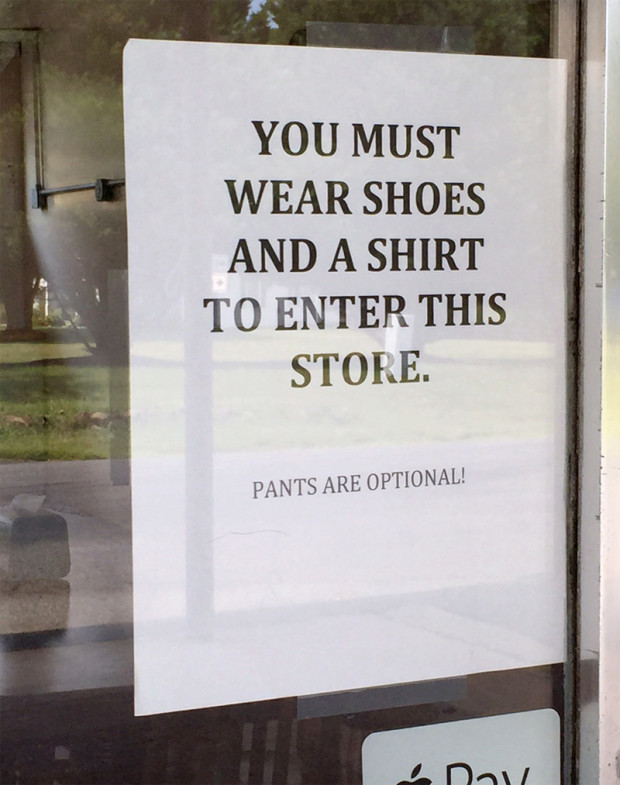 It turned out to be a decent day. Riding is great therapy. Truly.
These two are good for helping lift spirits, too.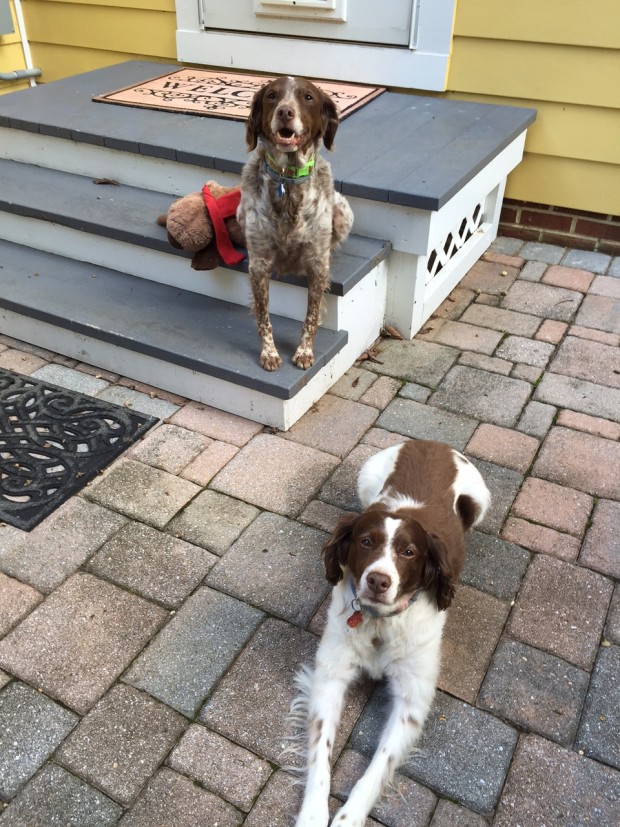 They don't look particularly sympathetic, do they? This is their "is it time for our walk" look. But that always makes me smile. I enjoy our walks almost as much as they do.
We went for another ride yesterday, which was awesome, but I'll save that for another post.