Virginia is a large and diverse state. The longer we live here and the more we explore, the more I appreciate that diversity.
Geographically speaking, Virginia has five regions. I live in the Virginia Piedmont.
The image above comes from a sorta simplistic educational blog that has a concise breakdown/explanation of those regions.
Culturally speaking, according to this web page, which belongs to VirginiaPlaces.org, "there are multiple interpretations of distinctive cultural regions of Virginia, with inconsistent terms and boundaries."
The map on the Piedmont section of the VirginiaPlaces.org site, shown below, breaks Virginia down into only three regions. (I like this map because it also includes the counties.)
I'm telling you all of this because I'd hoped to find a simple explanation/definition of the geographic line separating the Piedmont from the Coastal Plain. The coastal region just has a different feel to it. The land is flatter. The trees–more evergreen trees than deciduous hardwoods– are taller and seem to grow closer together.
I've been aware of the different feel for years. My brother and his family live in the Hampton Roads region–Suffolk County, I believe–at the lower right-hand corner of the map. Always, when driving from Central Maryland for visits, I could always tell that we were getting closer just by the look and feel of the landscape.
Hubby and I went for a ride on Saturday that was out of character for us. We headed south and east, away from the mountains, to the town of Spotsylvania, which is just east of central Spotsylvania County. Our route took us through the center of Culpeper County and then east and south. We reached Spotsylvania County west of Fredericksburg (sorry if all of these directions are confusing), and that's about when things started to change.
We were on VA-3 / Germanna Highway for only a few miles. We left Va-3 on VA-647/Revercomb Road, then quickly turned onto VA-610/Eley's Ford Road. That's the road that delivered us into Spotsylvania County. It was much more heavily forested than I expected, and although the road was on the flat side, there were a goodly amount of twists and turns, which made for a very pleasant ride.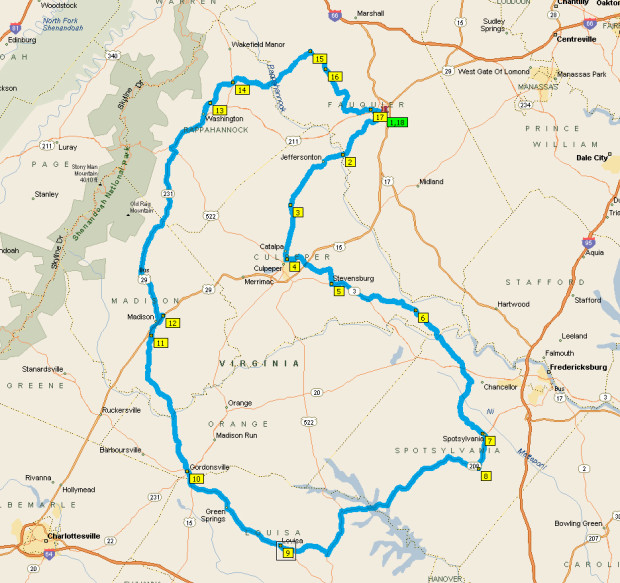 I didn't have my tracker app running, so there's no way for you to zoom in for detail. If you want or need a more-detailed look, let me know.
I'd planned this shortish route because Hubby had gone for a long solo ride on Friday AND was coming down with a cold. I figured I'd take advantage of the rare occasion that he didn't really care how fun the roads were and head to this area that I knew would be flatter and less interesting to capture this one elusive LOVEwork I'd missed on a couple of previous trips.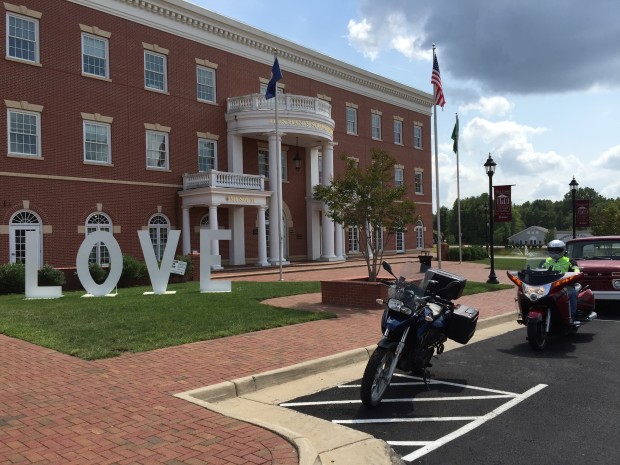 The sign itself was sort of plain. At least the weather was nice.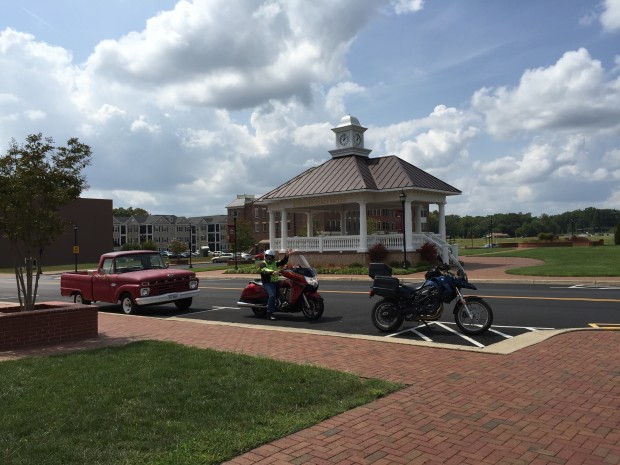 We both agreed that the ride to Spotsylvania was fabulous, but the roads were all suprisingly pleasant. Spotsylvania County may be in the Piedmont region, but there are definitely portions which feel like the Coastal Plain.
From there, we continued south/southwest across Lake Anna to the town of Mineral (very close to the epicenter of the big 2011 earthquake) and then headed west and north to make our way back home.
As we got deeper into Louisa County on the southwestern side of Lake Anna, which is quite a large and busy lake, it started to feel like the Piedmont again. The town of Gordonsville, which is in Orange County, definitely has the look and attitude of a population center in the Piedmont.
From Gordonsville, we hopped onto VA-231/Blue Ridge Turnpike, which carried us north and through the foothills, roughly paralleling the Blue Ridge Mountains, thus the road is aptly named. That 41-mile stretch of road — the Blue Ridge Turnpike — never disappoints, and is another of my favorite rides in Virginia. One day, I'm going to have to make a list.
Saturday was the first time I'd ridden the entire length of VA-231 from Gordonsville to Sperryville. I'm sorry I didn't take more pics to share with you all. You'll just have to trust me when I say that, if you're in the area, it's a road worth riding as it winds gently up and over hills, through vast tracts of farmland in the foothills of Blue Ridge, which makes for some amazing scenery.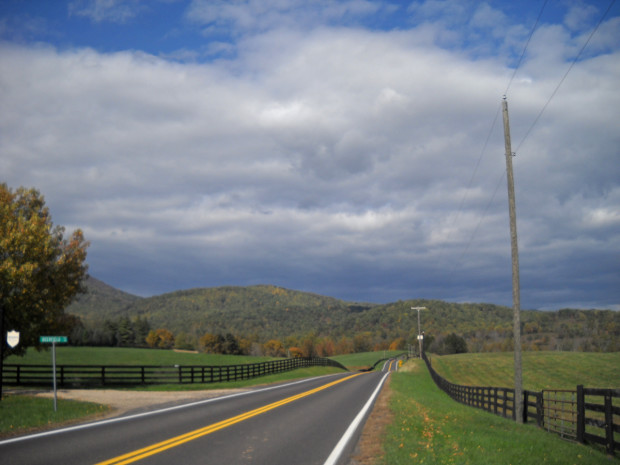 All in all, it was a LOVEly day with Hubby.