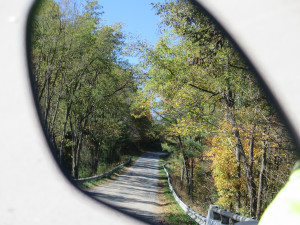 My Hubby turned 60 on October 4. Sixty! We don't usually make a huge deal over birthdays, but I thought hitting 60 was a milestone that deserved a celebration. And what better way to make merry than spending a long, three-day weekend riding our bikes through the mountains of Virginia and neighboring states?
I worked long and hard planning a ride. It's not as easy a you might think. Why? Because it's not about the destination, it's about the roads. The roads are what make the trip fun. Really.
I still get a chuckle at the look of confusion on people's faces after I tell them I don't really have a destination in mind for a three-day excursion into the mountains. I mean, I had planned overnight spots, but they were just convenient resting places.
After a couple weeks of sporadic research and planning, I settled on a route. Then the East Coast region was hit by a crazy combination of storms — a nor'easter AND tropical storm/hurricane — which made us cancel our plans.
A lot can change in two weeks. Fall has arrived. Each day we have fewer hours of sunlight. AND temps have been dropping. So, once we settled on make-up dates, I had to re-work the route. Remember, celebrating Hubby's birthday was the point of this trip, so I couldn't plan many stops to see goofy stuff, which I enjoy but he doesn't.
He knows I like roadside oddities, but he also knows that I know he thinks that's all sorta silly. Still. He knows if I see some roadside awesomeness, I'm gonna stop. Which is why we both had a good chuckle over breakfast on Saturday.
There was a Bojangles' in Wytheville, which I love, so it was my job to get us there from the hotel. After checking in on Yelp, which also posts to Facebook, my friend, Rachael (aka Fuzzy), commented, "Home of the big pencil!" Fuzzy likes roadside oddities even more than I do.
Her comment made me laugh out loud. Of course, Hubby wondered why I was laughing, so I had to explain Rachael's comment.
"She said that about your Bojangles' check-in?" Hubby asked, with a look of confusion.
"Yes, because it said Bojangles' in Wytheville. And she knows Wytheville's the home of the big pencil. I'm not sure where it is though," I told him.
"What? I saw it. You didn't see it?" he asked. "I thought for sure that's why you were turning when you turned."
"Wait… you saw the big pencil and didn't say anything?!?" I asked.
"I thought you saw it," he insisted, sheepishly, because he and I both knew he was really hoping I hadn't seen it, 'cause that would have meant stopping for a photo, which would have delayed breakfast. Plus, we were already a tad later than we would've liked.
He tried explaining the location, saying how I could just follow the GPS route backwards or plot a return trip to our hotel or some other scheme that would've required far too much thought at that early hour.
"I'll just plug in the address. Finding it will take two seconds," I told him. The look of confusion on his face was priceless.
How does one quickly find the address for a business with a very large pencil as a sign? With the RoadsideAmerica.com phone app of course (Fuzzy told me about that one years ago). All I had to do was enter "Wytheville, VA" to get a list of local oddities. The Big Pencil was at the top of the list.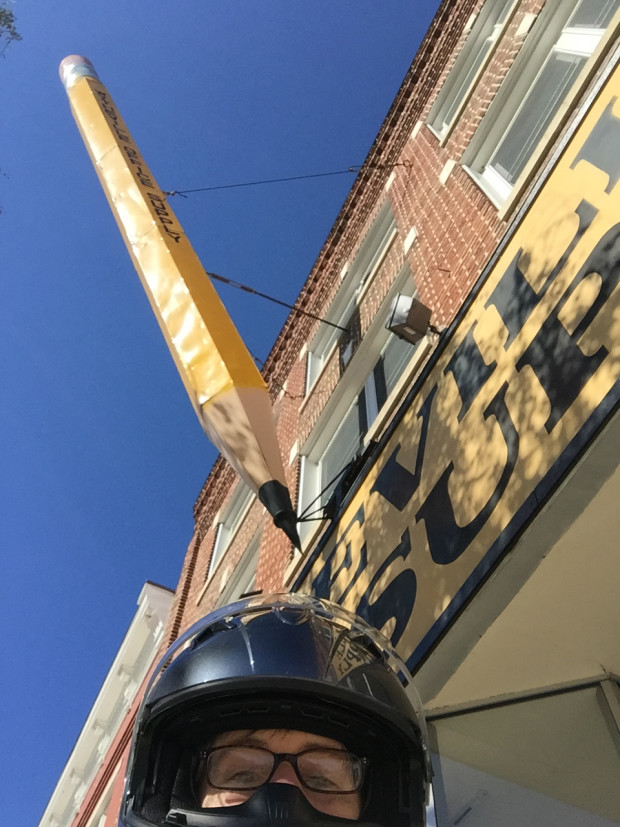 Since he was probably feeling a teeny bit guilty for not having said, "Oh my God, did you see the big pencil?" as we'd passed, he didn't complain about retracing our steps. And he was happy to take this pic for me.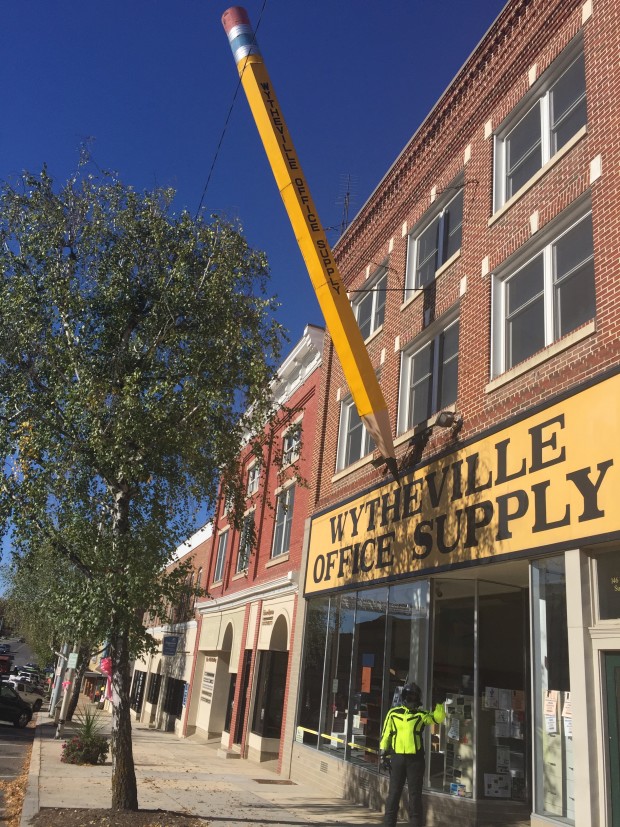 It really is a pretty impressive pencil. Thanks for that timely reminder, Fuzzy!
I'll tell y'all more about the ride in future posts. It was awesome. Here are a few teaser pics for you.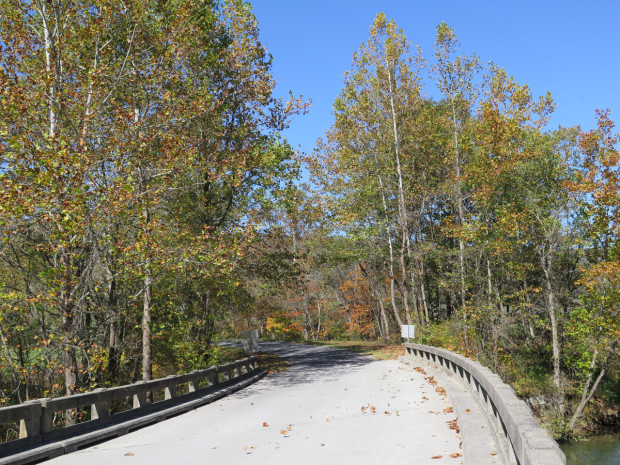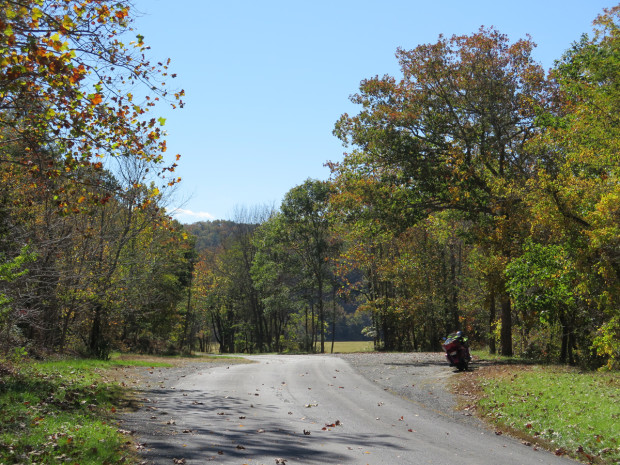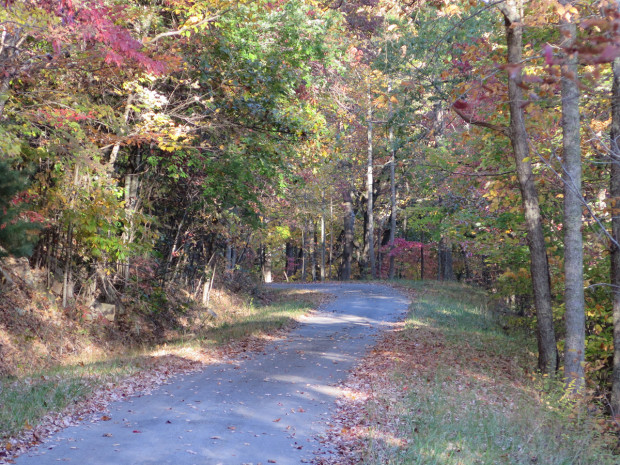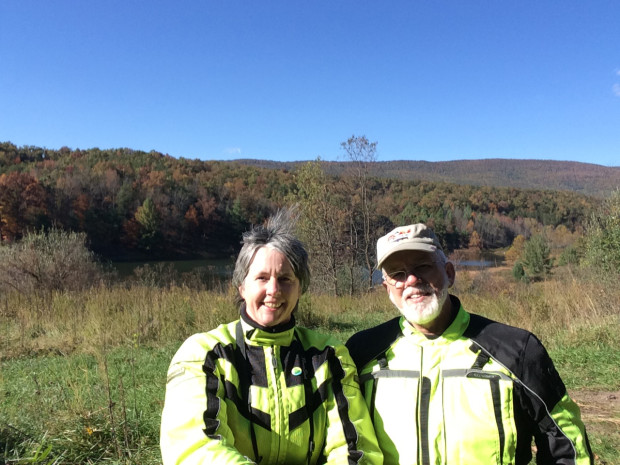 And y'all wonder why I don't post more pics of myself.