Despite the tone of my recent posts, it's not all doom and gloom around here. In fact, it's not really gloomy at all. I'm just feeling a bit "off." But things are definitely looking up.
There's nothing like a change of scenery and fun times with friends to lift the spirit. Besides, I am not typically a wallower, as in one who enjoys reveling in one's own misery. I just figured I should share a little reality every now and then.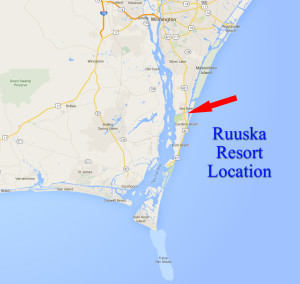 Hubby, Mike, and I did something a little different over Easter weekend. A road trip with the girls. A long road trip to the beach of all places, to visit our friends Heather and Timo (pronounced like tee-mo), who live in Carolina Beach, North Carolina.
I met Heather back in 2008. We both worked for the same company at the time. She is also a remote employee (works from her home), so we didn't spend much time together in person. But we did communicate a lot by phone and e-mail.
We have actually managed to stay in touch over the years. Co-workers come and go, but I have forged bonds with some that will last a lifetime. Heather is one of those.
I have been saying I was going to visit Heather for a very long time. She, Timo, and their furbaby, Roxie, came to visit us in Warrenton back in October. So I figured it was about time we make the trek down to visit them. And I am so glad we did. We had a fabulous time.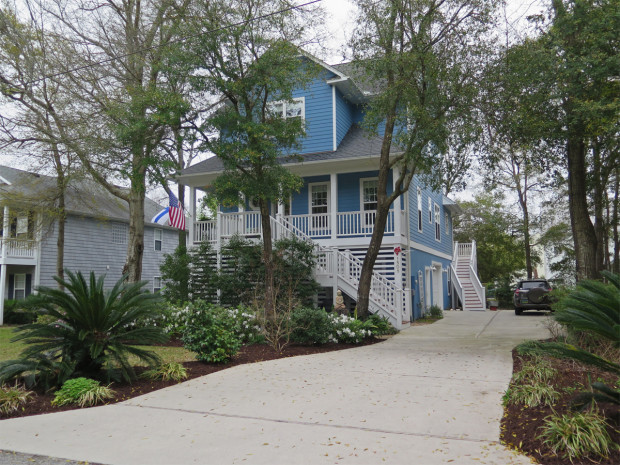 Heather and Timo don't live right on the beach, but they are surrounded by water. If you click on the map, you'll see what I mean. And their house is absolutely gorgeous. It looks like something out of a magazine, which is why I decided to call it the Ruuska Resort. It's lovely, really. Heather definitely has a knack for decorating, and "the Swede" who is in charge of upkeep does a bang-up job.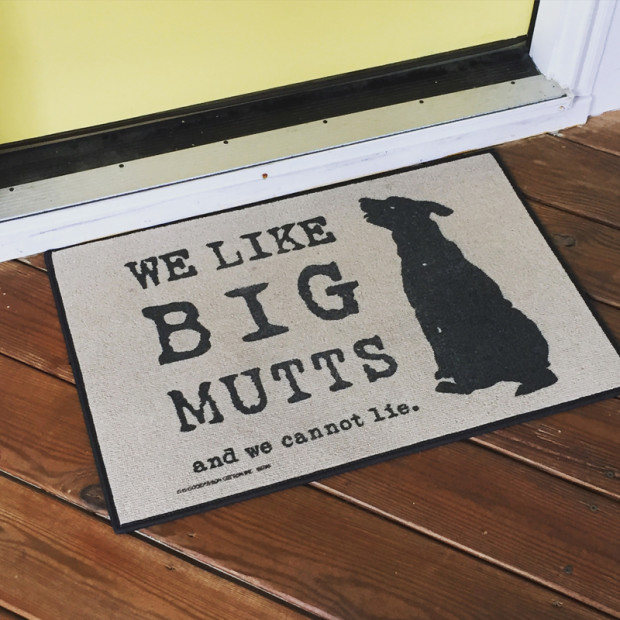 Roxie, the resident furbaby, is a cross between a German Shepherd, Foxhound, and maybe some other stuff. She's super-smart, very sweet, and was quite pleased to have some canine company. We didn't see much of their cat, Rosie, while we were there, but I did at least get to meet her.
Spring arrives much earlier in that part of North Carolina. It was nice to see all of the azaleas and lots of other pretty plants in full bloom. Their azaleas have huge flowers, which are more like rhododendrons than azaleas, if you ask me.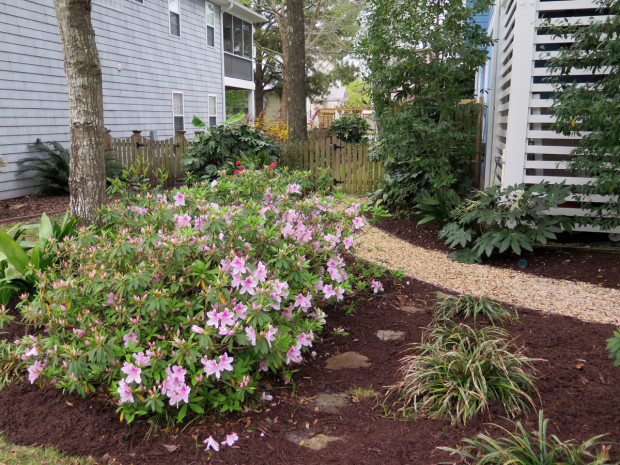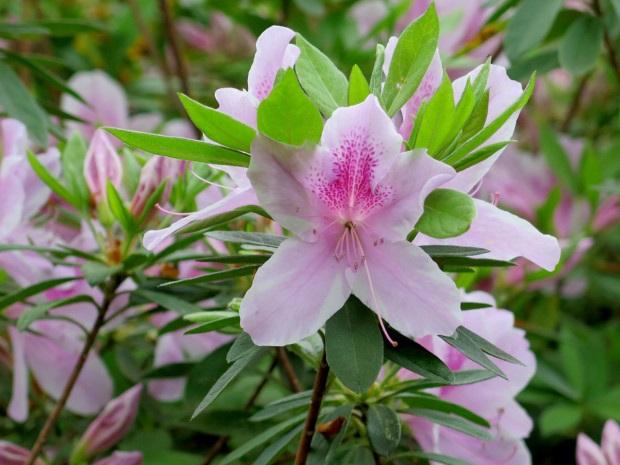 Isn't that flower gorgeous? It looks like a Stargazer Lily. It was almost as big as my hand!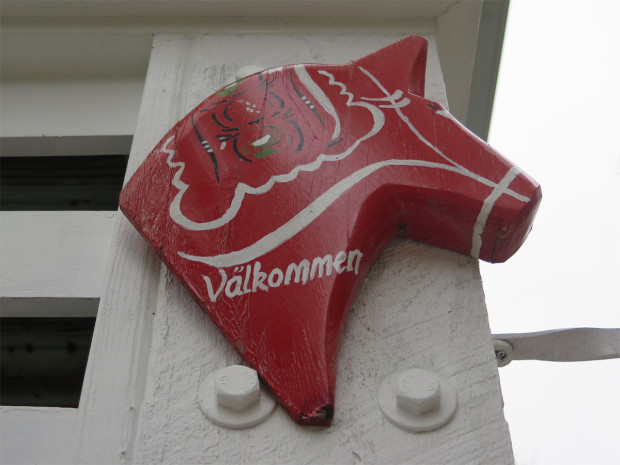 We all felt very welcome. Dogs included!
Timo was born in Sweden, but grew up in Finland, which is why they have a Swedish welcome sign.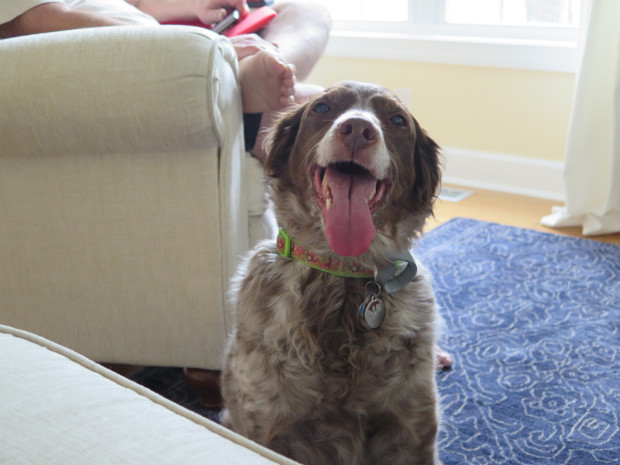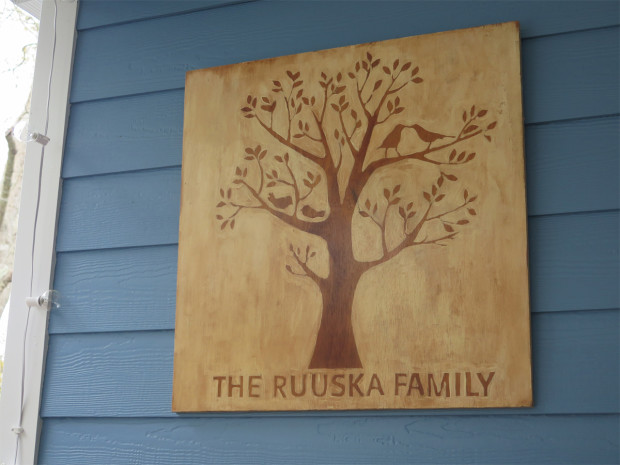 Heather made that sign. She's crafty, too, when she puts her mind to it (and has time for it!).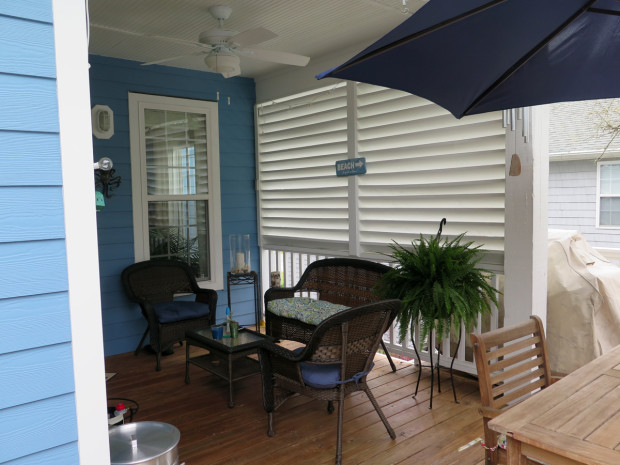 Don't you just LOVE this little porch nook on their back deck? It's quite cozy, which is a good thing, since I locked myself out there at 5:00 a.m. on Saturday morning. Lucky for me, it was warm. AND I had a full cup of coffee. I just curled up on the little settee and listened to the birds cavorting through the trees.
The girls were happy, too, as they got to watch the birds and squirrels. The house is elevated due to its proximity to the water.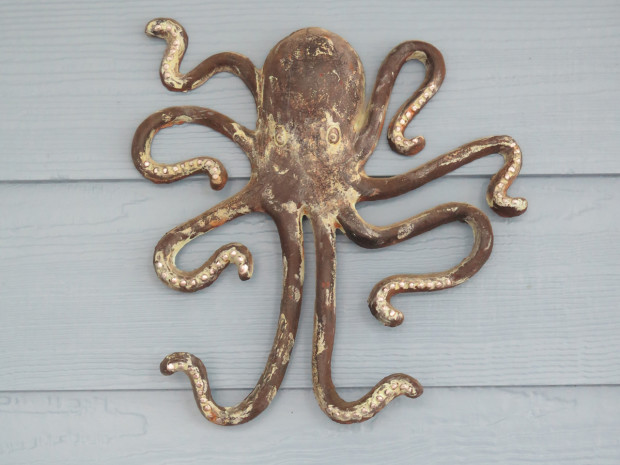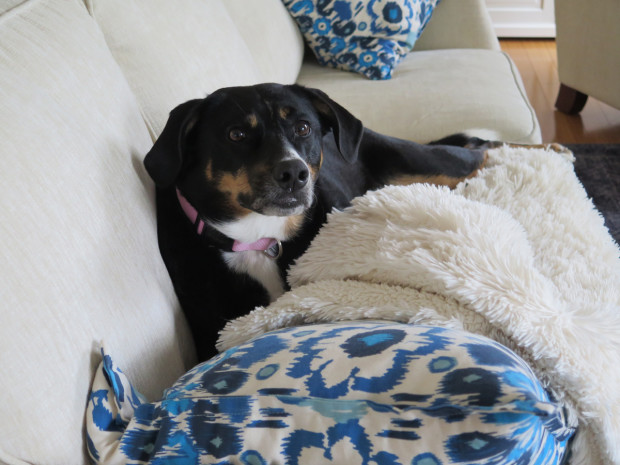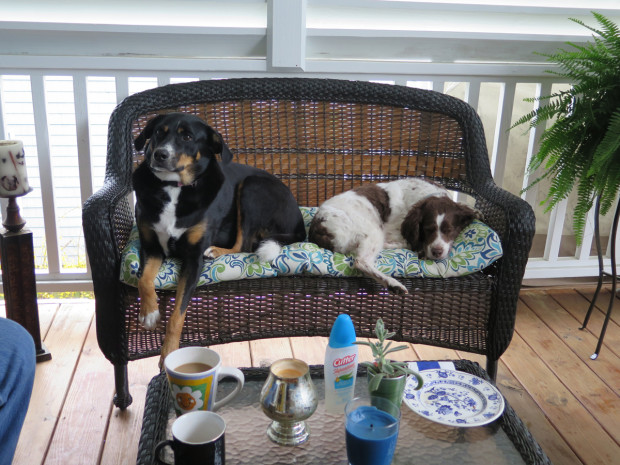 Heather and I had been sitting on that little settee. As soon as Heather got up — like seconds later — Roxie joined me. As soon as I got up, Belle joined Roxie, and immediately pretended to be sound asleep.
Belle didn't mind too much when I took my seat back.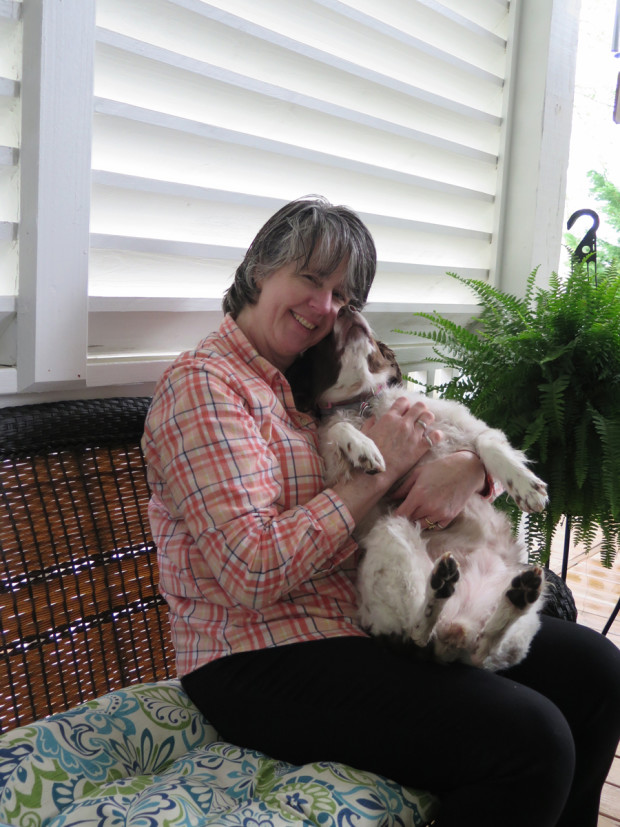 Heather prepared a lovely breakfast for us on Saturday. The furkids were all happy to share the leftover piece of bacon.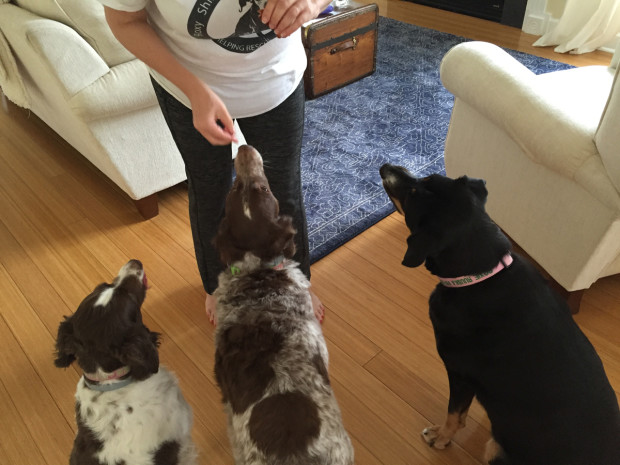 After breakfast, we went for a driving tour of the area. It was overcast and rainy, so I didn't take any pictures. We eventually ended up in Old Town Wilmington, which is where we stopped for a delicious lunch at a place called The Basics.
There was a piece of artwork on the wall above our table, which made Timo ask if we'd been assigned to sit in that spot because he was with us.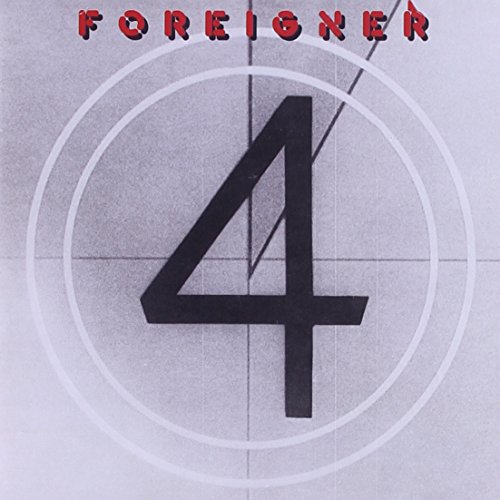 The weekend went WAY too fast, of course. Sunday morning came far too quickly.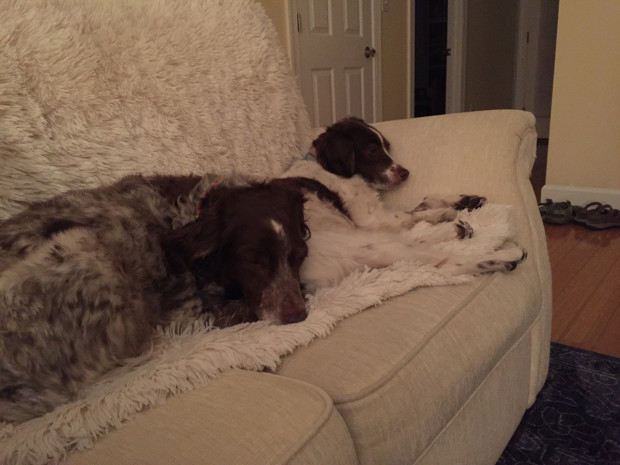 My early-bird girls and I relaxed while everyone else slept in, then we went for a long walk. It was really lovely.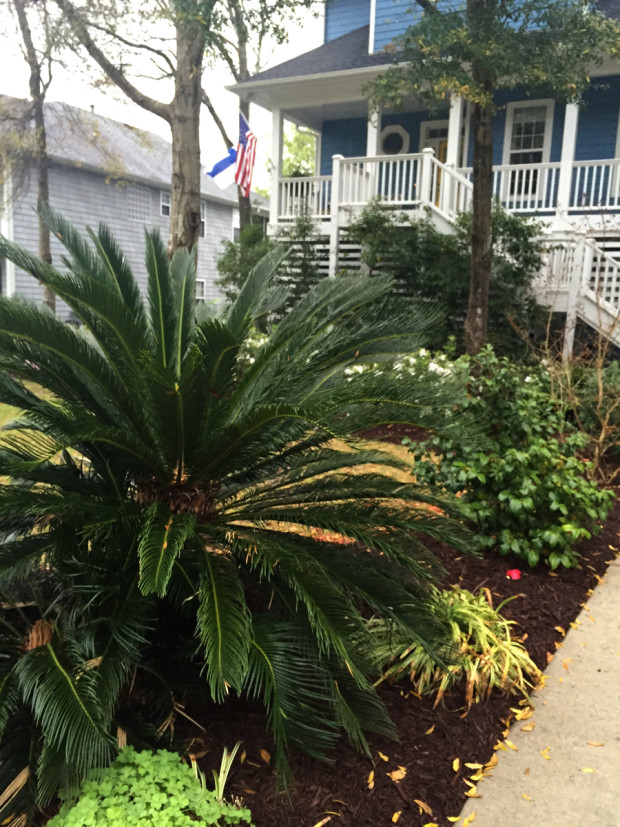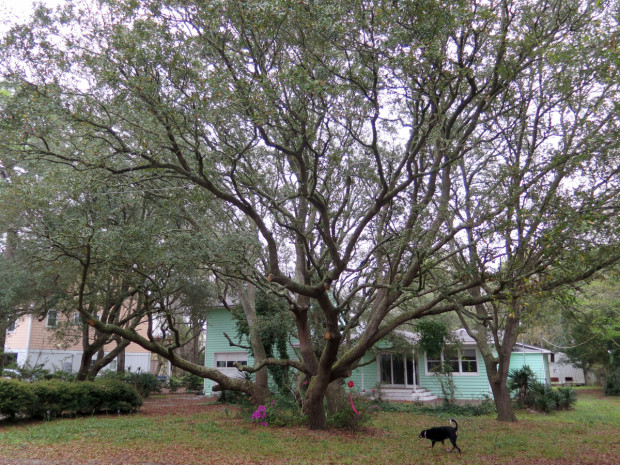 I told Heather we needed to make sure to get a group photo before we left. After the car was packed, we all headed outside. We knew our girls wouldn't leave the car while we chatted and I set up the shot.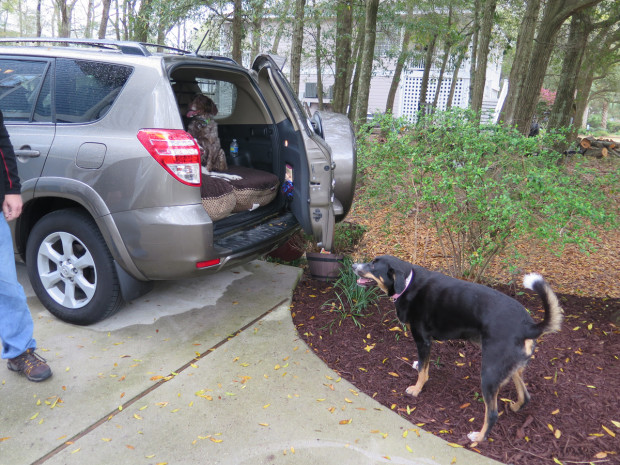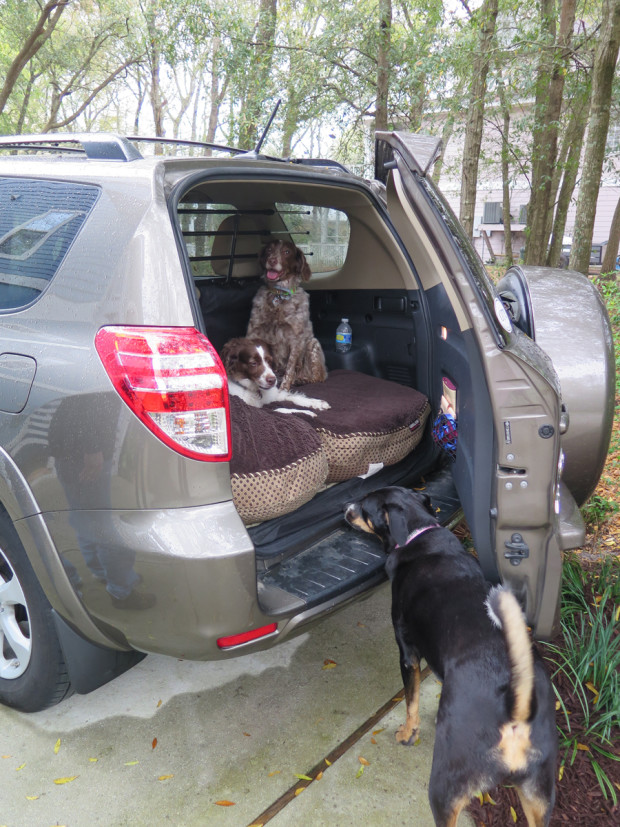 Nice group photo, right?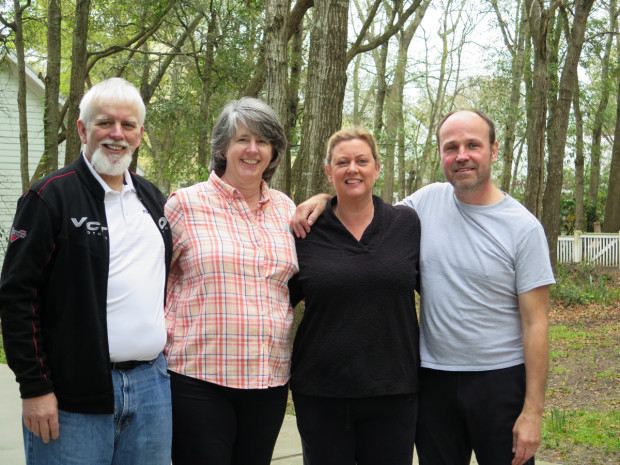 We all had a good chuckle afterward when we saw this…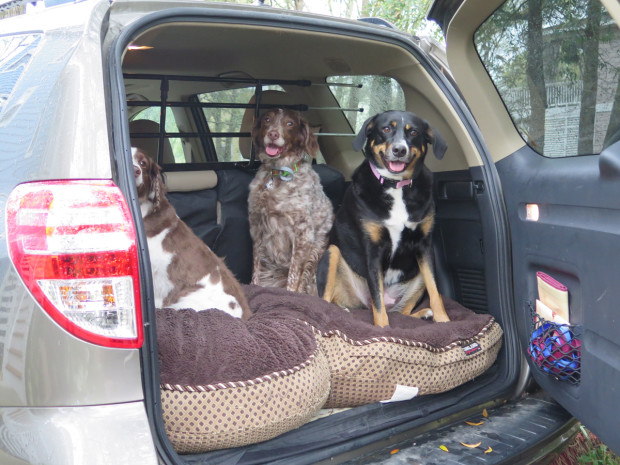 The girls were all perfectly happy to wait in the car as we said our goodbyes.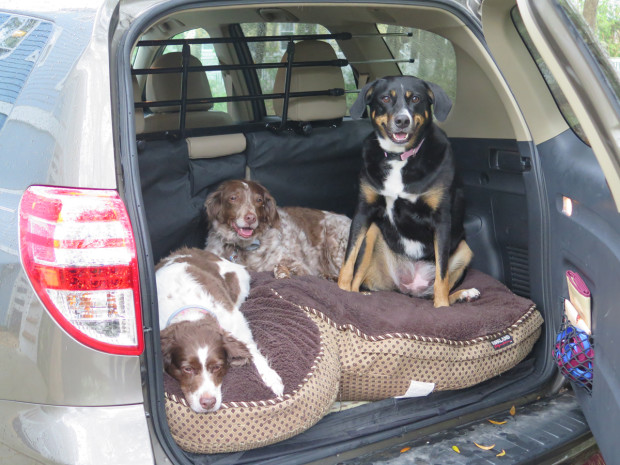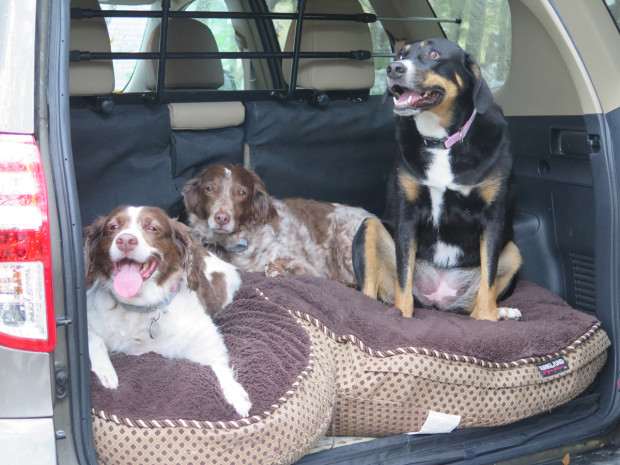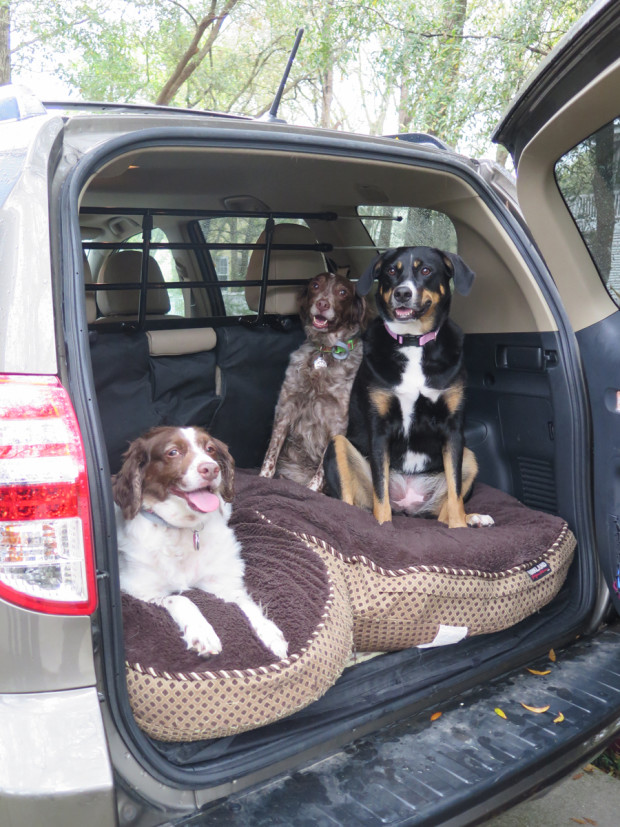 Heather thinks K and Roxie look like cousins in that photo (above). I think they look like drunk girlfriends.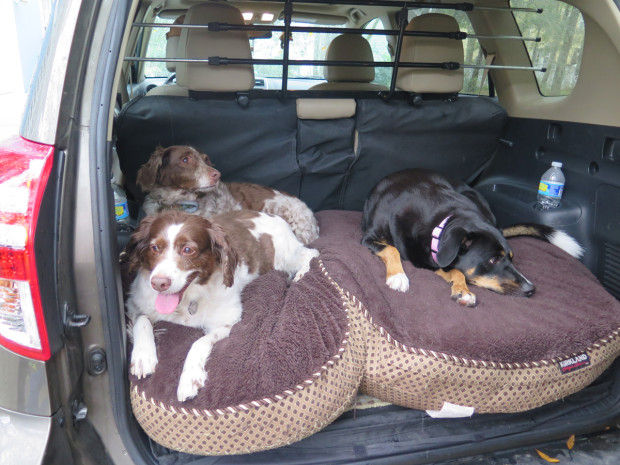 It really was a lovely visit, even if it did go by way too fast.
One thing is for sure, I have been blessed in this life with a lot of really awesome friends.
More adventures are on the horizon. Could it involve family, friends, a road trip, airplane rides, surprise visitor(s) , a voyage to another country, a boat ride? Or maybe all of the above? One never knows. I do know, however, that exciting times are definitely ahead.