Hey there! We are back at home in Virginia. While it's good to be home with the girls, we both miss everyone. I try not to dwell on the fact that most of our kids and all of our grand kids live far away from us, but it does sort of suck. So it was really, really nice being able to visit.
Speaking of visiting… I took a special friend along as a surprise.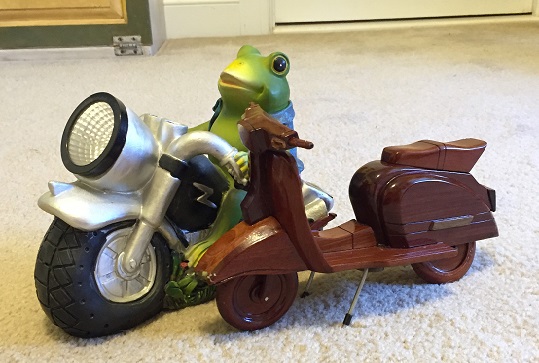 ScooterBob is a wooden scooter that once belonged to Bob Leong, a moto-blogging friend of mine. Bob was a very well-known and well-liked moto blogger (blogged about motorcycle travel and other stuff). The wooden motor scooter earned the name "ScooterBob" the moment it was assigned a globe-trotting mission to meet-up with other moto-bloggers and see the world.
As explained on the Travels With ScooterBob page…
That nomadic far-ranging mission was one Bob had set for himself. He had already ridden his BMW R1200R from coast, to coast, to coast; from his home in Vancouver to Charlottetown, and back. Along the way Bob met moto bloggers, lots of moto bloggers. Some he had already met, others he met for the first time.

Bob was, like the rest of us, an imperfect human being, with some wonderful qualities. Anyone who met him knew him as gentle, humble, kind, thoughtful, generous, and adventurous. Those are the qualities that endeared him to the moto blogging community.
Bob gave the wooden motor scooter to an east coast blogger, which is how it ended up in Montreal, where it stayed for a time. On a whim, and as a prank, the scooter traveled with another moto blogger to Key West. The goal was to surprise Bob when he showed up there on another leg of his mission, only to find that the lowly wooden motor scooter had beaten him to the destination.
Unfortunately, that prank never happened (read about Bob's unanticipated passing here). There are also some touching tribute posts by other moto-bloggers.
That's when a special group of moto-bloggers decided to show ScooterBob around the world, sharing places and things Bob Leong would have loved. Sharing those adventures on Bob's very own blog.
As luck would have it, ScooterBob arrived in Virginia the day before we flew to Washington. I was so excited to finally get my turn!
When I started blogging many years back, I had a blog called Appalachian Tours. That's how Bob found me. He was one of the first moto-bloggers who reached out to me, and it was Bob who brought me into the fold. He introduced me to an amazing group of like-minded people, many of whom I proudly call "friend."
The last time Bob and Yvonne were in my neighborhood, we were supposed to meet. I couldn't get away from work. There were deadlines looming and not enough time. Bob was very gracious and understanding, saying that he'd be back in the area next year, and that we could arrange to meet then.
A few weeks later, Bob was gone.
I will always, ALWAYS regret not having made the time to meet him. That regret is what has inspired me to meet as many of you lovely folks as I can. Bob's memory lives on in many ways. His quirky, warm, sometimes-odd, charming ways have touched many lives. I miss Bob, and I am truly honored to be able to show ScooterBob some adventures in Bob's honor.
I was even able to suprise three fellow moto-bloggers. We'd all planned to meet up while I was in the area, but they didn't know I'd have ScooterBob along. (Of course, I only knew for sure a few days ahead of time!)
It was lots of fun showing ScooterBob around and meeting fellow moto-bloggers face-to-face. If you'd like to read about our adventures and see some fun pics, click the links below:
I'll do some posts about our visit with the family soon, I promise.