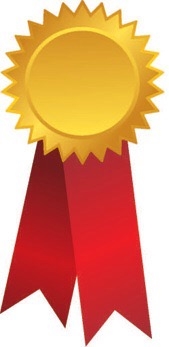 I think Spring weather may actually be here to stay now. It was here in February, which was just weird. Early-March was pretty mild, too. Many of the flowers and trees bloomed early, and then it got cold. Freezing cold. So now lots of the flowering plants are coated in blooms that look half-dead. That means actual Spring days like yesterday won't appear as bright and cheerful as they should.
Oh well. Even if the days are not visually appealing, I'll take the Spring temperatures. Yesterday, the highest reading I saw on my thermometer was 78.8 F (26 C). There were lots of clouds in the sky, but they held their moisture, so we had a dry, warm day for riding. There was no chill in the air at all. It actually felt a little weird at first, feeling warm wind through the mesh of my jacket.
Hubby planned a circuitous route for us to get a late lunch at our favorite fast-foodish burger joint in Front Royal, Spelunkers. Part of that route involved the northernmost third of Skyline Drive, from the Thornton Gap entrance on US 211 to the start/end of the road in Front Royal. So we got to twist the throttles a bit further than we should have and enjoy our favorite local twisties as we climbed Thornton Gap.
It can be a dangerous stretch of road, as evidenced by the warning signs specifically addressed to motorcyclists at the top and bottom of the mountain that say "High Crash Area." There's a 35 MPH speed limit, too. But that's because of the descending radius turns that catch many riders off-guard. We're used to the turns, though, so didn't think twice about having some twisty fun before hitting Skyline Drive.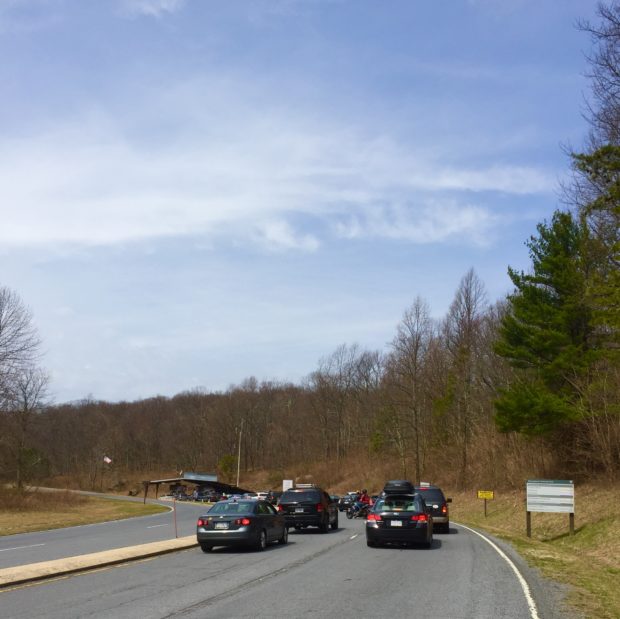 Our enjoyment didn't go unnoticed. One man was so impressed, he decided that I deserved a performance award in recognition. In truth, he said we both should have been similarly recognized. I was the one in the rear, though. So I'm the one who got to sit on the side of the road, admiring that line of vehicles, while the man from the Rappahannock County Sheriff's Department recorded and then presented me with physical proof of my not-so-prestigious award.
He was nice, though, and used the lowest speed he'd recorded. And that's a good thing, because Virginia has some hefty fines for speeding. Exceed the posted speed limit by 20 mph or exceed 80 mph no matter the posted limit, and that's considered reckless driving. That's a criminal misdemeanor. You could be sentenced to as much as a year in jail, have your driver's license suspended for six months, get assessed up to $2500 in fines, and have a criminal record that could follow you around for the rest of your life. Also, the points stay on your driving record for 11 years, and we all know what that does to insurance premiums.
I really need to keep that law in mind. I don't feel bad, though, because I know I was riding cautiously and well within my comfort zone. Plus, I've been riding for a lot of years and that was my very first "award."
It didn't spoil the mood even a little bit. It really was lovely. People were out in droves enjoying the many attractions Shenandoah National Park has to offer, such as the scenic views, hiking, cycling, waterfalls, bird-watching, etc. The parking lots near the most-popular trailheads were literally overflowing. There were lots of motorcyclists and bicyclists out, too.
A large portion of the northern section of the drive appears to have been recently repaved, too. Another plus.
We topped the day off with a fabulous lunch at Spelunkers in Front Royal.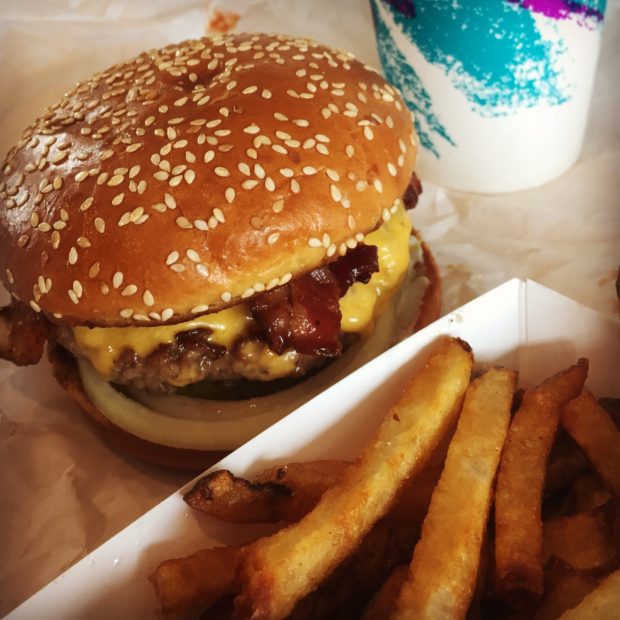 It was a co-worker of Mike's who clued us in on the deliciousness at Spelunkers.
The burgers are always fresh and perfectly cooked, as are the fries. They're so good, we've never eaten anything else. The Philly cheesesteak is supposed to be their signature sandwich. Sadly, we've never have room for ice cream. That's a "first" I can happily look forward to.
All in all, it was a lovely day.