The other day, I mentioned pricing that makes no sense for some airplane tickets.
A day or so later, Amy said something like, "So, I guess your talking about the price of airplane tickets to Switzerland and Belgium means you're going to Switzerland and Belgium?" She was right.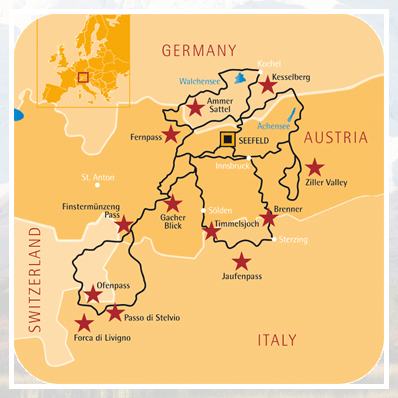 Hubby and I had been contemplating this trip for a while. He's known about a company called Edelweiss Bike Travel for quite a few years. They have organized motorcycle tours at various locations around the world.
I'm not a huge fan of marathon motorcycle rides. When he first mentioned a bike tour of Europe to me about a year ago, I said, "Okay, I'll go. If I can ride with you for a couple of days then scoot over to Belgium to visit Annelies while you complete the trip."
That was before he met Annelies and her boyfriend Yves.
You see Hubby is quite shy. If I'd said to him a year ago, "Okay, if WE can scoot over to Belgium to visit with Annelies," he would've said, "But I don't even know those people."
Hubby is not very adventurous when it comes to social engagements. He'd much rather eat snails raw than interact with strangers.
But now that he's met the two of them, and he really likes them, he's all like, "Hey, now we can go on the tour and visit with Annelies and Yves."
I was quite hesitant to book the trip because the tour isn't exactly cheap. And in these economic times, there's no guarantee I'll still have a job tomorrow. But, like Shannon said, if we don't do it now when we have the money put aside, we'll always regret it. Never mind that the money we have put aside is our layoff cushion.
Plus, Annelies was anxious to submit a vacation request before the slave drivers we work for have a chance to say, "Nope, sorry. Someone else is already off that week." (We don't really work for slave drivers. We have wonderful bosses.)
So I finally booked the tour. Hubby didn't even balk when I said, "By the way, when we're in Belgium, we're going to spend an entire evening with my other coworkers in Belgium, too." Yep, other people he has never met.
Being a regional employee has its plusses and minuses. There are many, many people I work with on a regular basis who I have never met face-to-face. But even over the phone, I can tell whether I'd like a person socially or not. I've met Annelies, of course. I have also met her boss, Leo, who is not only a nice, fun, friendly guy, but he's great at selecting the right wine to go with dinner. (We had a sales meeting in London a few years back and Leo always seemed to be in charge of selecting the wine.) And then there's Bruni, who I have not met, but Annelies always sings her praises, so I'm sure we will get along fabulously. We may need to do a girls' night out during this trip. 🙂
Anyway… here's the vacation plan. There are quite a few details to work out, but so far we know this…
We will be leaving on a Friday, flying from BWI to Zurich, Switzerland. It's an overnight flight, so we won't arrive in Zurich until Saturday. Then we will hop on a train to Seefeld, Austria, just outside of Innsbruck, which will serve as the base for the bike tour, which begins on Sunday.
As you can see from the map, we'll be riding in Austria, Germany, Italy and Switzerland. The following Saturday, we'll hop a train back to Zurich so we can visit with the lovely McDonald family and see a bit of their temporary country. On Tuesday, we'll fly from Zurich to Brussels, Belgium, where we'll meet up with Annelies and Yves for a whirlwind tour of their home country and surroundings. Then, on the following Saturday, we'll fly back home.
It should be lots of fun. We're both looking very forward to it.
There's a lot of planning to do between now and then, but at least I'll have help (from Annelies, not Hubby).