There are many reasons why vacationing with friends is different than vacationing as a couple. I could go on and on with reasons, pros and cons, if you will. But I won't. I will say I mentioned that because it plays a big role in the type of accommodations we choose.
If it's just Hubby and me, if we'll only be in a place for a night or two, we tend to choose cheap and clean chain hotels. But, when traveling as two couples, hotels can be a pain. Where do you hang out? What if your rooms are far apart and/or in completely different wings of the facility? What if one of you has the corkscrew and the other has the wine?
It makes much more sense to rent houses when we are traveling with friends. It's usually about the same amount of money, if not cheaper, and you can find some really cool places to stay.
We don't always rent houses. Since we move around a lot, sometimes roadside hotels just make sense. During this trip, we did both. I figured it was about time to talk about the houses we rented, especially since I'm about to show you pics of our favorite.
The Portland Victorian, our base for our stay in Portland, Oregon. And then there was Home Sweet Home, the hub for our Olympic Peninsula visit. Both were lovely homes that served our purposes perfectly. But the Log House on San Juan Island was our favorite.
I never did get a good shot of the outside, so I'll just borrow this one from their VRBO listing.
All of our house were spacious, but this one felt IMMENSE. This hand-made cabin is nestled in the woods overlooking the San Juan Channel of the Salish Sea. It was only a few miles — about a 10-minute drive — from downtown Friday Harbor, so it was quite convenient. We were all happy with the location, size, and comfort of this place.
The Log House is the only rental unit where I actually took interior photos to share.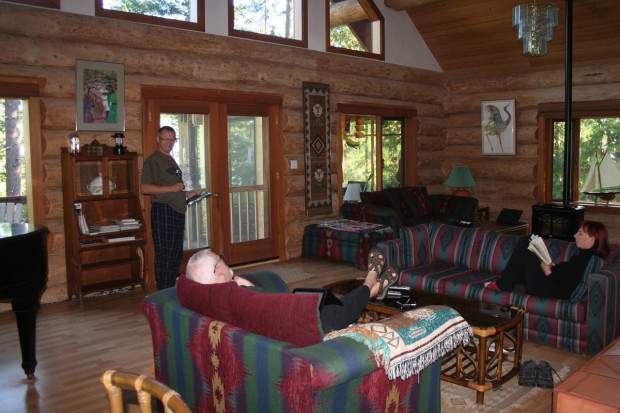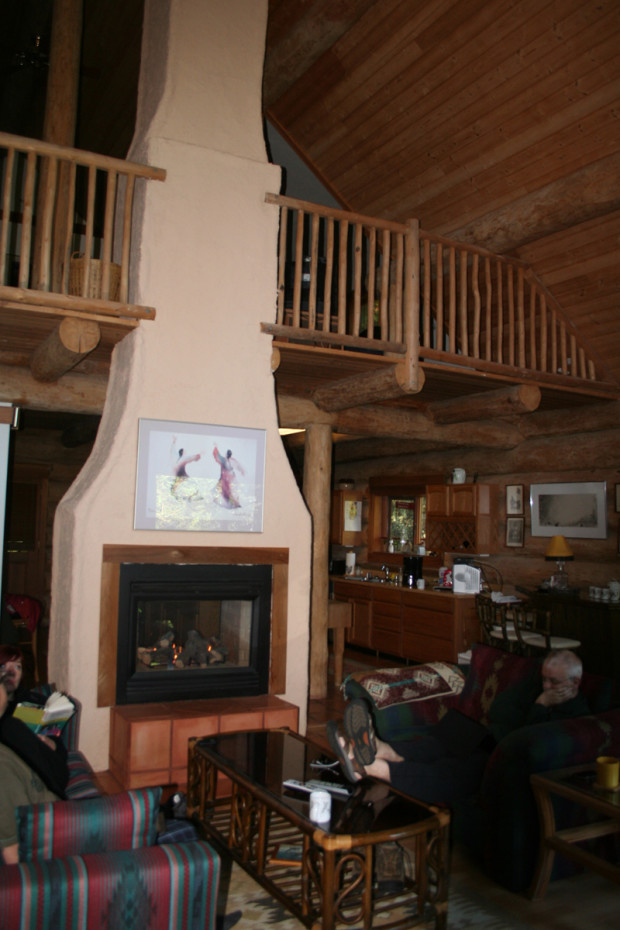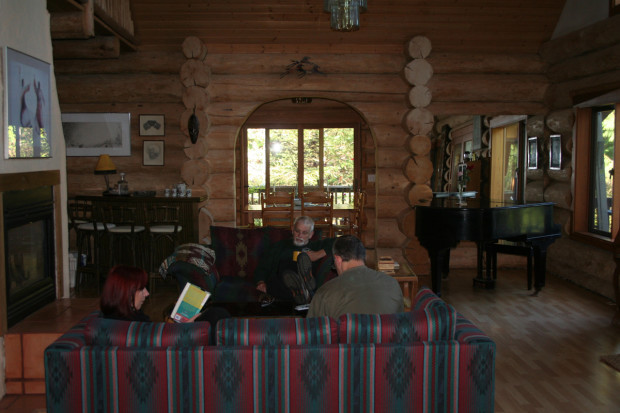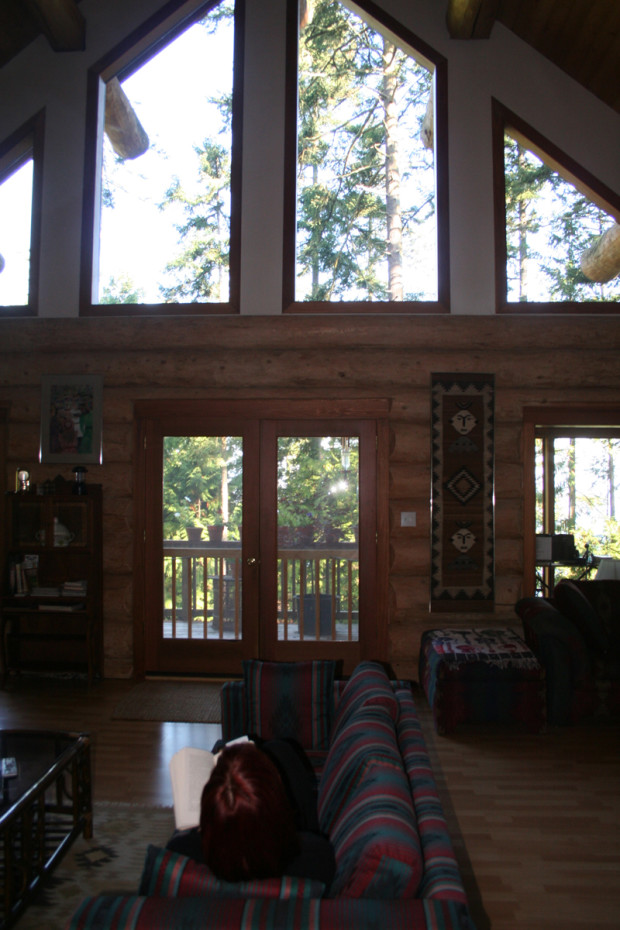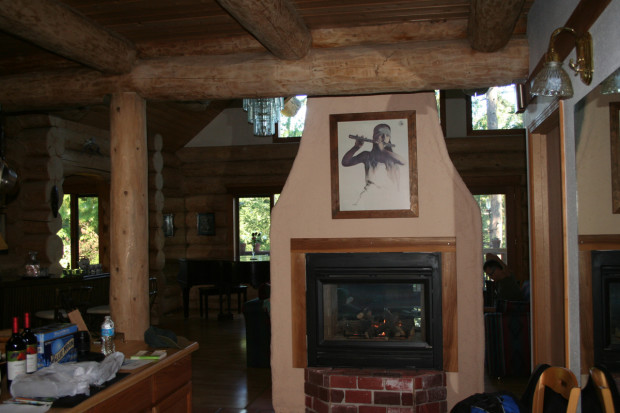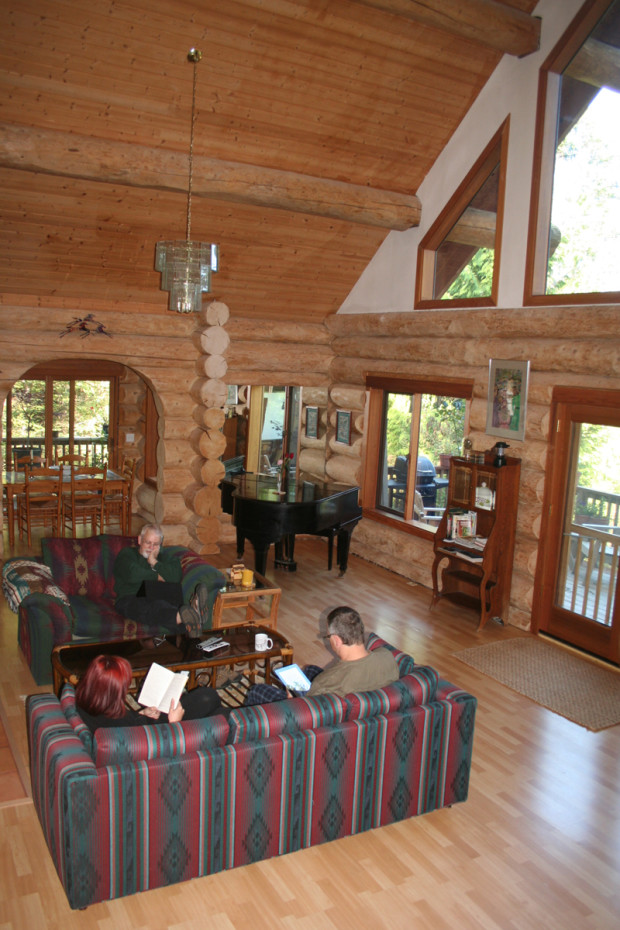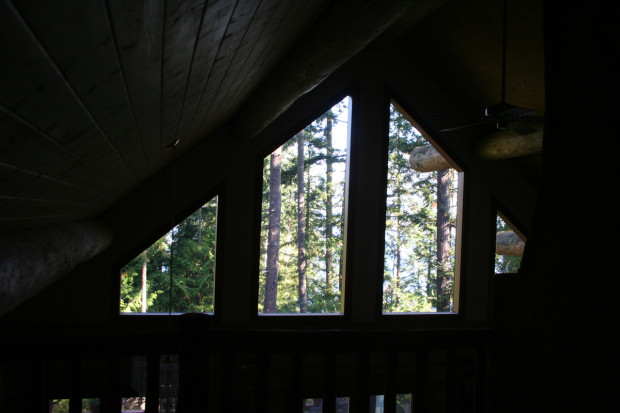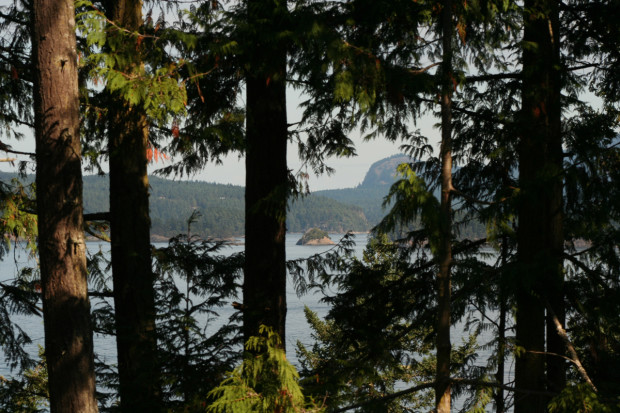 After a very leisurely morning, which went a long way toward making up for the unGODly hour we had to hit the road the day before, we headed into town.
Friday Harbor is a picturesque town full of touristy shops and restaurants. The shops we visited were all nice, tasteful places. So "touristy" isn't a bad thing. Many of the shops leaned toward artsy, too. Which I loved.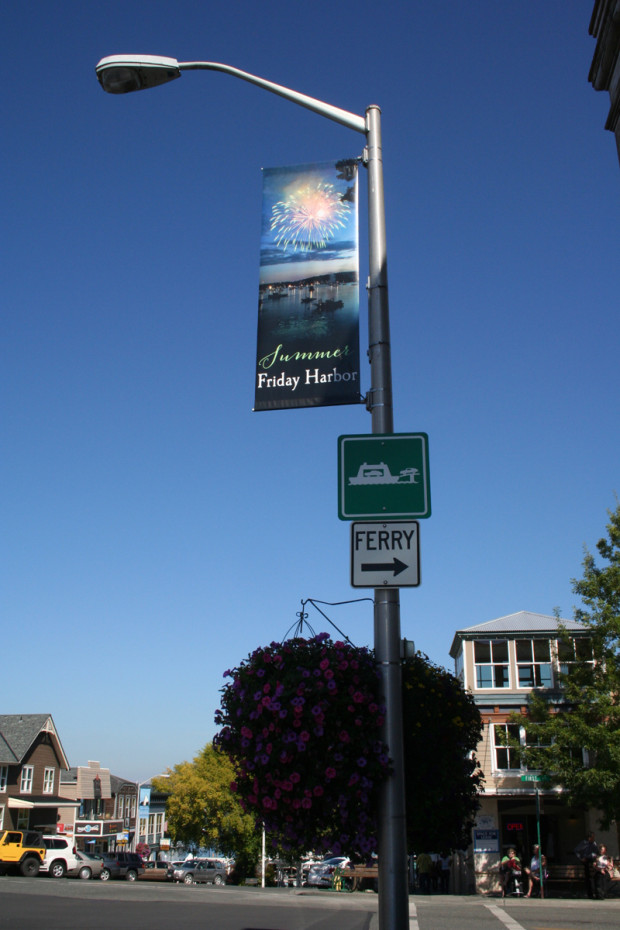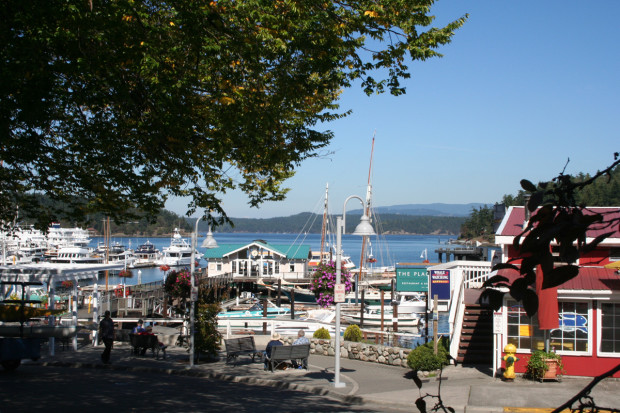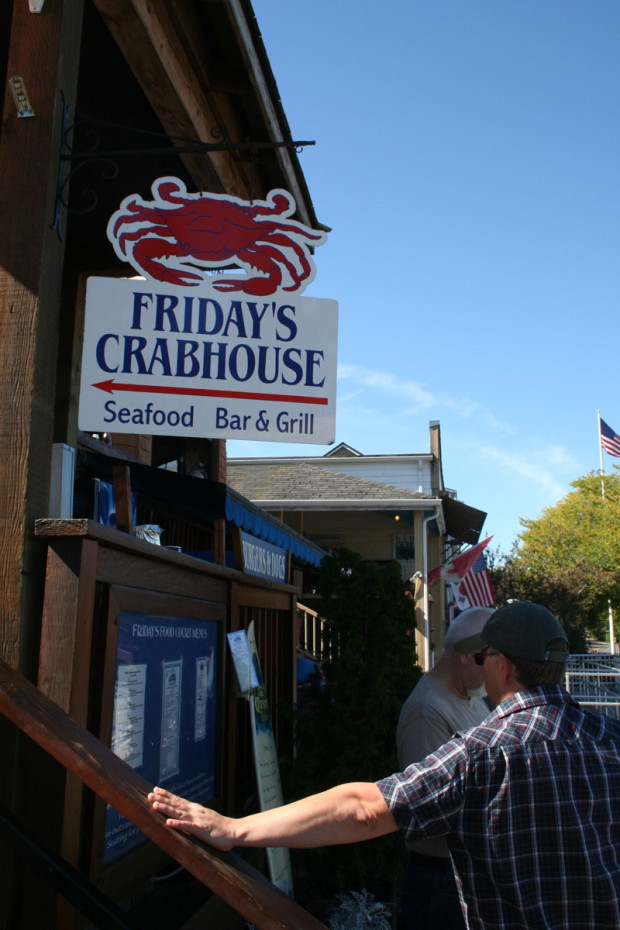 The food at Friday's Crabhouse was sub-par. So was the service. But it's a great place to rest your feet while watching the ferry come and go. It was quite interesting to see tractor-trailers and a school bus driving off of the thing. Some of the ferries are HUGE.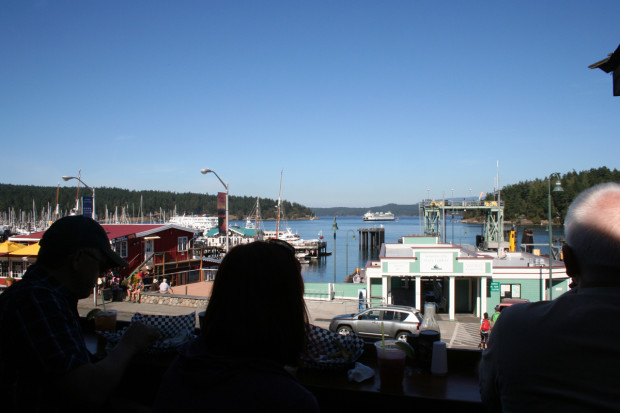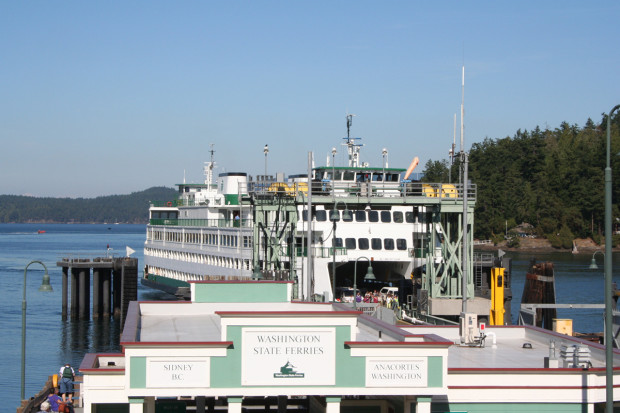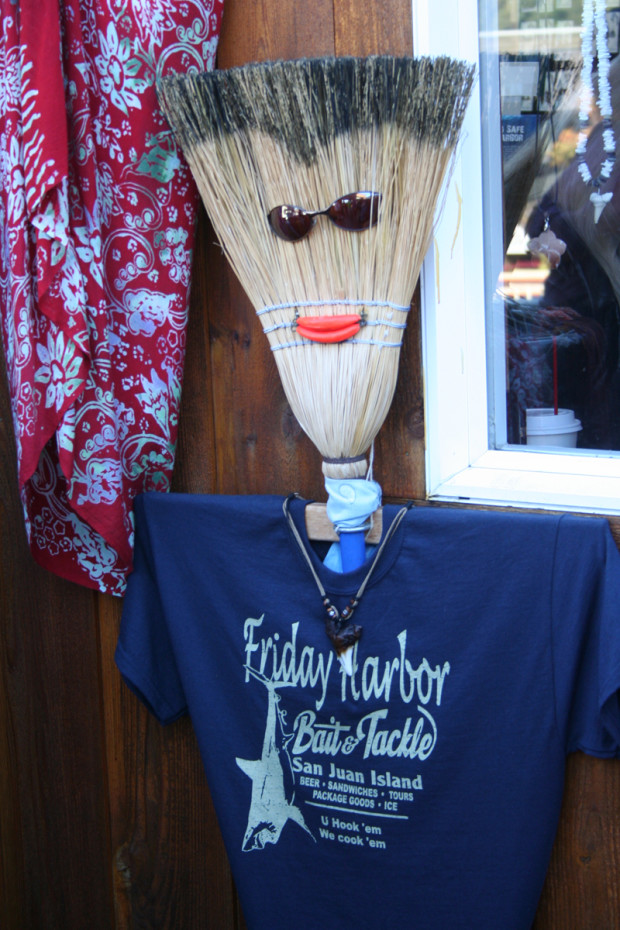 Our plan was to head out to Lime Kiln Point Point after lunch to look for whales and watch the sunset.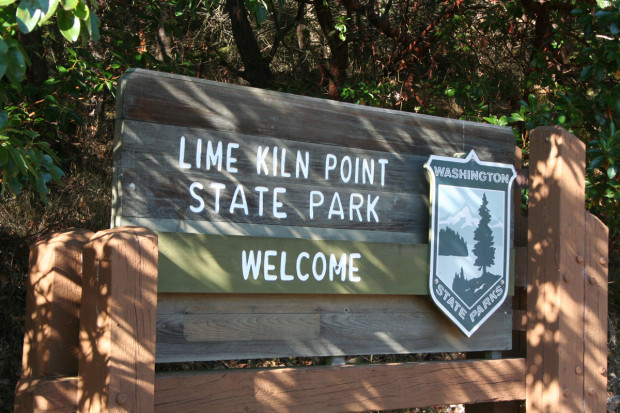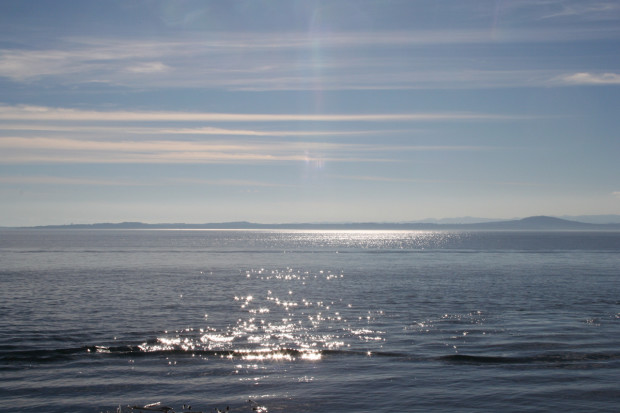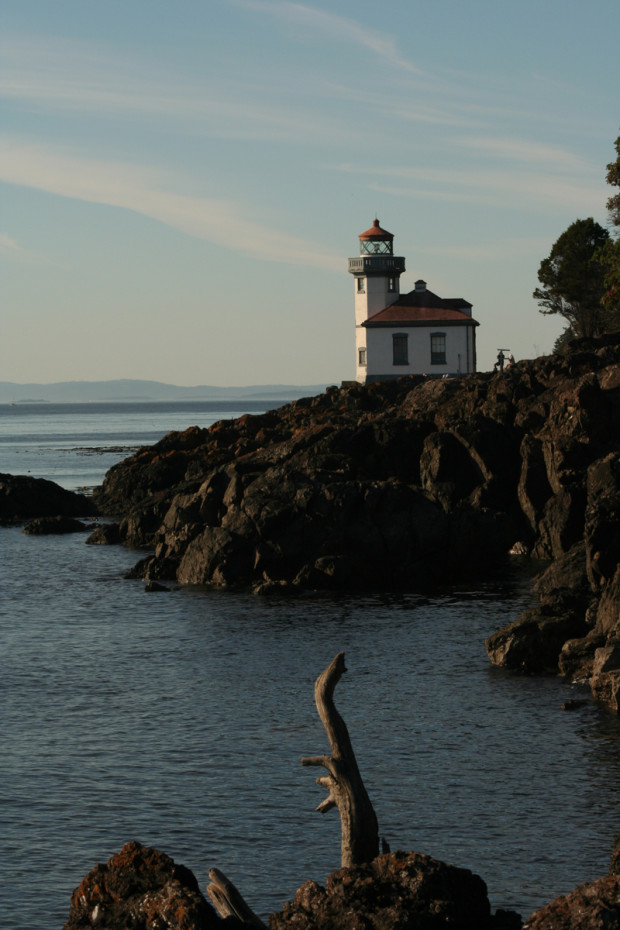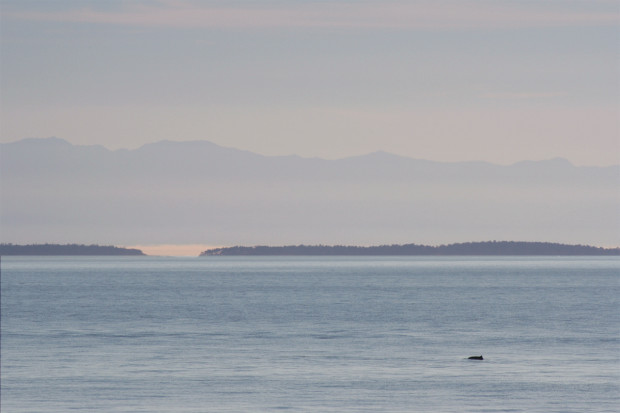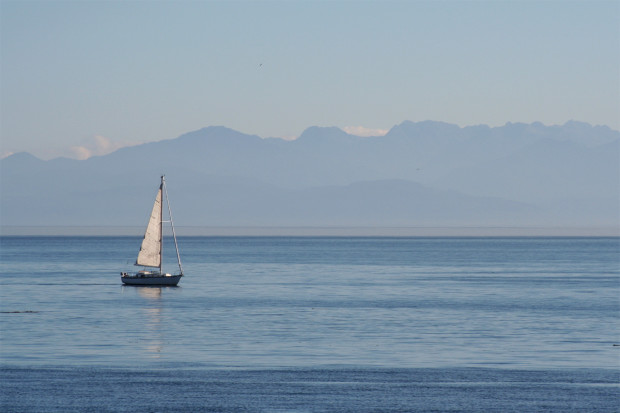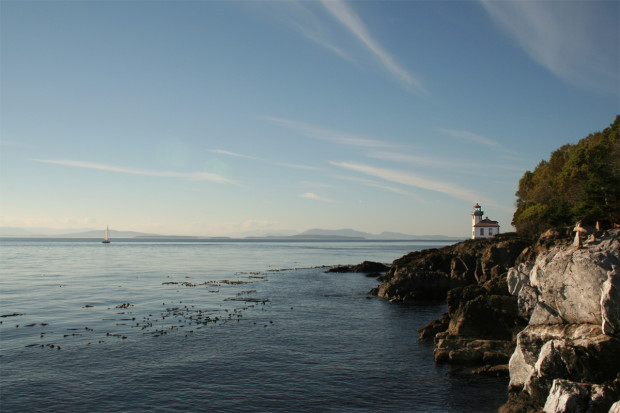 We saw lots of porpoise, but no whale action. And we were too early for the sunset. So instead of staring into the sun for an hour, waiting, we decided to drive up to the other town on the island, Roche Harbor.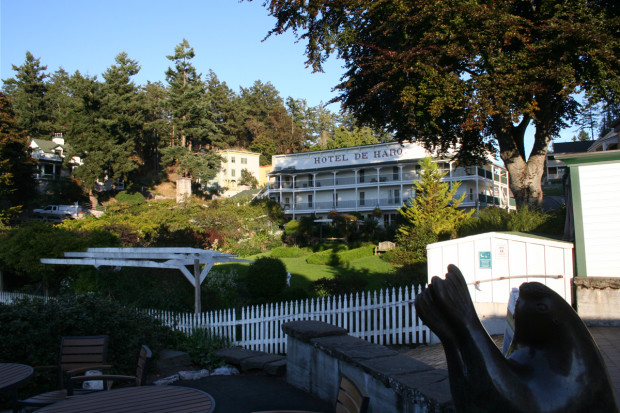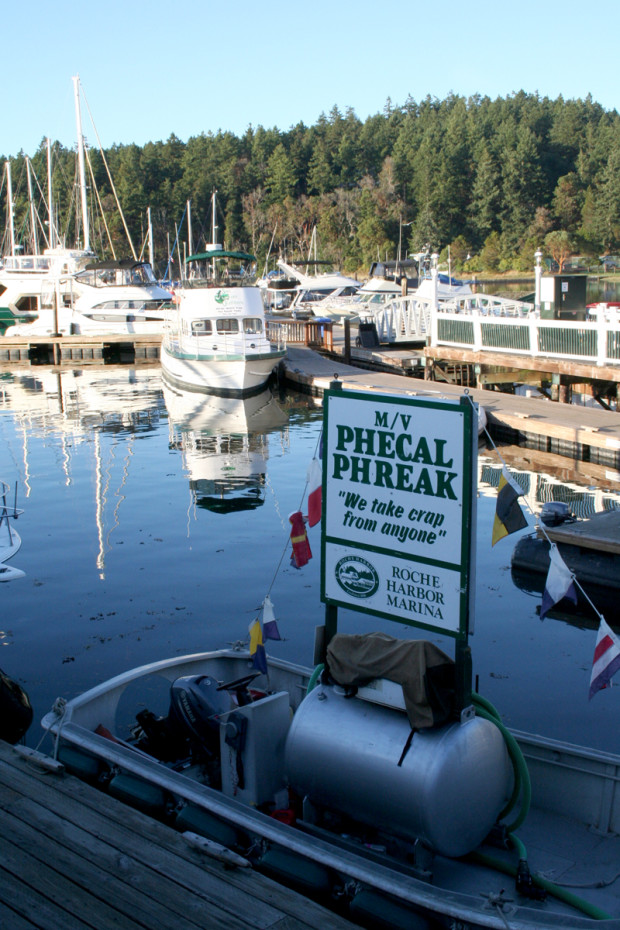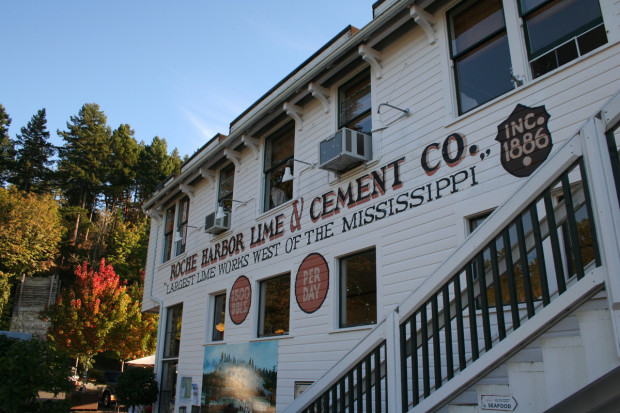 Roche Harbor is more of a resort than a town. It was cute, and very quiet, but I'm glad we stayed closer to Friday Harbor.
After a brief visit, we headed back to Lime Kiln Point to catch that sunset.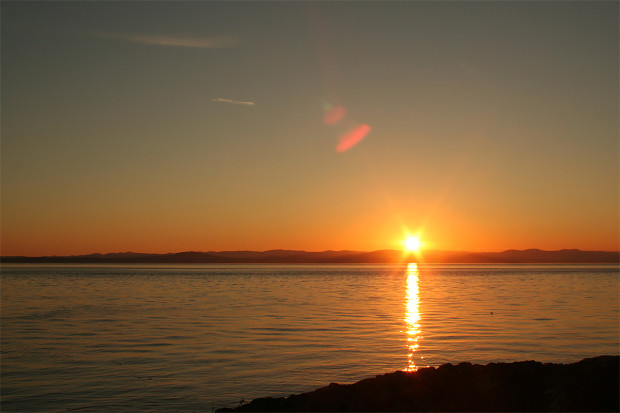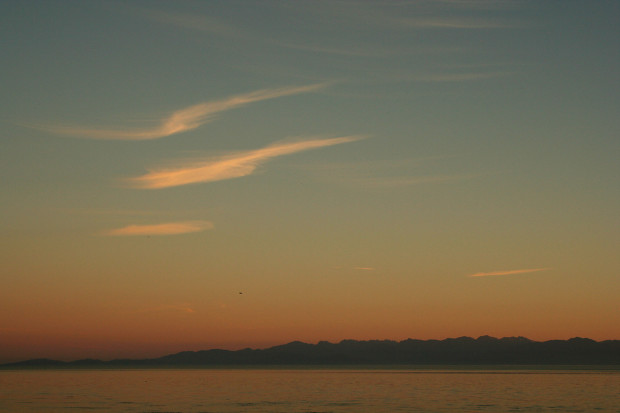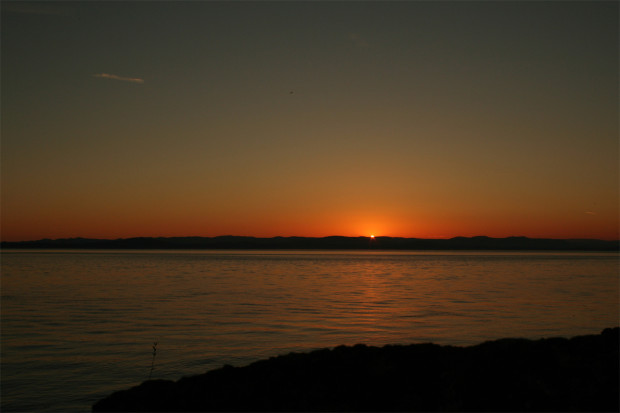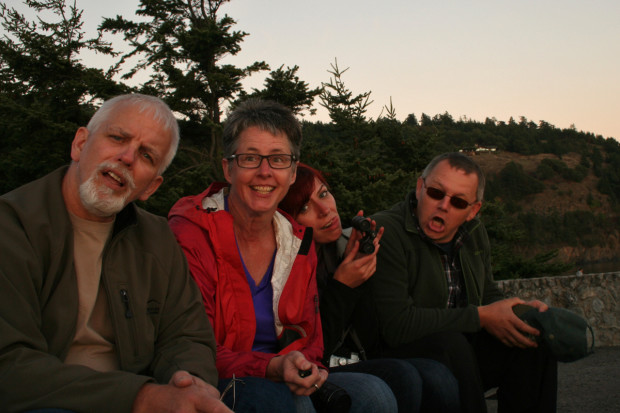 Fun end to a very peaceful, relaxing day.
We didn't see any whales that day, but were hoping to see some the next day from a boat.
Find out whether we did or not in my next post…
---
TRIP Re-cap
Installment 1: In the Beginning (Friday, August 30 – Monday, Sept 2)
Installment 2: Portland Morning (Tuesday, Sept 3)
Installment 3: Exploring the City of Portland (morning of Tuesday, Sept 3)
Installment 4: Beyond Portland (afternoon of Tuesday, Sept 3)
Installment 5: Olympic Peninsula, Here We Come!
Installment 6: First Rain Forest Hike & Another Gorgeous Beach
Installment 7: Hurricane Ridge at Olympic National Park
Installment 8: Madison Creek Falls & Lake Crescent
Installment 9: Hoh Rain Forest
Installment 10: Rialto Beach
Installment 11: Getting to San Juan Island