As I mentioned the other day, Mike turned 60 on October 4. We don't usually make a huge deal over birthdays, but I thought hitting 60 was a milestone that deserved a celebration. And what better way to make merry than spending a long, three-day weekend riding our bikes through the mountains of Virginia and neighboring states?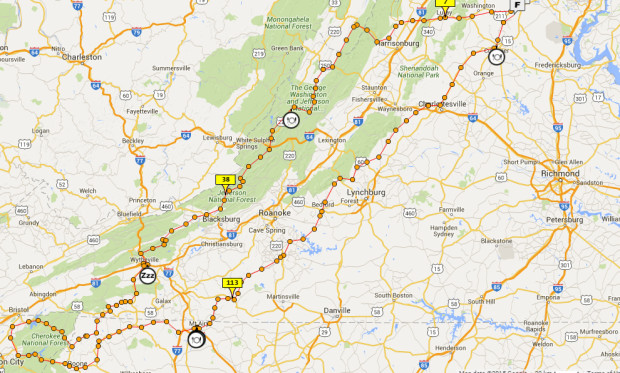 I worked long and hard planning, and re-working, a route that would take us on some of our favorite roads and let us explore some new roads in the same general regions we've been enjoying recently.
One of Mike's favorite roads is US-33 between Rawley Springs, Virginia and Brandywine, West Virginia. I like it, too, but we were both disappointed to discover recent road work left the pavement, especially in the turns, sprinkled with lots of fine, loose gravel. Not good at all for motorcycles. It was still nice — no traffic! — just not as much fun. That's okay, though. The ride was just getting started. And it was a lovely day.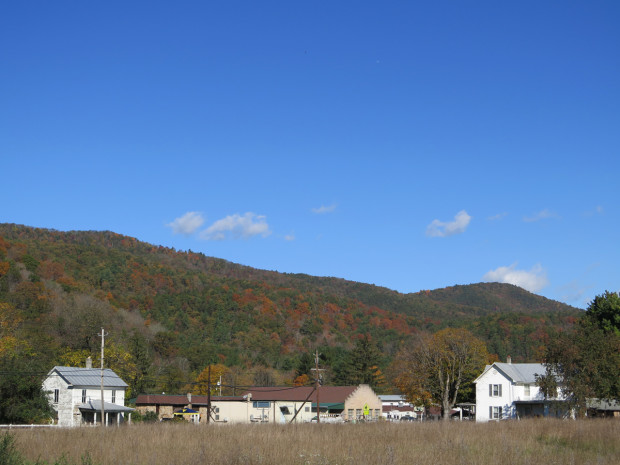 From there, we headed south WV-21/Sugar Grove Road, which becomes VA-614/Cowpasture River Road N after you cross into Virginia. We went west on US-250 then south on VA-678/Bullpasture River Road, which becomes Indian Draft Road before turning into VA-625 / River Road at some point.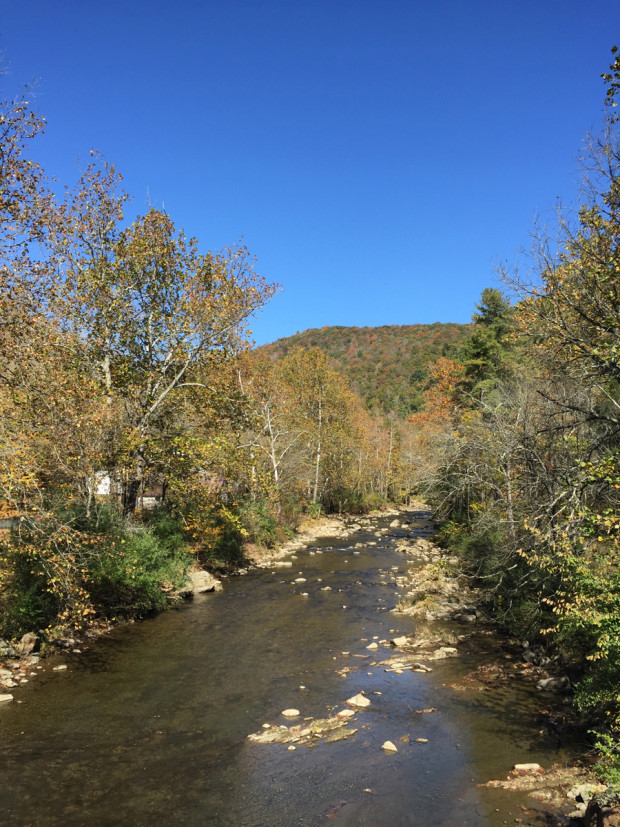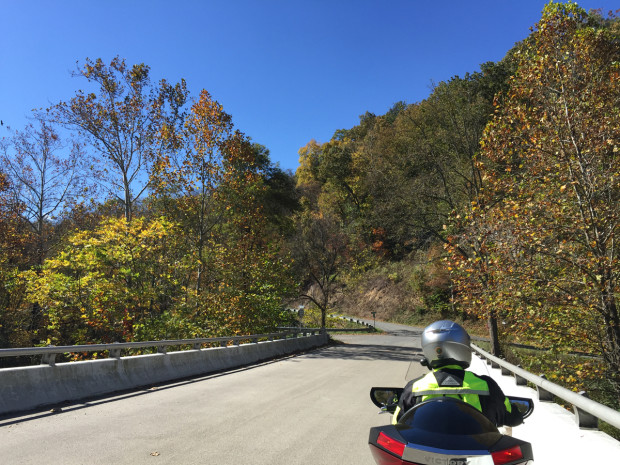 Except for the stint on US-250, those are what I call putt-putt roads. They're paved, but have no lines, and travel through scenic and very picturesque valleys. There's not always a posted speed limit, but I tend to max-out at about 45 mph as there's not a lot of signage and turns tend to sneak up on you.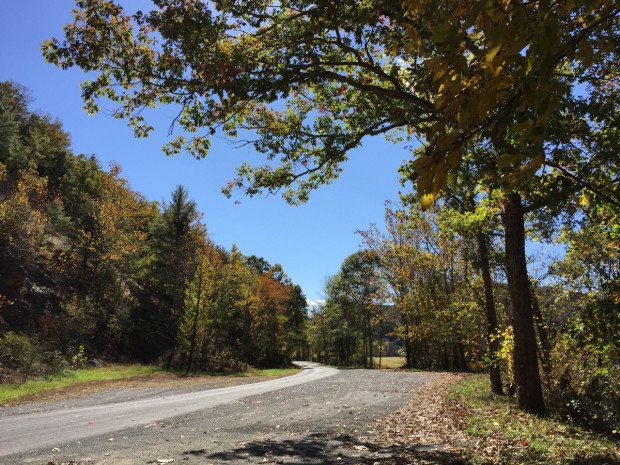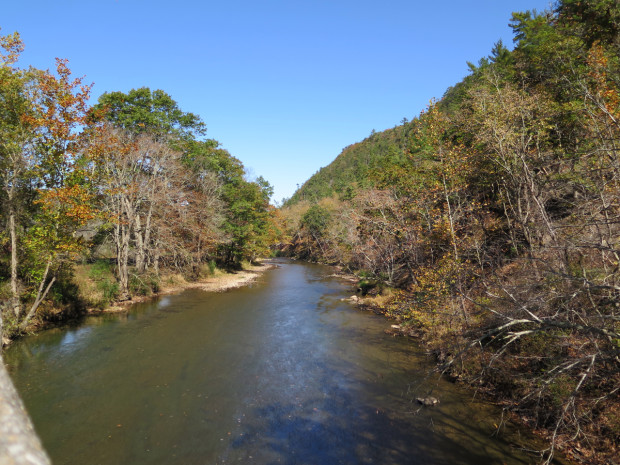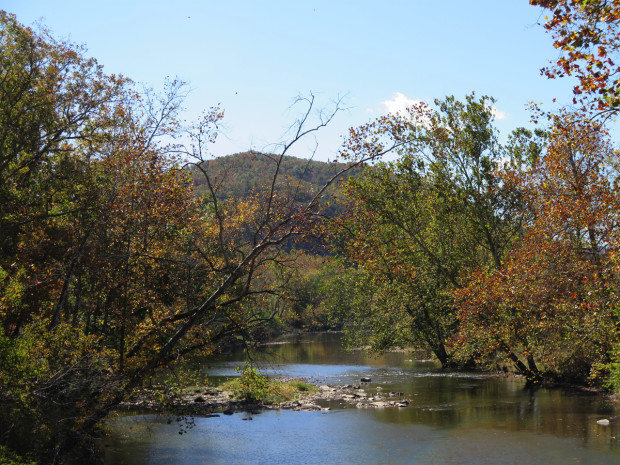 They're not fast roads, but that combo is definitely going to be included on my official list of favorite roads (as opposed to the mental list, where they've been included for a while).
From there, we headed west on VA-39, a fast and fun road. After that long stretch of putt-putt roads, I was happy to roll on the throttle and enjoy some curves. I was a bit amazed to see a car in my rearview mirrors doing a pretty good job of keeping up with me as we zipped along. I laughed out loud then thought "uh oh" when I realized, after about five minutes, it was a Virginia State Police car. All was good, though. Either the officer hadn't been watching the speedometer or they enjoyed seeing this "crazy frog lady" (as it says on my bumper sticker) have some fun.
From there, we headed south on US-220 through Warm Springs. By then, we needed gas, and Hubby was hungry, so we pulled into a gas station that was affiliated with or adjacent to Cucci's Restaurant (pronounced like coochies).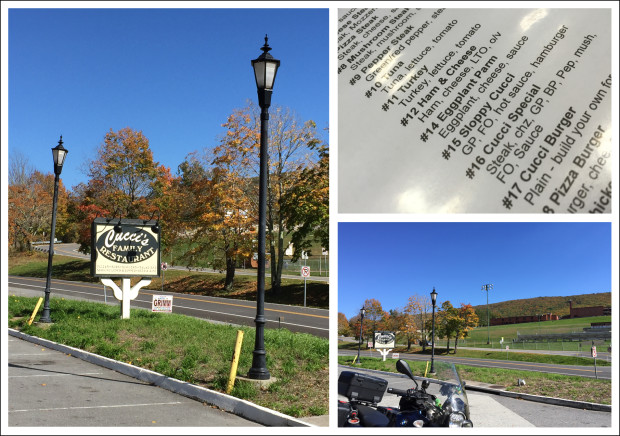 After a quick, okay lunch, we filled up and continued south on US-220 to Hot Springs, veering west on VA-615 / Main Street then south on VA-687 / Jackson River Turnpike.
At some point, I realized I hadn't re-started my tracker app when restarting the phone at Cucci's, so we paused for a moment then pressed on. At Falling Spring, we headed back east on VA-640 / Falls Road, to rejoin US-220 just north of Covington. That stretch of US-220 into Covington was a repeat road, because it is delightfully curvaceous. There's a lovely waterfall just south of where we met back up with 220, but, having seen it before, we didn't stop.
Just south of Covington, we picked up VA-18 / Potts Creek Road, which was nice, but not as fun as I thought it might be. At Paint Bank, VA, we turned toward the east on VA-311 — a definite favorite road — and then headed south again on VA-658 / John's Creek Road, continuing on VA-658 when it became Dicks Creek Road. (Both of the creek roads were excellent recommendations from my America Rides Map.)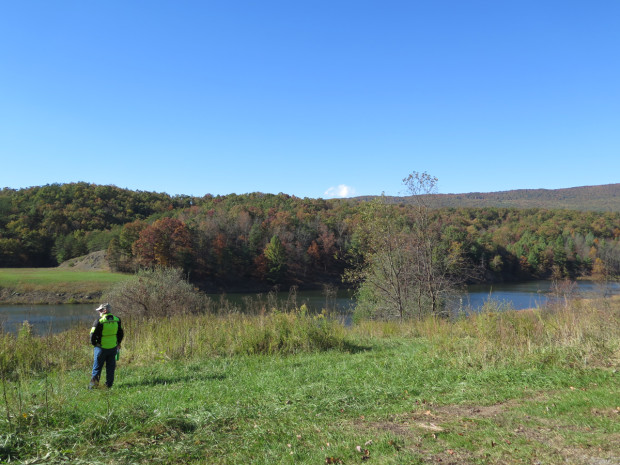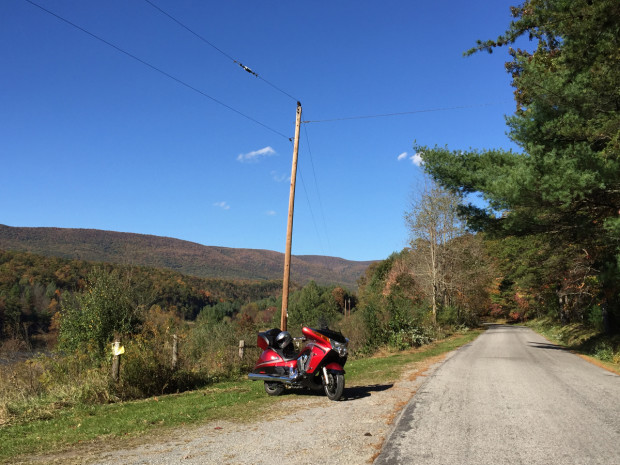 After a brief stretch-break, we continued making our way south and west, hopping on VA-42 — always lovely — then took US-460 west to VA-730 / Eggleston Road (another excellent America Rides Maps recommendation). We re-joined VA-42 eventually, then took an intriguing-looking shortcut I'd noticed on the map — VA-738 / Robinson Tract Road — which would take us closer to Wytheville, our stop for the night.
OMG, what an odd road. It crosses Walker Creek then runs along the Pecker Branch for a little ways before going up and over the mountain. It was paved, thank goodness, but was little-used, as evidenced by the fact that the pavement was almost completely covered with fallen leaves in places. And there were stacked switchbacks, steep enough that I could see Hubby making his way down the mountain a few turns below me.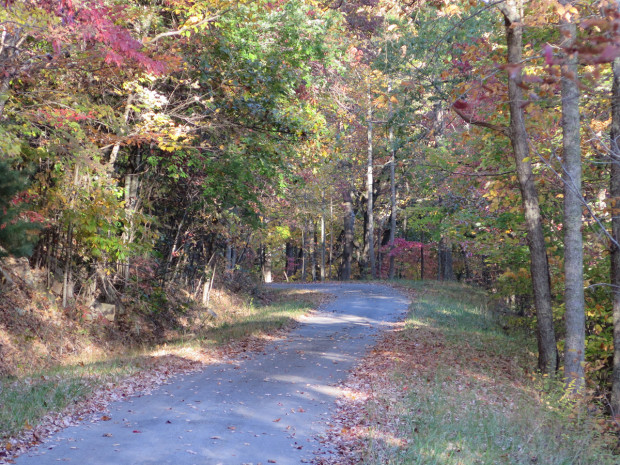 It was definitely one of those "why is this road here" moments.
We continued making our way south and west towards Wytheville. The roads were lovely, but the sun was brutal. Both of us were practically blinded by the light as we wound our way along VA-601 / Little Creek Highway. Hubby had a close encounter with a fast-moving deer we're convinced was goaded by his buddies into playing chicken with Mike. I watched that crazy critter angle at full speed alongside then across the road in front of Hubby. The deer could have easily crossed between us. Hubby said there were inches to spare between him and the deer. And, thanks to the glaring sun, he hadn't seen it until it was right in front of him.
We were both quite happy to reach our hotel in Wytheville. That sun really had been brutal. And we were both tired after a long, fabulous day. The roads had been amazing. But I knew some of the best were yet to come.
If you'd like to see the Spotwalla tracker map, CLICK HERE.