As I was planning my latest road trip, I had a few simple goals in mind. One, capture pics of all nine LOVE signs. Mission accomplished.
Goal #2, see three roadside oddities I'd selected on RoadsideAmerica.com and one cool town hall. Check!
Goal #3, spend the night close enough to the beach that I could watch the sunrise. That's why I drove so far/was in such a hurry on the first day. I really wanted to make it to the beach.
There were a couple of other general goals, too. Enjoy some alone time and see what I could see. When you take time to look, interestingness almost always presents itself.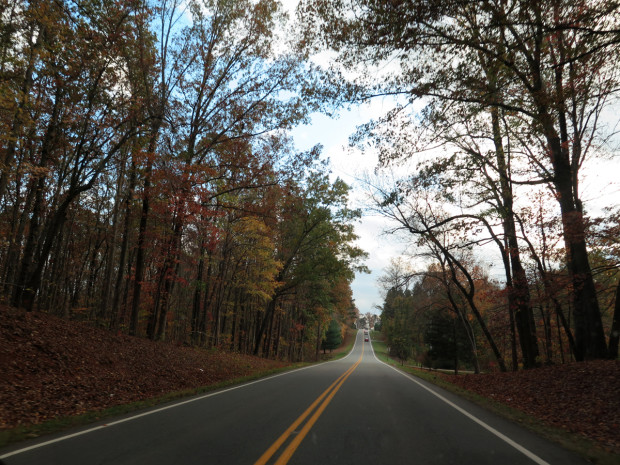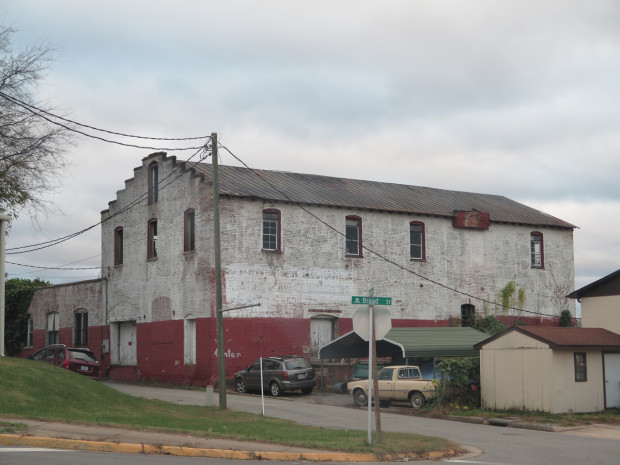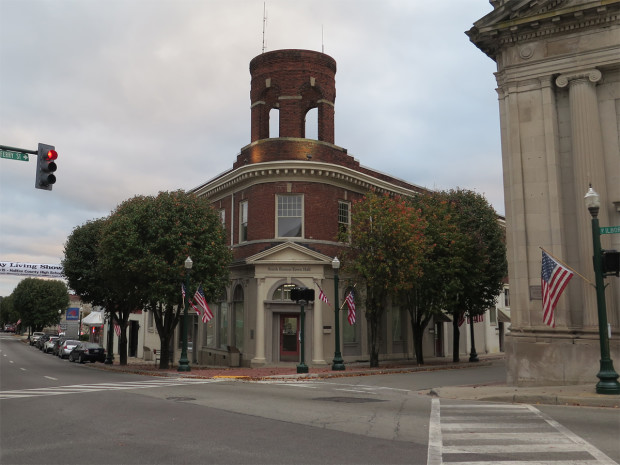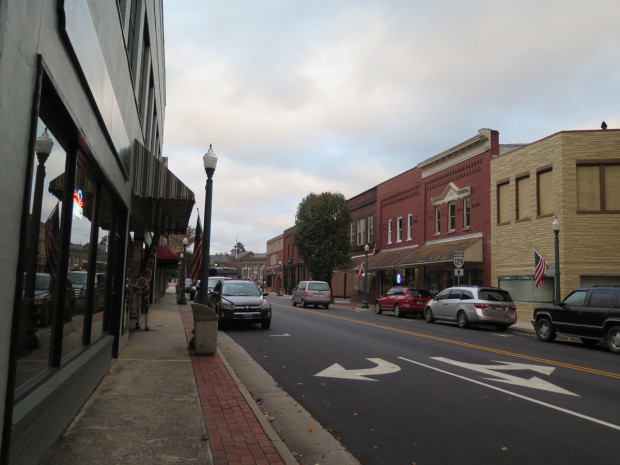 Look closely at the above pic. See anything odd? I'd just happened to park near something unusual on that street.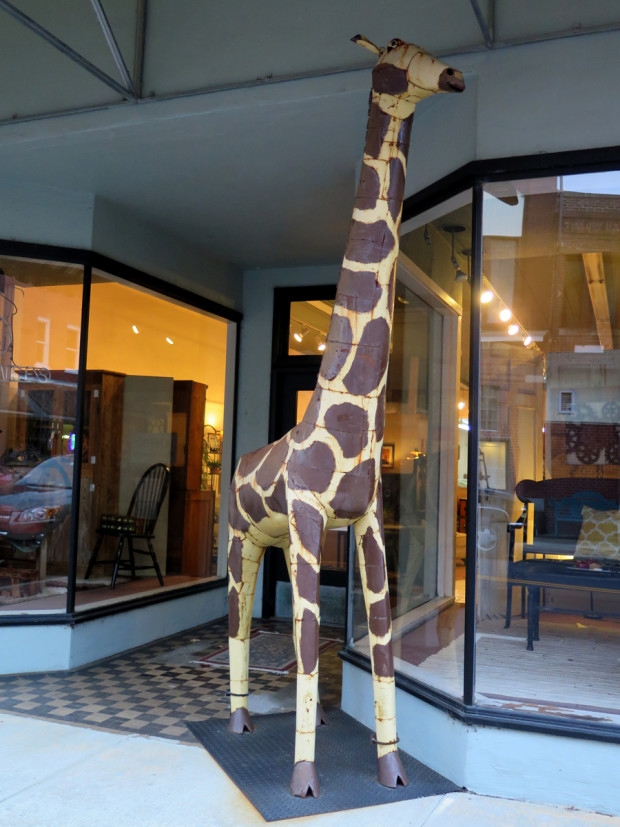 What are the odds of my parking by a large metal giraffe — about 15′ / 5 meters tall — simply by chance. I laughed out loud when I saw it.
I stopped at the Halifax County Visitors' Center as I was leaving South Boston. Mainly because those places usually have bathrooms. It was actually a very nice visitors' center with all sorts of nice displays, brochures, etc., but it was late in the day and the lady needed to be somewhere so was anxious to leave. BUT, she did ask what brought me to the area. When I told her about the LOVEwork, she told me there was one in Boydton, which I'd be passing through.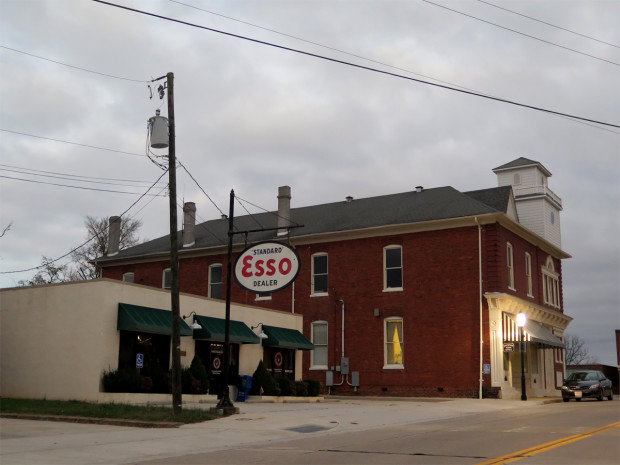 I looked for it, I did. Especially since it's NOT on the current list and may be added soon. But I couldn't find the dang thing. 🙁
I didn't see a whole lot of other interesting stuff in my push towards the coast, mainly because it got dark. I did, however, drive past Virginia's largest lake, Buggs Island Lake, also known as the John H. Kerr Reservoir. I wasn't expecting that.
Here's some fun stuff I saw when I reached my destination for the night, Virginia Beach.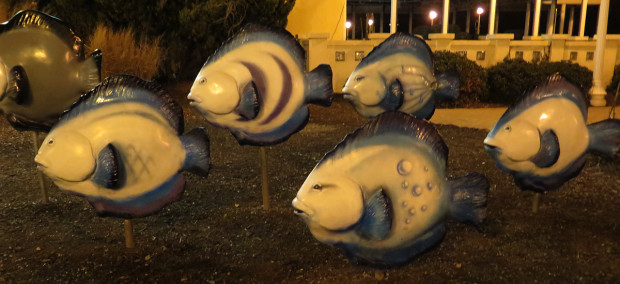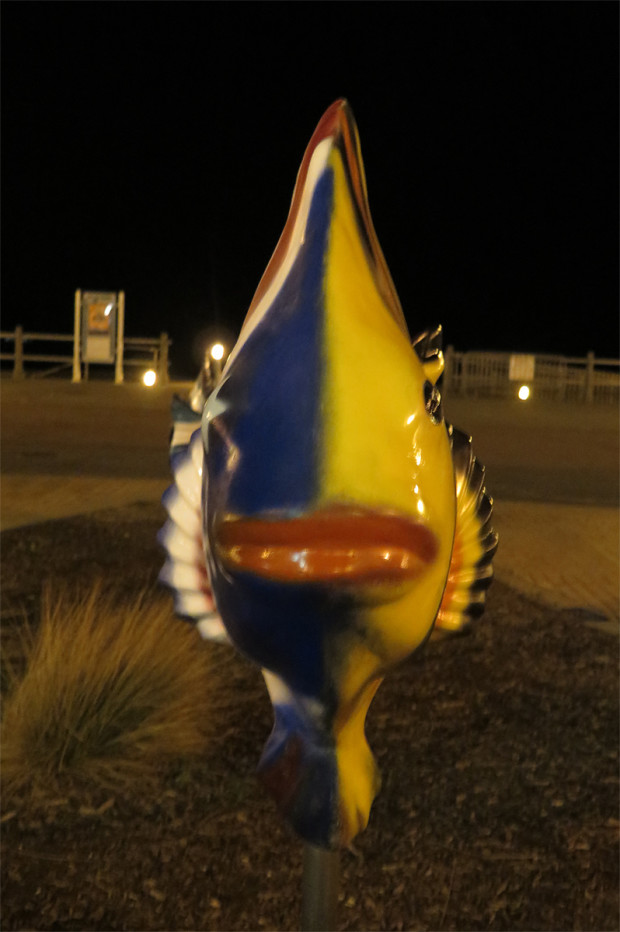 Those fun fish were right next to my hotel, which was oceanfront. Yay!!! Gotta love traveling off-season when you can snag an oceanfront room for under $60.
I've been to VA Beach before, but just to visit the beach (as in sunbathe and swim), I'd never really looked around. I had no idea there's a public art program, and that there are fun displays like the school of fish (est. 1993) scattered around the city.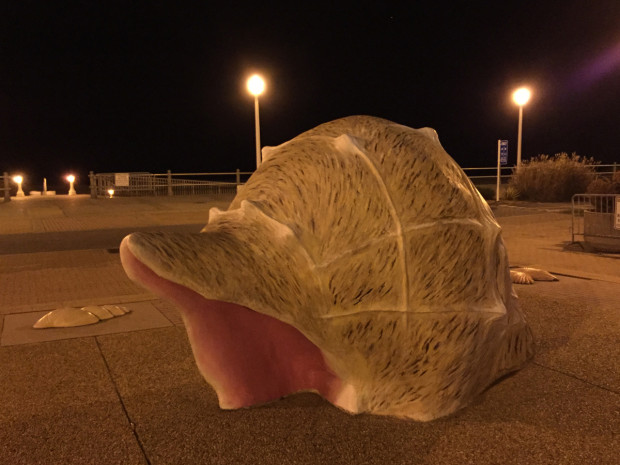 And a cluster of big-ass Hermit Crabs.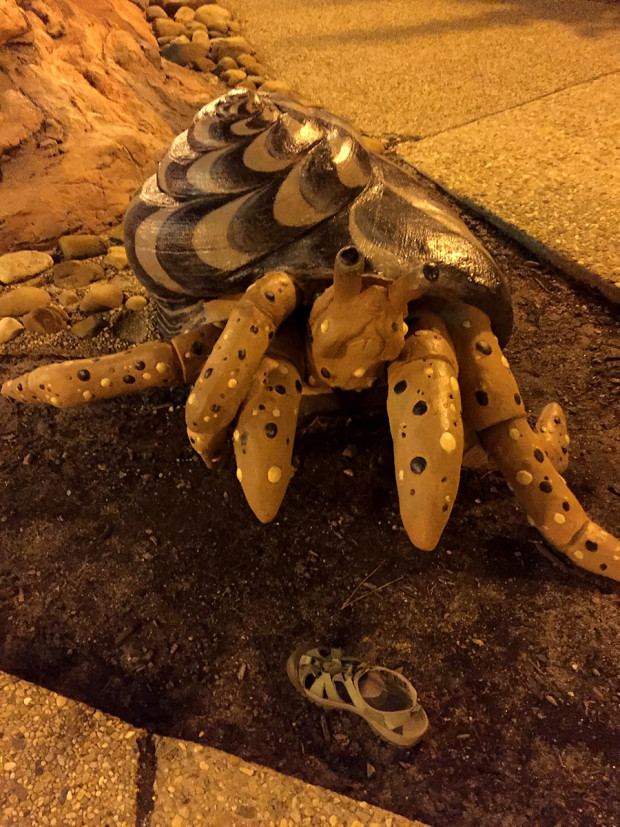 I love kitschy souvenir shops. Most of them were closed, unfortunately (it was around 9:00 when I reached VA Beach). I couldn't resist snapping a shot of this colorful display as I made my way to eat dinner.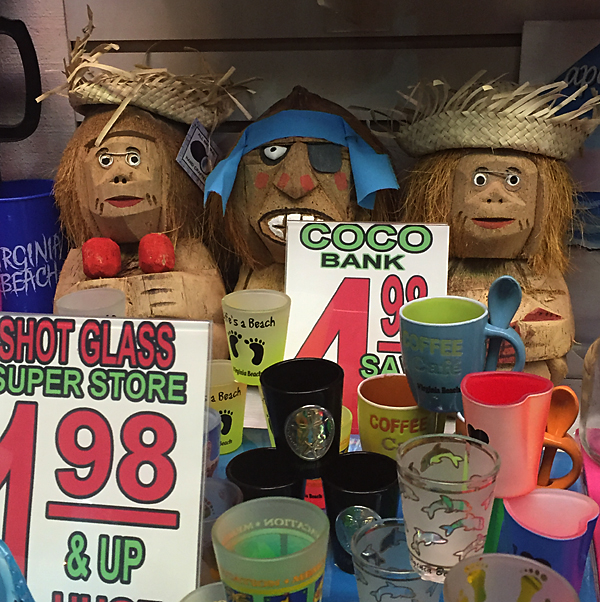 Speaking of colorful stuff… I was tired. I wanted something quick and easy for dinner, so was happy to see a pizza restaurant that was open AND served beer. By complete coincidence, it happened to house an "oddity" I'd seen mentioned on RoadsideAmerica.com, but had deemed not interesting enough to go out of my way for.
It's listing on RoadsideAmerica.com is titled, "Hippy Bus in Pizzeria." Had I read the listing instead of just scrolling past it, I'd have realized it's creator was Mark Cline, a name many lovers of large fiberglass Americana will recognize. He created Foamhenge, which I still need to visit, and "has been building fiberglass monsters, dinosaurs, and freaks for the tourist attractions of America for decades."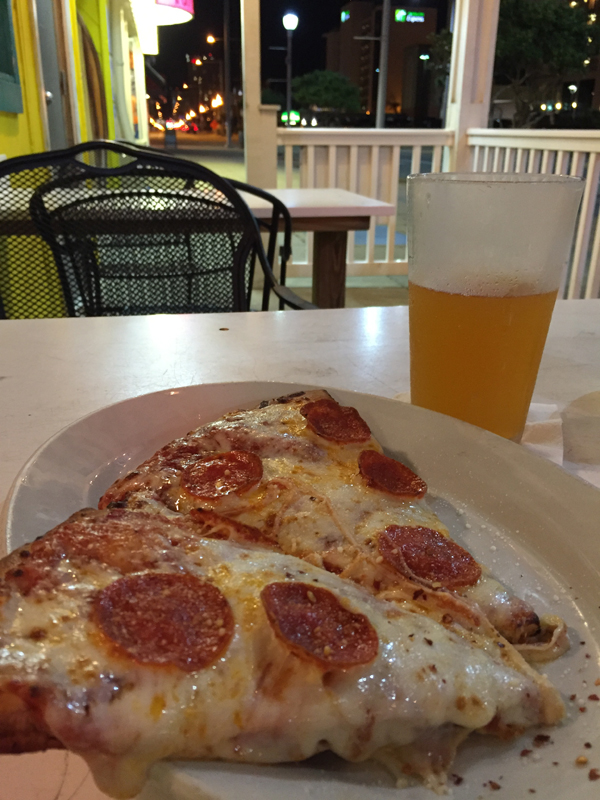 It was weirdly warm at the beach — mid-70s! (mid-20s in C) — so I was able to enjoy my modest but yummy dinner on the outside patio.
Then I went to visit one of my targeted attractions… King Neptune. 🙂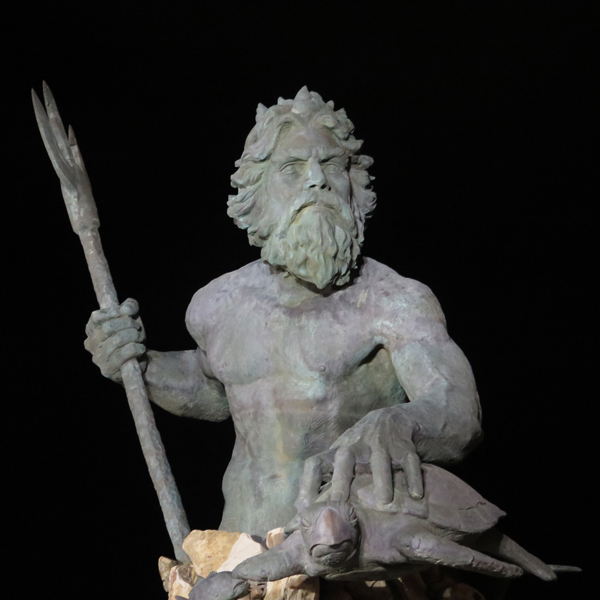 I'd selected my hotel specifically with this guy in mind.
As RoadsideAmerica.com describes him…
The statue of Neptune is 34 feet tall and weighs 12.5 tons. It was unveiled along the beach in 2005. The bronze scowling Neptune holds a trident in one hand and a turtle in the other. Sculptor Paul DiPasquale also created the Arthur Ashe statue in Richmond in 1992, which is generally loathed as a work of art, but he seems to have gotten Neptune right. – See more at: http://www.roadsideamerica.com/tip/23107.
I was really looking forward to seeing him at sunrise, but couldn't resist one or two quick night shots.
As for the sunrise… was it worth it?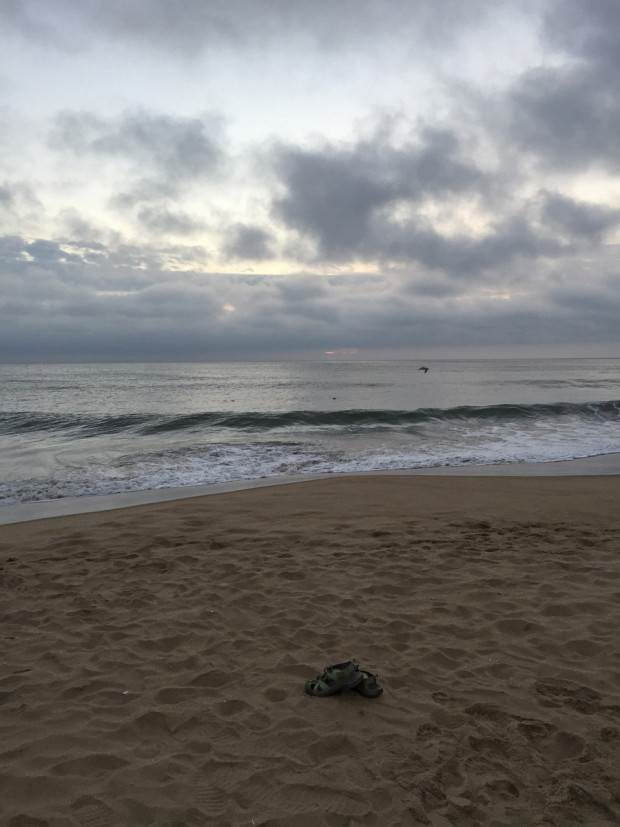 Find out next time…