Installation of Wall Drywall - Part II
May 5, 2007
We usually head to West Virginia on Friday evening, but this week we decided
to wait until Saturday for two reasons: first, the weight of the drywall in
the truck has us blinding oncoming drivers, and, second, we took an afternoon
motorcycle ride to Gettysburg, PA, so I could take a demo ride on the Yamaha
V-Star 1300 motorcycle I've had my eye on. Look what I rode home!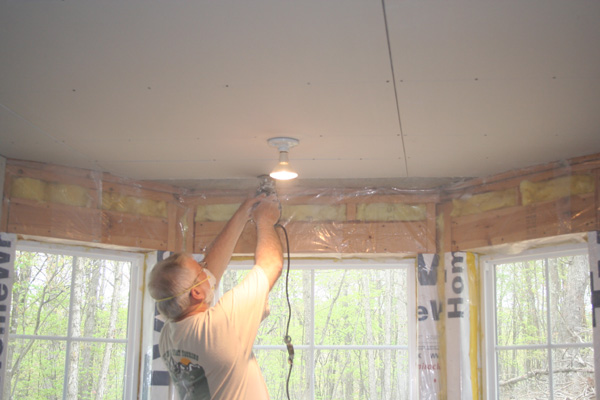 We left home just before 7:00 a.m. on Saturday for the three-hour drive to
West Virginia. We pretty much got to work as soon as we arrived. Here's Mike
using the roto-zip to cut an opening for the A/C diffuser in the kitchen.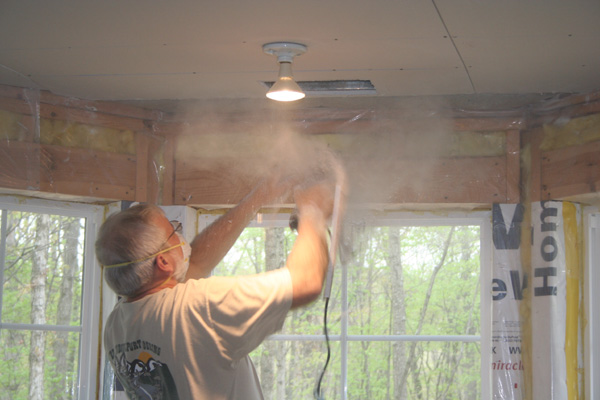 You can see the dust fly as the piece he cut drops loose from the ceiling.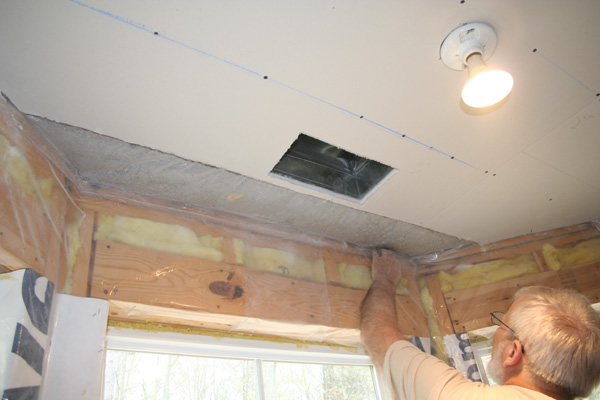 See how nice and neat the openings are?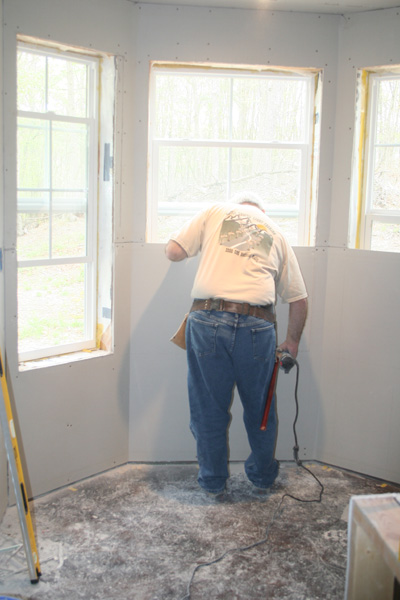 Now it is time to cover the walls around the windows.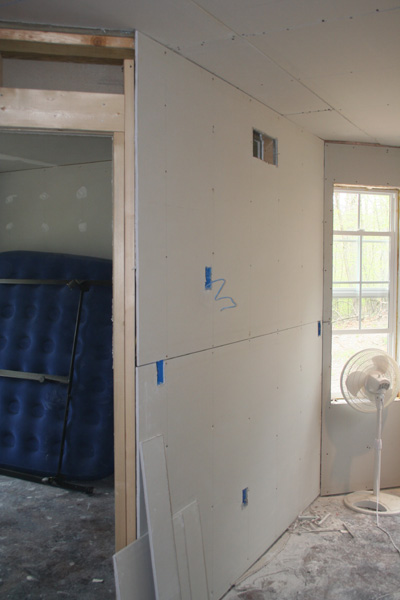 The wall between the kitchen and bedroom is finished,
too. Well, almost. More on that later...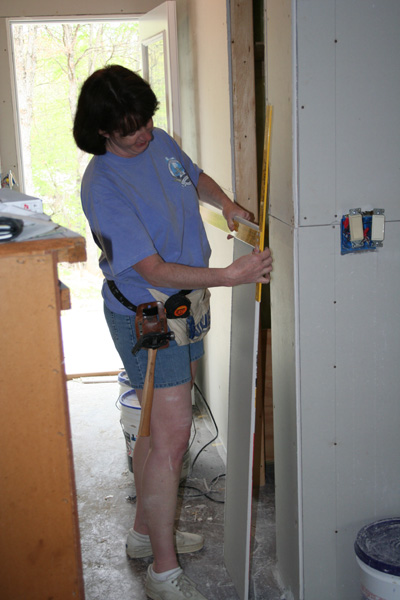 Here I am cutting a piece of drywall. It goes beside the door.
I measured it myself, too. Notice I have three tools now–hammer,
measuring tape and razor knife. I told Mike I think I need a real
tool belt. He says I am not ready and that he has proof.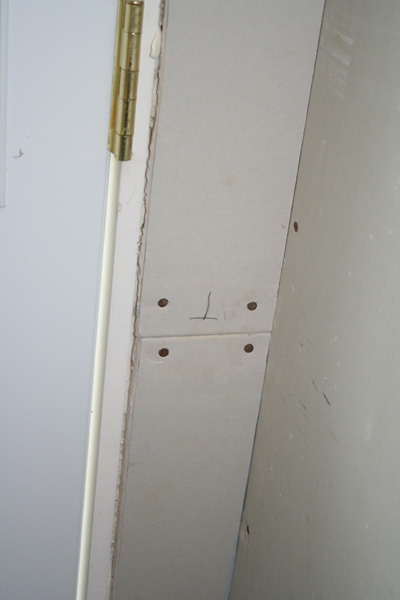 Remember the piece of drywall I just measured and cut?
Not only was it too big, it was upside down, too. The "T"
you see is supposed to mean, top, as in this side up.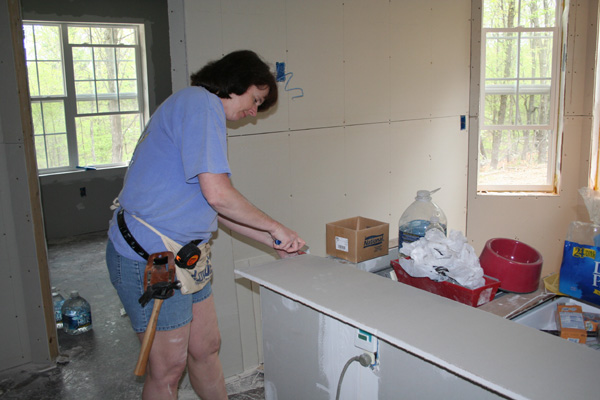 But I can still use my razor knife to cut stuff.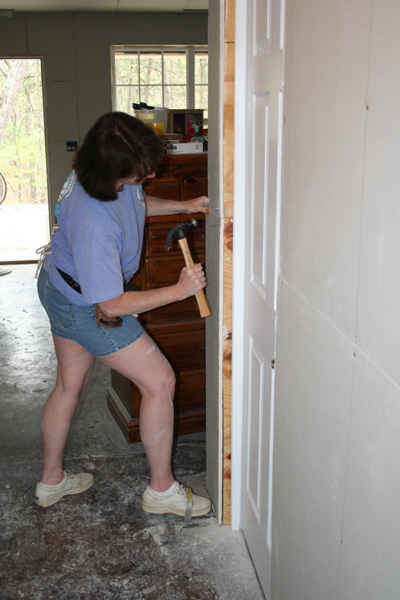 And my hammer to pound and bang nails in.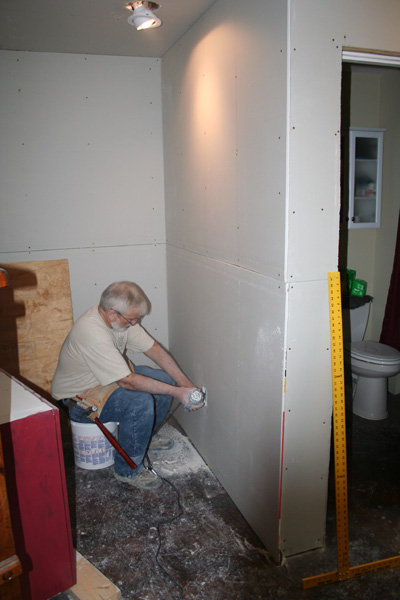 Mike cuts an opening in the last sheet.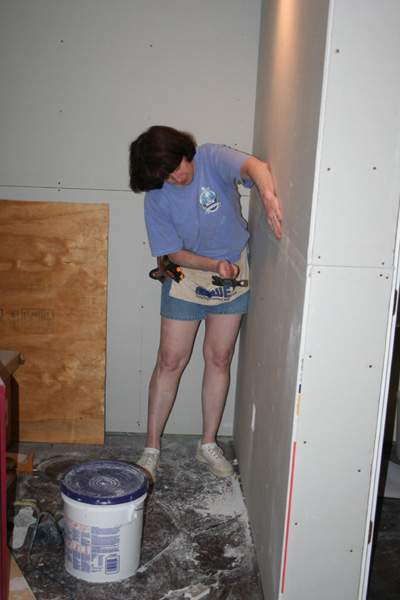 And I nail it into place.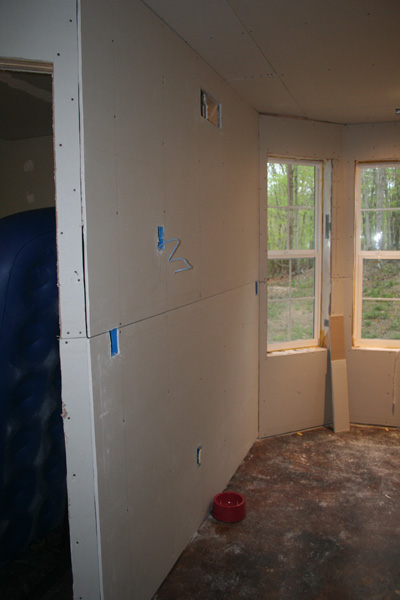 Remember I said the kitchen wall is almost finished?
In the upper sheet, to the left of that opening for the
phone is supposed to be an opening for the thermostat.

Yes, the wiring is there - buried inside of the wall.
We covered it! Mike will be fishing for it next weekend.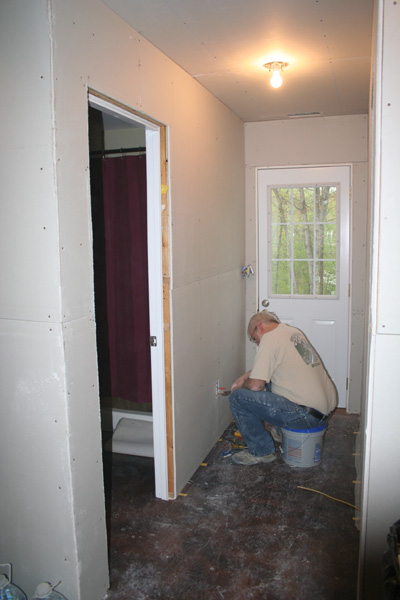 Here's Mike roto-zipping an opening for the outlet
in the hallway we also forgot. We only realized it was
forgotten when the bedroom lights wouldn't work.

It was a long day...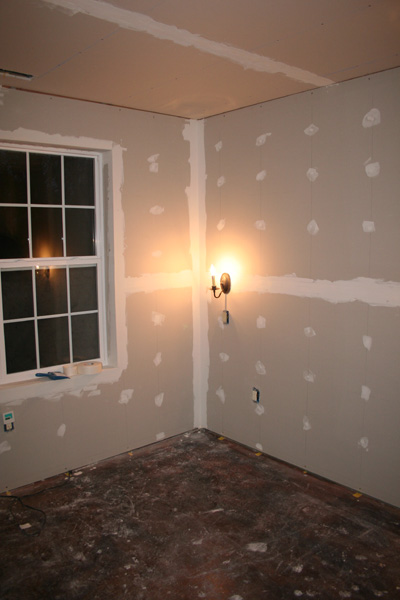 In fact, by that time he finished re-wiring the
bedroom for lights, it was about 7:00 p.m., so we
quit work and headed into Romney for dinner.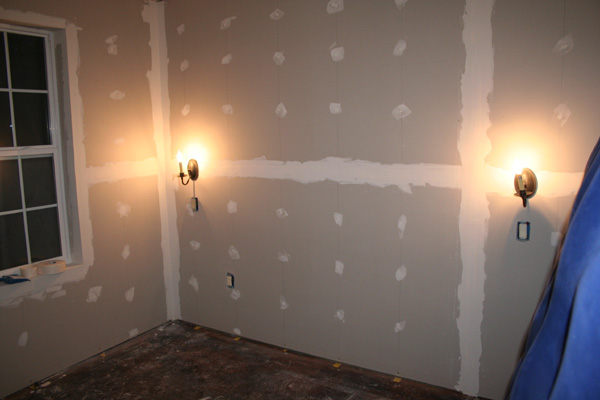 Knowing we weren't going to be able to do much on
Sunday (we had to leave early for my soccer game), we made
the decision to just call it a weekend and drive home.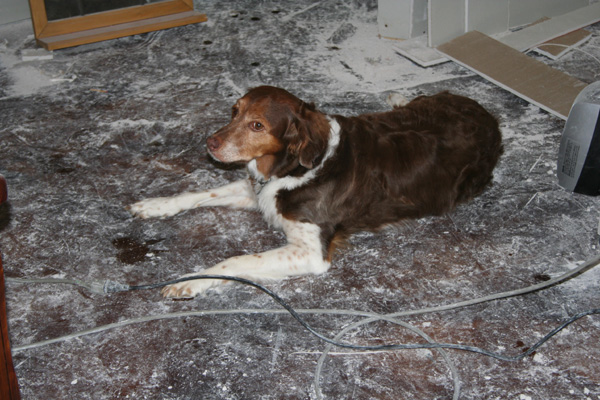 Besides, while we've been getting a lot of work done, hanging drywall
creates a huge mess. The thought of sleeping in a real bed in a clean house
had some appeal. Knowing the dogs were exhausted and would sleep the whole
way helped make the decision, too. So we left around 8:30 p.m. for home.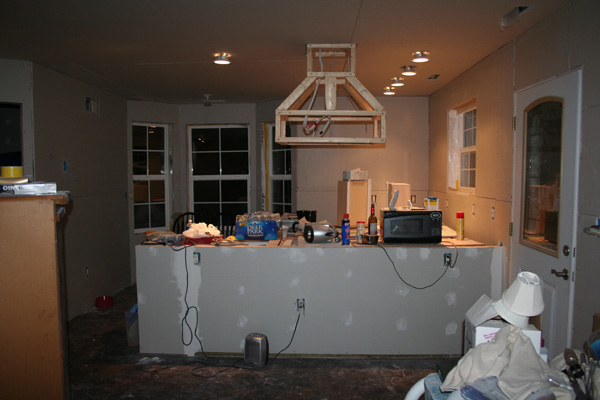 It may have been a long day, but the place, while still messy, is
really starting to look like a house. Next week, I learn the fine art
of drywall finishing: sanding, spreading mud and taping (if I am allowed),
more sanding, more mud, etc. My arms are sore just thinking about it.