After a very long, fabulous vacation, our final day together was upon us. We all had mixed feelings, of course. By that time, we were all ready to get back to our homes and pets. We were also excited about seeing our family at the end of the day. But we were sad that we'd be parting ways. It's hard having such good friends on a different continent.
It was essentially a relaxed travel day. We'd planned things so that our last night was relatively close to our final destination, Amy's house in the Seattle suburbs, but also near some sights. Annelies had identified Coupeville as a place to visit and I'd zeroed-in on at Ebey's Landing National Historical Reserve (ELNHR). Have I told you that she and I make a great planning team?
We started out with breakfast at McDonald's, a first for Annelies and Yves, which made for some giggles.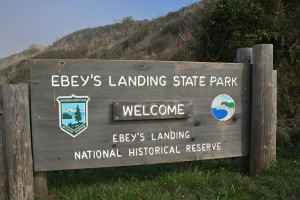 Americans know hot cakes = pancakes, but that confused our friends. Also confusing was the speed at which orders are taken, the staffs' assumption that you have eaten at McDonald's previously and understand their menu, know how to tell them how many cream and/or sugars you want in your coffee, etc. Compounding the problem, Annelies and Yves, who both understand and speak English very well, had a hard time understanding the African-American lady from Georgia that took our order.
It was truly an entertaining way to start the day.
Knowing we wanted to lunch in Coupeville, we headed for ELNHR, a rural historic district established to preserves and protect a historical record of Puget Sound exploration and settlement from the 19th century to the present. ELNHR uniquely encompasses a mix of federal, state, county, and private property. There are historic farms still under cultivation, the Victorian seaport community of Coupeville (where Seattle's Best Coffee was started!), Fort Casey and Fort Ebey State Parks, and even a section of the Pacific Northwest National Scenic Trail.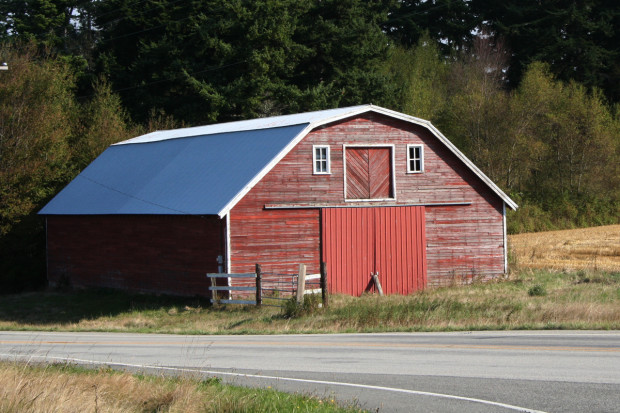 ELNHR is actually pretty big. We drove around a bit, surprised no note that the landscape looked a lot like the rolling hills of Central Pennsylvania, if you could ignore the snow-capped mountains in the background. Our first stop was Fort Casey State Park, which features an old gun battery, lighthouse, and lots of beach.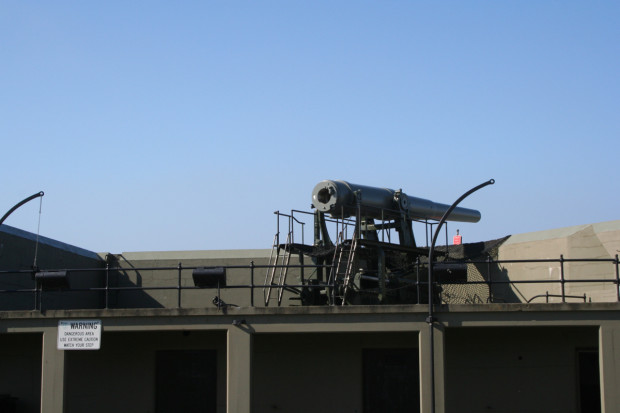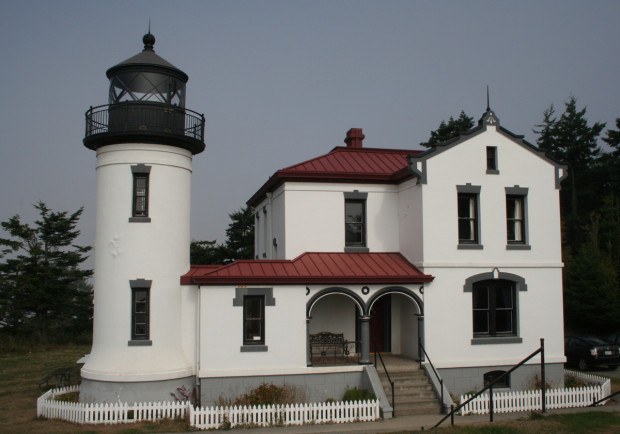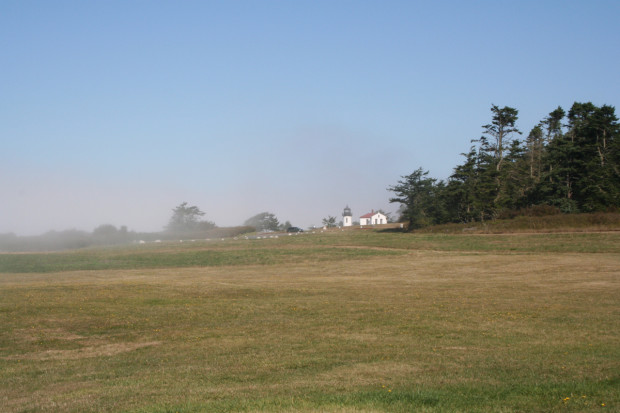 The next two shots are kind of funny. To me, anyway. They're both examples of how the camera can skew perspective a bit. Look at the size of the lighthouse in relation to the people.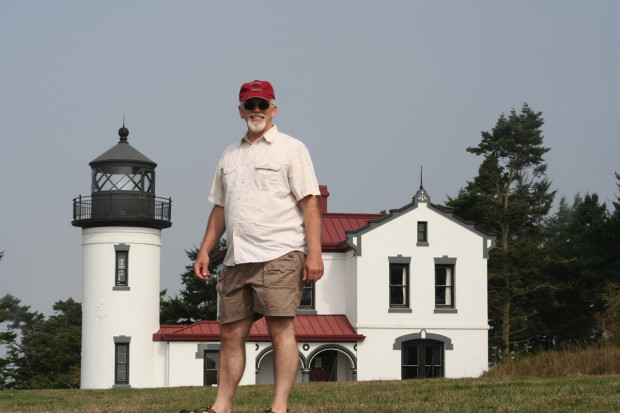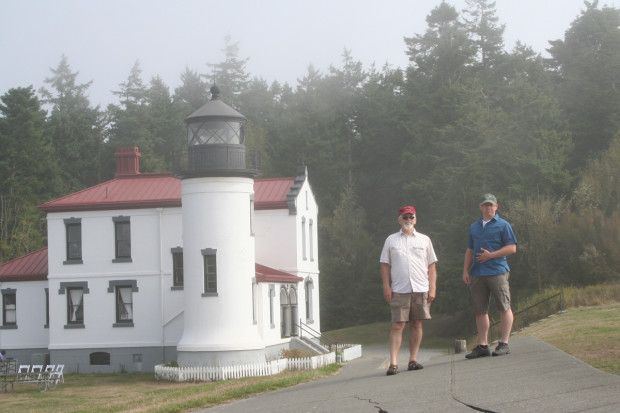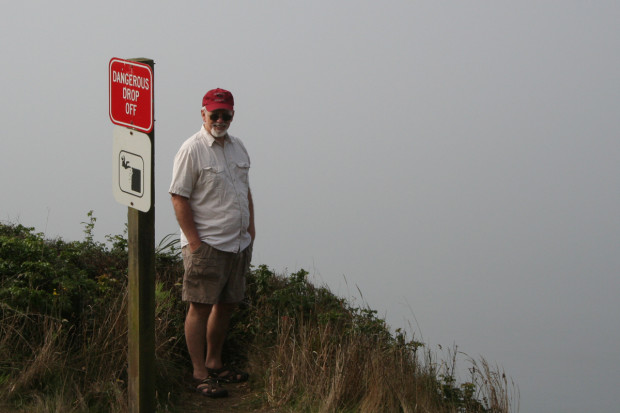 Hubby decided to wait in the car while Annelies, Yves, and I explored a bit of beach. I HAD to see the water up close one last time.
Annelies was not pleased that we had to descend this semi-treacherous cliff to reach the water's edge.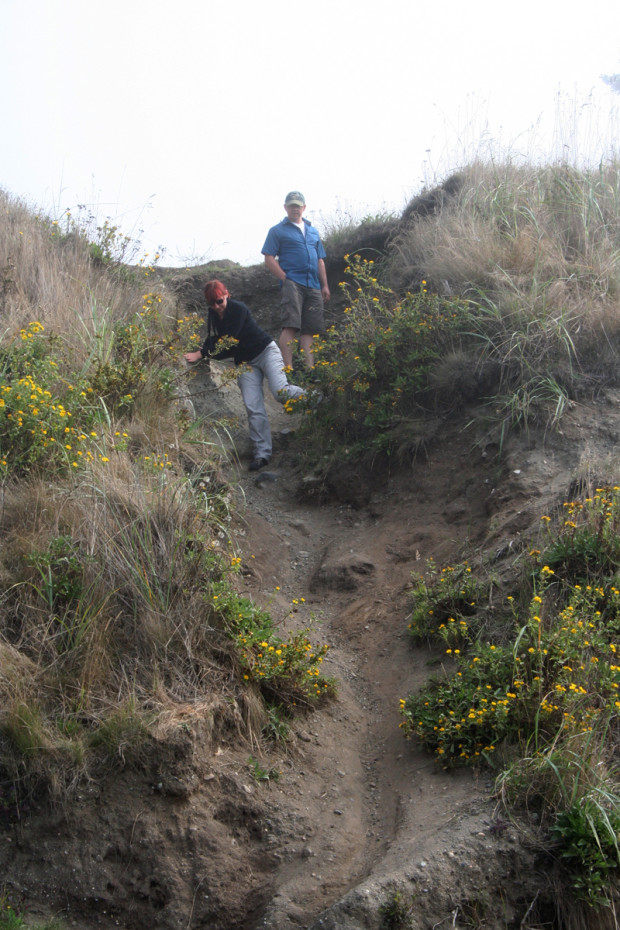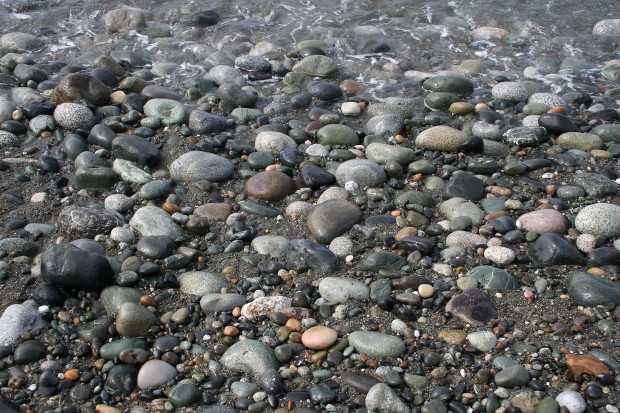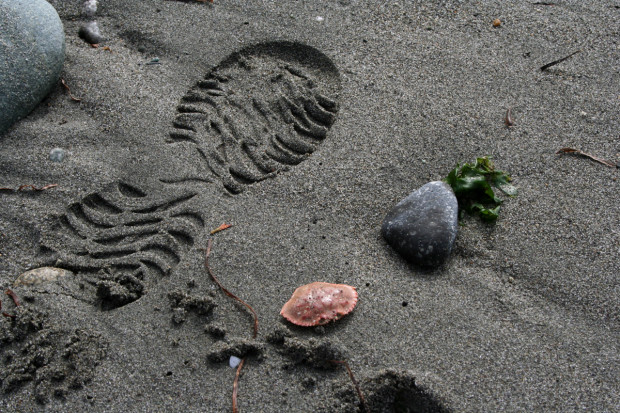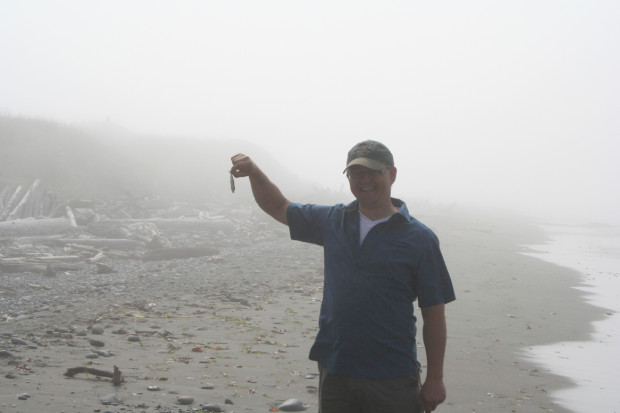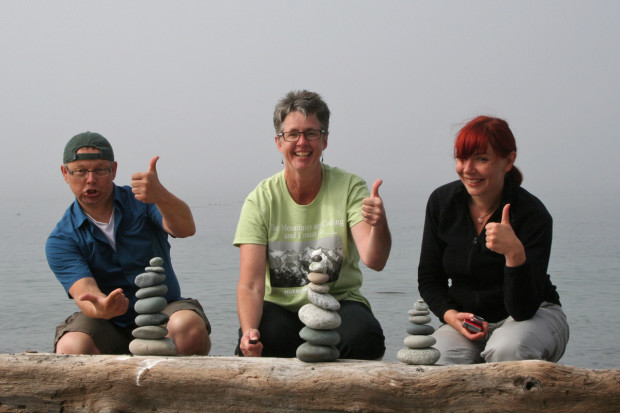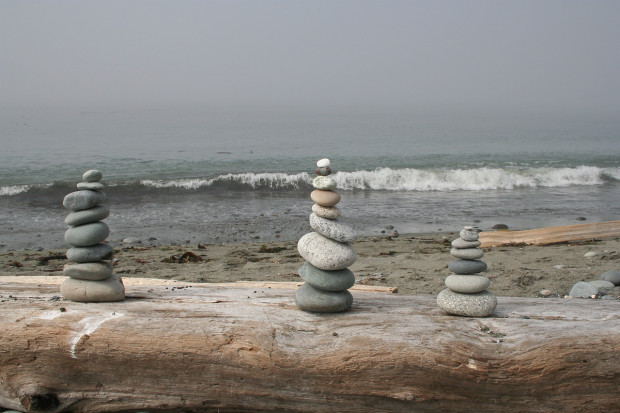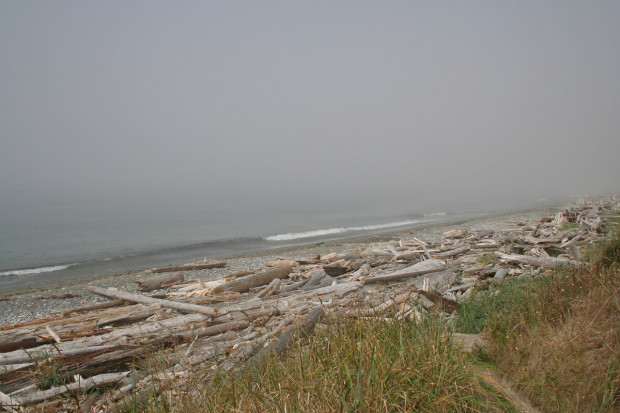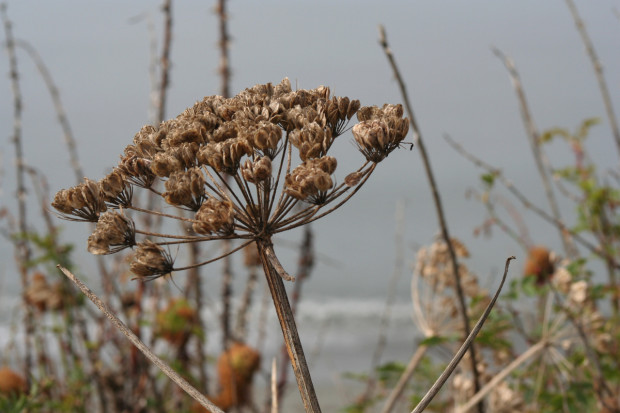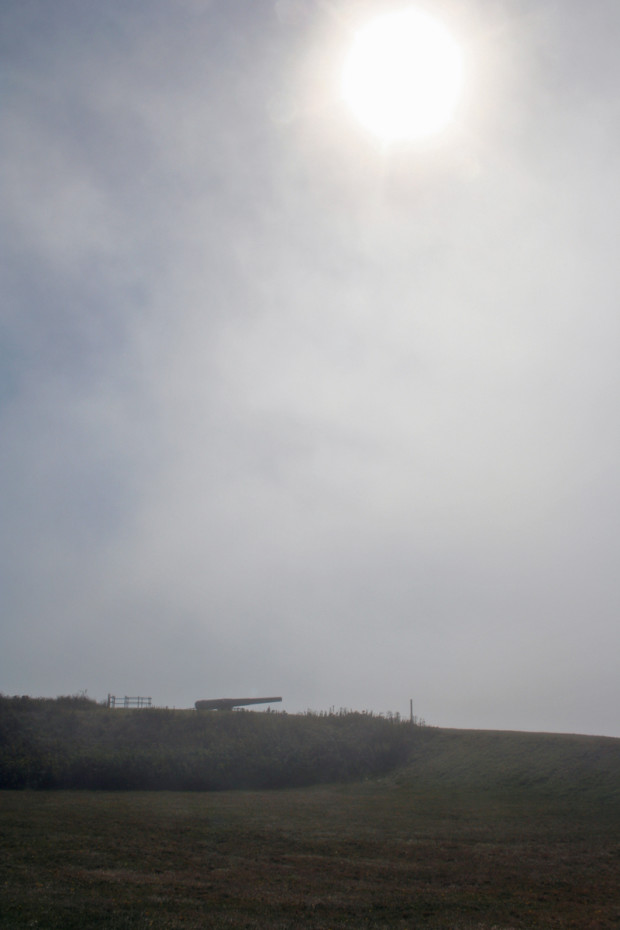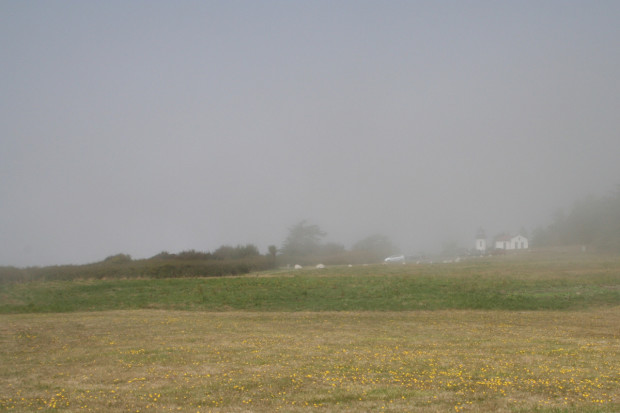 Meanwhile, on the other side of the island in Coupeville…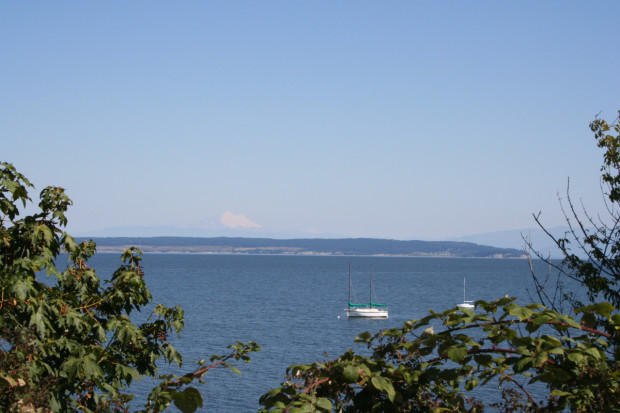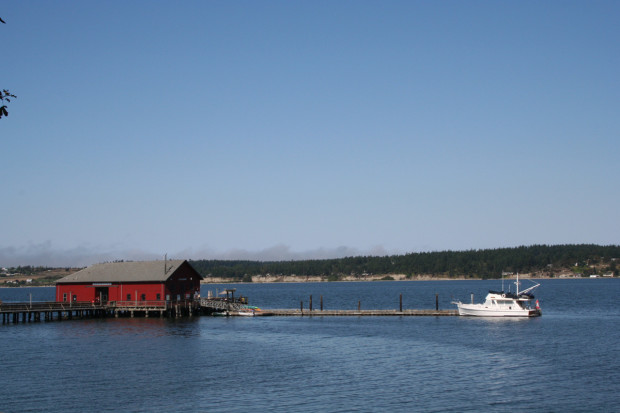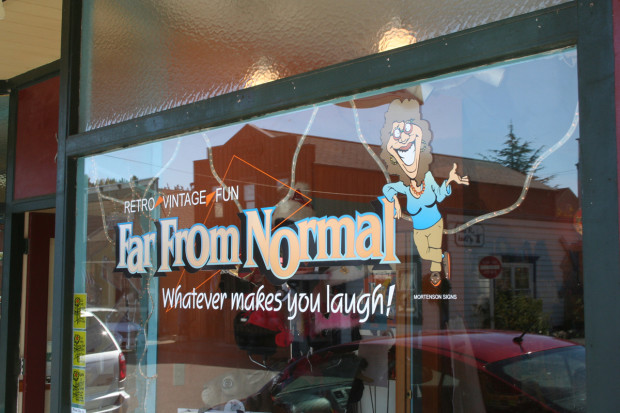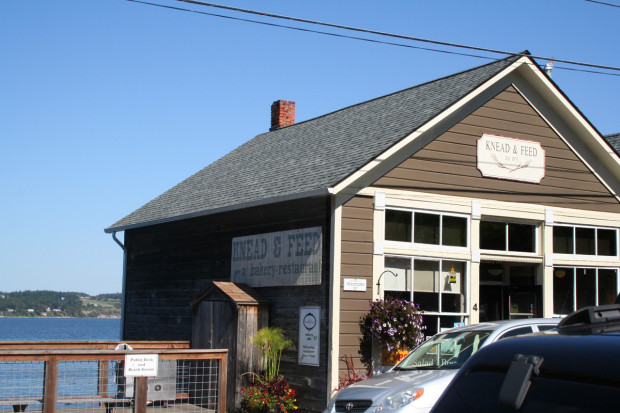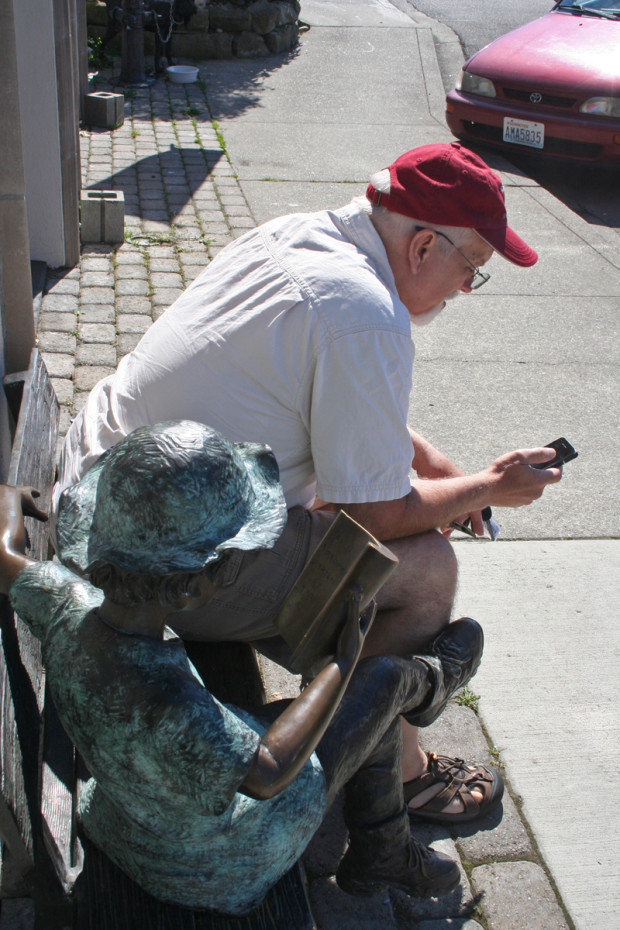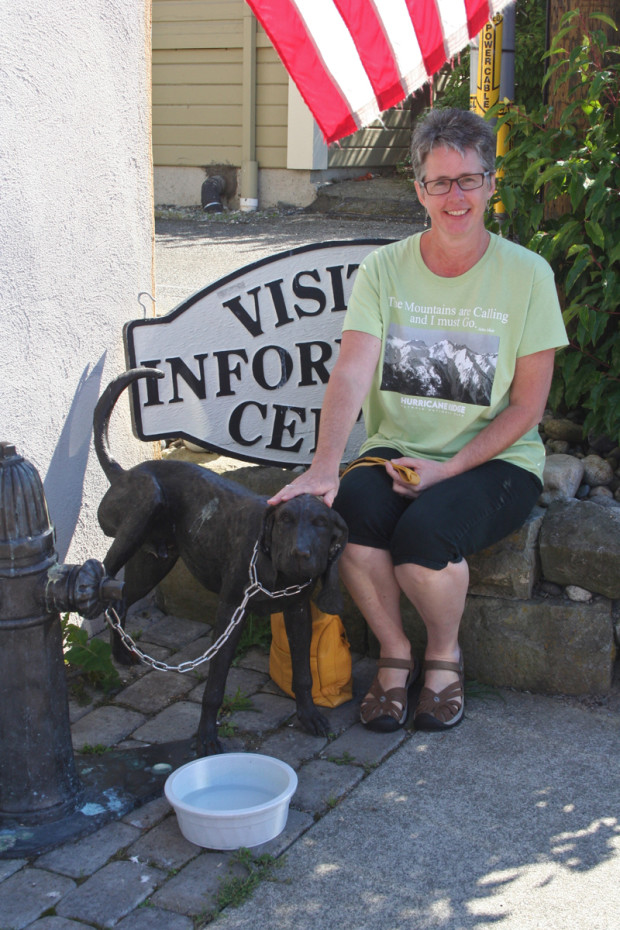 The clock was ticking, and we had places to be, so we hit the road, driving south to catch the Clinton-Mukilteo ferry to the mainland, and then back to civilization, skirting Seattle to get to Amy's house in the suburbs.
For some reason, I didn't take pics of Annelies and Yves greeting Shannon again and, finally, meeting Amy, TJ, and the grand kids. AND, worse, I seem to have misplaced the pics of Annelies and Yves driving off. Which, really, is okay because it would be yet another picture of me crying at our vacation's end.
My next and final post will touch on family time!
---
TRIP Re-cap
Installment 1: In the Beginning (Friday, August 30 – Monday, Sept 2)
Installment 2: Portland Morning (Tuesday, Sept 3)
Installment 3: Exploring the City of Portland (morning of Tuesday, Sept 3)
Installment 4: Beyond Portland (afternoon of Tuesday, Sept 3)
Installment 5: Olympic Peninsula, Here We Come!
Installment 6: First Rain Forest Hike & Another Gorgeous Beach
Installment 7: Hurricane Ridge at Olympic National Park
Installment 8: Madison Creek Falls & Lake Crescent
Installment 9: Hoh Rain Forest
Installment 10: Rialto Beach
Installment 11: Getting to San Juan Island
Installment 12: Enjoying San Juan Island
Installment 13: Whales!
Installment 14: Deception Pass