Hubby told me on Thursday that the weather folks were forecasting pretty high and uncomfortable temps on Saturday and Sunday, so he'd be doing some chores around the house, NOT riding. With that in mind, on Friday morning I decided it would be a good time to capture some more LOVE. So I plotted a 300-mile loop from my home south and west to the tip of Virginia's Northern Neck, then down to the Middle Peninsula and back home. (If those regional references confuse you, click here.)
The mapping software estimated about 6.5 hours and 300 miles. Ambitious, yes, but I would have captured seven LOVEworks (assuming none have been removed).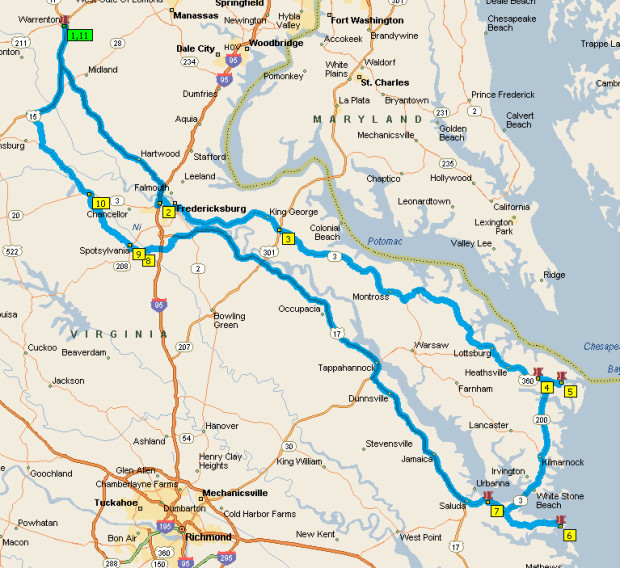 It sounded like a good plan, especially since I've never been beyond George Washington's Birthplace on the Northern Neck. And that was years ago.
The high temps (near 90F, 32C) forecast for the day and the fact that I had to leave my house at 5:30 p.m. for a dog transport were the major factors that had me re-think my plan. The 6.5-hour time estimate didn't include stops for photos, gas, food, and more photos. Timing-wise, even if I left the house at 7:00 a.m. as planned, I'd be cutting it very close. Plus, the Northern Neck is rather flat and I'd be going through some areas typically congested with traffic, so there'd be little relief from the heat.
That's when I decided to head to the mountains and the hamlet of Love, Virginia. I'd first learned of Love's existence while reading a book purchased at one of the Visitor Centers along Shenandoah National Park's Skyline Drive, Backroads; Plain Folk and Simple Livin', by Lynn Coffey. It was really quite interesting reading for this gal who loves exploring back roads and often wonders, "Why would people ever have settled here?"
I didn't formally map-out a route. Knowing its general location, south of Waynesboro in the mountains along the Blue Ridge Parkway (BRP), I knew roughly how to get there. I figured once I was near Afton at the northern end of one of my favorite roads, the Rockfish Valley Highway, I'd just put Love into the Google Maps app on my phone and follow the spoken directions. It was a relatively good plan.
The weather was perfect as I left the house shortly before 9:00 a.m. I bid Hubby farewell, telling him a bit about the different kind of love I'd be seeking.
This first shot was taken as I headed east along VA-230 / Wolftown-Hood Road, my favorite shortcut from US-29 to US-33 in Stanardsville.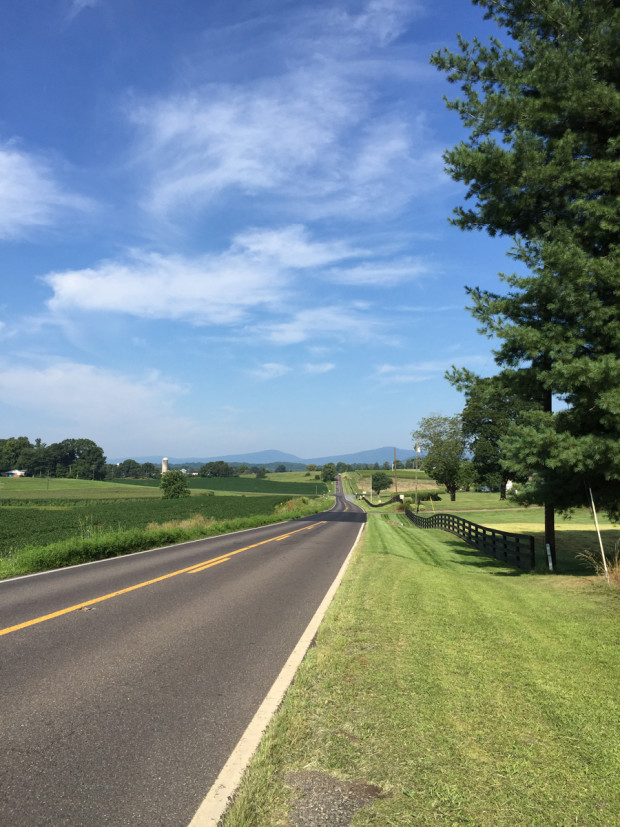 I think you can see why I enjoy that shortcut.
I couldn't resist stopping in Hood for this shot of the general store, which also houses the Post Office.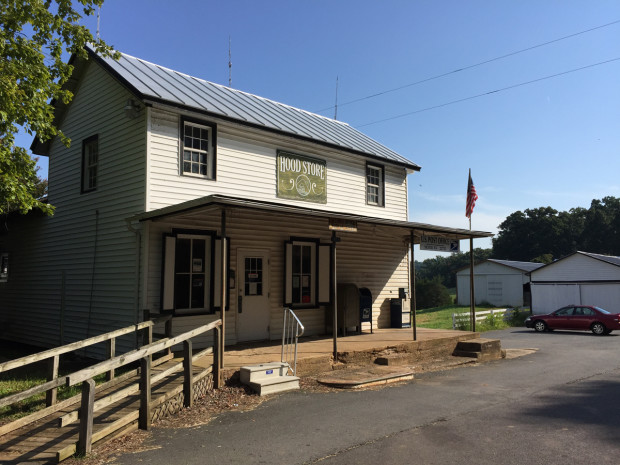 And check out this view, captured from the right side of the store.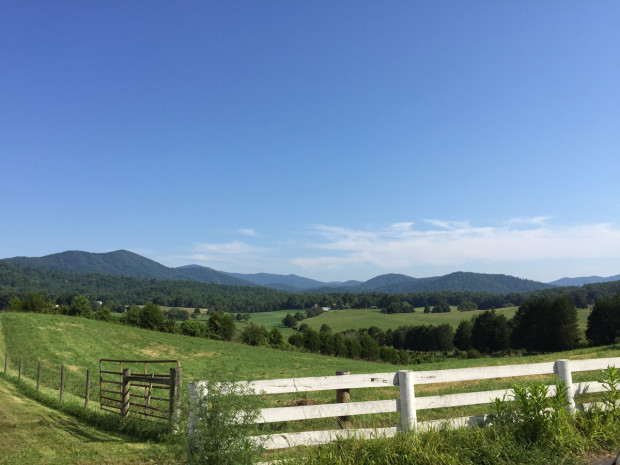 I've been on that road many times, so I didn't stop for more pictures until I reached territory I'd never before covered.
The next few images were captured along VA-810 / Dyke Road.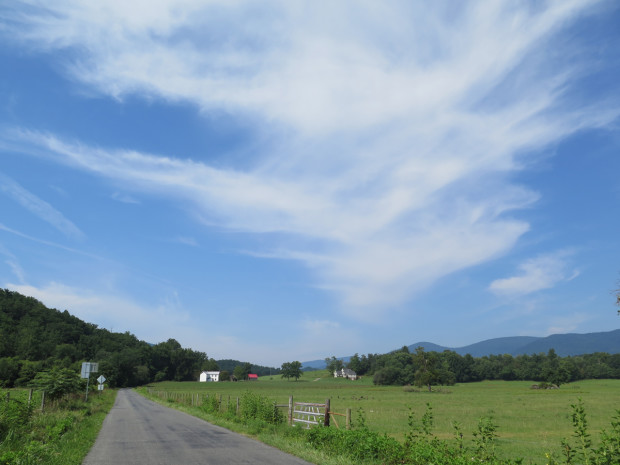 Dyke Road sort of parallels Skyline Drive between US-33 and I-64.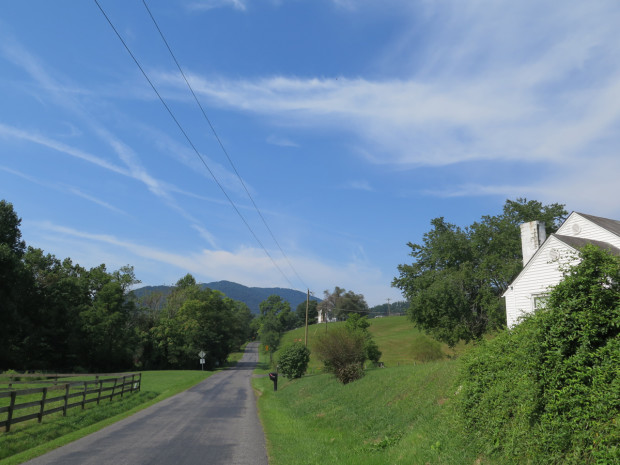 The next shot is one of my favorite captures for the day. 🙂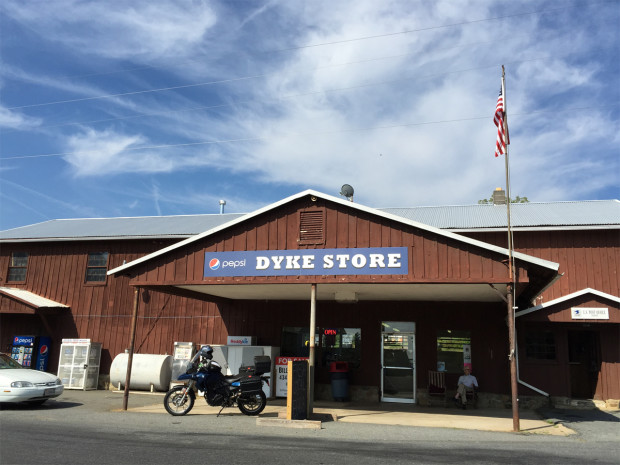 There really is a town named Dyke.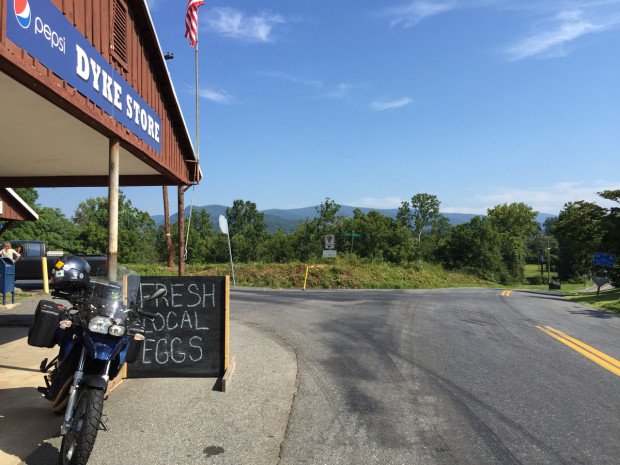 VA-810 between US-33 and Crozet has firmly earned a spot on my mental list of favorite Virginia roads.
I stopped in Crozet, which is just north of US-250 / Rockfish Gap Turnpike, to consult the map and determine the rest of my route. I headed west on 250 toward VA-151, the Rockfish Valley Highway, another one of my favorite roads.
That's where I zipped past this scene…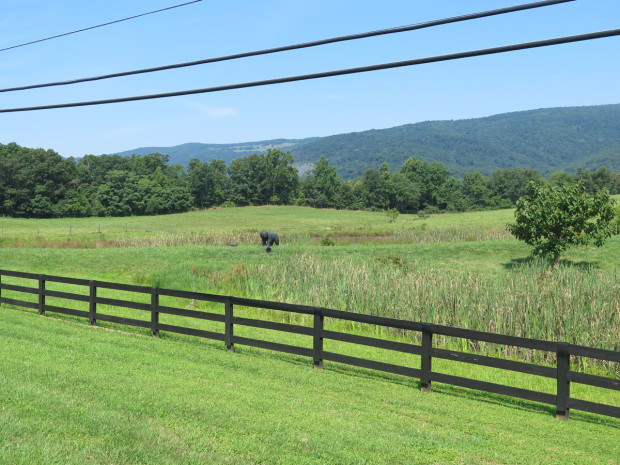 I HAD to pull a U-turn to get a closer look.
Yep, some landowner with a sense of humor placed this family of bear statues next to a pond.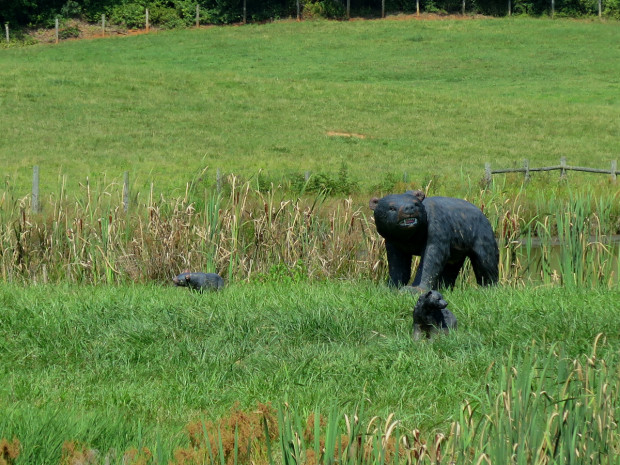 Shortly after that, I turned south on VA-151, which I planned to follow south to Jonesboro.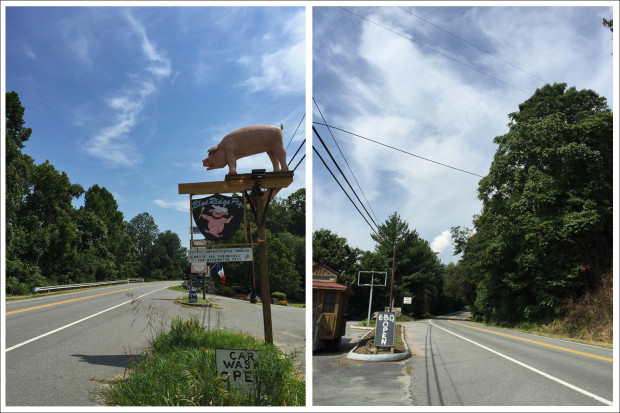 VA-151 is SUCH a pretty ride. The road itself, which parallels the BRP, is more meandering than straight and doesn't have many significant curves or hills, but it passes through absolutely gorgeous terrain. There is one sweet section of twisties, the proverbial icing on the cake, as it crosses Brent Gap.
In Jonesboro, I turned right onto VA-666 / Jonesboro Road, my favorite shortcut to another favorite road, VA-56 / Crabtree Falls Highway. Yes, I know I keep saying "favorite," but these roads are seriously awesome to me.
All along my ride down VA-151 the Google Maps chick kept telling me to turn right, but I knew I wanted to at least ride to Jonesboro. I imagine she was sorta relieved when I finally did head in the proper direction.
As I zipped west on VA-56, I got nailed in the middle of the face-shield by yet another butterfly. My field of vision was rather obscured, so I was actually looking for a shady spot to stop when my map friend said I should turn right.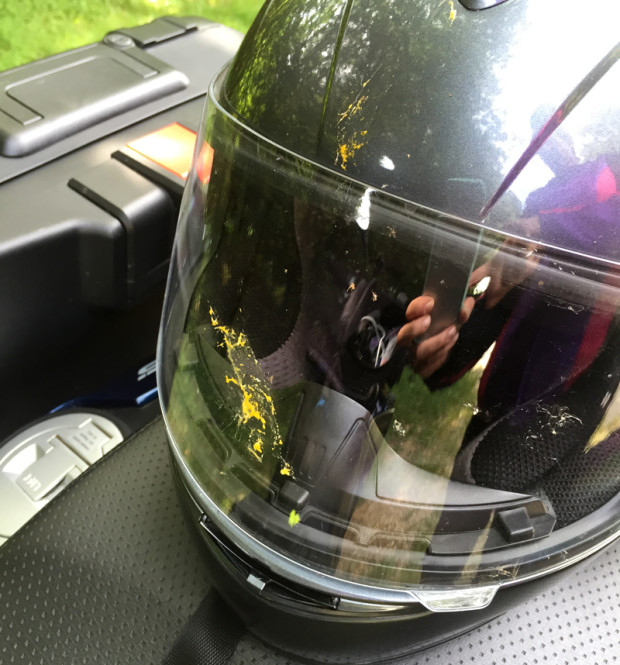 Yes, I felt horrible about killing butterflies, but they fly like drunkards and kept crossing my path.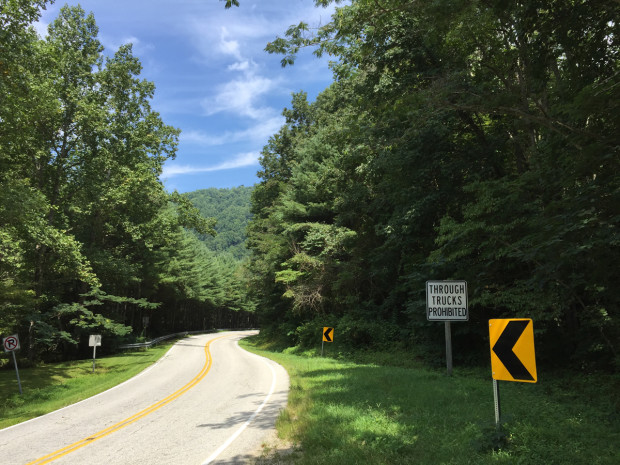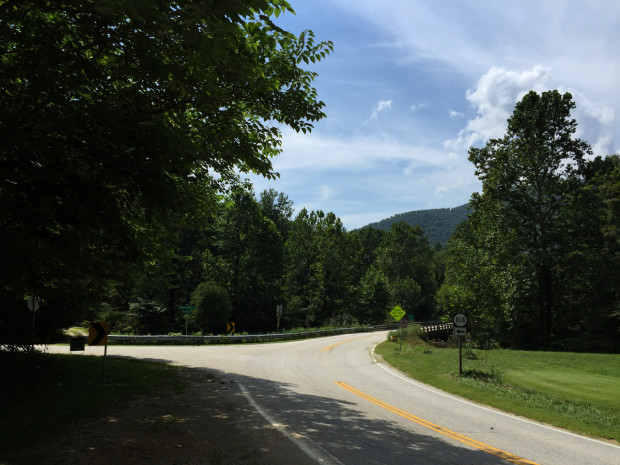 Looking at the map on my phone, I saw that I could either continue on VA-56 to the BRP to get to Love, a longish loop, or take the much shorter path via VA-814 / Campbells Mountain Road suggested by Google.
I opted for the shorter route, figuring I'd save lots of time. Shortly after setting out on VA-814, a sign warned, Unpaved Road Ahead. I almost decided to turn around. Then I looked at the map again and said out loud, "What kind of adventure-bike-rider would you be if you let a short stretch of gravel road scare you? This is all part of the adventure." Besides, even if the road was gravel, I could tell it was well-traveled, not to mention lined sporadically with cabins. So on I went.
Keep in mind, I had no cell signal, so the map data was limited. I could see the roads on my phone, but I couldn't zoom in much, and there was no time or distance info, which is included in the maps below. There was no terrain view either.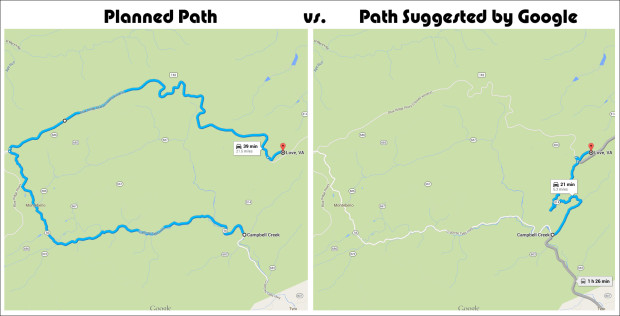 I had no idea I'd be climbing 1,800 feet (~549 m) on about a two-mile stretch of gravel road, complete with a full 180-degree switchback or two. OMG.
Even at very low speed, it was harrowing. Check out this terrain view. The southernmost switchback around 2,000 feet almost got me, but I managed to keep the bike from falling over. It was close. I was quite proud that I pulled that one off.
For you non-riders who may be reading this, that wouldn't have been a crash and/or involved injury. There are times when a bike is at a stop or just barely moving when it falls over, usually due to road conditions, like gravel and/or uneven surfaces, both of which I experienced. Falls aren't a big deal with a bike like mine built to take some knocks without much damage. But you have to pick the back up after it falls. A challenge for me on a flat hard surface that would have been next to impossible on that hilly bit of gravel.
Needless to say, I was relieved when I reached the paved BRP. Then, within minutes, I was in Love!
Here are some pics of Love for you.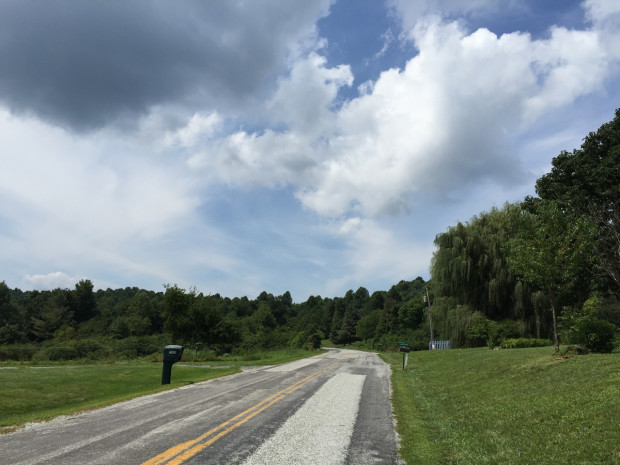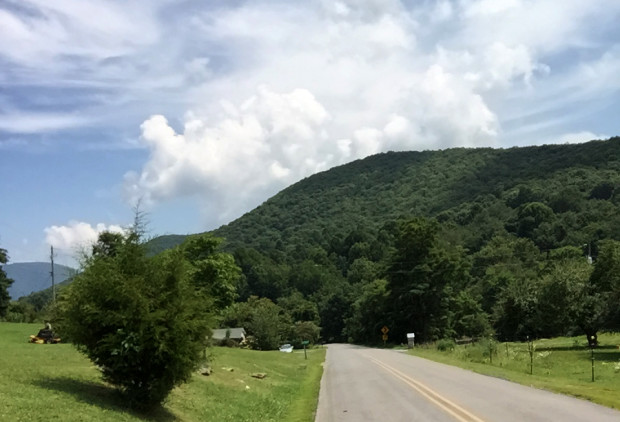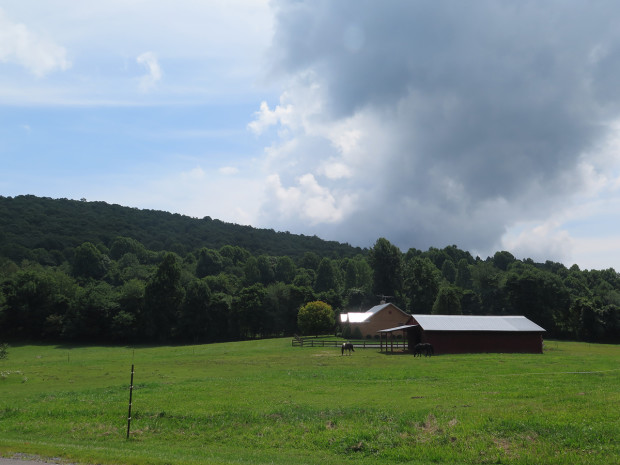 From there, I went back to the BRP and headed north toward home. Temps in the high elevations were perfect, generally ranging in the low- to mid-70s (~24C).
Love is only about 17 miles (~27.5 km) from the northern entrance of the BRP. It was such a pretty day, I decided to stop at the Raven's Roost Overlook to see what I could see.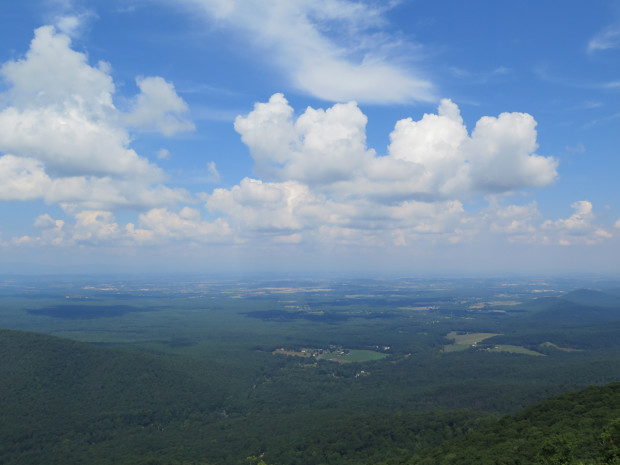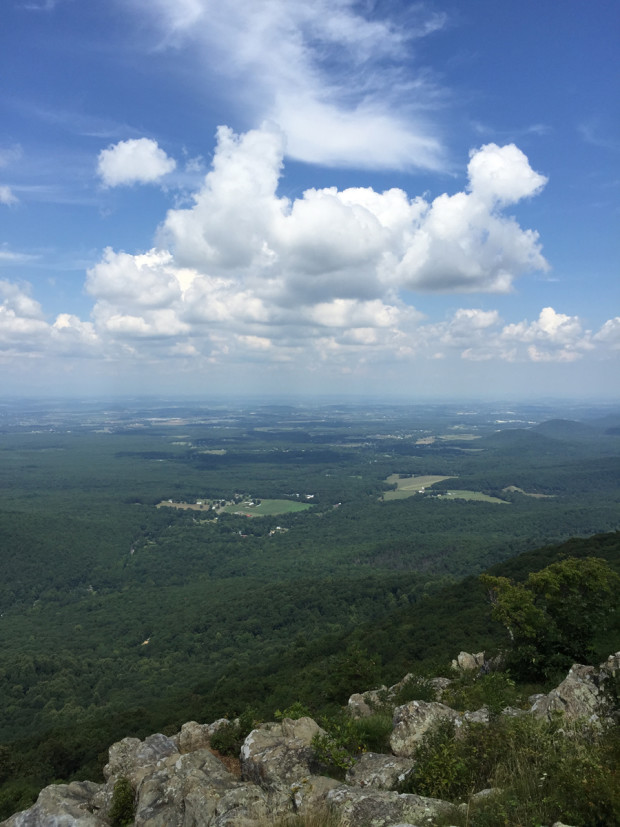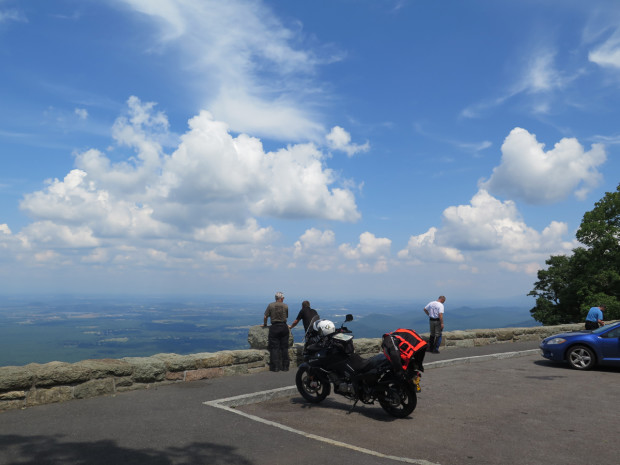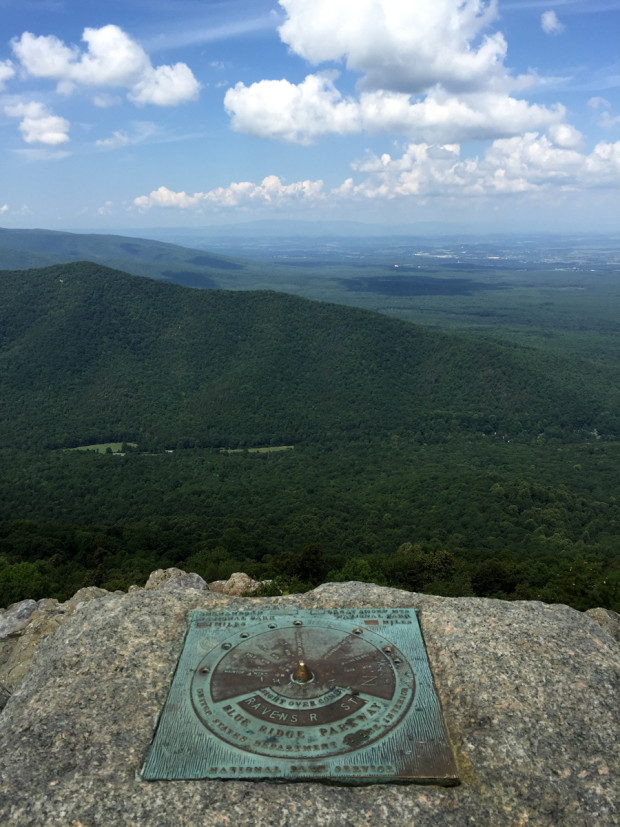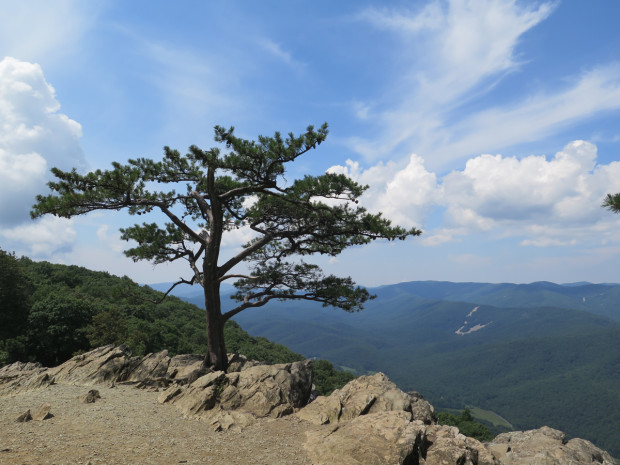 From there, I continued north on the BRP and even chose to ride the southern portion of Skyline Drive, which I knew had to have cooler temperatures than in the valley.
I stopped once at the Loft Mountain Wayside for a potty break. I captured a few nice butterfly pics, which I'll share in another post.
I would've like to stay on Skyline Drive, but I was running out of time. I exited the Drive at Swift Run Gap on US-33 and made a beeline for home. It was hot, just as I expected it would be. After stopping for gas and some food, I managed to reach the house at about 4:45, which only gave me 45 minutes to rest a bit and re-hydrate before heading out for my dog transport.
It was a long, but lovely day. 🙂
Today I'll be catching up on chores. And that's okay, since it's currently (just before noon) 86 degrees with 60% humidity. Ugh.
Here's my Spotwalla track for the day if you're interested.
I'll visit the Northern Neck and Middle Peninsula of Virginia one day when it's cooler.