Hubby and I have two very special friends, Annelies Van Damme and Yves Carlier, who we only get to see once a year. Why only once? Because they live in Belgium. Several years ago, 2009, to be exact, we started the tradition of alternating continents for annual visits. That year, they visited us at our old house in Maryland.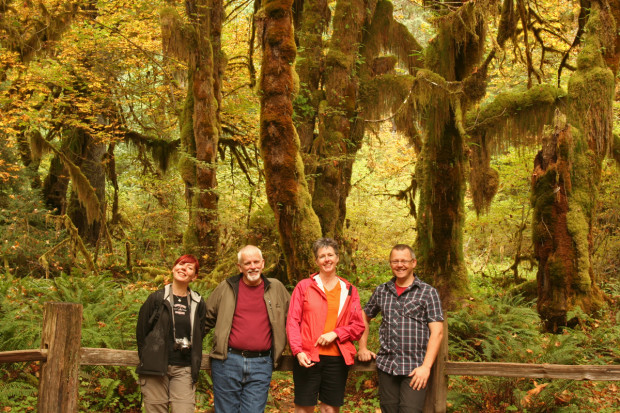 In 2010, Hubby and I traveled to Europe. Hubby and I did a motorcycle tour of Austria, Italy, Switzerland, and Germany, then spent some time with Annelies and Yves touring in Belgium and Luxembourg.
In 2011, they traveled to the US and we spent two weeks touring Colorado, Utah, Wyoming, and Montana.
In 2012, Hubby and I did a motorcycle tour of the Alps in Italy and Switzerland, then spent just over a week with Annelies and Yves touring Northern Italy, with a brief stop in Switzerland to visit our mutual friends Tammi and Martin near Lausanne, Switzerland.
In 2013, our friends traveled to the US for a tour of the Pacific Northwest. They stopped in Virginia, first, to see our new hometown, and then together we flew west to see Washington, Oregon, and a small piece of British Columbia (Vancouver Island).
We would have liked to see more, but, it terms of scale, the states in the Pacific Northwest are HUGE when compared to similar land area in the Northeast US and Europe. Shile it may sound like we didn't see much, trust me when I say we covered a LOT of ground.
There's no way I could cover the entire vacation in one post, so I did a series of posts. Links to all of them are below.
TRIP Re-cap
Installment 1: In the Beginning (Friday, August 30 – Monday, Sept 2)
Installment 2: Portland Morning (Tuesday, Sept 3)
Installment 3: Exploring the City of Portland (morning of Tuesday, Sept 3)
Installment 4: Beyond Portland (afternoon of Tuesday, Sept 3)
Installment 5: Olympic Peninsula, Here We Come!
Installment 6: First Rain Forest Hike & Another Gorgeous Beach
Installment 7: Hurricane Ridge at Olympic National Park
Installment 8: Madison Creek Falls & Lake Crescent
Installment 9: Hoh Rain Forest
Installment 10: Rialto Beach
Installment 11: Getting to San Juan Island
Installment 12: Enjoying San Juan Island
Installment 13: Whales!
Installment 14: Deception Pass (Fidalgo & Whidbey Islands)
Installment 15: Ebey's Landing & Coupeville (Whidbey Island)
Installment 16: Family Time