The "assignment" this week was not to take pictures. It was to
select our favorite 10 photos of 2010 to share. Taking new pictures would have been SO much easier. Really. As I said the other day, I took more than 10,300 pictures in 2010 with my digital SLR alone (big camera)!
But I did it. Finally. It took quite a bit of time and required a plan. First, I went through lots and lots of pictures and copied my favorites into a separate folder. That was the top 65. From there, I narrowed it down to the top 25. Finally, I was able to narrow it down further to my top 10.
Remember, the theme is my "favorites," not "my best." What makes a photo good anyway? Does it always have to be in focus? Nope. Does the light always have to be perfect? Nope. Does your subject have to be looking at the camera? Must his/her entire face be visible? Does your subject need to be centered? Nope, nope, and nope again.
This assignment has already consumed so much of my time that I am just going to shut up and post the darn things already. Okay? Here are my favorite pics of 2010, in no particular order. Don't even ask me to rank them from one to ten. The mere thought of having to do that has given me the cold sweats…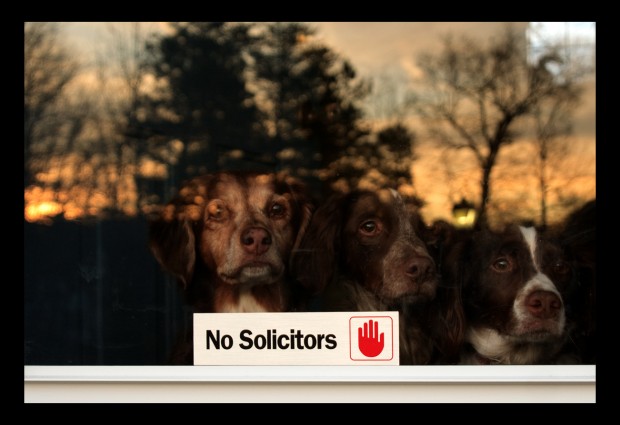 This is definitely my favorite dog pic of the year. I like the reflection of the sunset, but I love the look in their eyes. They are scanning the horizon, anxiously awaiting my return. It doesn't matter if I am gone for five minutes or five days, the girls are ALWAYS glad to see me when I return. As with many of my favorite images, this one was completely unplanned. I'd actually been outside taking pictures of the sunset. When I turned to go back inside, that is what I saw. I had to tweak the lighting a bit in PS Elements, mostly to get rid of the ever-present nose prints on the glass.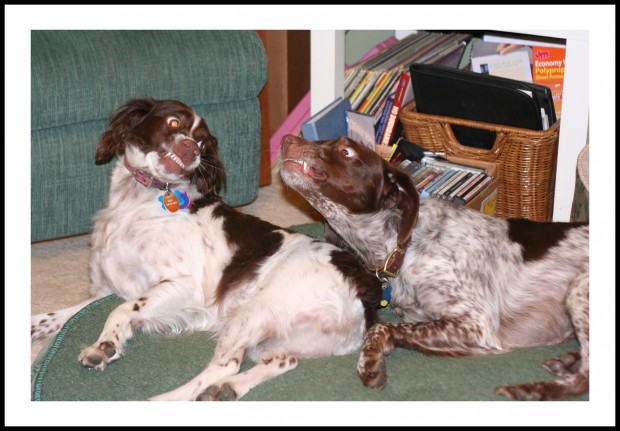 This shot makes me smile. Every single time I look at it. I could've removed the red eye, but I think that adds to the craziness. These two play like this practically all day, every day. Yes, they really are playing and not trying to bite each other's face off. You'll have to use your imagination for the growls. It can be quite entertaining to watch. Sure it gets annoying at times, too, like when I am trying to participate in a teleconference. But I'm so glad all of our dogs are here.
I chose this picture not because it shows off our grandchild. If that were my goal, I'd post a picture of all of them. (In fact, I'm going to cheat here a bit and give you a LINK to my favorite picture that features the grand kids.) My goal here really is to show how "favorite pictures" don't have to be favorites because of the subject, quality, composition, etc. My favorite images are usually the ones that evoke the strongest/best feelings, reflect a certain mood, capture a particular moment, etc.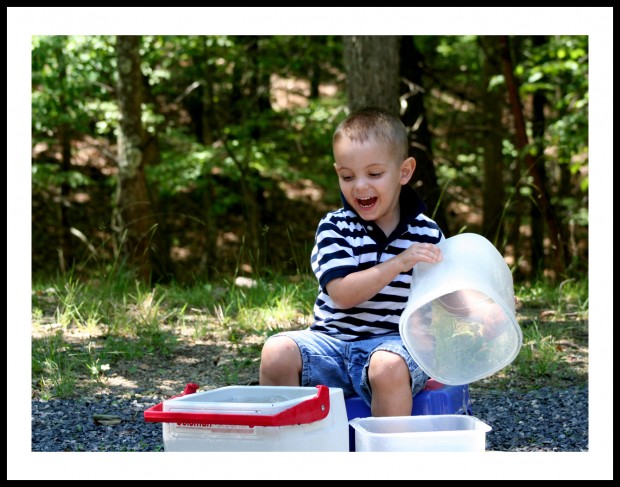 This picture of Joey was shot during the late Spring. Actually, I think it was Memorial Day weekend. We had made all these grand plans to take the kids on a bike ride, but then Joey got sick. I volunteered to stay behind with him while everyone else went riding. He sat for the longest time making "regular soup" with water and rocks in these containers. All I could hear were the sounds of the birds and insects in the forest, Joey's giggles, his running commentary, and the dogs playing.
Even the weather was perfect. It was one of those moments you just want to freeze in time because it feels really, really good to be alive. When you realize wouldn't change one single thing about your life, no matter how difficult, because if you did you'd erase all the good, too. And moments like these are definitely good. The best, actually.
I like this shot mostly for its symbolism. As the caption says, I love nature. I'd rather be outside doing stuff than inside, that's for sure. I especially enjoy watching the seasons change. The Winter to Spring change is one of my favorite times of the year. I always look forward to the blooming of the Redbud trees. This heart-shaped leaf is on a Redbud tree at the end of our WV driveway. If you look closely, you can seem some pink in the background. I could have chosen a shot where the pretty, pink flowers are in focus. But I like that the emphasis is on the leaf here. The heart-shaped leaf to be exact. You'll appreciate this picture so much more if you click on it to see the larger version.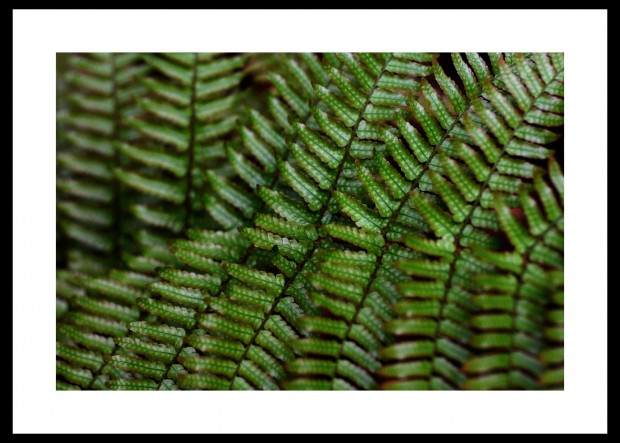 When you look closely at stuff, you really do see so much more. That's the theme for this selection. It really is true, too.
This image is simply a fern frond. Not real exciting, right? But if you look closely (click on the image to see a bigger version), you'll see the intricate patterns on each leaf. The depth of field in this picture (how much of the image is in focus) is what makes the image so powerful to me. It draws your attention right into the middle of the frame and makes you look at the individual leaves. And, as the photographer, that's exactly what I wanted you to see.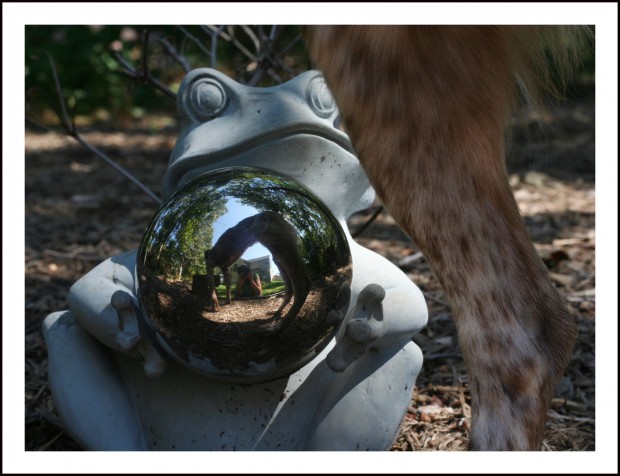 This reflectofrog shot is the perfect example of how unplanned stuff sometimes makes an image. I was trying to get a shot of myself reflected in the frog's globe. I did. But I also got a shot of K's leg in the foreground with her whole body reflected between me and the frog. Because I can't go anywhere/do anything without the dogs coming along to see exactly what it is I am doing. They're nosy like that. I don't know if that's a dog-in-general thing or a Brittany thing. But these three dogs of mine are VERY curious about everything. And they are rarely far from us at all. Not that I am complaining. My dogs make me happy. But it really is like having little kids around trying to "help" you do stuff.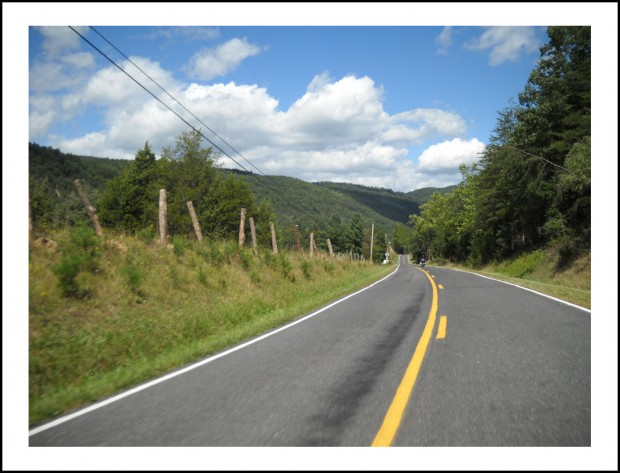 This shot represents a picture-perfect motorcycle riding day in the Greater Appalcahian Valley. Blue skies. Big, puffy white clouds. Smooth, empty road winding through the foothills and into the mountains… does it get any better? If you look really close, you'll see Hubby in front of me. I was lagging behind a bit since I was riding one-handed at about 45 mph while shooting pictures with my point-and-shoot camera. None of that craziness in 2011. This year I get to use my new HELMET CAM! 🙂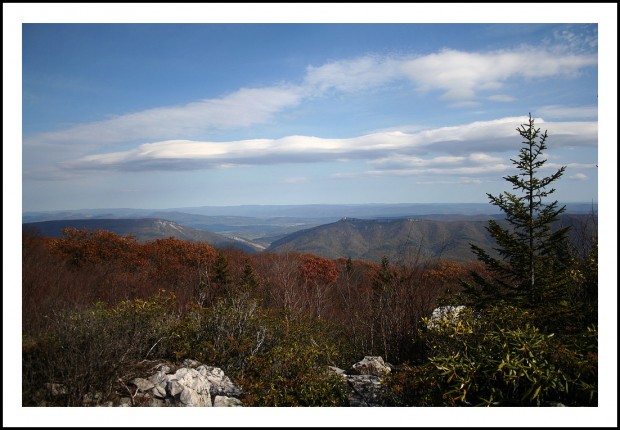 This picture is a great example of why we chose to build a house in West Virginia. Mountains. Lots of mountains. They're no Alps or even Rockies, but you know what? We have discovered plenty of great motorcycle roads. I'll begin sharing that info pretty soon (stay tuned for new project announcement). For now, you'll just have to look at this picture and the previous shot to enjoy the scenery we encounter on a regular basis near our WV place. This picture was actually taken from the Dolly Sods Wilderness Area.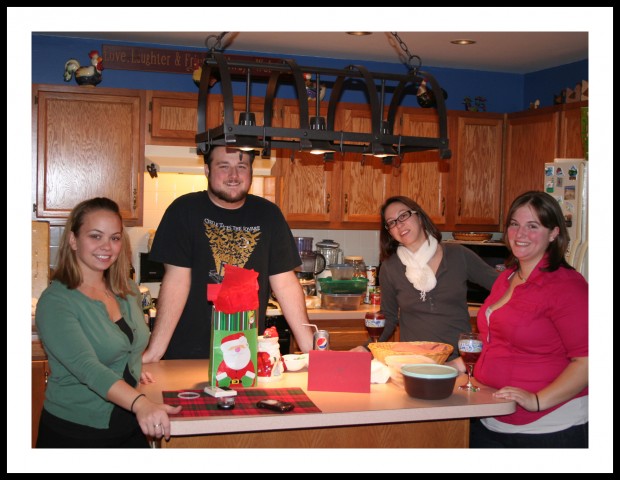 The kids together at Christmas. They're not all here. Amy's hubby is deployed. But this is the first time in a while that Shannon, Amy, and Eric have all been together with us at the same time. (That's Eric's girlfriend, Kelsey, on the right. She's a real sweetie.) It was nice having them all here relaxing and enjoying each other's company. I was enjoying it, that's for sure.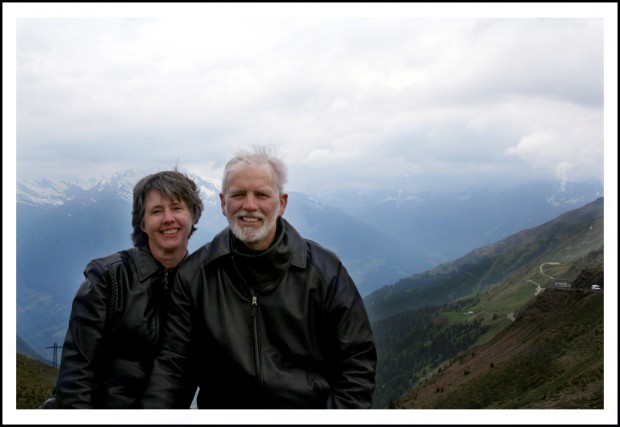 And finally, Hubby and me right after climbing the Jaufenpass on motorcycles during our tour in Europe. I'm with my favorite guy on the trip of a lifetime. What more could a girl ask for?
There's no way for words to describe what it felt like to ride on the Jaufenpass. For me, this was my favorite part of the whole Europe trip. It was fun, Fun, FUN! The road was technical, but not so technical that I couldn't race through it. I think I smiled broadly the entire way, feeling like I was riding in a video game. (Wanna know what it felt like to ride the Jaufenpass [pronounced hoff en pass]? Watch the first 60 seconds of this YouTube video [not mine]. Be sure to leave the sound on so you can hear the engine scream. It gets particularly interesting around the five-minute mark as the road climbs higher and higher. You get to see what it feels like to encounter a bus coming in the opposite direction and how I wasn't exaggerrating when I said the road hung onto the side of the mountain.)
That trip was by far the most fun vacation ever. And we've had some pretty cool vacations. It wasn't just the motorcycle part either.  The tour was awesome in every regard, but the week after the tour we got to visit two different sets of friends in Switzerland and Belgium. Even if we hadn't seen more really cool stuff, seeing our friends would've been enough to make me happy.
Anyway… that was my 10 favorite pictures of 2010. I can't wait to see which ones other people chose. If you'd like to see, too, visit Beth's You Capture page.