Finding LOVE isn't as much fun as I thought it would be. There, I've said it.
Don't get me wrong, I've enjoyed seeing the various sculptures around the state — see Capturing LOVE in Virginia if you're "lost" — but they're sometimes hard to find. And some no longer exist or have been moved.  So there's an element of frustration I didn't anticipate. Maybe it would be less frustrating in cooler temperatures.
At least it gets me out there, right?
This past Sunday, July 12, Hubby's to-do list was calling, but I decided to completely shirk responsibility for the day and go have fun instead. After noting the location of several LOVEworks and mapping a route, off I went.
I kept seeing signs for that town, which made me smile. What an odd name for a town! I honestly had no idea if my route would lead me through Cuckoo, so when I saw this sign, I yelled "Cuckoo!" and veered quickly to the shoulder for a quick capture…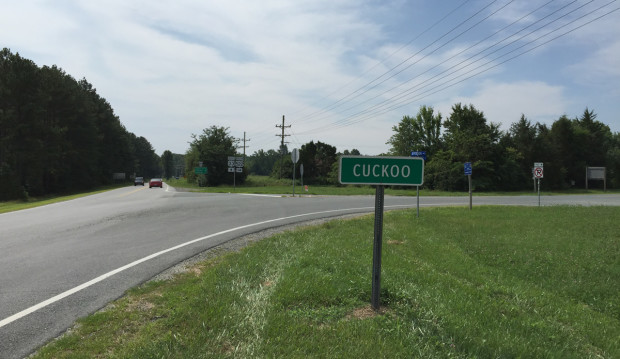 …or two.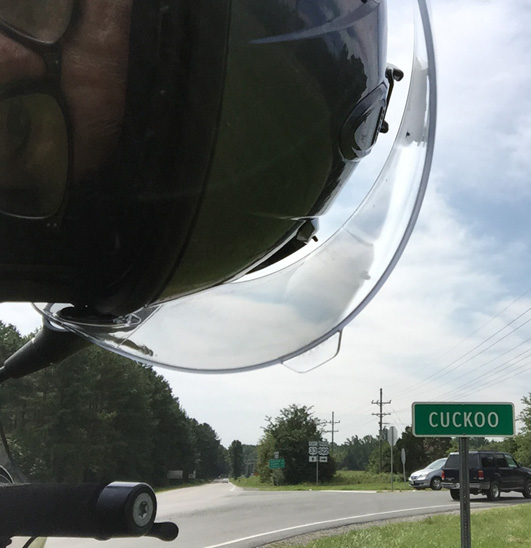 I couldn't resist a fun selfie upon reaching Cuckoo.
After that quick stop, I continued on to Petersburg to capture LOVEwork number one of the day at Petersburg Pickers, a place to which I must return.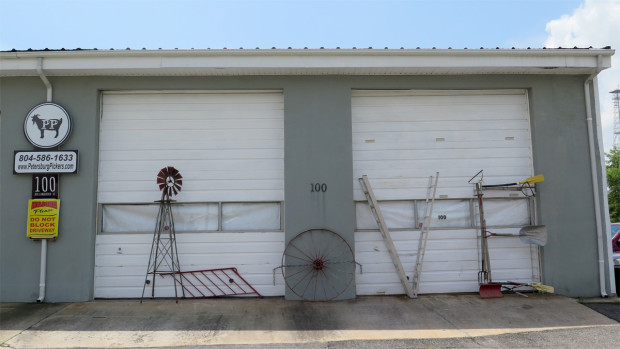 I like when locales get creative with their LOVE.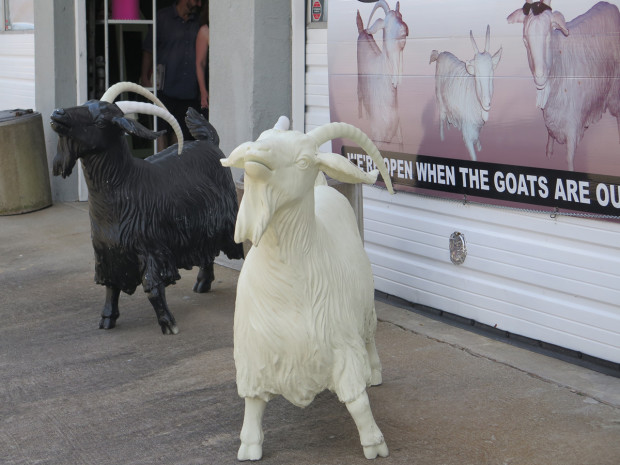 Now, I love places like that, but I was hot, hungry, and on the bike (minimal storage space), so I decided that it would be best not to even look in the door. It took self-restraint, trust me.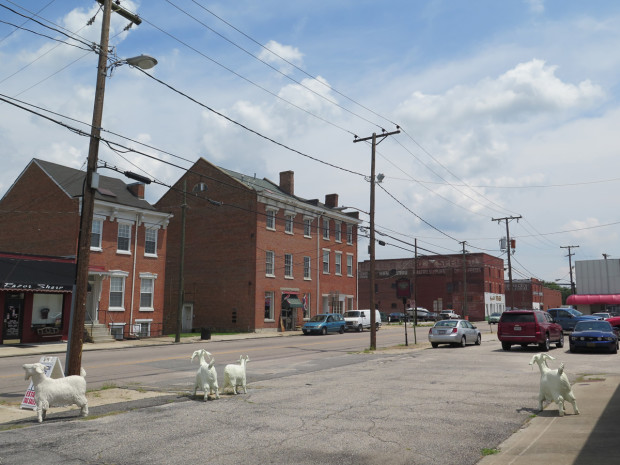 From there, it was off to Hopewell for the second LOVEwork of the day. I honestly think I drove right past it because a different sign caught my attention.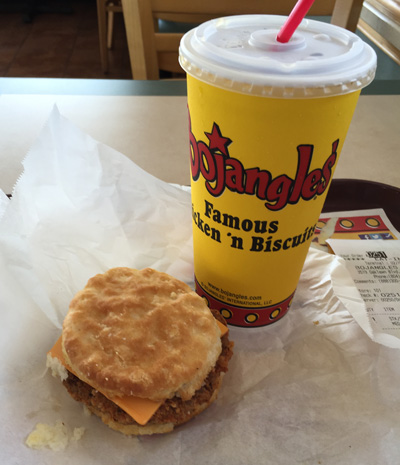 BOJANGLES'!
I really, really like Bojangles' and, since there are none close to home, I almost always stop when I see one on the road. Especially if I happen to be hungry at the time, which I was.
I'm not sure if I ever explained that I worked at a Bojangles' as a teenager. There were several locations owned by the same group in and around Baltimore for a relatively short — four years? — span of time. Rumor had it that one of the owners or an upper-level employee embezzled a bunch of money, which caused all of the locations to cease operations. It was sad. They really do have the best biscuits. Hardee's is a close second.
Anyway, it was a bit late for breakfast. I could have opted for some of their yummy, spicy, fried chicken, but it was getting hot. Who wants a stomach full of greasy fried chicken while sweating their ass off in full gear? Not me! So I opted for my favorite, protein-rich breakfast — a steak biscuit with cheese — and a half-and-half iced tea (half sweet tea, half unsweet tea).
You ever drink sweet tea in the South. It's shockingly sweet. Really. Especially for someone who usually prefers iced tea with no sugar or artificial sweetener added. On hot days, though, I believe a little sugar helps.
After a few circles around the not-so-nice town, I managed to find the LOVEwork at the Visitor's Center, which was closed.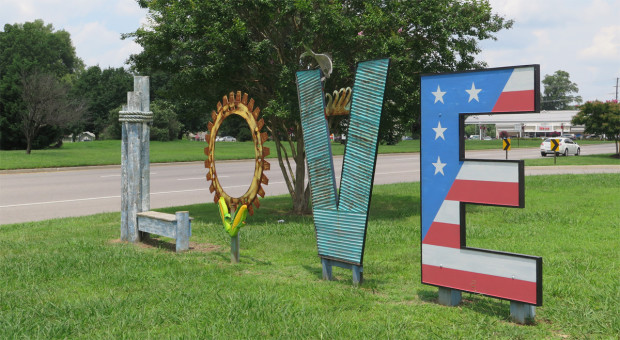 The sculpture was surprisingly cute given the depressed-feeling nature of the town.
After that, it was off to Richmond. I'd planned on stopping to see another, unrelated sight, but it was getting really hot by that point, so I nixed that stop and continued on to Maymont, a former Victorian country estate, which seemed like it'd be a nice place to visit, if I had more time. It was actually quite crowded, and there was no place for me to park and zip in and out for the LOVE capture, so I just rested for a bit in the shade, sipping iced tea, before continuing on my way.
I did stop for a quick shot of my bike parked by this flowering shrub/tree.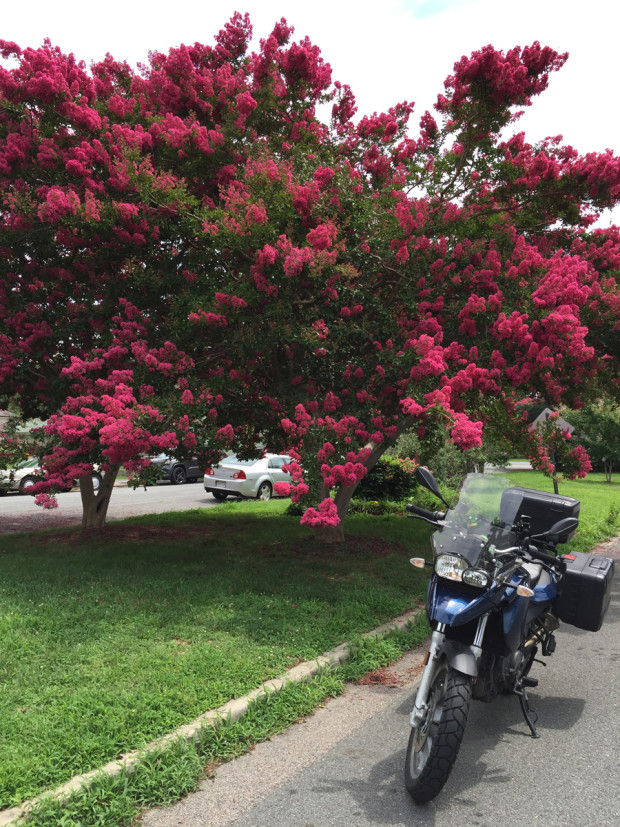 There was another LOVEwork sort of nearby in Richmond, which I believe was my favorite of the day.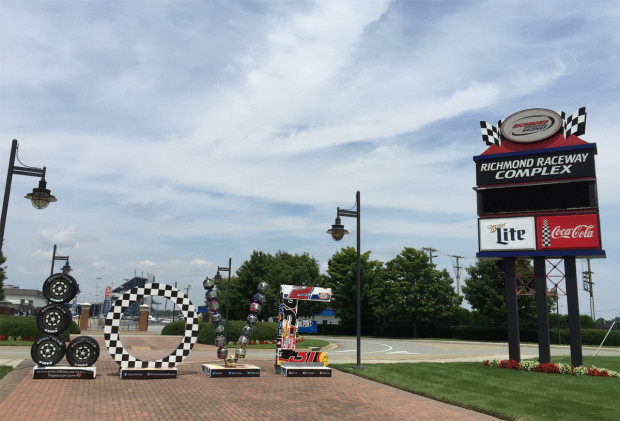 Yep, that's the Richmond International Raceway, a place I'm guessing NASCAR fans would really enjoy. It's a HUGE complex.
I couldn't decide which pic is my favorite, so I just decided to share all of my top selections.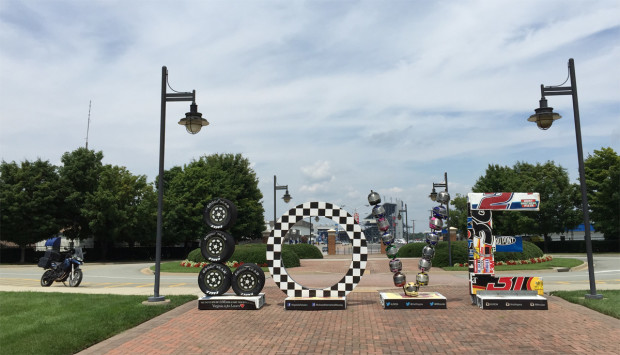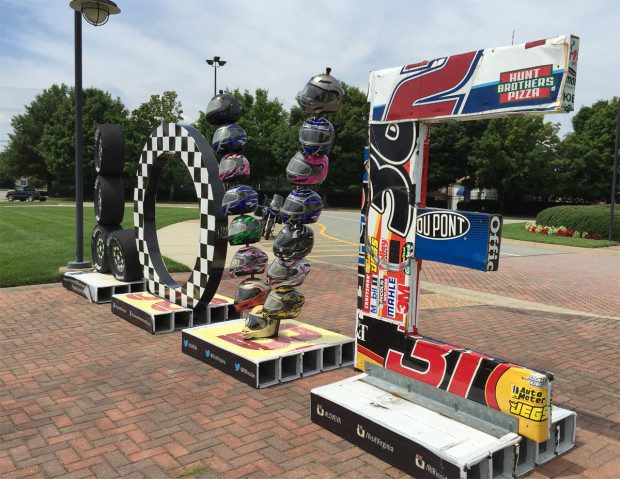 After that, I'd planned two more stops. Bit it was getting late, and I wanted to be home in time for dinner with my Honey. I crossed the Spotsylvania LOVE off of my list and proceeded to Ashland.
Ashland, like Petersburg, is on my "must revisit" list. It's a cute town. The LOVEwork was located at the old train station, which is actually still in operation. It's unmanned, but trains do stop there to pick up and discharge passengers. Lots of freight trains pass through, too. At least that's what the volunteer inside the station, which doubles as the visitor info center, told me.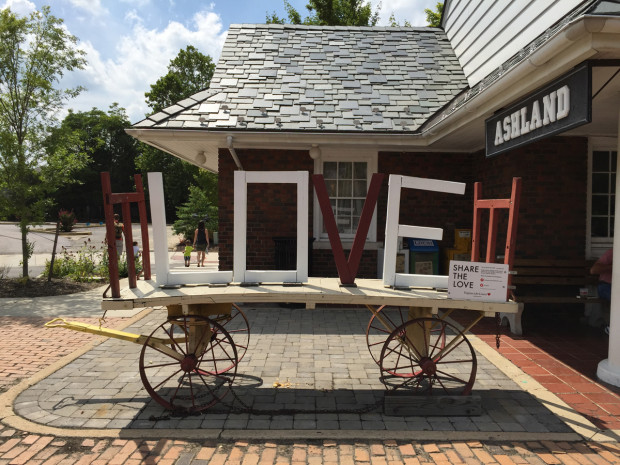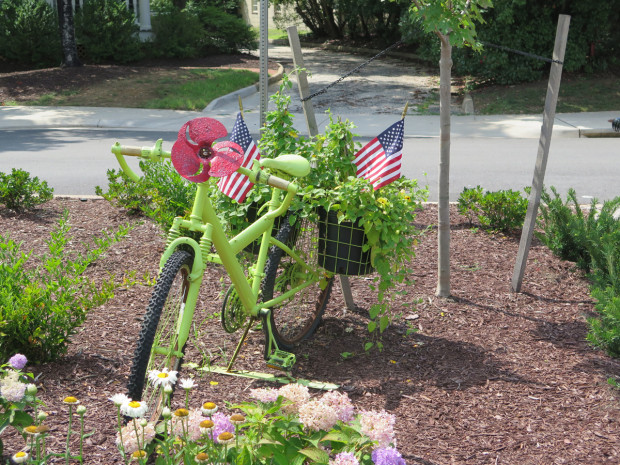 I was happy to have captured four LOVEworks in one day, but I'm still undecided as to whether or not I'll plan any more trips specifically to see the remaining sculptures. Of course, I have been known to change my mind.
Next stop, home. That was the plan. Then I got thirsty and decided to stop for a drink.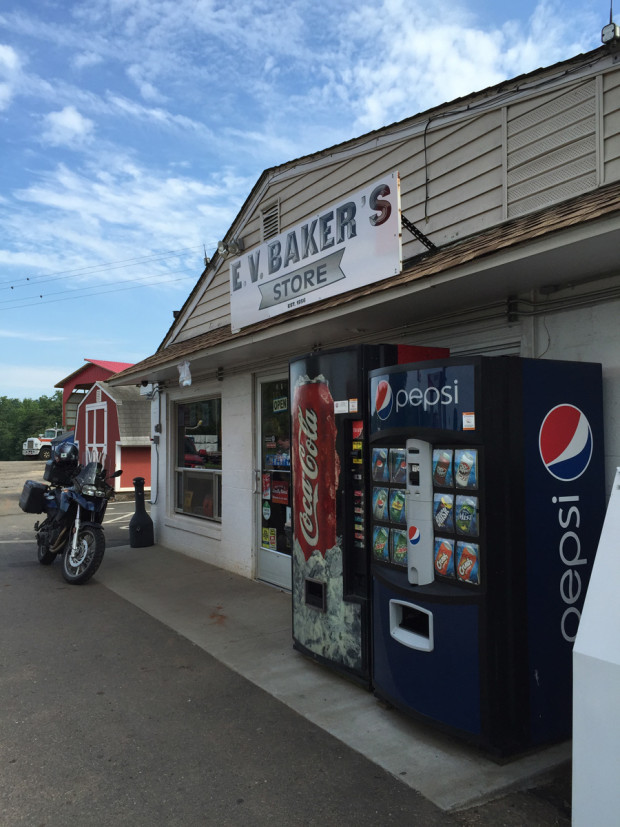 EV Baker's store is in Unionville, not too far south of Culpeper. It's just the sort of quirky gas station/general store that I like. And the water was cold. 🙂
I guess I should mention the ride, which was quite pleasant until I hit the more-populated areas around Petersburg, Hopewell, and Richmond. The bulk of my ride was on US-522 from Culpeper to its end near Powhatan at US-60. There was very little traffic most of the way. The pavement was smooth, mostly straight, but humpy (small up-and-down hills) and alternated between picturesque farmland and forest. There was a little traffic near Lake Anna — big recreational lake — but, for the most part, I had the road practically to myself all morning and afternoon traffic was quite light. All in all, it was a very pleasant ride.
There's a Spotwalla map for my Richmond-area LOVE tour if you're interested.
Do y'all think I should give up on my LOVE quest, or keep on keeping on? In other words, do you enjoy seeing the LOVEworks I've visited? This inquiring mind wants to know.