Wouldn't you know it? After I do a blog post complaining about on-line news agencies foisting videos on me, lamenting how I'd much rather READ my news than be forced to watch a stupid video, the only good bits of info I run across for DAYS afterward are in video format.
Oh well. Here's a video from my favorite CNN correspondent, Jeanne Moos, talking about a recent hailstorm in Oklahoma. You gotta see it to believe it.
I found this video particularly interesting after seeing what last week's storm did to a co-worker's car. What's interesting about these pics, which my co-worker allowed me to share with you, is that she lives in Pennsylvania (just outside of Philadelphia), NOT Oklahoma where hail like this is common.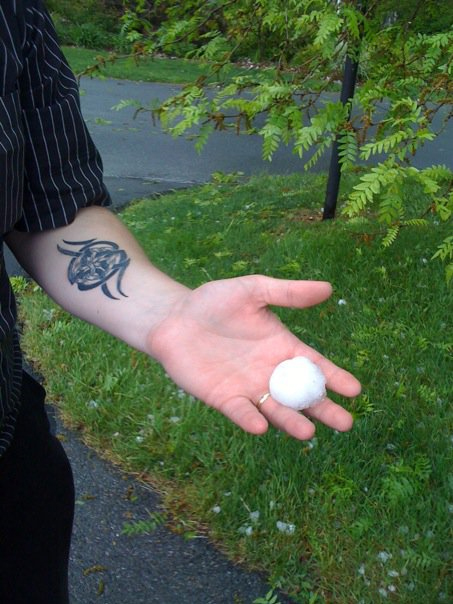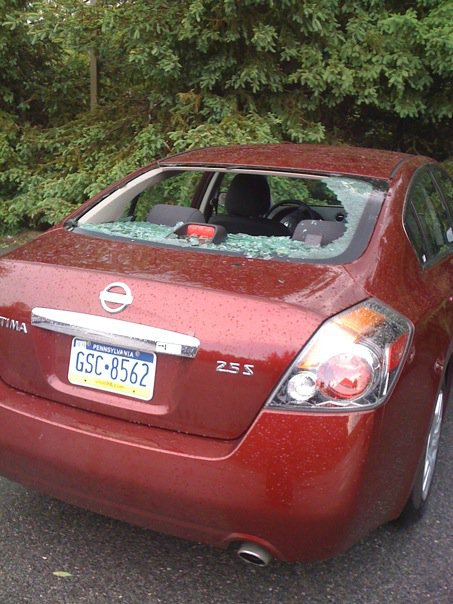 She just learned that her car will be in the shop for at least another week and will require $4,000 worth of repairs.
Here's another video of that crazy Oklahoma storm that was shot INSDIDE someones house…
[youtube p9yjhAjfb6I]
In this next video, the real INTENSE action doesn't start until about 1 minute into the video, so stick around. It's amazing. I think a snippet of this was in the Jeanne Moos video I shared earlier.
[youtube OFv2W7Duqiw]
According to The Edmond Sun,"the National Weather Service's preliminary local storm report 1.25-inch hail fell in south-southwest Edmond, 4.25-inch hail fell in northwest Oklahoma City, 2-inch hail fell in Warr Acres, The Village, Nichols Hills and Choctaw, and 2.5-inch hail fell at Tinker Air Force Base."
That's some serious hail.