This past weekend was probably the most eclectic I've had in a long time.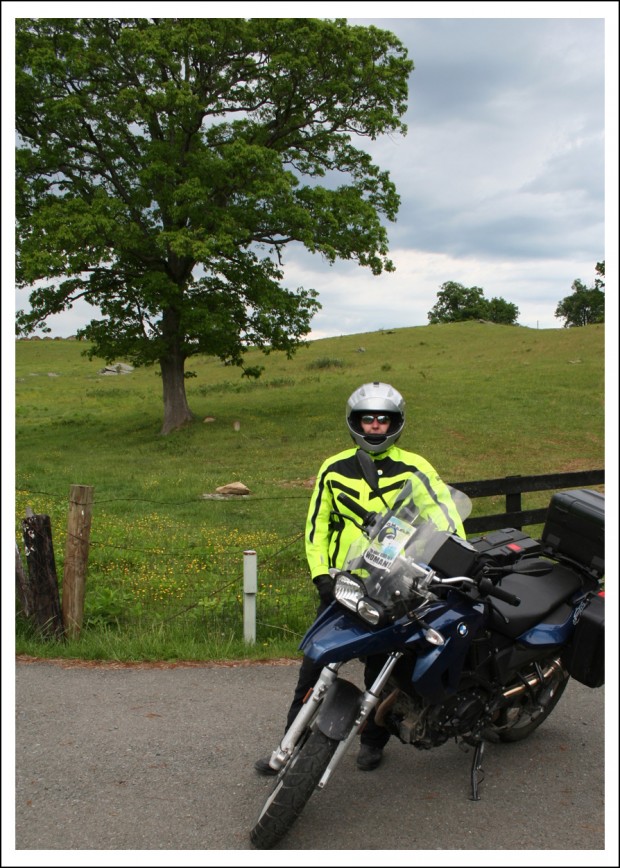 Friday was International Female Ride Day (IFRD). That may sound hokey to you non-riders. But fellow female motorcyclists are few. Our population is growing, but there are still lots of women who think they shouldn't/can't ride because it's a "guy" thing. So IFRD (this was the 6th annual by the way) is about getting out there en masse and showing everyone, especially non-riding women, that we can do it, too!
Hubby and I did manage to get out for a sort ride. But then it rained, so we cut things short.
Take a look at the shot of me and you might notice how threatening the skies look.
It wasn't an empty threat.
We have rain gear and are fully capable of riding in the rain if we have to. But it's no fun. And it's dangerous. Slippery roads and two-wheeled vehicles are not a happy mix.
After returning home, we decided to walk up to Molly's Irish Pub for dinner. They've got really good burgers and fries. And the beer on tap is always cold and refreshing.
It was on our way to the restaurant that we discovered it was the first "Warrenton First Friday" of 2012.
The Partnership for Warrenton sponsors the event, which is described on their site as…
Stroll Historic Main Street Warrenton beginning in May, the First Friday night of each month. Main Street will be closed to traffic while shops remain open late with open houses and specials. There will be music, artists, entertainment for the children and dinner specials at our award winning restaurants. Main Street will be bustling with shoppers, diners and fun.
It's a cool thing to do.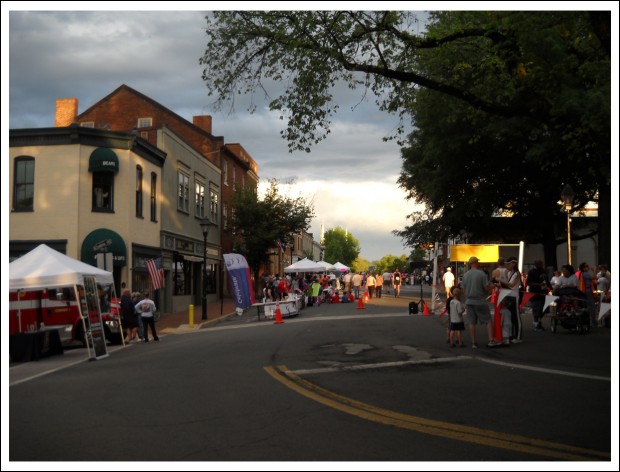 I shot the picture above after dinner while walking the dogs.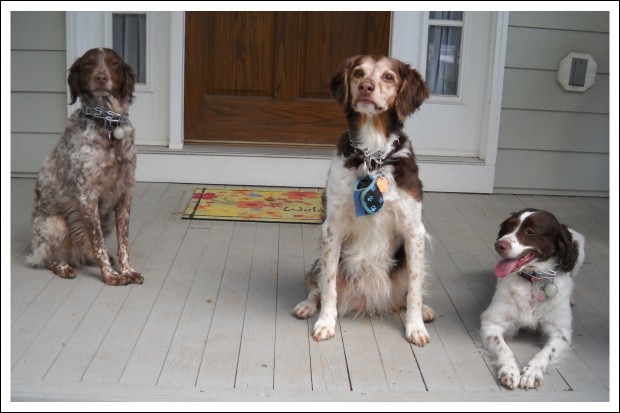 Speaking of dogs, Saturday was the  2012 annual American Brittany Rescue (ABR) picnic. That's a nationwide event, which is usually held in the Midwest or somewhere else far away. Although I have been affiliated with ABR since late 2003, I've never been to one of their annual events.
I thought it would be fun to see some of the folks I hadn't seen for a while, meet others I knew of but had never met, and see all the dogs.
There were a lot of dogs there.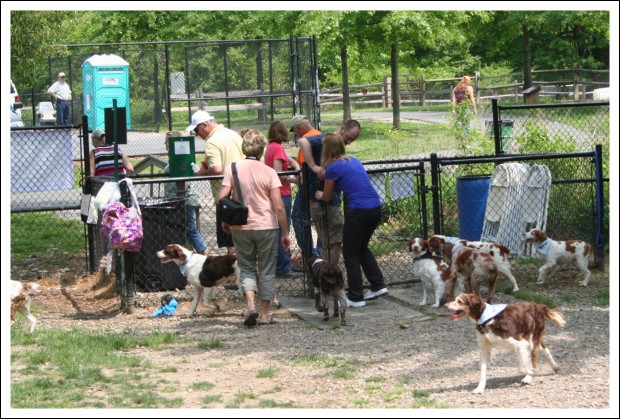 I have no idea how many dogs, but it seemed like about 100! That lady in the royal blue shirt, is one of the organizers. At the moment I took this picture, she was acting as a gatekeeper. She is actually a regular follower of this blog, too. Her name is Michelle Falkinburg. She was Belle's foster Mom.
Sorry I didn't get a better picture to share here, Michelle! I was too busy taking dog pics as you requested.
The picnic was lots of fun. Hubby didn't go, but the girls and I enjoyed it. We all had to wear name tags, which was especially helpful for the dogs.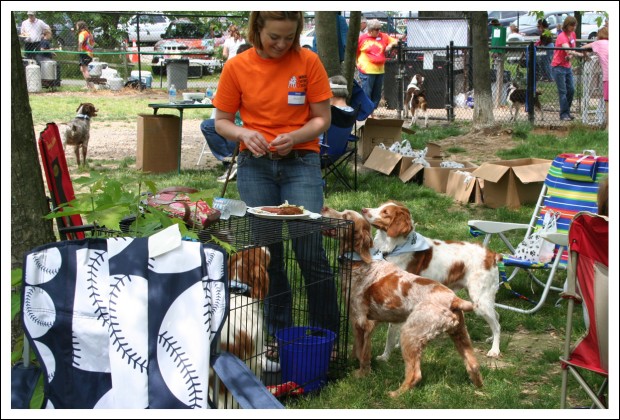 It was very cool seeing so many Brittanys in one place. There were dogs there of all shapes, sizes, and colors.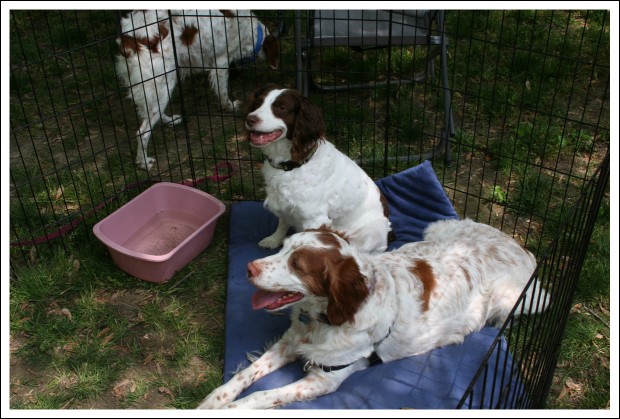 Big Shirley, who is not big at all, brought her own dog Brittany (the liver and white female pictured sitting), and two fosters, Cooper (barely visible in the background) and Sam.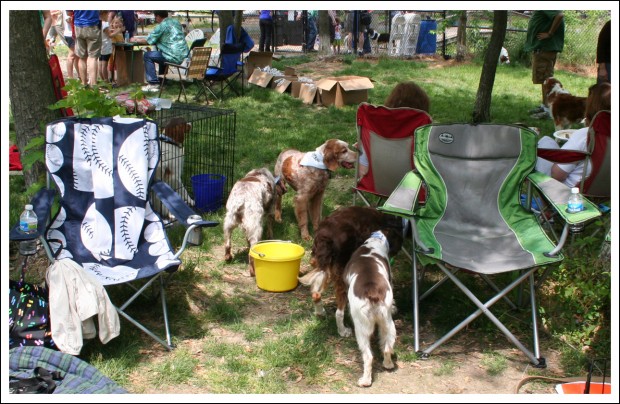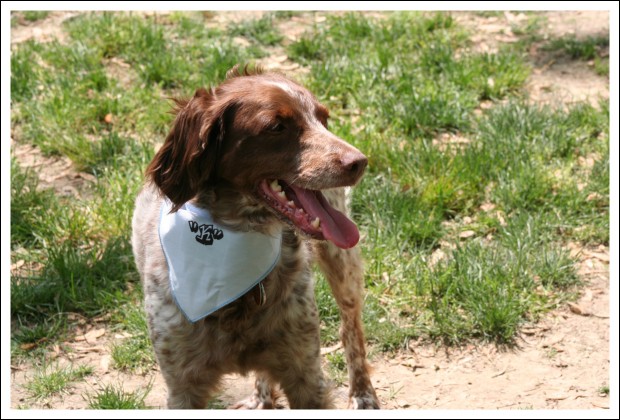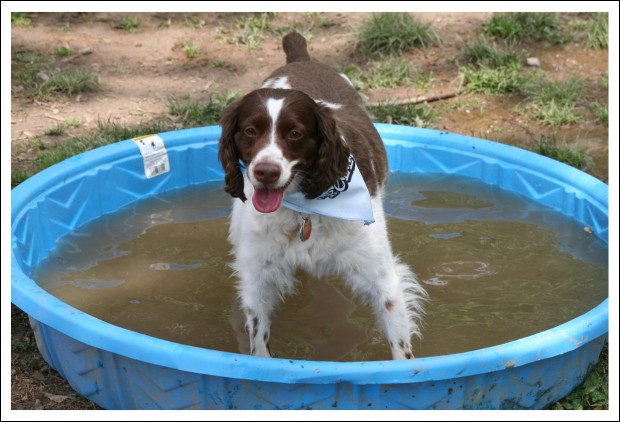 This next image is my favorite. You have to look closely to "get" the humor.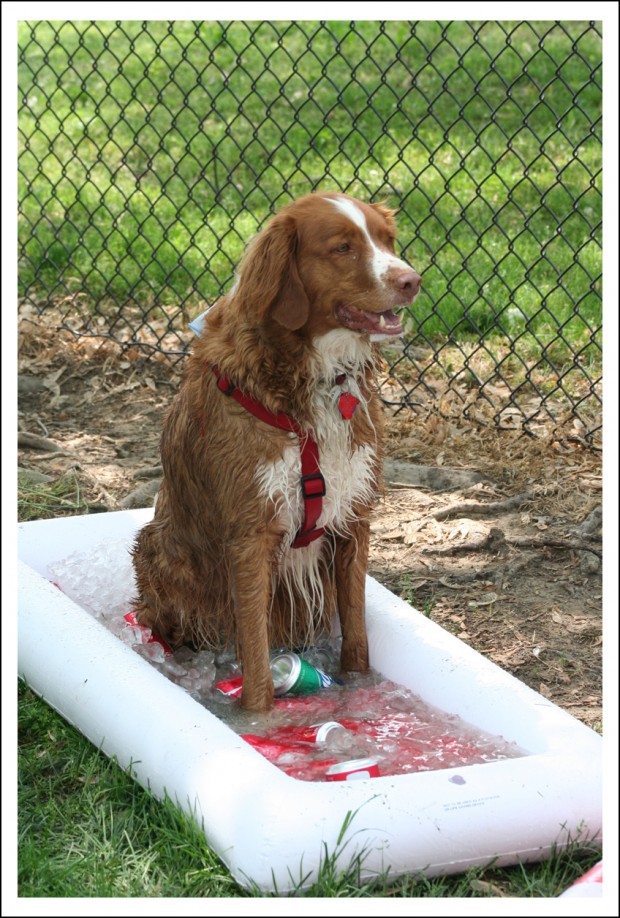 How many times have you been at a picnic on a hot day, running around getting all sweaty, looking longingly at the cooler full of ice and beverages wishing you could climb in and cool off? That's just what that big guy did!
I told you it was fun.  If you'd like to see all of the pictures from the picnic, they are on my Flickr site.
Sunday morning I ran some errands. Hubby finished washing the windows, which he'd already spent lots of time on Saturday doing while we were away.
When I got home, I made a huge pot of pasta sauce and some sangria. Then I planted a few flowers.
I didn't manage to get all of them into the ground. Maybe this afternoon?
See what I mean by eclectic?
I hope your weekend was a good one.