We enjoyed a very busy, relaxing, fun-filled holiday weekend with part of our family, chock-full of love, laughter, and lots of good food.
Amy, TJ, and the grand kids came down to visit, arriving on Friday afternoon and leaving around midday on Monday.
Getting to spend that much time with the whole family was a rare treat. Between TJ's deployment and the family's year-round busy schedule, I can't remember the last time we saw them all together for an extended period. This was actually TJ's first visit to our VA home. And we've been here for eight months! We were really glad he finally got to come down for a visit.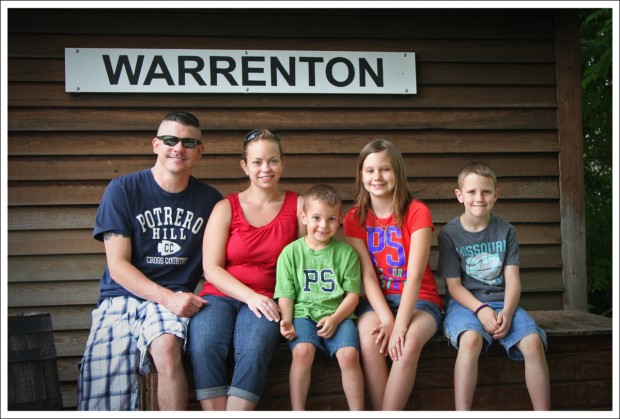 We had dinner at home on Friday and the adults had a chance to just visit while the kids entertained themselves with Lego's (pricelessly pronounced as "Yegos" by Joey) and movies.
Saturday started off early with a trip to the little farmer's market here in town.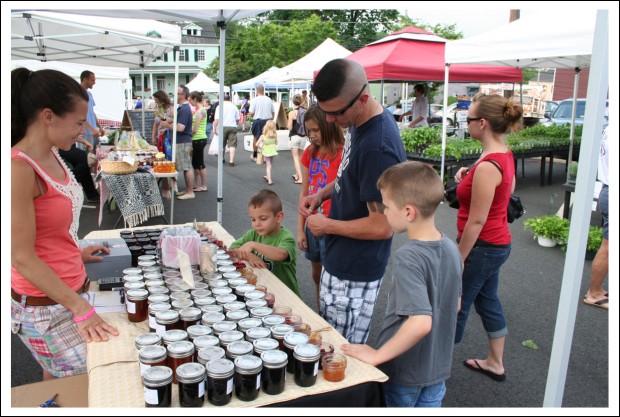 That was followed by a trip to the caboose. Joey loves visiting the caboose, which sits on an old railroad siding near the Warrenton Branch Greenway, a railroad bed turned walking/biking path that's only a couple of blocks from our house.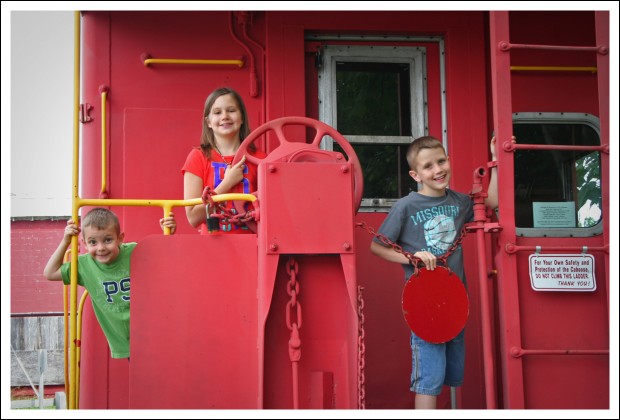 The caboose is a popular photo spot. As is the nearby shanty, where I've taken pictures of Amy and the kids on a couple of different occasions.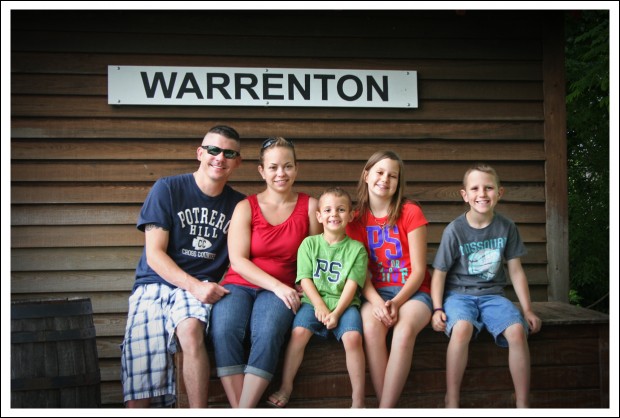 I couldn't decide which shot I liked better (first one in the post or the one immediately above), so I decided to use both. Aren't they a cute little family?
While we were out, Hubby got the grill set up to cook a big chunk of pork (8-lb Boston butt), which we were to have for a dinner of pulled pork. He'd made a couple of different sauces a day or two earlier, a NC-style sauce (thin, vinegary, and spicy) and a mustard-based sauce. The NC-style sauce was TJ, Brianna, and Gaige's favorite. Amy liked them all. Hubby and I still prefer our Salt Lick Original Recipe BBQ Sauce (a story in itself).
While the meat slowly cooked/smoked, the adults relaxed and visited and the kids found various ways to keep themselves busy.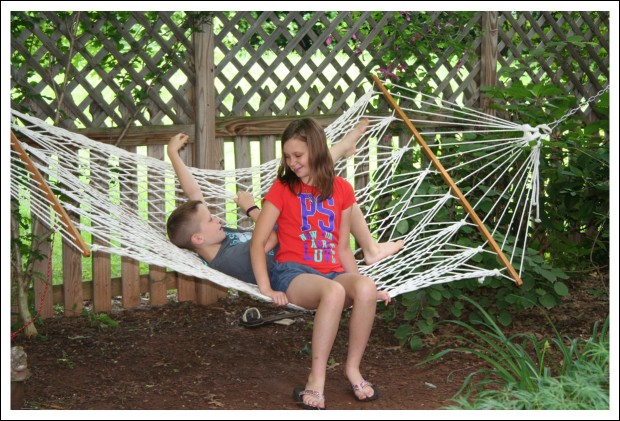 They were starting to get bored. Amy and TJ were going to take them to the playground, but it was sweltering hot, so I suggested we just set the kids loose in the driveway with the hose to cool off.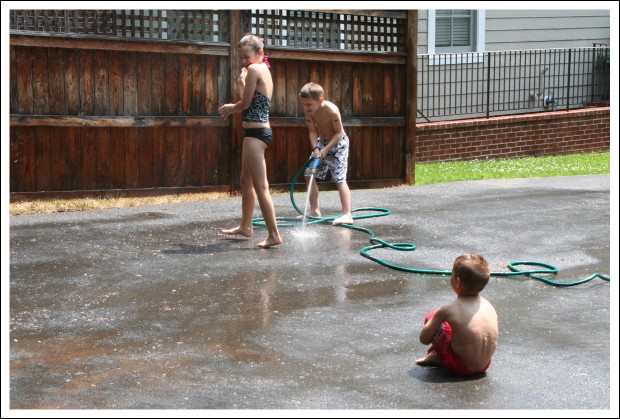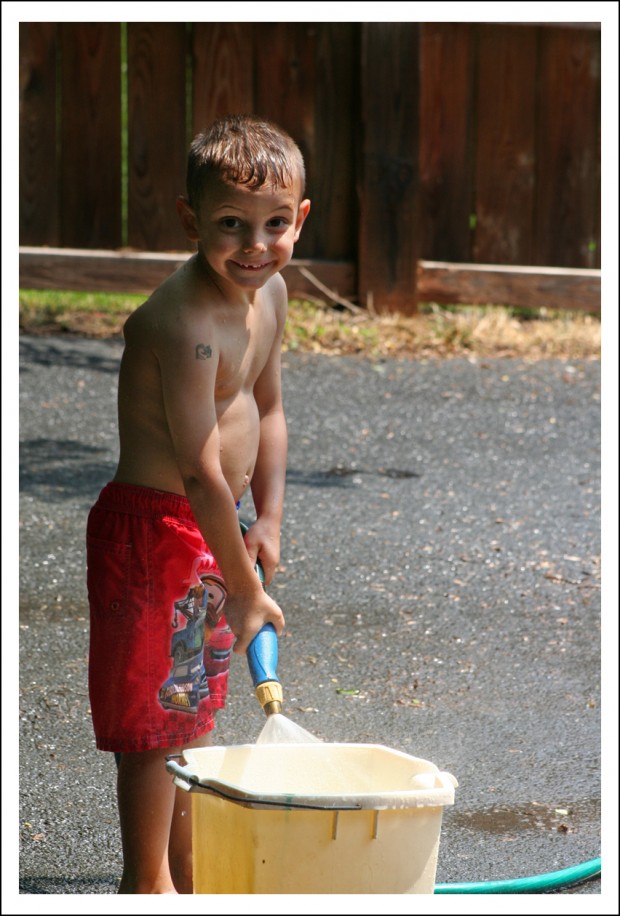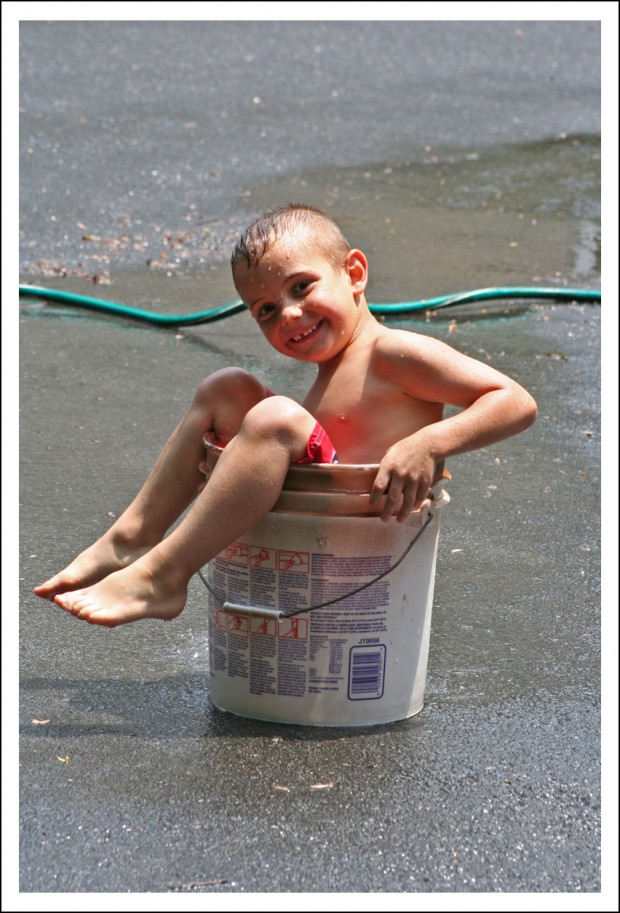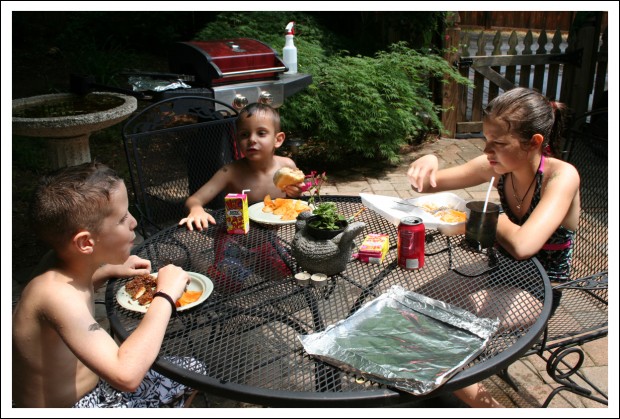 I didn't capture nearly as many water pics as I'd hoped because either their backs were to me. Or the older kids saw me and got those cheesy expressions. Plus I didn't want to risk venturing out there with my camera. An almost-five-year-old with a wide open hose is a scary thing.
That and I think the heat made me a bit lazy. I hate to sweat.
Here are a few of the not-so-great shots.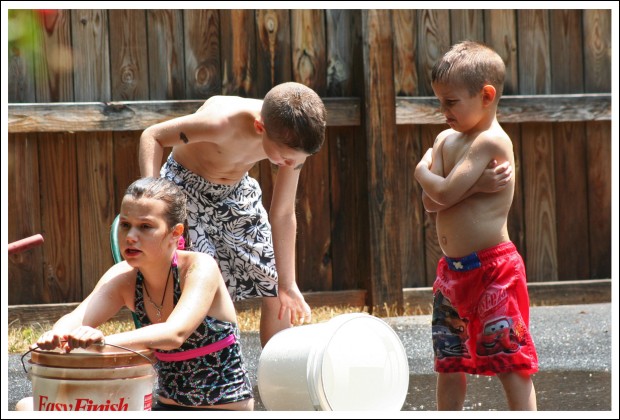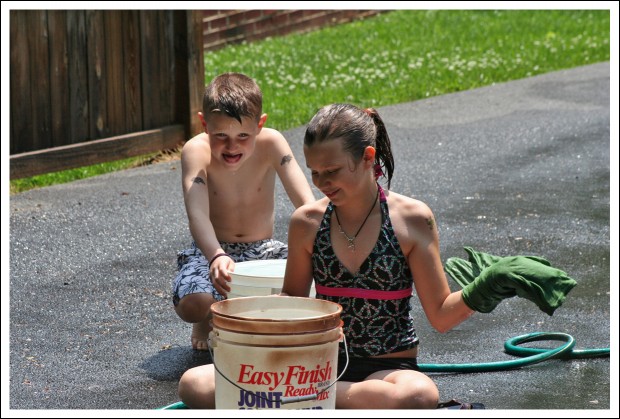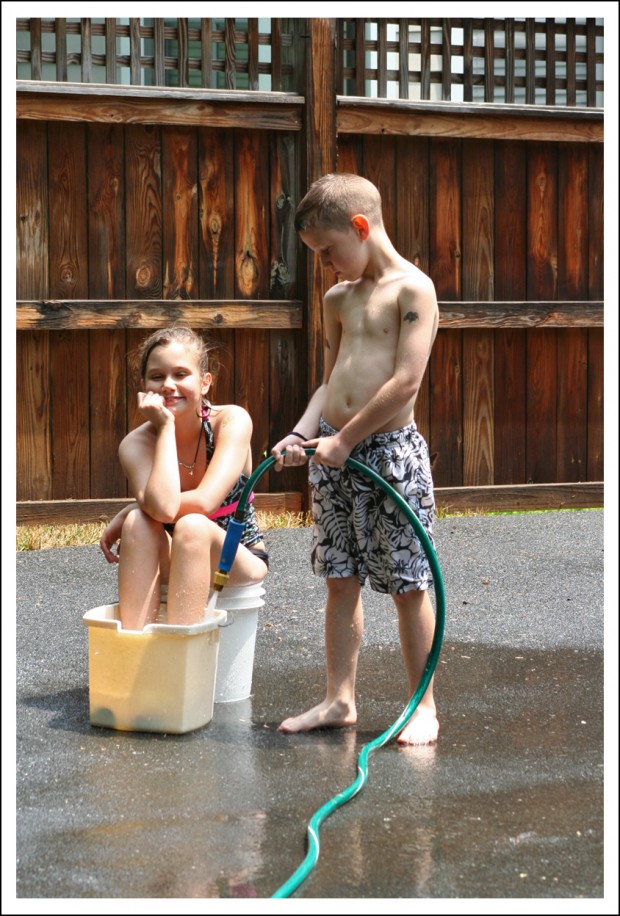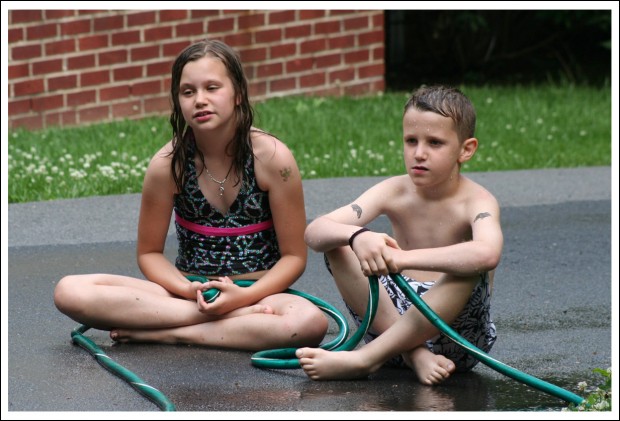 After lunch, it was nap/chill time.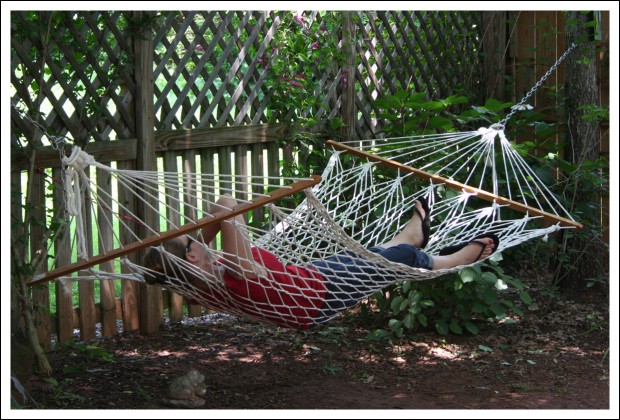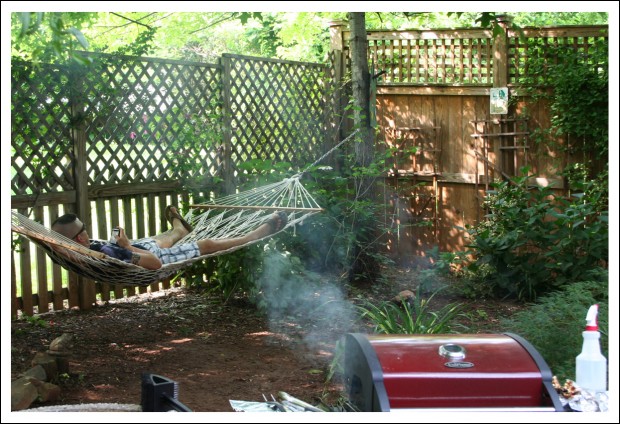 The downtime for everyone (I spent an hour inside soaking up the A/C!) was short-lived. Then it was back outside.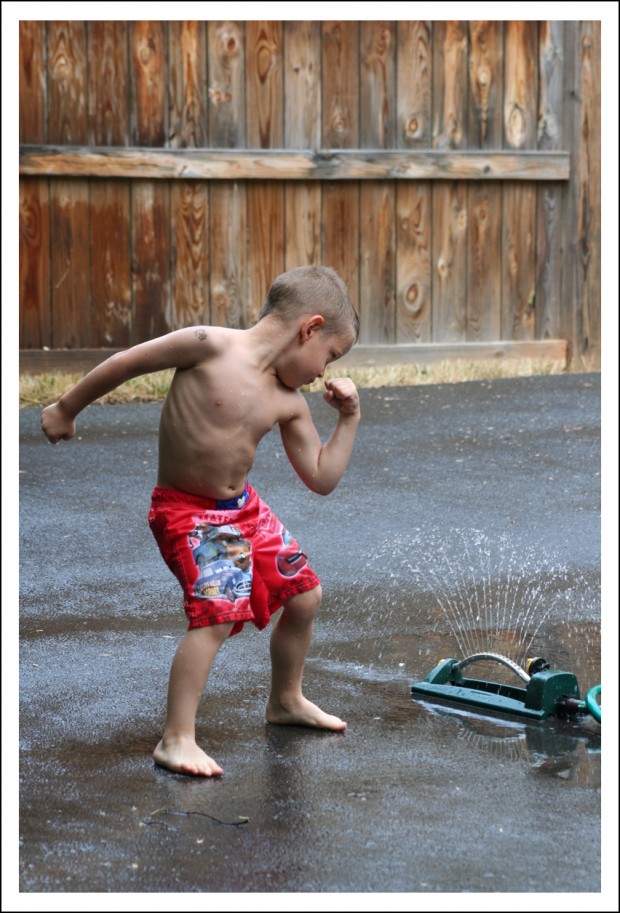 Joey is a funny little thing. He's quite animated and kept everyone laughing with his antics.
That's one of my favorite shots. Definitely one to show him when he's all grown up!
I can't believe I didn't take a picture of the finished pork roast, which was a lip-smackin', finger-lickin' masterpiece. I guess it was because once it was done, we all switched to get-the-food-on-the-table gear. We'd been smelling that sucker cook all day long!
Saturday evening brought more relaxation. And then on Sunday, we all went to visit Luray Caverns, which is just about an hour west of here in Luray, Virginia.
Hubby gets the credit for thinking of that one.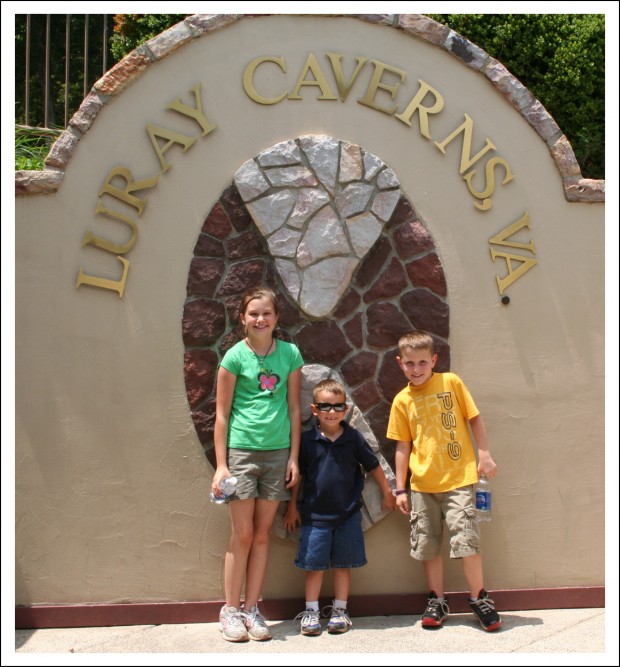 It was horribly busy (an hour in line just to get into the cave), but we made it work.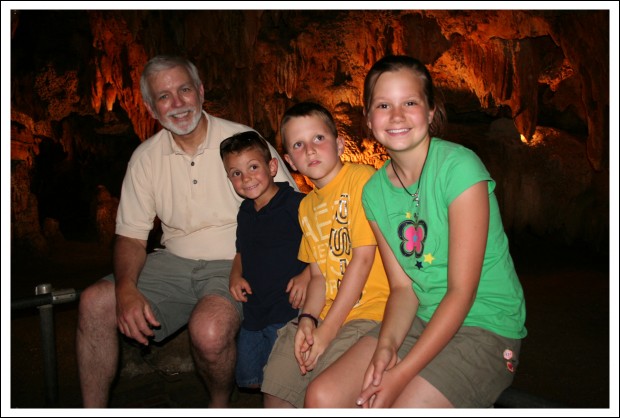 Which is good, because the kids had a good time. And it was really cool, temperature-wise, inside of the cave.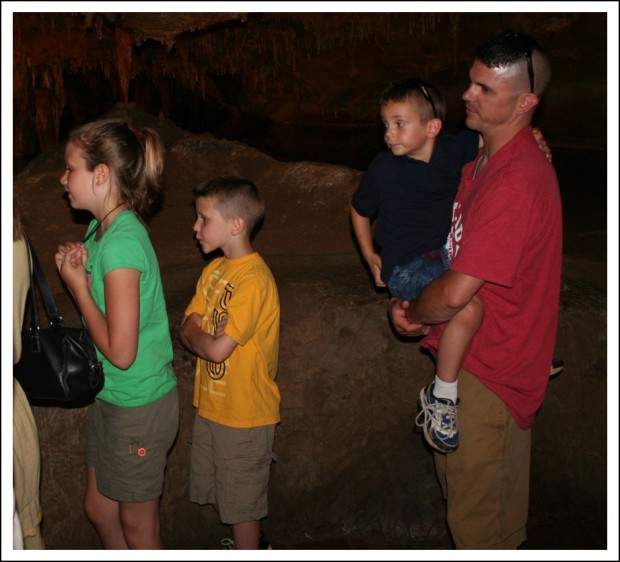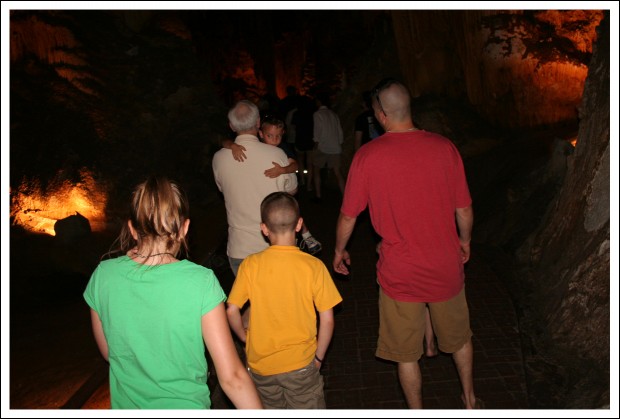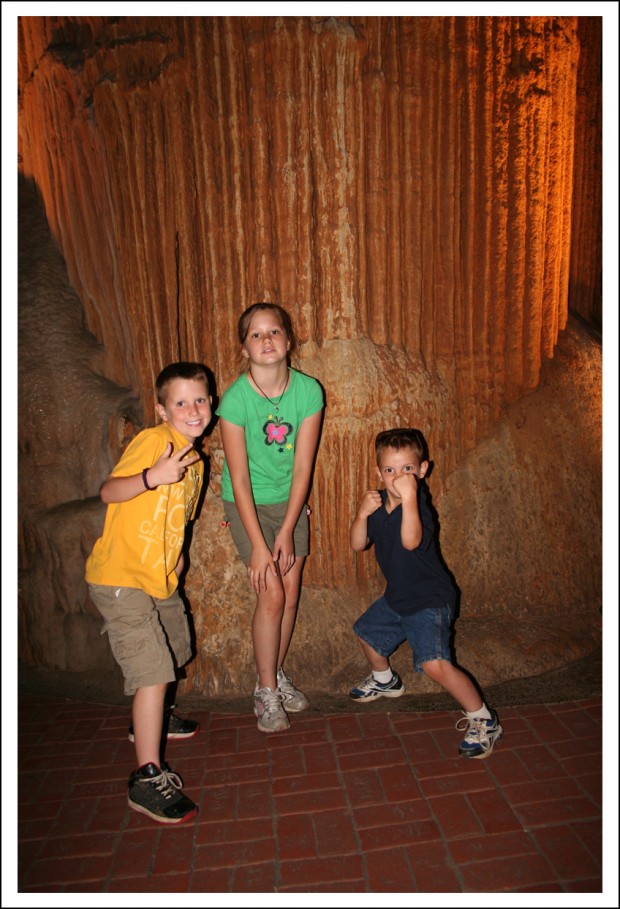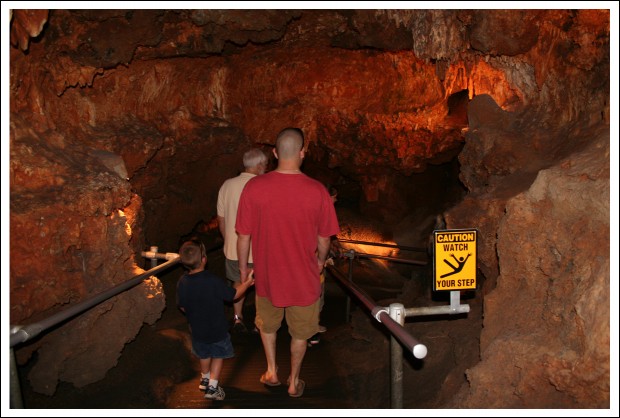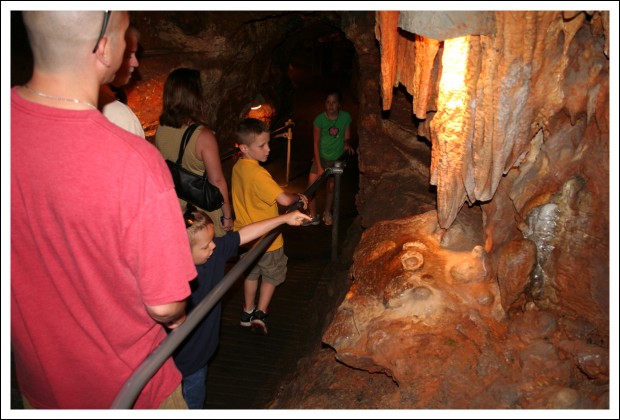 After about a one-plus hour, 1.5-mile shuffle (it was too crowded to call it a walk) through the cave with Joey maintaining a constant discussion about bats (where they live, where they lay eggs, how they drink, where they sleep, etc.), we ate a picnic lunch on the cavern grounds and then headed home.
TJ and Amy took us out to dinner that evening. They said since they were treating, I had to pick the place. I chose Rancho El Paso, figuring a tasty Mexican meal accompanied by a very large, very strong Sangrita Margarita would be a great way to cap off the day.
It was. But the rest of the evening was sort of a blur.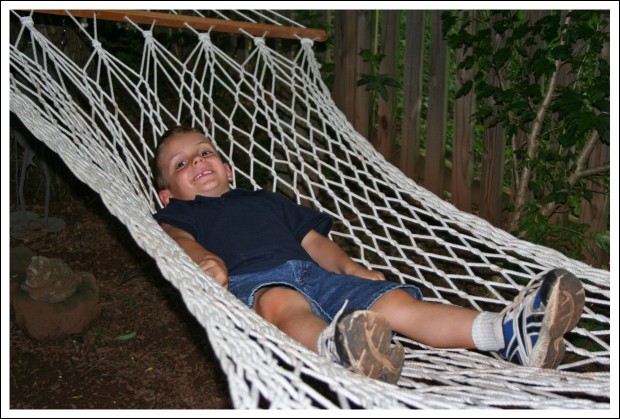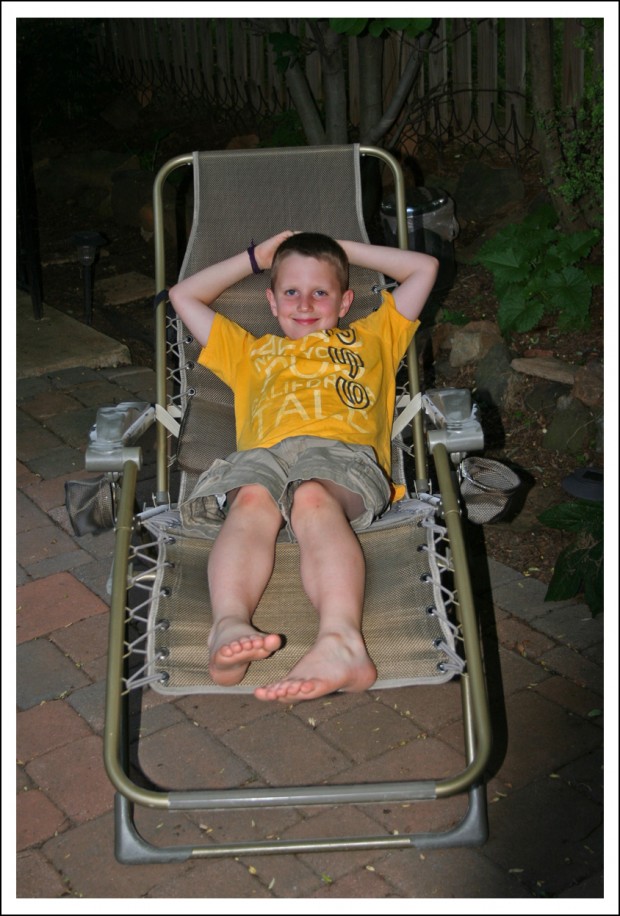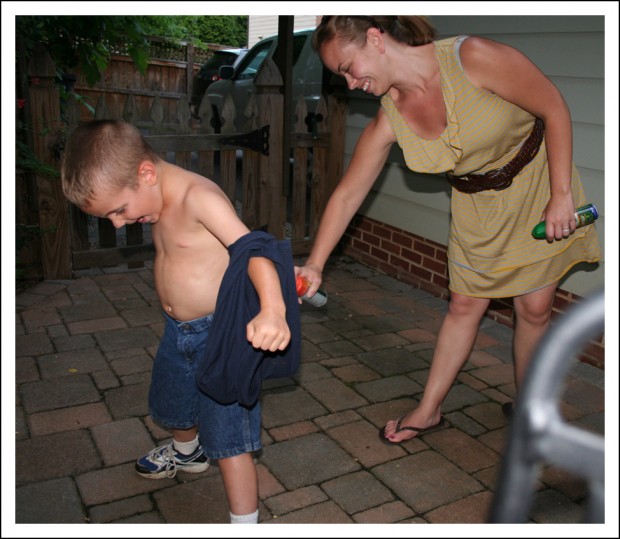 We all sat outside for a while, then Amy and I took the girls for their evening stroll around town.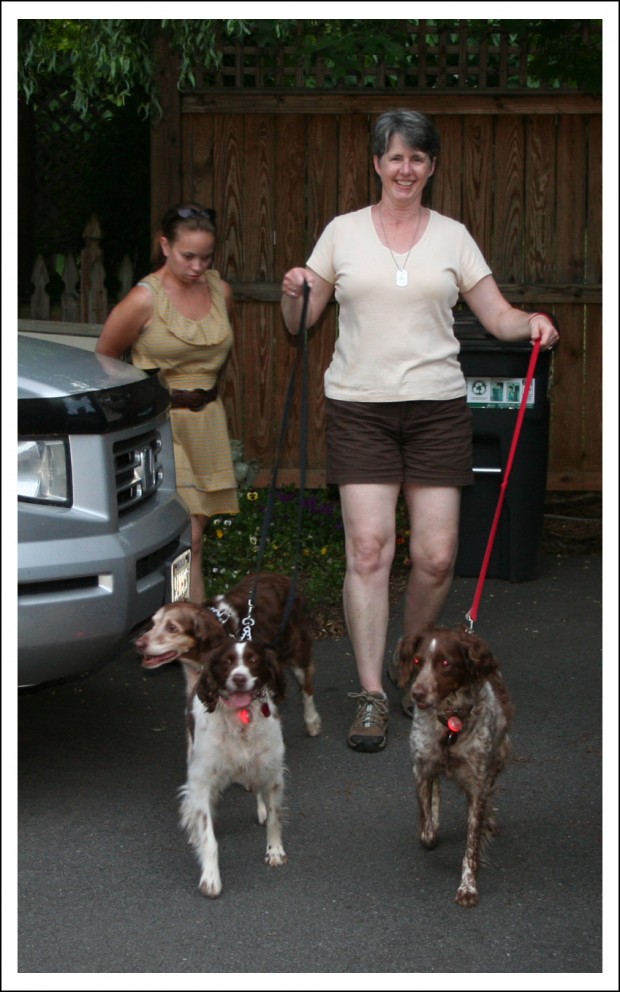 I always look like a giant next to Amy, who is all cute and petite. But since this is one of the few pictures with me in it, I decided to post it anyway. As the family photographer, I don't get in many pictures (fine by me!) unless I remember to ask someone to take a picture of me.
While we were out walking, TJ got the kids showered and ready for bed. They all watched a movie while the adults stayed outside, visiting some more.
We got LOTS of visiting time in, which we really enjoyed.
Monday was fun, too. But I'll have to save that for another post.
All in all, it was a lovely weekend. Hubby and I are truly blessed to have this crew in our lives.