I'm a bit behind on my posts about the Europe trip. While this one is sort of about the trip, it's more about a delicious dinner idea you simply must try. Our Swiss friends, Tammi and Martin, fed it to us for dinner one night during our recent trip while we were visiting their home.
I knew immediately that I HAD to try it here at home. The only question was, would we be able to find the right cheese, or a suitable replacement.
Here's a group pic from our visit…
I have the coolest friends. Really. I love these folks.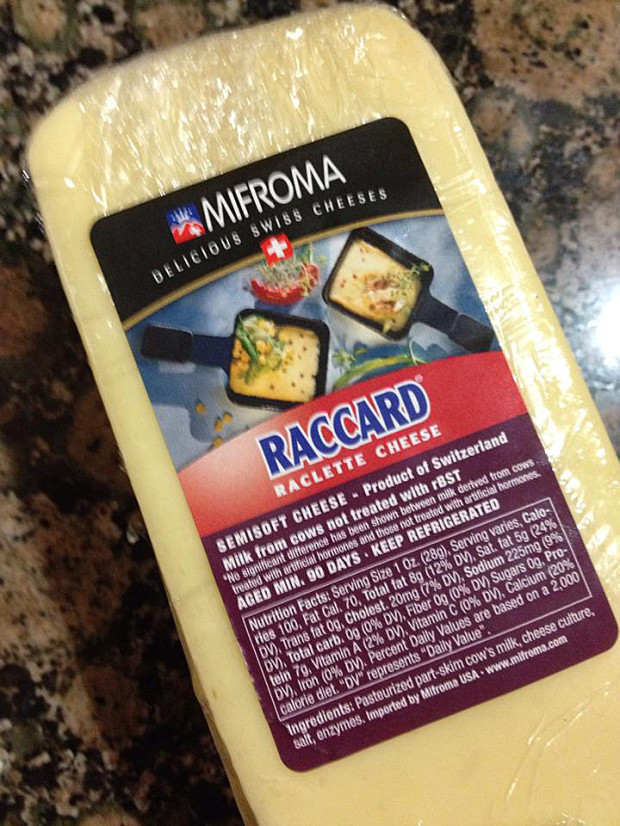 Anyway, back to dinner. It was called Raclette. It's pronounced like rock-let. Essentially it's melted cheese and stuff served over boiled potatoes. Not just any cheese, Raclette cheese. It's actually a type of cheese, suitable for melting. Martin and Tammi thought maybe Gruyere might be a good substitute. Or any similar cheese that melts well.
Everyone figured it was probably available on-line. It is. It's actually available through Amazon. But when I was searching, I found The Swiss Bakery, which sells on-line, but also happens to be sorta close to here.
Anyone who likes and buys good cheese knows, cheese ain't cheap. Gruyere, which I tried first, is $20-$25 per pound at our local supermarket. The Raclette sold by The Swiss Bakery is "only" $17 per pound. And two people can easily eat half a pound of the stuff.
There are different tools you can use to melt the cheese. I've been planning to get a table-top raclette grill, AFTER I was sure I could get the cheese.
Since I had no plans for yesterday, and it was too cold and windy for a motorcycle ride (in my opinion), I drove my car to The Swiss Bakery for cheese.
Wanna guess what we had for dinner? LOL. It was darn good, too.
Here are some pics from that first dinner Martin and Tammi served.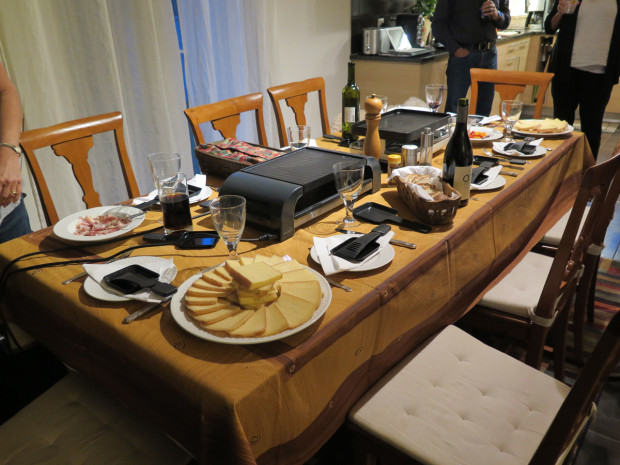 There were eight of us, so they actually had two grills.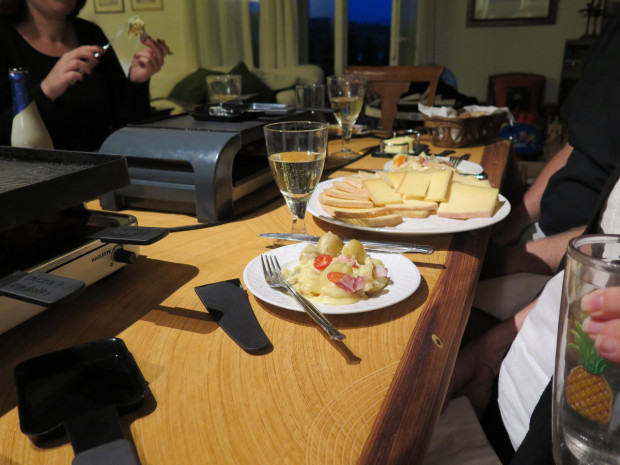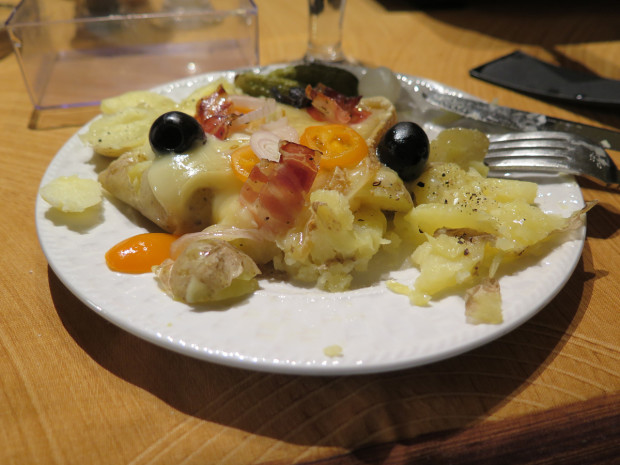 It was fabulous, really.
Raclette is traditionally served with cornichons (fancy, itty-bitty dill pickles) and cocktail onions, and accompanied by white wine. Apparently — according to Martin who is a chef and knows these things — the cornichons, onions, and wine all work together to help digest the cheese.
And that's important. Simply put, picture eating a plateful of hot, melted cheese followed by a cold glass of water. The water would turn that cheese into a giant lump of goo in your gullet.
You start with boiled potatoes. You chop them up on your plate as your cheese melts, adding butter or not, depending on what you feel like. Raclette is also served with toppings, a lot like pizza toppings, that you can add to your cheese as it is melting. Diced bacon, dried beef, sliced grape tomatoes, olives, chopped leeks, diced onions, pepperoni, etc. Once the cheese is melted, you scrape it off of the little melting-tray onto your potatoes and voila, a nice little plate of deliciousness, prepared by you exactly to your liking.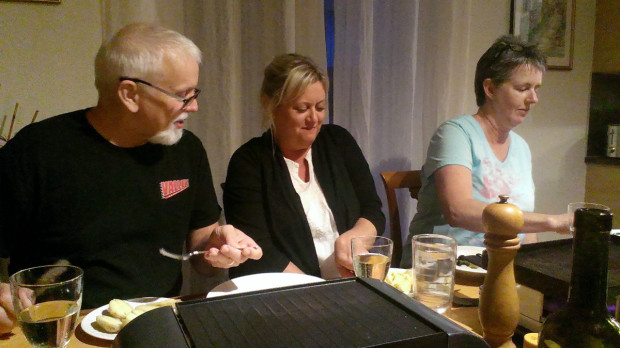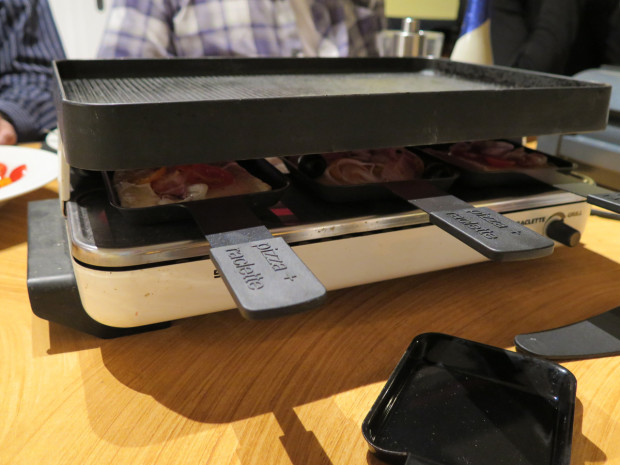 For yesterday's Raclette test here at home, I just put a cast iron frying pan under the broiler. Once it was hot, I removed it from the oven, laid the cheese, in 1/4″ slices, into the pan, added some diced green onions and dried beef, and then put it back under the broiler. By the time I'd put the boiled potatoes onto our plates, cut them up, and added butter, the cheese was ready. It melts well, so that part goes really fast.
Of course, I basically had a giant pan of melted cheese to portion out evenly between two plates, which is harder than having your own little Raclette tray, but I managed.
Here's what my improvised Raclette looked like…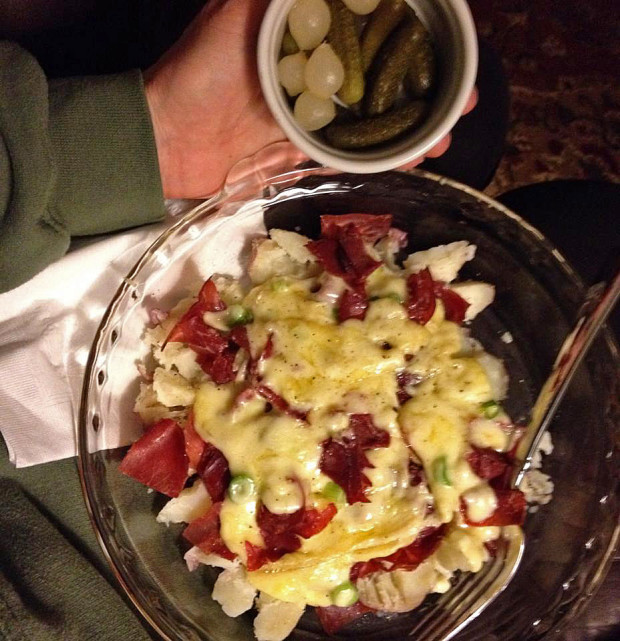 I served it in a pie plate to make it easier to eat in front of the TV. A regular plate would have been fine had we been dining at the table.
I wanted to get some air-dried Swiss beef — bundnerfleisch — but that's hard to find locally, so I settled for Bresaola, which I found at Wegman's. You could also use American dried beef, but the American version is much saltier. And drier. Prosciutto would work, too. So would pepperoni.
I'd really like to find some Speck (an Italian bacon from the South Tyrol region of Italy, which is rubbed with a mix of salt, pepper, juniper berries, other garden herbs, then dry cured, lightly cold smoked over beechwood chips, then stacked in aging cellars, where it is slow dried). Speck is similar to Prosciutto, but I think it's better.
You can read a bit more about Raclette here, if you like.
Guess what I did before writing this post?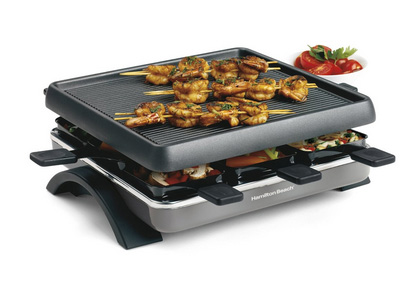 I ordered that Raclette grill I've been wanting. LOL.
You should try Raclette for yourself. But remember, the cheese is important. While the experiment with Gruyere was tasty, it wasn't nearly as good. The Raclette is just a bit more-flavorful. Although boiled potatoes covered with melted Gruyere was far from the worst thing I've ever eaten, and I would eat it again in a pinch. But, if you REALLY like cheese and want to enjoy a more-authentic Raclete experience, buy some Raclette cheese. It's worth it.