At the end of my last post, I said, "…in case I haven't told you lately, I appreciate each and every one of you. Thanks for following. Really."
I meant it, too, from the bottom of my heart.
Why then are there 22 unanswered comments in my box waiting to be acknowledged? Because I'm a schmuck, I guess.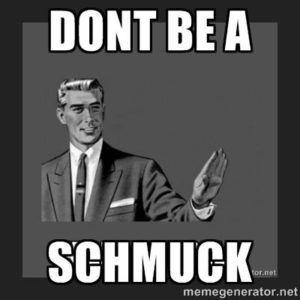 Actually, I'd been feeling pretty good. Until this morning when I just happened to look at my SPAM folder and see all of your comments sitting there, ignored.
Who looks at their spam folder? And why did the comment e-mails — that's how I know when you comment — all of a sudden start getting routed there?
I love your comments. And I do appreciate them. So I'd better get on the ball and answer them, eh?
Sorry, folks.
Other than my e-mail being misdirected, all is well. 🙂